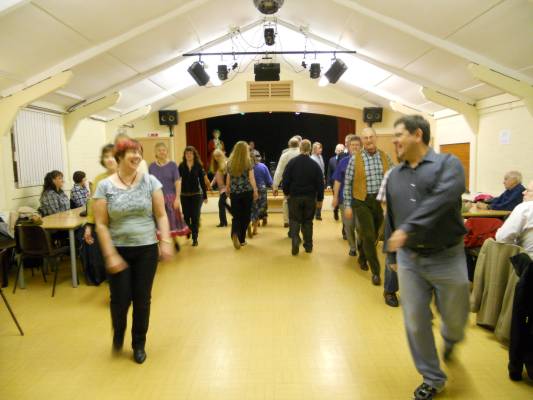 Mensans neatly following instructions? Is it a first?
Regional News
This month Kai Williams steps into the newly created role of Junior Mensa Officer. It is hoped that with Kai's involvement we can arrange more events suitable for members aged under 18. Kai introduces himself in this newsletter and if you're a Junior Mensan he would love to hear from you. Don't be shy – get in touch even if it's just to say hello!
We are currently seeking Local Secretaries for the DE (Derby) and LU (Luton) postcodes. So if you live or work in those areas and would like more information please contact me for a no obligation chat on [Phone Number]. I joined Mensa 20 years ago - purely out of curiosity and because I could, with no idea there was a social side to the society - and have been Nottingham LocSec for 17 of those. I have to say my life has been enriched with all the wonderful friends I've made through being LocSec. The role can be involve as much or as little effort as you like, but it's definitely a case of the more you put in the more you get out. Why not give it a try and see if you agree?
Thank you to Rosie for her eight month stint as Editor. Nick now takes over whilst Rosie has a rest from editing duties. Please remember that all the officers of East Midlands Mensa are volunteers so if you can support them by attending events or contributing to Empress it's very much appreciated.
Maxine Bates
Regional Officer
Events and Meetings
In the current circumstances surrounding the COVID-19 coronavirus, the expectation is that all events listed here are likely to be cancelled, if not already marked as such. If you intend participating in any event listed here, please contact the event organiser beforehand to confirm that the event is still on.

Northants NNotes
On Thu 5th Apr at 9.00pm - FThOTM
There are three opportunities for everyone in Northamptonshire to socialise this month. Our 1st Thursday meeting is on 5th at the Bold Dragoon, High Street, Weston Favell, Northampton. Find us in the Lounge from 9.00pm.
On Sat 7th Apr at 11.00am - Local history
Two days later, on Saturday 7th, it's a chance to brush up on local history. Last year we visited the Abington Park Museum - this time it's the Central Museum & Art Gallery. Meet outside the main entrance in Guildhall Road, Northampton, at 11.00am, followed by a bite to eat at a venue to be decided on the day.
On Thu 19th Apr at 8.00pm - Roadshow
This month's Roadshow is on Thursday 19th and the location is Chapel Road, Weldon, to pay a visit to the Shoulder of Mutton. We'll be there from 8.00pm and it should be fairly easy to get to for members in the Kettering and Corby areas - or even from over the border in Leicestershire and Rutland.
I send out occasional e-mails to provide additional meeting details, also where events have been added or altered after Empress has gone to press. As most of our evening meetings are in pubs the e-mails only go to those who are 18 or over. The records held by HQ show e-mail addresses for about 60% of the Northants membership, and of those probably about a dozen are out of date or otherwise incorrect (the e-mail address for one member in Wellingborough actually belongs to a non-member in Cheshire!). If you have never received one of my e-mails and would like to be added to the distribution list please let me know.
For the two pub meets a copy of the Mensa magazine, or another Mensa symbol, will show you who we are. If you need any further information please contact me.
Ian Sargent
Contact [Email] or [Phone Number] / [Mobile Number] for details
Derby Diary
On Wed 18th Apr at 7.30pm - 3WOTM
Join us for a meal or just a drink at the Standing Order on Irongate from 7.30pm on Wednesday 18th. This is a Wetherspoon venue so good value plus there's 20% discount off food if you have a Cathedral Quarter card. Find us in the low ceiling area at the rear of the pub. A yellow Mblem will be on display.
On Tue 24th Apr at 7.30pm - Eating meeting
The School House, Church Street, South Normanton, has been highly recommended so we're going for a meal at this fine dining restaurant at 7.30pm on Tuesday 24th. They have a special deal of three courses for £11.50. The menu changes weekly but examples can be found at www.theschoolhouserestaurant.co.uk. It looks rather yummy! A table has already been reserved as this is a popular restaurant, but please let me know by 20th if you would like a place so I can adjust numbers if necessary.
I'm on [Phone Number] or [Email]
Maxine Bates
Contact [Email] or [Phone Number] for details

Hertfordshire Happenings
On Thu 5th Apr at 8.15pm - FThOTM
FThOTM meeting and what better way to start the Easter weekend? Join us for our usual mix of lively conversation / good atmosphere. We'll be at the Millstream, Hitchin. The pub is about ten minutes' walk from the railway station. Good food/good beer available!
On Fri 27th Apr at 8.00pm - LFOTM
Digswell on Friday 27th from 8.00pm. LFOTM. We end the month in the usual way with good food and drink at the Cowper Arms, Digswell, Herts (by Welwyn North station). Call me for more details and encouragement. The pub is next to the railway station, which is served by stopping trains from Kings Cross to Cambridge and Peterborough.
Richard Allen
Contact [Email] or [Phone Number] for details
More or Leicester
On Sat 7th Apr at 11.00am - Eating meeting
Ahhh . . . Spring! Daffodils, bunny rabbits and Easter Cake! Why not join me to possibly tick off one of the boxes at Brucciani's Restaurant in Churchgate, Leicester, to see if they've any Simnal Cake on the menu? I'll be there on Saturday 7th at about 11.00am. More details at www.brucciani.co.uk, but let me know you're coming as I'll need to know how big a table to grab (look for the magazine or yellow mBlem on a table).
On Thu 19th Apr at 8.00pm - 3ThOTM
On the Third Thursday of the Month, 19th, at 8.00pm, we'll be back at The Craddock (http://tinyurl.com/leicsMensaTTOTMfor) where the topic of conversation will be, "Simnal cake – you don't see that much around these days, do you?". Look for the magazine or yellow mBlem on the table (it's been busy in there the past couple of times, so you may need to search around a bit).
For either of the above, please feel free to give me a call or drop me a line for more information, details, reassurance, chat, whatever.
Paul Coulson

Berkhamsted
On Wed 25th Apr at 7.45pm - LWOTM
On Wednesday 25th we will meet as usual at the Old Mill at 7.45pm-ish; the pub is set back from the London road, next door to the Esso petrol station on Berkhamsted's High Street (the old A 41 before they built the by-pass). Come and chat / drink/ eat and meet. New members welcome.
Jenny Habib
Contact [Email] or [Phone Number] for details

Mid Bucks
On Sat 28th Apr at 2.30pm - Theatre and meal
Join us on the afternoon of Saturday 28th for our first visit to the award-winning Aylesbury Waterside Theatre. The production is "The Lady in the Van" – a play by Alan Bennett that starts at 2.30pm.
The lady in the van is Miss Shepherd. She used to drive ambulances in the war, might have been a nun, sells pencils and pamphlets, and has an unexplained aversion to piano music. She also lives in Alan Bennett's garden and has done for years! The production stars Nichola McAuliffe and is directed by Sarah Esdaile.
Please buy your own tickets for the performance; see the theatre's web site at http://www.atgtickets.com/venue/Aylesbury-Waterside-Theatre/128/ but ring or e-mail me so that I can look out for you.
After enjoying the play we will find somewhere to eat in the town centre. You are welcome to join us for food and a chat without going to the theatre first. If you prefer this, please contact me a few days beforehand and we can arrange a time and place to meet.
Looking ahead there are a number of events planned for the rest of the year. Those who came to the tour of Stewart Linford's furniture factory in January last year may want to join us in May to visit "Windsors in Wycombe". This has nothing to do with the Royal Jubilee, but is an exhibition of antique Windsor chairs at West Wycombe Park (National Trust). If the weather is good we will also walk round the park and gardens. On our last visit we only glimpsed them briefly from under a dripping umbrella! Tentative date is the afternoon of Sunday 27th May, further details next month.
In late June / early July I will be arranging a guided evening walk near Princes Risborough to seek out glowworms. I am assured that when it rains the insects still glow, it is just that the humans won't come out to see! There will be a small charge, expected to be less than £10, for this event. If you are interested in coming, please drop me an e-mail or phone and tell me which evenings are best for you, e.g. weekends or mid-week. Final dates may change depending on the season, but if I know you are interested I can contact you and let you know in good time.
Further ahead I am planning a trip to Hughenden Manor to see 'Much Ado About Nothing' on Saturday 4th August at 7.00pm. Reserve the date now. Tickets (£16 / £12) available from the National Trust on 0844-249-1895.
There are some local members who would like to host informal (scoring optional!) Scrabble evenings in their homes on a regular basis. If you would be interested in taking part, please contact me and I will co-ordinate some initial dates and venues.
Val Hinkins
Contact [Email] or [Phone Number] for details

WATever . . .
On Mon 9th Apr at 8.00pm - Lateral Thinking & Puzzle evening
Monday 9th at 8.00pm: Lateral Thinking & Puzzle evening – hosted by Ros Groves. Please let me know if you plan to attend as spaces may be limited! Also we will be bringing the usual nibbles.
On Mon 23rd Apr at 8.00pm - Pub meeting
Monday 23rd at 8.00pm: Pub meeting at Essex Arms, Langley Way, Watford, WD17 3EG. Please look for the Magazine on the table. New members always warmly welcomed.
David Seddon
Contact [Email] or [Phone Number] for details

Mensans in MK & Bedford
On Thu 5th Apr at 8.00pm - FThOTM
Please join us on the 5th from 8.00pm for informal First Thursday chat. However, note that we have moved back to The Old Beams at Shenley Lodge. We will try to get a table in the small room at the right hand end - look out for the Mblem or mag. For location see http://www.mcmullens.co.uk/oldbeams, menu etc. Feel free to join us for a meal or just a drink.
On Sun 8th Apr at 8.00pm - My Favourite Things
Mike Hargreave Mawson continues to host meetings at his home in Bedford this month, with "My Favourite Things" on Sunday 8th at 8.00pm. This month's theme for My Favourite Things is "poems", so bring along some memories and/or sample(s) to share with others.
On Thu 19th Apr at 4.00pm - Tea and Buns
Come and join us at Oaklands for a nice cup of tea and a bun, and we'll celebrate the imminent arrival of Spring. No doubt it will be snowing again.
Mike's address is [Address]. He strongly advises contacting him in advance for directions and parking hints if it's your first visit - email [Email] or phone [Phone Number].
On Sun 15th Apr at 10.15am - Sunday breakfast
Sunday breakfast will be at 10.15am on Sunday 15th, back at Carluccio's in the Centre:MK. Feel free to come for a full breakfast, a snack, or just a drink, but if possible please let me know by Saturday 14th so we have an idea what size table to grab when we arrive. We will probably be in one of the red booths just outside the restaurant.
On Wed 25th Apr at 7.30pm - Indian meal
Our final event in April, at 7.30pm on Wednesday 25th, is an Indian meal at Verandah Talk, just opposite Tesco in Wolverton. This is not a typical Indian restaurant and offers some Middle Eastern dishes as well. There is parking behind the restaurant, or it's just up the hill from Wolverton station. See verandahtalk.co.uk for details. Please let me know by Monday 23rd if you are coming, so that I can book a table.
We hope to see as many of you as possible at one or other of our events in April.
I also want to highlight an event I'm holding in May, so that it gets plenty of notice. On Saturday 19th May at 2.30pm I will be holding a planning meeting at our house (contact me for the address if you intend to come). I'd like to know your suggestions and ideas for future Mensa events in and around the Milton Keynes and Bedford area, and in particular I'm keen to find out if anyone is willing to organise anything that particularly interests them – a visit, a lecture, a walk, a theatre trip – whatever takes your fancy that you think would attract other people as well. It would be especially good to attract some new faces, but I think we need to be offering some new events in order for this to happen. You bring your ideas and we'll provide tea, coffee and nibbles.
Jo Sidebottom
Contact [Email] or [Phone Number] / [Mobile Number] for details

Lively Lincs
On Sat 14th Apr at 12.05pm - 2SaOTM
2SaOTM, Saturday 14th, 12.05pm, nominally until 2.00pm but we are often there for longer. Do join us at the Adam & Eve on Lindum Hill, Lincoln, for lunch or just a drink. At about 12.30pm our discussion will start on, 'When is it acceptable to interfere in another country's internal affairs?', then we'll undoubtedly wander off onto other topics.
On Sun 22nd Apr at 3.00pm - Teatime Thinking
Do come and stretch your brain at my house near Alford on Sunday 22nd from 3.00-5.00pm with a bit of 'Teatime Thinking'. General discussion over tea and cakes on ideas of the main philosophers but no previous knowledge required; anyone and everyone can join in. This month: Descartes: can we trust our senses?
Please contact me for encouragement/directions.
Christine Howells
Contact [Email] for details

Notts News
On Thu 5th Apr at 8.00pm - 5OTM
Start the Easter break with a drink and chat at the Vat & Fiddle pub from 8.00pm on Thursday 5th. Find us in the Golding's Room to the left of the bar with a yellow Mblem on display. New and old faces of all ages welcome. Pop in briefly or stay all evening. The pub is on Queensbridge Road near Nottingham railway station.
On Thu 12th Apr at 7.30pm - Natter & nosh
We're starting a new regular "natter & nosh" event on the 2nd Thursday of the month. The venue is the Beekeeper pub, Meadow Lane, Beeston, and we'll have a reserved table - the first long table near the food order point – from 7.30pm. We tried this as an impromptu event earlier in the year and it attracted 15 members so I think this will be a successful event format. You are welcome to come along for a meal or just a drink. It's a Hungry Horse venue so prices are very reasonable and we often have discount vouchers too. Why not join us on Thursday 12th?
On Tue 17th Apr at 8.30pm - Sheep racing night
It's a while since we've held a sheep racing night so there will be one from 8.30pm on Tuesday 17th in the function room of the Horse & Groom pub, Radford Road, Basford. £2.50 gets you a wad of sheepy money for gambling. Watch six battery operated sheep in racing silks stagger and bleat their way to the finish line. Hilarious fun! All proceeds will go to Cancer Research UK with prize for the winner with the most sheepy money at the end of the night. All ages welcome.
On Sat 21st Apr at 7.30pm - At Home
From 7.30pm on Saturday 21st Melvyn Blake is opening his home in Grantham to members for an evening of socialising with possibly a board game or two. Tea, coffee, juice and snacks provided but feel free to bring whatever else you wish to drink or a buffet contribution. Contact Mel on 01476-407-393 or melvyn.blake@ntlworld.com for directions and to say you'll be there please.
For further information on any of these events or suggestions for future events, especially walks or restaurants, contact me on [Phone Number] or [Email]
Ciao for now!
Maxine Bates
Contact [Email] or [Phone Number] for details
Editor's Bit at the Bottom
I hope to see some of you at The Sherlock Holmes Museum (you know the address?) at 12 noon on 7th April (contact Neil Matthews at sigsofficer@btopenworld.com /[Phone Number] for more details). If you're not there we'll meet again in September Empress as April's is my last Empress until then.
Have a great Summer!
Rosie Jefferson
and introducing East Midlands'

Junior Mensa Officer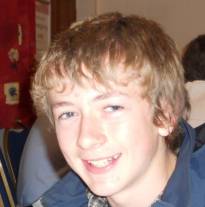 Hello. My name is Kai Williams. I am 14 and am currently studying my GCSEs.
In particular my favourite subjects are maths, English and physics (though I do like most subjects).
Outside of school I enjoy rugby, reading, walking and playing my ocarina (not very well). Some of my favourite authors are Terry Pratchett, Robert Muchamore and J.K.Rowling, but I am always interested in new genres. I don't currently have a set career ambition but have an interest in business/finance or something in the science area, i.e. vet or doctor.
Although I have not even been in Mensa a year I am keen to get involved. I would like more junior members, more involved junior members, and more events for junior members. If you would like to suggest any ideas or contact me at all, please email me at: [Email]
Swing your corner . . .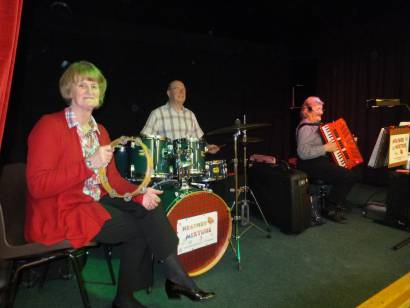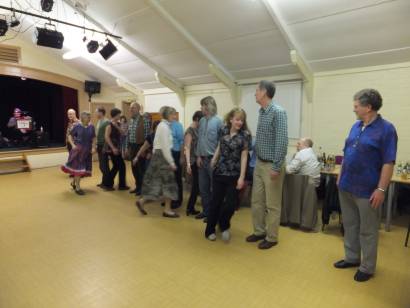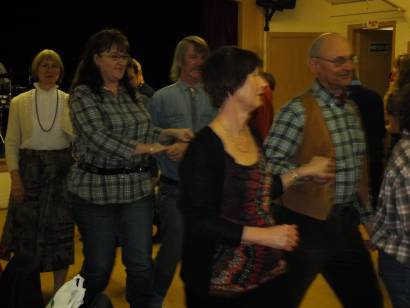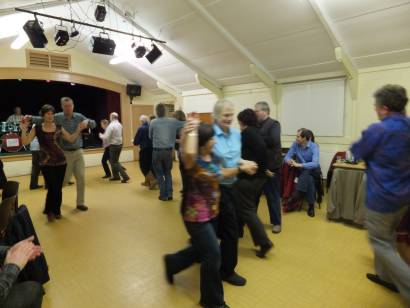 At Diseworth Village Hall on 25th February three dozen Mensans and guests weaved, do-si-doed and stripped the willow to the lively sounds of local band Heather Mixture. Not every step was perfect – to the amusement of the tambourine player and the occasional frustration of the caller - but isn't that part of the pleasure of a Barn Dance, trying to interpret the caller's instructions to 'swing your corner' or 'go into a great chain' while keeping in time with the music, - and avoiding collisions of course. Opportunities for the dancing feet to rest and recover were given by a break for a chilli supper that raised energy levels and later by the drawing of the raffle that raised funds for Cancer Research.
Most of those present danced most of the dances and the smiles and laughter level throughout the evening was high – surely good indicators of the success of this Regional Event so ably organised by our Regional Officer.
Maxine agreed that the evening had been a success and asked that I include, "A big thank you to Andy for doing the excellent catering, Rosie for helping to serve supper, and to Catherine and Blade for doing a stint of washing up. Also to everyone who bought raffle tickets and helped raise £61.50 for Cancer Research UK."
20 Questions (No. 127)
The answers containing capital cities from the February issue were Denzel Washington, Chicken Kiev, Vienna, St John's Wort, Muscat, Jack London, Funeral In Berlin, One Night In Bangkok, San Jose, Sofia Coppola, Our Man In Havana, Brussels Sprout, Real Madrid, Victoria Wood, Wellington, Timon Of Athens, SS Canberra, Mica Paris, Praia and Jerusalem. Thanks to Pamela Covey of Woburn, Pat Naylor of Nottingham, Andy Cole of Cleethorpes, Helene Parry of Brentford, Roger Plant of Nottingham, Chris Impey of Tring, Ian Nelson of Letchworth, Alex Foster of Derby, D W Dell of Leighton Buzzard, Tim Gibson of Nottingham, Una Adams of Corby, and Philip Abbott of Watford for entering.
The winner of the £10 book token is Pat. Well done!
To celebrate St George's Day on 23rd April we have an English themed quiz. Send your answers to '20 Questions (No. 127)', [Address], to arrive by 20th April.
1. What is England's largest lake?
2. In which Cornish town would you find a Tate Gallery?
3. What is the official London residence of the Archbishop of Canterbury?
4. Which member of the royal family was born on 8th August 1988?
5. The Clifton suspension bridge spans which river?
6. In which county are Watford Gap motorway services?
7. Over which bay would you be guided by the Queen's Guide?
8. Which national park is in North Devon?
9. Which county is home to the National Horological Institute?
10. What is the range of chalk hills running from Oxfordshire to Bedfordshire?
11. Which motorway runs between Birmingham and Exeter?
12. Which is the largest park in central London?
13. In which year did Queen Elizabeth II celebrate her silver jubilee?
14. Who designed Marble Arch?
15. What is the county town and administrative headquarters of Wiltshire?
16. Which modern city did the Romans call Deva?
17. On current British car registrations where do the letters HW signify?
18. What is the highest mountain in England?
19. True Cockneys are born within the sound of bells of which London church?
20. Which university did Margaret Thatcher attend?