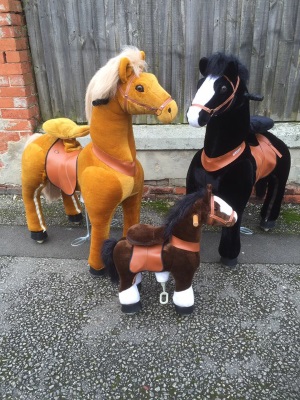 Pony Grand National event on 8th April
Regional News
The Regional Officers and Regional Newsletter Editors will be holding their annual conference on 1st/2nd April. This is not only a good opportunity to discuss all Mensa matters but also to meet people in person who we usually only see in print. If you have issues you would like raising please contact myself.
At the time of writing our get together in Northampton is yet to take place although initial response to the event has been encouraging. Hopefully by the time you read this everyone attending will have had a pleasant evening of chilli and chat and we will be in the process of arranging some future events for the NN postcode area. Thank you to those who took the time to contact me even if to say they liked the idea of the event but were unable to attend on this occasion.
This month sees our usual range of social events featuring food and drink as well as more unusual activities such as pottery painting and pony grand national! Do contact your LocSec if you have any suggestions for future events whether restaurant recommendations, suggestions of walking routes, good places of interest to visit, one-off events happening in your local town, family friendly activities and more.
A reminder that the British Mensa Annual Gathering takes place in Ipswich 8th-11th September and full details should be available later this month. Keep an eye on www.mensa.org.uk
Maxine Bates
Regional Officer
Editorial
Welcome to the April Edition of Empress. I am back again for the next three months.
I want to start by thanking Mark Sloan for not running away after the first mag. he edited. To be honest, I just realised how rusty I was after three happy months not bothering to check whether I had enough space in the magazine or the other way round. Go back to the drawing table now.
This month we have an original Pony Grand National Event for the daring/fun ones. For the more settled down/sensible members, our Alphabet Event is more relaxing than invigorating: a lovely day doing some pottery painting. Both would be ideal activities for grown-ups and little ones. You can bring your family, a friend or just yourself. Just remember that non Mensans are also invited to all the activities and events.
Weather depending (or not), take a nice cup of tea, a comfy garden chair and enjoy a nice spring reading.
Maria Falces
Member Profile - Sally Ann Branston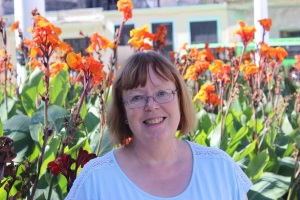 1.-Name?
Sally Ann Branston
2.-Location?
I live in Newark on Trent, Nottinghamshire.
3.-When did you join Mensa?
I joined in 1989.
4.-Why did you join?
I was having a year of 'testing' myself. I took the Mensa test and appeared on two TV quizzes: Mastermind and Fifteen-To-One, but it took me until 1997 to win anything – Ed Stewart's Accumulator Quiz on Radio 2! It's been downhill ever since.
5.-Have you attended any events? If so what were they like?
I've spent quite a lot of my life outside the UK, so I haven't attended too many events, but those I have attended have been both entertaining and welcoming.
6.-Do you belong to any SIGs? If so which one(s)?
At the moment, I belong to just two, Travel SIG and GeneSig. There have been others in the past, but I try to limit myself to those I can reasonably contribute to from time to time.
7.- Your Occupation?
Not sure! By profession I teach English as a Foreign Language, but at the moment I seem to be mainly occupied in renovating my house and garden. I also volunteer at Newark's National Civil War Centre.
8.-Any hobbies/interests?
History, music, travel, gardening, foreign languages and researching my family history.
9.-Anything else you'd like to share?
Since I first left Nottinghamshire (Mansfield) in 1971 to study at Portsmouth Poly, as it then was, I've lived in seven countries around the world and all parts of the UK, except Wales (I've nothing against the Welsh, it just never happened).
As I am accustomed to moving house every eighteen months or so, it's quite strange to have come full circle and be 'back home'.
I'm wondering whether I shall be staying put for a while or if I shall soon feel the urge to move on. Let's wait and see. In the meantime, I'm hoping to make the most of my East Midlands Mensa membership, enjoy many more activities and make a lot more Mensa friends.
Events and Meetings
In the current circumstances surrounding the COVID-19 coronavirus, the expectation is that all events listed here are likely to be cancelled, if not already marked as such. If you intend participating in any event listed here, please contact the event organiser beforehand to confirm that the event is still on.

Lively Lincs
On Sat 8th Apr at 12:00pm - Pub discussion
This month's pub discussion is on Saturday 8th at 12:00 at the 'Adam and Eve' on Lindum Hill, will be on "Favourite books". Feel free to bring along your choice, maybe read an excerpt, or just come and listen to others. We arrive from about 12 to start the discussion at around 12.30. Food available and free parking.
On Tue 18th Apr at 7:00pm - Eating meeting
For our monthly eating meeting we are going to try the Phoenix Cantonese restaurant, High Street, Lincoln on Tuesday 18th at 19:00. All welcome but please book with me by 13th if possible, thanks.
Advance notice
Jacquie Harrison is planning a theatre visit to see "I Am Beast" by Sparkle and Dark at the Drill Hall, Lincoln on Tuesday 9th May. This may appeal to young adults as well as older members. For more details, please contact Jacquie Harrison on [Phone Number] or [Email], and by 1st May for tickets to sit together.
Christine Howells
Contact [Email] for details

Notts News
On Wed 5th Apr at 8:00pm - 5OTM
Join us from 8pm until late on Wednesday 5th at the Vat & Fiddle pub on Queensbridge Road. Recently we've seen several new faces and more are always welcome. We're usually on the first table inside the Goldings Room to the left of the bar and a yellow Mblem will be on display. Drink real ale, cider, wine, Coke or coffee over a variety of conversation.
On Sat 8th Apr at 3:00pm - Pony Grand National
Immediately ahead of the Grand National on Saturday 8th we have our Pony Grand National! Come along to Greasley Parish Hall in Newthorpe (NG16 3QN) and ride one of the mechanical ponies. Press the stirrups and away you go! You can ride around the room just for fun or take part in one of our races. £3 per go. Suitable for children from age 3 and adults up to 15 stones/95 kg in weight. The event will last from to 4.30pm which should give you time to get home for the real race if you wish to watch it. You are welcome to come along and just watch the fun. Tea/coffee/juice/cakes will be on sale. Proceeds will be going to Cancer Research UK.
On Thu 13th Apr at 7:30pm - Natter & Nosh
On Thursday 13th we'll be starting the Easter break early with a meal at The Cadland pub/restaurant on High Road in Chilwell. Find us on tables 20-24 at the far side of the bar. Or feel free to come along later for just a drink. Look for yellow Mblem on the table.
On Tue 25th Apr at 7:30pm - Eating meeting
Our 'eating meeting' takes place at 7.30pm on Tuesday 25th and we're dining on Portuguese cuisine at Nando's in Lenton (near Showcase Cinema). They specialise in peri-peri chicken in all forms but excellent vegetarian dishes are also available. Please let me know by 20th if you'd like to come along so a table can be reserved.
Advance notice
Advance notice that there will be a quiz night in Newthorpe on Friday 12th May, a Eurovision party in Langley Mill on Saturday 13th May, a real ale trail in Newark on Saturday 10th June and Relay For Life on 15th/16th July. Contact me if you'd like more details now or see future issues of Empress.
Ciao for now!
Maxine Bates
Contact [Email] or [Phone Number] for details

Hertfordshire Happenings
On Thu 6th Apr at 8:00pm - FThOTM
March is here and so - hopefully - is spring! As ever, we are at the Three Magnets, Leys Avenue, Letchworth on Thu 6th at 8.00 pm. Thursday nights are curry nights but other food (standard Wetherspoons' fare) is available as well. Leys Avenue is the main shopping street in Letchworth and is a few minutes' walk from the station (Kings Cross to Cambridge line). Call me for more details and encouragement.
On Fri 28th Apr at 8:00pm - LFOTM
Last Friday is at our usual venue of the Cowper Arms, Digswell on Fri 28th at 8.00 pm. The pub is next to Welwyn North station and is served by stopping trains from Kings Cross to Peterborough and Cambridge. Good food, beer and conversation guaranteed! Please call me for more details and encouragement.
Richard Allen
Contact [Email] or [Phone Number] for details

Mensans in MK & Bedford
On Mon 10th Apr at 8:30pm - Pub, maybe quiz
For this month only, our visit to the Barge in Woolstone for the quiz is on the second Monday - 10th – because our regular third Monday is Easter and we can't be sure the quiz will be on. Meet from 8.30 - the quiz starts at 9pm and costs £1 per person. Please let me know beforehand if you're coming so I can bag a large enough table.
On Sat 22nd Apr at 10:30am - P is for pottery painting
Alphabet event: P is for...
The regional alphabet events have reached "P" this month, so we are doing something a bit different and going pottery painting! Join us at 10.30 am on Saturday 22nd at Kilning Me Softly in Newport Pagnell High St, where you can purchase a piece of unglazed pottery and then spend an enjoyable couple of hours painting it. You leave it behind to be fired and then collect it a week or so later. All equipment is provided, and refreshments are available.
Cost depends on the piece you choose, but around £15- 20.
I will need to confirm our booking a week in advance so please book with me by the end of Friday 14th April at the latest.
On Sun 30th Apr at 10:00am - Sunday breakfast
We return to Brown's, next to Jury's Inn on Midsummer Boulevard, for breakfast on Sunday 30th. Join us from 10am for a full breakfast, a snack, or just a drink.
Just a reminder about our M-MK & Bedford Facebook group – if you would like to join please search for the group and send me a request. I also keep an email distribution list for meeting reminders and any last-minute changes, so if you would like to be added to this please let me know.
We hope to see as many of you as possible at one or other of our events this month. Do remember that you're welcome to bring a guest with you, so if you've never been to a Mensa event and are a little nervous about coming along on your own, just bring a friend.
Jo Sidebottom
Contact [Email] or [Phone Number] / [Mobile Number] for details

Mid Bucks
On Sun 9th Apr at 2:00pm - Walk in the Chilterns
Join me for a 5 mile walk in the Chilterns. Meet at the public car park, the Broadway, Old Amersham at 2pm on Sunday 9th April. This is a hilly walk through woodland with some stiles. It can be muddy if wet, so please wear good boots or shoes. If you can, please let me know you are coming. You will be welcome if you just turn up on the day.
On Mon 24th Apr at 8:00pm - Indoor board games
Join Dave and Alison at their home in Flackwell Heath for a relaxed evening of indoor board games. Arrive for an 8pm start on Monday 24th April. Please contact Dave on [Email] or [Phone Number] for directions and to let him know which games you would like to play.
On Fri 28th Apr at 10:30am - Coffee & chat
Meet me from 10:30am onwards on Friday 28th April for a morning of informal conversation, chocolate and coffee. This month we are returning to Rumsey's Chocolaterie at 26 High Street, Wendover, HP22 6EA. For further information on the venue see http://www.rumseys.co.uk/our-shops/wendover. This cafe is located in the Old Bank Building and offers a breakfast menu as well as croissants, pastries and cakes. Their luxury chocolates are also available to buy.
Val Hinkins
Contact [Email] or [Phone Number] for details
Derby Diary
On Wed 19th Apr at 7:30pm - 3WOTM
Just our regular '3rd Wednesday' event this month on Wednesday 19th at the Standing Order on Irongate in the city centre. Being a Wetherspoon venue this is a good value night out and you can join us any time from 7.30pm until late for a meal, snack or drink. Look for yellow Mblem on a long table – as we rearrange the furniture! – in the low ceiling rear section of the pub. There is usually an excellent turn out at this event.
Maxine Bates
Contact [Email] or [Phone Number] for details
Motorcycle SIG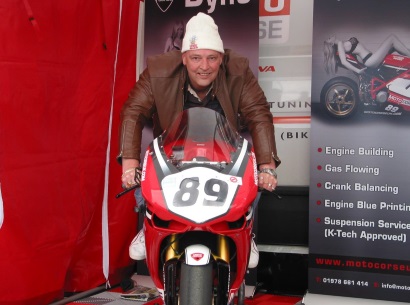 As the new Motorcycle SIG editor I thought I'd tell you a little about myself.
Firstly, I'd like to thank our outgoing editor Rick for his years of selfless service. I'm sure that you'll join me in wishing him a long and healthy retirement from his previous post. I know that I'll be leaning on him for advice in the near future as the first magazine under my care nears fruition.
Existing members may know me as I have written under the pen name of "Chairman Col" for a few years now. I grew up with bike racing as my father used to race and I followed on starting with schoolboy scrambling, or MotoX as it is now called. There weren't the same opportunities to race on tarmac as a kid as there are now so scrambling was the traditional route back in the late '60's, early '70's. Even today most road racers train off-road to get the feel of the bike moving around under them and to keep fit.
Then my father got a contract to develop Yamaha 2-stroke race engines with Gordon Blair, Dad did the porting and Gordon did the resonant chambers. I was always tall for my age and I worked my way into being an official Yamaha test rider at the tender age of 13. At that age I had already been tuning my own crambler engines for a few years and knew 2-strokes fairly well spending most of my summer holidays working in Dad's workshop and testing the new ideas for next year's race engines on the track, usually Kirkistown.
If it was only a quick run that was needed we used a road near us that you may have seen on Game of Thrones, we called it "The Dark Hedges" and I believe that the Dunlop family still use it.
I moved from NI to Wales as, unlike my father, I didn't really fancy racing mostly on real roads, I wanted to race on purpose built short circuits which were a lot safer. My first race bike was a TZ350 to which I devoted a lot of evenings bringing up to modern spec.
I soon progressed from an orange bib to a clubman's licence and thence to a national licence. I moved up to a 750 4-stroke Yamaha via an RG500 Suzuki for a few years as Superbikes were taking off and then in 1990 Ducati signed me as a factory rider/test rider. My time with Ducati was great, once again I was getting paid to ride bikes quickly and they were like a big, extended family really. During my time with Ducati I won 2 European Superbike championships and, with bonus money, was on good money. Then I broke my back and that was the end of that. I now edit this mag and run my own little business, Shedworks Engineering.
But enough about me. I'd like to hear from you. I may be the editor but without your input I have nothing to edit and you have no magazine. Tell us all about your favourite road as members may be interested in riding it too. If you have any tips about Triumphs, stories about Suzuki's, helpful hints about Hondas send them in so that other members can benefit from your knowledge and experience. Anything that you can think of no matter how short, send it to me for inclusion, photographs are always welcome. If we can arrange a meet for a cuppa for members who live in the same area let's do it! You can sit and swap yarns over a brew and a bacon buttie.
You can contact me at coleleri@aol.com and please put Bike SIG in the subject line so I know that it's not spam.
"Chairman Col" AKA Colin Edwards-Freeman
20 Questions (No. 186)
The maths answers from our February competition were 8, 24, sigma, 7, 101, 720, 33, -8, 1/2/3/4/6/9/12/18/36, 0, 13 miles, 1 in 12, 3, sine, asymptote, 2520, b squared - 4ac, 4/3 π r cubed, 1001001 and 12. Everyone who entered got top marks but the winner picked at random was Andy Cole of Cleethorpes. A £10 book token is on the way to you.
This month's competition is once again compiled by Kerrin Tarr and will suit all Harry Potter fans. Send your answers to arrive by 20th April to '20 Questions (No. 186)', [Address] or [Email] remembering to include your name and address in case you win.
1. What was the name of Neville Longbottom's mother?
2. At the end of Harry's first year at Hogwarts how many points were Slytherin ahead of Gryffindor by BEFORE the last minute points were rewarded?
3. In the Deathly Hallows who does Lord Voldemort call a 'stupid girl'?
4. What two words must be said to hide the secrets of the Marauder's Map?
5. When Harry kisses the golden snitch while going to meet Voldemort what message appears on it?
6. Who was the Dark Arts teacher during Harry Potter's sixth year at Hogwarts?
7. At which London train station is platform nine and three quarters?
8. In which book does Sirius Black die?
9. What was the last horcrux that was destroyed?
10. When is Harry Potter's birthday?
11. Who is the eldest of all the Weasley brothers?
12. Which family would you find living at 'The Burrow'?
13. Whose vault number at Gringotts is 720?
14. Which witch/wizard invented the spell Sectum Sempra?
15. How many players make a quidditch team?
16. Who dies the earliest out of the following: Mad-Eye Moody, Professor Lupin or Fred Weasley?
17. Where does Harry Potter discover the lost sword of Gryffindor while hunting for horcruxes?
18. What is Dumbledore's full name?
19. Which chess piece does Ron Weasley play as during the final chess match in the Philosopher's Stone?
20. Complete the name of this character - Nearly-Headless ____?