Eurovision Party Review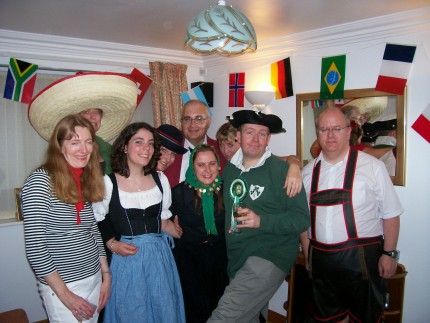 Saturday 12th May and time for Andy and me to host our 3rd Eurovision Song Contest Party at our home in Nottinghamshire. Among the 20 guests we had honorary Irishman Stewart and French girl Christine to give the event an international flavour as well as welcoming a couple of new faces. The house was decorated with national flags, Russian dolls and Union Jack memorabilia and the buffet table was piled high with European foods. There were cheeses from England, Ireland, France, Denmark and the Netherlands, olives, feta salad, humous and pitta bread from Greece, blinis from Russia, nachos from Spain, peri-peri dip from Portugal, pizza from Italy, herring spread from Sweden (well, Ikea actually!) and pastries from Denmark. For those guests with a sweet tooth we had contributions of German biscuits, Irish chocolates, Swiss roll, Turkish delight and Maltesers. Newlyweds Lesley and Geoff even brought some of their amazing wedding cake to share.
The costumes were equally as impressive with Austrian lederhosen, Bavarian kellergirl dresses, Irish hats, Turkish scarves, Spanish sombreros and T-shirts stating various country names. Special mention should go to Lesley and Geoff who once again dressed as the UK entry - air stewards and stewardesses!
Some guests watched the contest from start to end, some stayed in the kitchen to chat and others flitted between the two. For those glued to the TV, I provided a food and drink service. Well, I had to force-feed people somehow to get rid of the food mountain! The programme was, of course, as cheesy as ever and the political voting even more blatantly obvious. Thank goodness Malta are still our friends and awarded the UK douze points! As usual we ran a sweepstake at £1 per go. I drew Ireland who came last but Lesley Walker (nee Gorlov) was luckier having drawn the winner Serbia. We decided half way through the contest that the sweepstake winner, like the real winner, should host the Eurovision party next year. So we look forward to a trip to Newark in May 2008!
After the TV was switched off we played some Eurovision hits from the 70s and 80s and I announced the winner of my fun Eurovision trivia quiz. Having disqualified Leah because of cheating, I think Nigel was horrified to be declared the winner of such a naff quiz! Then there was more eating, drinking and general merriment. The European drinks, apart from wine, included a German liqueur with blood oranges and herbs, San Miguel beer, a Sicilian lemon liqueur, sangria and Dutch advocaat. With the latter I introduced Christine to the taste of snowballs!
As usual, the evening ended with some of us jumping into the hot tub in the garden. It really didn't matter that we made noise as my neighbour was at the party! Thank you to everyone who came along and made it a fun evening, particularly those who had made a long journey. Roll on Eurovision 2008!
Maxine Bates