Regional News
I'm delighted to announce that we are hosting a regional event in the south of our region this month. It's a two part event on Saturday 17th August and designed to be family friendly. Meet at 11.00am at Hatfield House and decide on the day whether to visit the house, garden or farm park. Then from 3.30pm there will be a BBQ at the home of Rowena and Mark in Welwyn.
All food, including vegetarian, will be provided from our regional funds. All we ask is that you bring whatever you wish to drink. Members of all ages and their families are welcome at either or both parts of the day. Please contact me on [Phone Number] or [Email] if you would like to attend the BBQ to obtain the full address and to help catering.
Transport may be available from stations and between the two venues – please ask. Many thanks to Richard (Herts LocSec) for hosting the morning event and to Rowena (former Scottish Regional Officer), husband Mark and their three year old daughter Karensa for inviting us to their home. Fingers crossed for sunshine rather than showers!
Maxine Bates
Regional Officer
Events and Meetings
In the current circumstances surrounding the COVID-19 coronavirus, the expectation is that all events listed here are likely to be cancelled, if not already marked as such. If you intend participating in any event listed here, please contact the event organiser beforehand to confirm that the event is still on.
Derby Diary
On Fri 16th Aug at 7:00pm - BBQ
Firstly thanks to Janine and Sandy for hosting their "at home with tarot" event in June. It was an interesting evening. From 7.00pm on Friday 16th Susan Luke and Mark Graves are once again inviting us to their home in Ilkeston. This is chance to chill out and chat at the end of the working week with an optional BBQ. If you'd like to join in with the food, salads will be provided but please bring something to put on the BBQ (or under the grill if weather inclement) or you're just as welcome to come along for a drink. BYOB. Susan and Mark have a conservatory so you won't be banished outdoors all evening. Please phone them on [Phone Number] for the address, directions and to say you'll be there.
On Sun 18th Aug at 2:00pm - Strawberry afternoon tea
On Sunday 18th we have an event in Chesterfield which although in Derbyshire has an S postcode so technically belongs to North East Mensa! However, many of you are within reach of Chesterfield and this is a nice event for the ladies. Come along to the Garden Marquee at Ringwood Hall Hotel from 2.00-5.00pm for a strawberry afternoon tea. There will be opportunity to be pampered with a manicure, facial or massage from £5 per treatment. There will be demonstrations on sugar craft, flower arranging and bio sculpture gel nails. There will also be stalls selling fashion, homeware, jewellery, gifts, health and beauty products. Tickets cost £5.50 with proceeds going to Breast Cancer Care and the Nottingham Breast Cancer Research Appeal. The event is sponsored by British Strawberries as part of a national fundraising campaign over the summer. Contact me if you would like any tickets.
On Wed 21st Aug at 7:30pm - 3WOTM
We will be at the Standing Order on Irongate in Derby city centre from 7.30pm on Wednesday 21st. Our June event was also a double celebration with Brigitte's special birthday and Matthew's return from his year away in New Zealand. Brigitte is a regular attendee and Matthew was a former Derby LocSec. What can we celebrate this month!? Look for the yellow Mblem on the table at the rear of the pub. You are welcome to join us for a meal or just a drink.
Maxine Bates
Notts News
On Fri 2nd Aug at 6:00pm - Greyhound racing
On Friday 2nd we're going to the Nottingham Greyhound Stadium in Colwick once again.
Tickets cost £5 (admission and race card) with all money going to Cancer Research UK. We will be allocated a dog to compete in their charity tournament so come and cheer on our four legged friend. It's a fun night out for all ages with under 18s admitted free of charge with an accompanying adult, although they aren't allowed to bet. Food and drink are available at the venue as is ample free parking. Gates open 6.00pm, first race 6.28pm and last race finished by 10.30pm. You can arrive/leave when you like. Please contact me for tickets. You may bring friends, family and work colleagues as we have been donated 100 tickets so the more the merrier!
On Mon 5th Aug at 8:00pm - 5OTM
Our regular get together at the Vat & Fiddle pub falls on Monday 5th and we'll be there from 8.00pm until late. The pub is close to Nottingham railway station and Broad Marsh bus station and has free parking right outside on Queensbridge Road or Traffic Street. Find us in the Golding's Room to the left of the bar, usually on the first table as you enter. New faces always welcome.
On Thu 8th Aug at 7:30pm - Natter & nosh
Unusually our "natter & nosh" event falls in the same week as our "5OTM" event! So on Thursday 8th find us at the Beekeeper pub, Meadow Lane, Beeston, for a meal and/or drink any time from 7.30pm until we get kicked out! We should be on the first table beyond the food order point at the end of the bar with a yellow Mblem on display.
If you need directions to either the Vat & Fiddle or Beekeeper just contact me.
Ciao for now!
Maxine Bates
Lakes Party Weekend
15th-18th November 2013
A weekend of partying, walking, swimming, activities or just relaxation based at Whinfell Forest CenterParcs in the beautiful Lake District.
Package includes three nights accommodation in a twin/double room, three parties, buffet meals, help-yourself bar throughout the weekend, cocktail of the day, unlimited access to the subtropical swimming paradise, programme of events including walks, tastings, quizzes and much more.
Members attending from the East Midlands and beyond.
Family and friends welcome.
Cost £145 per person.
See www.maruba-events.com or contact Maxine on [Phone Number].
Lively Lincs
On Sat 10th Aug at 12:05pm - 2SaOTM
Our 2SaOTM, Adam & Eve pub on Lindum Hill, from 12.05 will involve a discussion as to the purpose of education: what is it that we would want children to learn? Look for the Mblem in an alcove. Some lunch, others merely imbibe, some talk, others just listen.
On Sun 18th Aug at 3:00pm - Teatime Thinking
Teatime Thinking will be at my house near Alford on Sunday 18th August/ I provide tea and cake to sustain us, you bring your thinking. We start at about 3 and sort of finish at 5 but we often continue past then, feel free to leave when you are thought-out.
On Tue 20th Aug 7:00pm - Eating meeting
Our midweek evening eating meeting will be at Thailand No. 1 on the Bailgate in Lincoln, 7pm, Tuesday 20th August. All welcome but please let me know you are coming so that I can book the right size table, preferably by the 17th.
On Sat 31st Aug at 10.30am - Beach hut day
Having just had an enjoyable beach hut day when the time flew by despite not having the best of weather, we're inspired to have another on Saturday 31st August. Usual hut, overlooking Queen's Park at the quiet end of Mablethorpe's long sandy beach. The whole point of a beach hut that it doesn't matter what the weather is like, we can be warm and chatting and eating cake, no matter what. So, do join us for as much of the day as you fancy, from 10.30 to about 5ish.
Christine Howells
Mensans In MK and Bedford
On Sat 3rd Aug at 1:30pm - Stowe Landscape Gardens
Our first get-together this month, on Saturday 3rd is a leisurely wander round beautiful Stowe Landscape Gardens near Buckingham. We will meet in the ticket office at 1.30pm and spend a couple of hours exploring the garden before adjourning to their restaurant for refreshments. Stowe is a National Trust property so is free to members, but charges apply for non-members. See National Trust website for more details.
There will be no quiz at The Barge this month.
On Sun 25th Aug at 10:30am - Sunday breakfast
Sunday breakfast will be at 10.30 am on Sunday 25th at Wetherspoons on Midsummer Boulevard West, next to Chiquito and not far up from the railway station (NOT the other Lloyds/Wetherspoons nearer the shopping centre and next to Jury's Inn). Come for a full breakfast, a snack, or just a drink – look for the Mblem on a table. We will be back from holiday but we promise not to bore you with holiday snaps.
We hope to see as many of you as possible at one or other of our events in August.
Jo Sidebottom
Berkhamsted
On Thu 29th Aug at 7:45pm - LThOTM
Please note the change of day for our regular meeting at The Old Mill, London Rd Berkhamsted. Just have a drink and a chat or eat with us. Pub does good meals. New members, partners etc. always welcome. Free car parking.
Jenny Habib
Northants NNotes
On Thu 1st Aug at 9:00pm - FThOTM
Our "1st Thursday" meeting is just on the western edge of Northampton - please join us at 9pm on Thursday 1st August at The Live and Let Live , LarkHall Lane, Harpole, NN7 4DP. The pub is split into several areas and whichone we'll be in will depend on how busy it is, so you may have to hunt us out.
On Wed 7th Aug at 8:00pm - Pub Meeting
Pub Meeting hosted by Les Draper Eames at The Compass Pub in Milton Malsor, NN7 3AT. It's only one room, so shouldn't be too difficult to find us. Look for the magazine.
Good Beer Guide pub and happy chat, but only nibbles to eat, I am afraid. Please bring a friend if you are shy. Call Les on 01604 879909 for encouragement and to let me know that you are coming, please.
On Thu 15th Aug at 8:00pm - Roadshow
And finally the Roadshow meeting on Thursday 15th August at 8pm. Ideal for those of you in the Kettering and Corby areas; the meeting will be at The Star Inn, 2 Bridge St, Geddington, NN14 1AD. Geddington is famed for its Queen Eleanor Cross and this pub is in full sight of it.
Ian Sargent
Herts Happenings
On Thu 1st Aug at 8:15pm - FThOTM
As ever, we're at the Millstream, Cambridge Road, Hitchin. Good food and good beer both available! Call me on [Phone Number] for more details and encouragement. The pub is about ten minutes' walk from the railway station.
On Sat 17th Aug at 11:00am - Regional Event
As part of the Regional Event on Saturday 17 August, we're visiting Hatfield House in the morning. Meet at the car park at 11 am and we'll decide what to do. There is plenty to see and do at Hatfield to suit all ages and tastes. Call me on [Phone Number] or 07876 767059 on the day for details and encouragement.
Transport will be available to the regional BBQ afterwards - please ask me if you require transport. The House can also be reached by train and is five minutes' walk from Hatfield station.
There is a good choice of things to do at Hatfield House, including tours of the House, walks in the gardens and park, a childrens' adventure playground and farm. Their website (http://www.hatfield-house.co.uk) gives all the details you need to know.
The House itself is well worth visiting if you have not been before, as is the extensive parkland surrounding it. I suggest we meet at the car park and agree among ourselves as to who wants to go where and pay as you go for whatever you want to do.
On Fri 30th Aug at 8:00pm - LFOTM
As ever, we'll be at the Cowper Arms, Digswell, Herts (by Welwyn North station). Call me on [Phone Number] for more details and encouragement. The pub is next to the railway station, which is served by stopping trains from Kings Cross to Cambridge and Peterborough.
Richard Allen
More or Leicester
On Sun 4th Aug at TBA - Richard III
Now the crowds have died down a bit, I thought we'd have a pleasant summer afternoon finding all about Richard III – a true midlander having been both born and dying there, despite his secondment up north! – with a visit to the Richard III exhibition in the Guildhall in Leicester on Sunday 4th. Admission is free, but booking is important, so please call/email me on the details below by July 29th at which time we can confirm times. If there's enough interest, I'll also look into putting together a Richard III walking tour beforehand.
On Thu 22nd Aug at 8:00pm - 4ThOTM
Given that it IS going to be a pleasant summer (at the time of writing, it's lashing down outside with temperatures in single figures!), our usual Fourth Thursday on the 22nd August may well take place in the beer garden of the Craddock Inn, so take a look in there as well as the lower bit of the pub to find us!
On Thu 27th Aug at 8:00pm - Eating meeting
Finally, Maxine Bates is hosting a dinner at the Yam Sing restaurant on Charnwood Road in Shepshed on Tue 27th at 19:30. According to my fortune cookie, you need to book early (as the place isn't that large), so please contact Maxine on [Phone Number] or [Email] by the 20th at the very latest!
Paul Coulson
Mid Bucks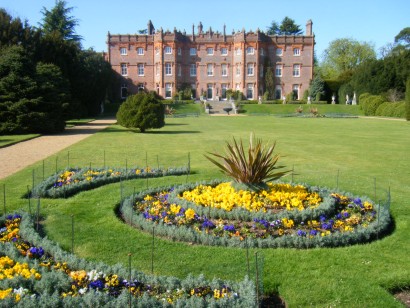 The parterre at Hughenden Manor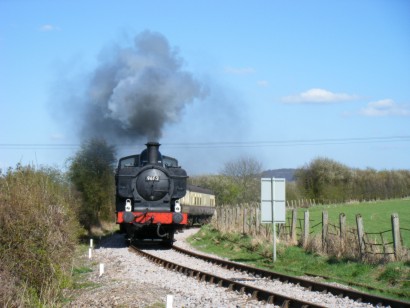 A train on the Chinnor and Princes Risborough railway
On Sun 4th Aug at 2:00pm - Chinnor and Princes Risborough railway
The Chinnor and Princes Risborough railway is run entirely by volunteers. It operates over a three and a half mile stretch of track at the foot of the Chiltern escarpment, close to the Icknield Way footpath. There are views up towards Whiteleaf Cross. Future plans include extending the line into Princes Risborough station, but at the moment a free bus service is provided on Gala days to transport visitors between Princes Risborough and Chinnor stations. Car parking is also available at Chinnor.
Sunday 4th August is the Annual Gala Day when all the operational locomotives will be running, although a steam hauled ride cannot be guaranteed. Meet up either before 2pm at Princes Risborough station for the free bus service or at Chinnor station at 2:30pm. Refreshments are available at the station buildings in Chinnor. For further information, see http://www.chinnorrailway.co.uk/ .
No need to book in advance, but if you let me know you are coming on [Phone Number] or e-mail me at [Email] I will look out for you.
On Sun 25th Aug at 6:00pm - Shakespeare in the gardens
Last year we enjoyed Much Ado About Nothing in the open air at Hughenden Manor. This year's Shakespeare performance by the same company, Heartbreak Productions, is Romeo and Juliet and takes place on Sunday 25th August. The stage will be erected in the gardens, and the play will start at 7pm. Remember to bring your own seating and warm clothes. The gates will be open from 6pm if you wish to picnic in the gardens first. Please book your own tickets (Adults £16) by calling 0844 249 1895.
Ring me on [Phone Number] or e-mail me at [Email] for further directions / encouragement
Val Hinkins
Watever...
On 17th or 18thAug at 9:30am - Bletchley Park visit
On Sat 17th or Sun 18th Aug, a visit to Bletchley Park, Bletchley, Milton Keynes MK3 6EB
I will email in August to confirm the best day and plan numbers and travel arrangements.
Opening hours are 9.30 - 5.00 pm
Admission price is £15 adults or £13 concessions or £9 for children 12 - 16 and free for under 12's. The price entitles you to an Annual Season Ticket, valid for as many visits within a 12 month period, starting from your first visit.
Block B exhibitions include:
The world's only fully-operational Bombe rebuild - the electro-mechanical device used to mechanise the process of breaking Enigma
The Life and Works of Alan Turing gallery
The largest and most comprehensive public display of Enigma machines in the world
A Home Front exhibition - How people lived in WW2
Breaking the Japanese Codes
Bletchley Park Timeline - How the work of Bletchley Park influenced key WW2 events
From Intercept to Action - the Codebreaking process explained
Hut 8, German Naval Codebreaking Hut, exhibitions include:
The Office of Alan Turing, Head of Hut 8
Royal Pigeon Racing Association exhibition, explaining the use of pigeons in WW2
The Mansion exhibitions include:
The Office of Alastair Denniston, Head of the Government Code and Cypher School
Other Exhibitions include:
The National Radio Centre - Home of the Radio Society of Great Britain
The National Museum of Computing
There is an itinerary on arrival. There is a cafeteria and also a coffee shop Suggest we take a picnic as there are picnic tables/benches/lawns. SatNav Sherwood Drive - MK3 6EB
http://www.bletchleypark.org.uk
On Tue 27th Aug at 8:00pm - Pub meeting
Please note this is a TUESDAY pub meeting (because of bank holiday Monday)
Pub meeting King's Head, Bridge Road, Hunton Bridge WD4 8RE
We usually meet upstairs in the 'gallery' area furthest from the bar.
The pub is easy to find from the dual carriageway (A41 Watford Road)
From Watford turn right at the traffic lights, over the small bridge and then on the right.
Look for the magazine or ask at the bar.
New members are warmly welcomed.
David Seddon
'20 Questions (No. 143)'
The two part answers to the film quiz from June were Clark Gable in Gone With The Wind, Marlon Brando in The Godfather, Anthony Hopkins in The Silence Of The Lambs, Judy Garland in The Wizard Of Oz, Sean Connery in Dr No, Clint Eastwood in Sudden Impact, Gloria Swanson in Sunset Boulevard, Harrison Ford in Star Wars, Bette Davis in All About Eve, Robert De Niro in Taxi Driver, Strother Martin in Cool Hand Luke, Robert Duvall in Apocalypse Now, Ali MacGraw in Love Story, Judy Garland in The Wizard Of Oz (again to confuse you!), Pat Welsh in E.T. The Extra-Terrestrial, Sidney Poitier in In The Heat Of The Night, Orson Welles in Citizen Kane, James Cagney in White Heat, Peter Finch in Network and Humphrey Bogart in Casablanca.
Entries were received from Helene Parry of Brentford, Tony Dodd of Belvoir, Michael Warren of Derby, Philip Abbott of Watford, Pamela Covey of Woburn, Mike Hadley of Lutterworth, Lynn Cooper of Aston, Ewan Wilson of Hatfield, Roger Plant of Nottingham, Rita Beeson of Bedford and Chris Impey of Tring with Helene winning the £10 book token.
This month we have another two part quiz. Below are lyrics from songs with the word summer in their title. Can you name the song and the original artiste(s) who sang it. Send your entries either by post to '20 Questions (No. 143)', [Address], or by email to [Email] to arrive by 20th August. Don't forget to include your name and address so we know where to send the prize if you win!
1. "the pavements are burning"
2. "I'm gonna take my problem to the United Nations"
3. "kisses hotter than the Santa Ana winds"
4. "took her bowling in the arcade"
5. "brown skin shining in the sun"
6. "if her Daddy's rich take her out for a meal"
7. "we sat down in the grass by the Eiffel Tower"
8. "just sweet beginnings and bitter endings"
9. "noon burned gold into our hair"
10. "dressing so fine and looking so pretty"
11. "orange popsicles and lemonade"
12. "do you remember all the nights we spent in silence"
13. "the wind can change so quickly without a word of warning"
14. "fish are jumpin' and the cotton is high"
15. "Jimmy quit and Jody got married"
16. "your grandma's house was next to mine"
17. "in a dress that I was certain she hadn't worn in quite a while"
18. "some place that one million eyes can't see"
19. "those days of soda and pretzels and beer"
20. "no more working for a week or two"