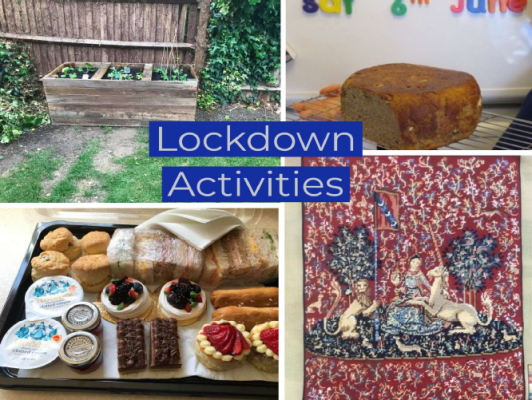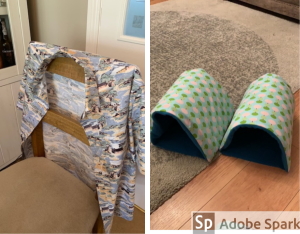 These are some examples of our how our creative East Mids members have been spending the lockdown. Thank you all for your photos.
It might have taken Christine Howells 27 years to get around to completing her tapestry, but what a wonderful achievement! She says 'it has moved from house to house with me, sitting in various cupboards until I felt moved to do a little more. It's about 26" x 20", 10 stitches to the inch, which I reckon is about 52,000 stitches ...... well, no wonder it took a while.'
Jacquie Harrison, John Margetts and Helen Shovlar have been baking bread, Helen's is a yeastbased no-knead loaf, made with wholemeal flour and including home grown toasted hazel nuts. It has turned out rather tasty apparently, and it's a very quick loaf-in-two-hours process – probably eaten in less time than it took to make!
Jo Sidebottom has been completing brilliant recycled garden projects, and relaxing with a delicious Afternoon Tea delivered to her at home. To my amazement I made a shirt that looks like a shirt, and also two Guinea Pigs beds (they're a snug fit apparently).
Please send photos of your creative pursuits to [Email]
Regional News
How is everyone doing in these ongoing crazy times? 2020 is certainly testing us all to the limits. Hopefully you have not suffered any bereavements or job losses due to COVID-19. Let's look on the bright side though. There have been advantages of lockdown.. Far less money spent on fuel, dining out, holidays, clothes, hair and beauty appointments.. Far more time spent with family for some. I truly hope you've been able to use this once in a lifetime (well, I really hope it's a one off!) opportunity to recharge your batteries, catch up on all that DIY and gardening, and taken stock of what is really important in life for when we return to a new normal. Carole asked on the East Midlands Mensa Facebook group if anyone had taken up new hobbies during lockdown and you can see a few of the responses on the front page.
We have advertised social events for August in the hope some of them will happen. Lots of walks this month as more chance of us being able to meet up outside. We'll be fit! Please do check with the host before turning up in case restrictions are still in place. As ever, suggestions for walking routes, restaurants and tourist attractions to visit in the future or other activities are always gratefully received by myself or Local Officer. I'm on [Phone Number] or [Email]. I look forward to meeting lots of you in due course, but in the meantime continue to stay safe.
Maxine Bates
Regional Officer
Editorial
Welcome to the August edition of Empress. Whatever stage of Lockdown we are in when you read this, I know that creativity for enjoying get-togethers has been stretched to an unprecedented level. Who would have thought of a Virtual Summer Solstice, or Drive-by Birthday parties? Now, we're attending meetings in pyjama bottoms, and enjoying live theatre without a tiresome train journey home at the end of the evening.
Thank you to everyone who sent in photographs of their lockdown activities and projects. If you have found inventive and printable ways of getting together this year, please send a few words on the subject for the next issue of Empress – it's great to hear how everyone is adapting their lives to our New Norm. You can email your comments to [Email]. We love to hear from you, especially if you haven't sent anything in before.
Carole Pollard
Member Profile - Nigel Bryant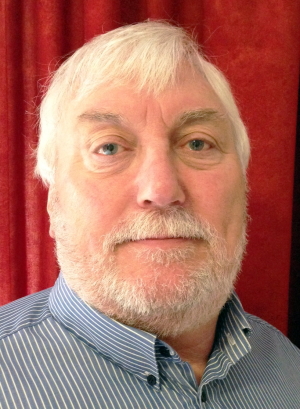 Hi, I am Nigel Bryant and live in Riseley near Bedford. I joined Mensa in 1967. I was taking my A Levels at Henley Grammar School, not very successfully, and felt the need to prove I had a brain. I then went on to university in Cardiff to study Occupational Psychology, and became involved in Mensa activities, largely because of the enthusiasm of the LocSec, Anne Meneer. I was the runner up in the All-wales Mensa Chess Championship. This sounds rather grand but was a very small event.
The highlight of the South Wales Mensa calendar was the walk from Methyr to Brecon on the shortest night of the year. The intention was to reach the peak of Pen y Fan as the sun rose. Unfortunately, the weather was always bad and the walk organiser thought it too risky to ascend Pen y Fan in the mist and rain.
I took over from Anne as the LocSec and enjoyed organising the usual events: pub visits, games evenings, poetry evenings, etc, but when I returned to England I lost touch with Mensa for a while and re-joined a few years ago. I teach part time at Oxford Brookes Business School and, inevitably, Mensa events clash with my teaching. However, I have managed to get to a few quizzes, and joined a Mensa visit to an Amazon "Fulfilment Centre". An amazing operation, rather Orwellian. Perhaps my perception was influenced by the fact that I wrote "Manor Farm" a sequel to George Orwell's "Animal Farm".
I enjoy quizzes and puzzles, and attempt the 20 Questions in Empress each month. I occasionally win.. I also enjoy photography and my ambition is to win the annual village photographic competition. One year I will get to Portmeirion to combine my interests in photography and The Prisoner.
It is always good to read about other Mensans, how they spend their time, how and why they joined Mensa, and what their other interests are. If you would like to be included in a future edition of Empress, please forward a photo, and some information about yourself to
[Email]
Events and Meetings
In the current circumstances surrounding the COVID-19 coronavirus, the expectation is that all events listed here are likely to be cancelled, if not already marked as such. If you intend participating in any event listed here, please contact the event organiser beforehand to confirm that the event is still on.

Derby Diary
On Wed 19th Aug at 7:30pm - 3WOTM
Our monthly Derby meeting is established on Zoom for now. We aim for it to last for about an hour up to an hour and a half. Webcam not essential. If you haven't wanted to brave Derby city centre previously, perhaps this different format is an opportunity. Please contact me for the Zoom link and with any questions. Contact Susan on [Phone Number] or [Email]
Susan Graves
Contact [Email] or [Phone Number] / [Mobile Number] for details

Hertfordshire Happenings
On Thu 6th Aug at 8:00pm - FThOTM
At the Three Magnets, Leys Avenue, Letchworth. Thursday is traditionally curry night, but other food is also available (standard Wetherspoons fare). Leys Avenue is the main shopping street in Letchworth and is just a few minutes' walk from the rail station (Kings Cross to Cambridge line). Please call me on [Phone Number], or email [Email] to confirm whether this meeting is still taking place, given the situation with COVID-19.
On Sat 8th Aug at 4:00pm - Picnic
We are planning a picnic on Norton Common in Letchworth. Meeting outside the Garden City Brewery to purchase any alcoholic beverages we may want, followed by a walk down to Norton Common, which is a delightful mix of trees and open spaces. For further information, please call or text me on [Phone Number], or email [Email]
On Fri 28th Aug at 8:00pm - LFOTM
As ever, we are planning to be at the Cowper Arms, Digswell. The pub is next to Welwyn North station and is served by stopping trains from Kings Cross to Cambridge. Good food, beer and conversation guaranteed! Please call me on [Phone Number] to confirm whether this meeting is still taking place, dependent upon the COVID-19 situation.
Steve Thomas
Contact [Email] or [Mobile Number] for details

In Leicestershire
On Sat 1st Aug at 11:00am - Walk and Picnic
If the weather is suitable, meet me by the police box in the Newtown Linford car park of Bradgate Country Park (parking charges apply). Please bring your own packed lunch so that we can combine our walk with a picnic and a good natter. You are welcome to bring a friend. If you need any directions or encouragement, please contact me on [Phone Number] or at [Email].
On Mon 17th Aug at 8:00pm - Pub Social
Join me for our usual convivial third Monday of the month gathering at the Cradock Arms, 201 Knighton Road, Leicester, LE2 3TT. You are welcome to bring a friend or partner. Look out for the Mblem or Magazine. If you need any directions or encouragement, please contact me on [Phone Number] or at [Email].
Haydn Starkie
Contact [Email] or [Mobile Number] for details

Lively Lincs
On Sat 8th Aug at 10:30am - Treasure Hunt
A staggered/timed treasure hunt (with prizes!) in uphill Lincoln. Please contact me by Friday 7th if you hope to take part, and I will give you more details. It should take about an hour or so, and you will need a pen, a sense of direction and/or a compass. This meeting is suitable for accompanied children. Contact on [Phone Number] or [Email].
On Sat 8th Aug at 12:00pm - SSOTM pub discussion
If restrictions permit, meeting at the Adam & Eve Tavern, 25 Lindum Road, LN2 1NT (opposite Pottergate Arch). Topic this month: "Is it better for the world if humans focus on what is going well?" All welcome. Car park, pub food, decent ales, tea/coffee available. Look for Mensa Magazine on table, in the side alcove or front room. Contact Jacquie Harrison for encouragement/directions on [Phone Number] or [Email].
On Tue 18th Aug at 11:30am - Gentle walk
Join us as we enjoy a walk alongside the Fossedyke Roman canal from Brayford Wharf North to the Pyewipe Inn, just over a mile each way, planning to reward ourselves with a pub lunch. You are welcome to just come for the walk if you wish. Guests welcome. Contact Jacquie by the 16th for encouragement/directions on [Phone Number] or [Email] .
On Tue 18th Aug at 12:30pm - Pub lunch
Lunch at The Pyewipe Inn, just outside Lincoln. Some of us are walking out from Lincoln (as above), but you are welcome to join us for lunch here. Guests always welcome. I need to book a table, hopefully outdoors, so please contact me by Sunday 16th on [Phone Number] or [Email].
Jacquie Harrison
Contact [Email] or [Phone Number] / [Mobile Number] for details

Mid Bucks
On Sun 2nd Aug at 2:00pm - Games Afternoon
Please join Dave and Alison on-line for a relaxed and informal afternoon of board games and chat. All members and friends are welcome. We will be using www.boardgamearena.com and Skype (audio only) for discussion. For further dates, information, directions &/or connection details please contact Dave a few days beforehand. Either telephone him on [Phone Number] or e-mail to [Email]
On Sat 8th Aug at 11:00am - Walk
We are hoping to walk along the Phoenix Trail from Princes Risborough. This is an old railway track which is wide enough for social distancing. Numbers may be limited, so please contact me on [Phone Number] or e-mail me at [Email] a few days beforehand to book a place and confirm details.
On Fri 14th Aug at 10:30am - Coffee & Chat
We hope to meet up again for coffee and a chat somewhere in Old Amersham this morning. Please contact me on [Phone Number] or e-mail me at [Email] a few days beforehand to confirm exact details.
For further details or encouragement contact me on [Phone Number] or e-mail me at [Email]
Val Hinkins
Contact [Email] or [Phone Number] for details

Mensans in MK & Bedford
On Sat 8th Aug at 2:30pm - Walk
Let's have another attempt at a walk in Campbell Park, weather permitting. Meet at 2.30pm by the MK Rose inside the park entrance opposite the theatre. Contact Jo at [Email], or [Phone Number] / [Phone Number] for directions/encouragement.
On Mon 17th Aug at 7:45pm - 3MOTM Quiz
Our monthly quiz outing to The Plough at Simpson. Meet from 7.45 for a 8.00pm start - cost is £1 per person. Please let me know if you are coming so I know if we will be one team or two. Contact Jo at [Email], or [Phone Number] / [Phone Number] for directions/encouragement. If necessary there will be a videoconference alternative.
On Sun 23rd Aug at 10:00am - Breakfast
Join us at Brown's on Midsummer Boulevard from 10am for a full breakfast, a snack, or just a drink. Contact Jo at [Email], or [Phone Number] / [Phone Number] for directions/encouragement. If we still can't visit restaurants there will be a videoconference alternative.
Just a reminder about our M-MK & Bedford Facebook group – if you would like to join please search for the group and send me a request. I also keep an email distribution list for meeting reminders and any last-minute changes, so if you would like to be added to this please let me know.
We hope to see as many of you as possible at one or other of our events this month. Do remember that you're welcome to bring a guest with you, so if you've never been to a Mensa event and are a little nervous about coming along on your own, just bring a friend.
Jo Sidebottom
Contact [Email] or [Phone Number] / [Mobile Number] for details

Notts News
On Wed 5th Aug at 8:00pm - 5OTM
Depending on social distancing rules and weather, we may be able to meet in the beer garden at the Vat & Fiddle pub on Queensbridge Road (NG2 1NB). Please check with Maxine on [Phone Number] or [Email] before travelling.
On Thu 13th Aug at 7:30pm - Natter & Nosh
Will we be meeting for food, drink and conversation at the The Cadland pub/restaurant, High Road, Chilwell? Contact Maxine on [Phone Number] or [Email] to find out please.
On Sat 15th Aug at 2:00pm - Walk
Meet at the Great Northern pub, Derby Road, Langley Mill, NG16 4AA, for approx. 5 mile circular walk. Mostly flat on paths along two canals and around base of the wind turbine. Hopefully refreshments in the beer garden afterwards. Contact Maxine on [Phone Number] or [Email] to confirm this event is going ahead and in case we need to limit numbers or split into groups.
On Tue 18th Aug at 7:00pm - 3TuOTM
Hopefully the Newark group will be having a get together at the Fox & Crown at 4-6 Appleton Gate. Please check if this event will be going ahead with Pete on [Phone Number] or [Email]
On Tue 25th Aug at 7:30pm - Eating Meeting
A taste of Portugal at Nando's, Redfield Way, Lenton, NG7 2UW. Peri-peri chicken, natas and more including vegetarian options. Please book your place with Maxine on [Phone Number] or [Email] by 21st. This may turn into take away al fresco dining if we're not allowed inside!
Ciao for now!
Maxine Bates
Contact [Email] or [Phone Number] for details
Did you know?
If the Mensa membership department has your email address, all this is available to you, throughout lockdown and beyond:
Updates on things happening in your region, including online chats, quizzes, talks and events arranged at short notice
Access to the members' area of the website
All the latest society news and information
The chance to receive up to 100 Special Interest Group newsletters FREE!
AGM online voting
If the Mensa office doesn't already have your email address, contact membership@mensa.org.uk
Mensa won't spam you, and your details will never be passed on to third parties. It will also help save the society the time and money posting material to you.
Short Story
East Mids member Frank Forster is celebrating his 93rd birthday shortly. He has written two books about his life, including A Yellowbelly Childhood, pictured below*. This is one of his short stories -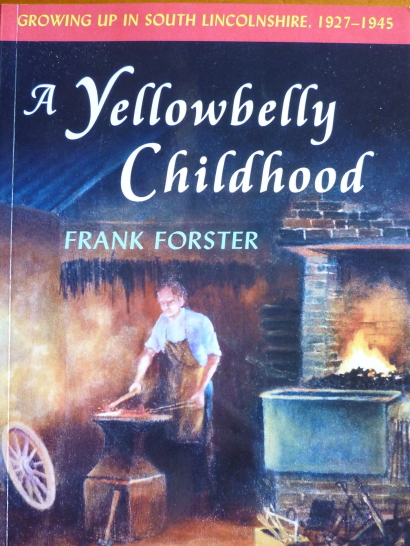 'FRIDAY' by Frank Forster
If, in 1935 you were an eight-year-old boy living in one particular village, Friday was the day of the week you looked forward to. Yes, it was the end of the school week but it was POCKET MONEY DAY! Five old pennies which today equates to two new pence. And in those days that went quite a long way. As time passed it rose to eight pence. Now, that was living.
Friday evening – picture night. Oh boy, black and white but excitement guaranteed. Then later down the to the fish shop for some chips. Not a cinema as you would know it but an allpurpose hall for sales, dancing, boxing tournaments, even live entertainment on rare occasions, oh yes, films once a week.
The screen hung at the end near the entrance by cord from hooks, like a huge picture. On a dance night long wooden benches would line the walls with some stacked in front of the scree, but on picture night these would be placed crosswise with an aisle down the middle. Thirties films were somewhat grainy, this was not improved by wear on the circuit. Every now and then a hair might get between the film and the lens, magnified several thousand times fluttering like crazy on the screen.
Before the film started and again as the hall emptied afterwards you were treated to music. There was only one record. In ¾ time a male and a female singing "Sweetheart, sweetheart, sweetheart, will you love me ever?"
After a few years one tended to remember both melody and lyric. The title as I learned later was "Will you remember?", written many years earlier by Sigmund Romberg. If the film broke during the show you had more of the same, not uncommon.
Everyone is seated not necessarily comfortably and the performance starts. The part they have come for is first. The serial!! Frequently the favourite, cowboys and Indians, or baddies. These last were notable in their appearance as were the Indians (first nation to be PC). The good guys would be quite smart, the blouse of the hero freshly ironed by the wardrobe mistress. The bad guys? Dressed in outfits bought in a rummage sale. If it was not cowboys it could be 'Tailspin Tommy', Whizzpilot, Buster Crabbe in immaculate white uniform of the US Navy. I recall one episode where it ended with him unconscious on a railway line, one arm lying across the rail, and of course thundering towards at great speed an enormous locomotive. One week on, somehow the arm so carelessly laid ready for the wheels had moved. The opening shot showed the train thunder past. When it had gone our hero regained consciousness, got up, retrieved his hat, brushed himself down and carried on.
Almost every boy would have his six shooter – a cap gun, and someone might have some caps loaded. When the hero was in a tight spot everyone reached for their pistol. At the first sign of a baddie they all fired at the screen. That would lead to people at the back calling out "Sit down and be quiet!". A fusillade of caps going off would result in the lights being switched on and the two front rows threatened with eviction if they didn't behave.
Then, Pathe Gazette Newsreel. It would be news if you hadn't read the papers for weeks, said papers had already been used lighting the morning fire.
Now the main feature, if it was an adventure everyone enjoyed it. Comedy was good, George Formby riding his motorbike over a cliff, hilarious, many a drama went straight over the kids however, but they had bought their ticket so they just sat it out.
Show over, the hall emptied quickly, led of course by a stampede of small feet, all vying to be first in the chip shop. A small greaseproof bag in lots of newspaper, holding one pennorth of chips, salt and vinegar.
All to be enjoyed whilst reliving the serial. When his chips had all gone an odd boy would hold his head back and drink the vinegar from the corner of the bag. "You don't want to do that" would be heard, "It'll dry your blood up".
Home now, cocoa, bed. There was next Friday to be looked forward to.
* A Yellowbelly Childhood by Frank Forster
Special Interest Groups (SIGS)
There are more than 100 special interest groups (SIGs) in British Mensa, giving you the chance to explore your interests or develop new ones in the company of like-minded Mensans. SIGs are proposed and run by members and administered from head office. They all produce newsletters and many run other activities such as events or online discussions – and subjects cover everything from codes and ciphers to cats! You don't have to be an expert; all you need is an interest in the subject. If there isn't a SIG for your interest, you can propose a new one.
Your membership includes two free printed SIG newsletters, but you can join as many SIGs as you want, free, if you receive their newsletters as PDFs via email.
If you have a question about SIGs, contact the administrator Manjit Johal on 01902 772771 or sigs@mensa.org.uk. Or manage your SIG memberships online by clicking the SIGs tab at www.mensa.org.uk. You will need to sign into the members' area first.
20 Questions (No. 226)
The answers to the 1980s music quiz were Phil Collins, The Go- Go's, Stuart Adamson, Birmingham, Declan McManus, Nick Rhodes, 1980, Duran Duran, China Crisis, teacher, Stock/Aitkin/Waterman, OMD, Rick Allen, Bobby Brown, Siobhan Fahey, Paul Young, Video Killed The Radio Star, Las Vegas High School, Alannah Currie and Michael Jackson's Thriller. Thank you to everyone who entered. The winner drawn at random from all the correct entries is Lynn Faulkner of Nottingham. Hopefully you'll be able to spend your £10 book token soon.
THIS MONTH can you name these famous Mensans? Send your answers to arrive by 20th August to '20 Questions (No. 226)', [Address] or maxine@marubaevents.com - please include your name and address.
1. The second person to win £1 million on Who Wants To Be A Millionaire?
2. Co-host of TV gameshow Countdown for 26 years
3. Army general who planned Operation Desert Storm during the Gulf War
4. British swimmer who won gold in 100 metre breaststroke at the 1988 Olympics
5. Creator of the Dilbert comic strip
6. Russian born writer of the 'Foundation' trilogy of science fiction books
7. Brazilian racing driver whose current team is Audi Sport ABT Schaeffler
8. British columnist who also sings in The Gonads rock band
9. American actress who appeared in Beetlejuice and The Accidental Tourist
10. Chairman of the Conservative party 1994-1995
11. Inventor of the first electronic pocket calculator
12. Best known for writing about the adventures of Simon Templar
13. The first Dutch citizen to travel in space
14. Creator of the Minecraft video game
15. Welsh boxer who became Commonwealth lightheavyweight champion in 1995
16. Nicknamed the 'Coughing Major'
17. Irish comedian who portrays Agnes Brown on TV
18. Author of the book titled Castaway subsequently made into a film
19. CEO of the Ford Motor Company 1985-1990
20. Presenter of the first Top Of The Pops show