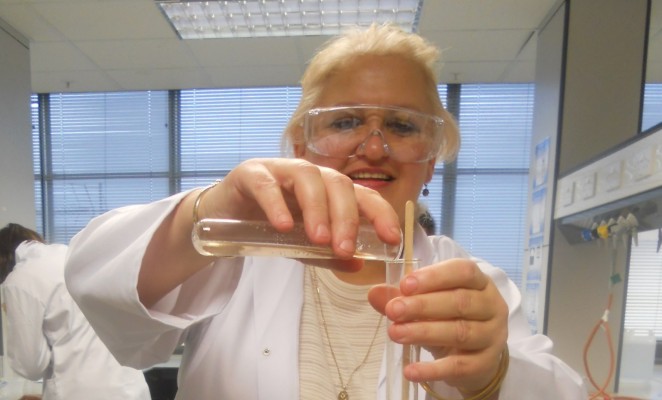 Regional News
As always at this time of year I'd like to take the opportunity to thank all the officers of East Midlands Mensa for the time and effort put into the society during 2013. Please remember we are all volunteers whether we're organising social events, updating our regional web site or putting together this newsletter. In particular I'd like to thank Ian Sargent who recently stepped down as Northampton LocSec after many years in the role. Ian has been given a gift as a token of appreciation.
We are currently looking to recruit LocSecs for Derby (DE), Luton (LU) and Northampton (NN). In the meantime I'm keeping things ticking over in Derby Mensa, Jo Sidebottom is covering all of Bedfordshire and Paul Coulson is holding a pub get together in Northampton on 19th December to see if there is any interest from local members. Please do contact me if you'd like to get involved in any of these areas. In addition we are seeking a Regional Publicity Officer to speak to the media if required. We would also welcome an additional Editor if you'd like a turn at putting together this newsletter. Again contact me for further information and a no obligation chat.
Our next regional event is fast approaching and will be a Burns Supper on – surprise, surprise – Saturday 25th January 2014. The venue is the four star Radisson Blu hotel near East Midlands Airport. The evening will include a five course Scottish meal with chance to sample cullen skink, haggis (with vegetarian haggis too), cranachan and burrebrede complete with traditional toasts, addresses and parade of the haggis. This will be followed by a ceilidh dance with live band and caller. Tickets cost £35 (or £17.50 for under 16s) but must be booked by 15th January. The Radisson Blu is offering a discounted rate and there is a cheaper Travelodge nearby if accommodation is required. The hotel stay includes free use of their leisure club and non-guests are welcome to use it for a discounted rate of £5. I have many dealings with the Radisson Blu hotel and they always give outstanding service so I'm confident this will be a great night out.
However you are celebrating the festive season I wish you and your family a good time and look forward to seeing you in 2014.
Maxine Bates
Regional Officer
Events and Meetings
In the current circumstances surrounding the COVID-19 coronavirus, the expectation is that all events listed here are likely to be cancelled, if not already marked as such. If you intend participating in any event listed here, please contact the event organiser beforehand to confirm that the event is still on.

Mid Bucks
On Thu 5th Dec at 10.30am - Coffee & Chat
No need to book, just join me from 10.30am on Thursday 5th for a morning of informal conversation and coffee. This month we are going to the café at Chenies Garden Centre near Little Chalfont, WD3 6EN. An opportunity to scour their shop for Christmas gifts, decorations, kitchen gadgets and unusual food items as well as gardening and plant ideas.See http://www.vanhage.co.uk/garden-centres/chenies/ for further information and an idea of the goods on offer.
On Sun 15th Dec at 3.00pm - Hughenden Manor visit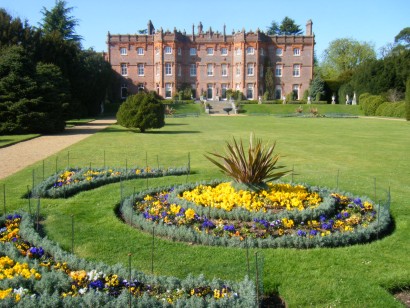 Join me for a pre-Christmas event at Hughenden Manor on Sunday 15th. Either meet me at the house entrance at 1.30pm, or join me later in the tea room at 3.00pm for tea, mince pies and Christmas cake. Admission charges apply for entry to the manor and formal gardens, but the tea room, small second hand bookshop, plant stall and NT gift shop are all accessible from the park without paying to go into the house.
Hughenden Manor is a National Trust property which lies on the outskirts of High Wycombe. Every December the house is specially decorated ready for a Victorian Christmas. Musicians perform carols, seasonal readings and talks take place, and Father Christmas is rumoured to attend at weekends!
Formerly best known as the country home of Benjamin Disraeli, since 2004 Hughenden's more recent role as the base for "Operation Hillside" during World War II has been revealed. A team of Royal Engineers worked from pre-war road atlases and aerial photographs to produce target maps used in RAF bombing raids over Germany. A special display in the basement tells the story of some of those involved and includes examples of reconnaissance photographs and the maps developed from them. In the grounds the old Ice House has been set up to show how the maps were photographed ready for copying and distribution.
This autumn three rooms in the manor's attics were opened to the public for the first time. They provide good views across the park and woods to the Disraeli monument. In addition displays highlighting Disraeli's literary interests, publications and library are housed here.
Further details at http://www.nationaltrust.org.uk/hughenden/visitor-information/ No need to book, but if you want me to look out for you, please let me know you are coming.
Val Hinkins
Contact [Email] or [Phone Number] for details

Mensans in MK & Bedford
On Sun 8th Dec at 10.30am - Sunday breakfast
Our first meeting in December is Sunday breakfast, at 10.30am on Sunday 8th at Wetherspoons on Midsummer Boulevard West, next to Chiquito's and not far up from the railway station (NOT the other Lloyds/Wetherspoons nearer the shopping centre and next to Jurys Inn). Come for a full breakfast, a snack, or just a drink – look for the Mblem on a table.
On Sat 14th Dec at 3.00pm - T@3
Saturday 14th sees us back at Dobbie's Garden Centre in Fenny Stratford, just south of Milton Keynes, for T@3. It will be all decorated for Christmas so come along and get into the festive spirit! This is one of our most popular meetings and an ideal one to come along to if you've never joined us before. Not that you wouldn't be welcome at any meeting, but most of us agree that T@3 has a particularly nice atmosphere (and great cakes!).
On Mon 16th Dec at 8.30pm - 3MOTM Quiz
On Monday 16th our final meeting of 2013 is our Third Monday of the Month quiz meeting at The Barge at Woolstone. From 8.30pm in time for the quiz at 9.00pm – cost is £1 per person. See www.vintageinn.co.uk/thebargewoolstone/ for location. Please do check with me or look out for announcements nearer the time, just in case the Barge decides to alter their quiz schedule in the run-up to Christmas.
Just a reminder about our M-MK & Bedford Facebook group – if you would like to join please search for the group and send me a request. I also keep an email distribution list for meeting reminders and last-minute changes, so if you would like to be added to this let me know.
We hope to see as many of you as possible at one or other of our events in December. Do remember that you're welcome to bring a guest with you, so if you've never been to a Mensa event and are a little nervous about coming along on your own, just bring a friend.
Merry Christmas to all MK & Bedford area members and I hope to see you at events in 2014!
Jo Sidebottom
Contact [Email] or [Phone Number] / [Mobile Number] for details
More or Leicester
On Thu 19th Dec at 7:30pm - Christmas Curry
December: The traditional time for a Yule-tide curry. Korma with a cracker? We've got it sorted! Paper hat and poppadom? Box ticked! Free Christmas cake all round? Don't push it!!! We'll be meeting up at our traditional* Christmas Curry location, the Taj Mahal on Highfield Street on Thursday 19th. Early booking is essential (and I need to know you're coming in case there's a change of venue / date / time / etc.), so please email/call me to confirm ASAP, and definitely by 30th November. See you there!
(*We went there last year)
Paul Coulson
Northants NNotes
On Tue 17th Dec at 7.30pm - Pub meeting
A chance for Northants Mensans to get together and celebrate Christmas in style . . . well . . .in a pub, anyway! Why not pop along to The Windhover on Brampton Road on Tuesday 17th at 7.30pm where there's food available, beer available, and new people to meet (Me!)! The conversation will go where it wants in a relaxed, informal atmosphere, and family and friends are more than welcome. Please let me know beforehand if you're coming so I can let you know if the event gets moved or cancelled for whatever reason.
See you there!
Paul Coulson

Notts News
On Sun 1st Dec at 7.30pm - Fashion show
We have four events for you this month starting on Sunday 1st with a fashion show at the Victory Club in Eastwood. Doors open at 7.00pm with the show starting at 7.30pm. This will feature new lines from all major high street clothing stores with chance to try and buy afterwards at heavily discounted prices. There will also be a raffle, a few stalls and cash bar. Tickets cost £5 including admission, the show, entry into a prize draw and edible festive treats served by Santa! All proceeds will go to Cancer Research UK. I'm overwhelmed by all the help and support from my Mensa friends and local businesses with this event. Bring the girls for this fun night out in aid of a very worthwhile charity. Men welcome too!
On Thu 5th Dec at 8.00pm - 5OTM
From 8.00pm until late on Thursday 5th find us in the Golding's Room of the Vat & Fiddle pub on Queensbridge Road. Partake of real ale brewed next door at Castle Rock Brewery, one of their 70+ whiskies, one of their popular ciders, a glass of wine, soft drink or coffee. New faces always welcome! Bring your suggestions for events you'd like to do in 2014.
On Tue 10th Dec at 7.30pm - Christmas decorations party
Michael Rich invites us to his home in Stapleford from 7.30pm on Tuesday 10th for a decorating party. Don't worry, it doesn't involve paint and wallpaper! We're going to help Michael decorate his Christmas tree and festoon his lounge with baubles and tinsel. Please bring along any spare decorations that you may have (that can be returned in the New Year). In return Michael will provide mince pies and other festive food as well as mulled wine. Phone [Phone Number] or [Email] for directions and to say you'll be there.
On Thu 12th Dec at 7.30pm - Christmas meal
Our regular event at the Beekeeper in Beeston on Thursday 12th will be a Christmas meal. £9.99 for two courses or £12.99 for three courses. This does require booking and payment in advance. Please contact me for menu or to book. Dinner will be served at 7.30pm prompt. If you'd like to join us for just a drink later then find us on the very long table in the family dining area at the rear of the pub. It's the only place they can accommodate all of us together!
Ciao for now!
Maxine Bates
Contact [Email] or [Phone Number] for details
Derby Diary
On Thu 12th Dec at 7.30pm - Murder mystery evening
We have something different for you this month as Mensan Audrie Norris invites you to a murder mystery evening at Wirksworth Town Hall from 7.30pm on Thursday 12th. Watch her drama group in action then work out who done it! There will be a good prize for the winning team.Tickets cost £5 each and include nibbles but please BYOB as there is no bar. Please contact Audrie on [Phone Number] or [Email] for tickets or further information.
On Wed 18th Dec at 7.30pm - 3WOTM
At 7.30pm on Wednesday 18th we'll be at the Standing Order in Derby city centre for our festive meal. The cost is £8.75 for main course including drink then £2.10 extra for a starter or dessert. This must be booked in advance but you are welcome to join us later in the evening for just a drink. Please contact me for menu choices or to book.
Maxine Bates
Contact [Email] or [Phone Number] for details

Lively Lincs
On Sun 8th Dec at 3.00pm - Teatime Thinking
As Christmas rather interferes with our late month spot, we've moved Teatime Thinking at my house near Alford to Sunday 8th, usual time 3.00-5.00pm. To mark the season there will be mince pies and mulled wine to aid our thought processes as we finish off our romp through philosophers by choosing our own favourites with initials U-Z.
On Sat 14th Dec at 12.05pm - 2SaOTM
Fortunately, 2SaOTM avoids the Christmas Market, so we will be at the Adam and Eve on Lindum Hill as usual on Saturday 14th 12.05pm until our batteries run down 2 or 3 hours later. This month's topic: 'Is Eastern diplomacy better than Western Muscle?' There's a free car park, and pub food available for those who want it; we're usually in the alcove, with Mblem on the table. Do feel free to join us for as long as suits you, listening or participating.
Christine Howells
Contact [Email] for details

Hertfordshire Happenings
On Thu 5th Dec at 8.15pm - FThOTM
Thursday 5th FThOTM at the Millstream, Hitchin from 8.15pm.
No Last Friday – but a few of us will be going to the Viennese New Year's Eve concert at the Barbican as in previous years; please refer to the London section in the main Mag for details and I'll be happy to answer any other queries and offer encouragement! If you've not been before, it's a great way to see the New Year in and finishes by about 10.00pm so you can get to wherever you intend going for the chimes of Big Ben in good time! The repertoire is varied with a mix of old favourites such as the Blue Danube and less-well-known fare. Hope to see you then!
Have a great Christmas!
Richard Allen
Contact [Email] or [Phone Number] for details
Border Patrol
Highlighting meetings not in the East Midlands area but perhaps sufficiently close to be of interest.
For those living near Peterborough:
Sunday 8th December at 7.30pm: Planning Meeting: Meet at the Fox & Hounds, Longthorpe, to plan next year's meetings. Come early if you plan to eat (light snacks OK during meeting). New members welcome (bring a friend). Contact Peter Law 01733-649-707/07770-522-542 , peterdlaw@gmail.com
For those living near London:
No known visits planned at present but there is an exhibition at the Science Museum, London, showing items produced using 3D printing technology, including human organs printed with living cells and fuel saving aeroplane parts. Explore this exhibition to discover how innovators are using 3D printers to turn computer data into physical objects that could change your life.
The Museum is open daily 10.00am-6.00pm, entry is free, and this exhibition runs from 9th October 2013 until 15th June 2014. For more into see www.sciencemuseum.org.uk
Editor's Bit at the Bottom
The editor wishes you a HAPPY CHRISTMAS and a WONDERFUL 2014
Rosie Jefferson
Beauty Science Day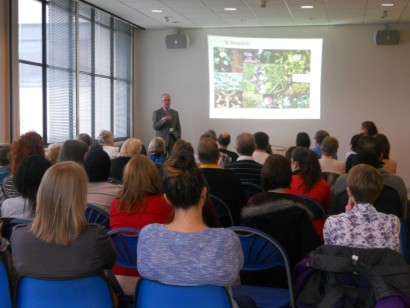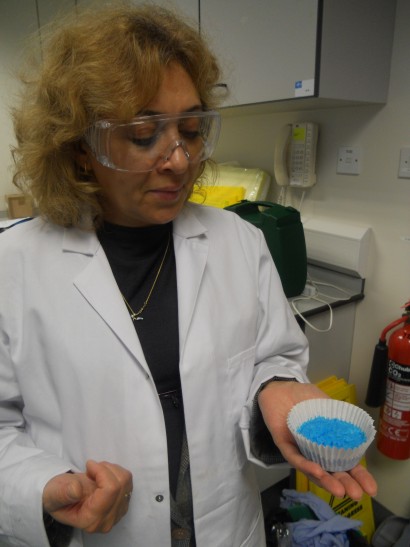 The first Beauty Science Day was hosted by Empirical Science Ltd on the site of Boots headquarters in Nottingham on Saturday 19th October and attracted Mensa members and their families from as far as Hampshire, Essex and Shropshire. It was good to see that 20% of participants were aged under 18. Our scientists of the future!
After arrival refreshments there were two lectures. One was given by a technical development from Boots with an insight into how their toiletries and cosmetics are created. He made the mistake of asking if there were any questions from a group of Mensans! The second lecture was therefore shortened but covered the basics of what participants would be doing during the rest of the day. Everyone was kitted out in white coats and safety goggles and headed into the laboratories to get their hands messy! The first activity involved extraction of essential oils from lavender plants using steam distillation and this formed the basis for the afternoon activities.
A buffet lunch was served. I'd discovered that Sophie was celebrating her 14th birthday and mentioned this to a staff member. They kindly popped out and bought a small birthday cake and candles that was presented to the surprised birthday girl whilst we sang to her!
Then it was back into the laboratories which were soon beautifully scented during the making of soaps and bath bombs. During these processes participants learnt about solubility in water and various oils, the chemistry involved in making lotions and potions, and experimentation to improve appearance and performance. Everyone was delighted to take their homemade products home with them. Lots of people wanted me to sniff their finished items as they left! Scents of Sandalwood, vanilla and orange seemed the most popular.
The day appeared to have been enjoyed by all ages. I was impressed with how far guests had travelled for this unique opportunity to play in newly refurbished laboratories owned by Boots. Hopefully there will be similar events in the future.
A food science day has been mentioned . . .
20 Questions (No. 147)
Thanks to Roger Plant of Nottingham, Mick Coates of Lincolnshire, Pamela Covey of Woburn, Judith Meller of Derby, Helen Parry of Brentwood, Anne Skennerton of Milton Keynes, D W Dell of Leighton Buzzard, Andy Cole of Cleethorpes, David Crozier of St Albans, Lynn Faulkner of Nottingham and Portia Berry Kilby of Leicestershire for entering the October competition. A good selection of entrants from all across our region. The winner was Mick and if you're wondering the answers were Brown Eyed Girl Van Morrison, Forever In Blue Jeans Neil Diamond, Frozen Orange Juice Peter Sarstedt, Gold Spandau Ballet, Green Tambourine Lemon Pipers, Itsy Bitsy Teeny Weeny Yellow Polka Dot Bikini Brian Hyland, Lady In Red Chris De Burgh, Lily The Pink Scaffold, Mr Blue Sky Electric Light Orchestra, Mello Yellow Donovan, Ninety Nine Red Balloons Nena, Pink Champagne Shakin' Stevens, Paint It Black Rolling Stones, Red Red Wine UB40, Silver Dream Machine David Essex, Scarlet Ribbons Harry Belafonte, Snoopy Versus The Red Baron Royal Guardsmen, Walk In The Black Forest Horst Jankowski, You're A Pink Toothbrush Max Bygraves and Yellow Submarine The Beatles.
The answers to this month's competition are all Christmas carols. Can you name them? Answers by 10th December (note earlier deadline) by post to '20 Questions (No. 147)', [Address] or by email to maxine@marubaevents.com. Please include your name and address then we'll know where to send the £10 book token if you win.
1. Quadruped with crimson proboscis
2. 8.00pm to 6.00am without noise
3. Miniscule hamlet in the Middle East
4. Ancient benevolent despot
5. Exuberance directed to the planet
6. Listen, aerial spirits announcing
7. Trio of monarchs
8. Yonder in the hay rack
9. Cherubims audited from aloft
10. Assemble everyone who believes
11. Hallowed post meridian
12. Fantasia of a colourless 25th December
13. A dozen 24 hour Yule periods
14. Befell during the transparent bewitching hour
15. Homo sapiens of crystallised vapour
16. Desire for a pair of incisors on 25th December
17. I spied my maternal parent osculating Saint Nicholas
18. Perambulating through a December fantasy
19. Adorn the vestibule
20. Tin tintinnabulums