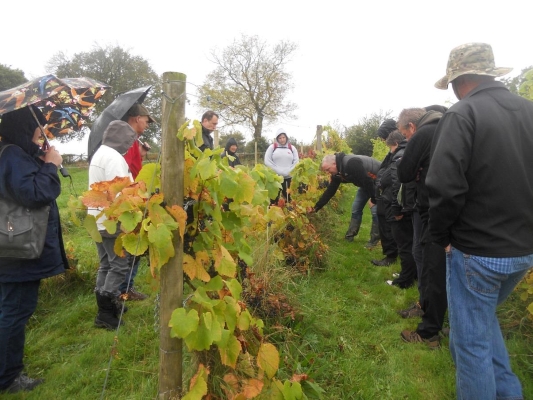 Memories of a Vineyard
Regional News
As we come to the end of another year I must once again thank all the volunteer officers of East Midlands Mensa for their continued support, all the event hosts for giving up their time to put on a good variety of activities, all those who have submitted quizzes or member profiles for Empress (keep them coming please!), and everyone who has attended one of our social events.
I hope you have found your membership worthwhile but if not please tell me why so we can try to improve it. Feedback, whether positive or negative, is always welcome.
Looking forward to 2018 we already have some social events lined up but more hosts mean more events which in turn may encourage more members to venture out. So if you fancy hosting any type of event just let myself or your LocSec know and we'll do our best to make it happen.
Any member can host any event although we are still seeking LocSecs to look after members in Leicester, Lincoln, Luton and Northampton. Please contact me for more information. The role does not have to be too difficult or time consuming and from personal experience the more you put into the society the more you get out of it.
I wish you and your family a wonderful Christmas time and a happy and healthy New Year.
I'm on [Phone Number] or [Email]
Maxine Bates
Regional Officer
Editorial
Welcome to the December Edition of Empress. My last one for now as Mark returns for the following months.
We are a bit short on Members' profiles so if you wish a bit of "fame", do please send us your profile with a photo: Name, occupation, when and why you joined Mensa, hobbies and anything else
We have lots of Christmas dinners to choose from and you are welcome to attend them.
See you in three months. Merry Christmas and a Happy New Year!
Mark Sloan
Maria Falces
Events and Meetings
In the current circumstances surrounding the COVID-19 coronavirus, the expectation is that all events listed here are likely to be cancelled, if not already marked as such. If you intend participating in any event listed here, please contact the event organiser beforehand to confirm that the event is still on.
More or Leicester
On Mon 18th Dec at 7:30pm - Christmas Curry
Christmas meal
On Monday 18th December, we shall be gathering for our now traditional Christmas curry. I have made a provisional booking with Mem Saab Indian Restaurant (www.mem-saableics.com), 59 Highcross Street, Leicester, LE1 4PG for 7:30pm. If you are coming, please let me know by Monday 4th December at the latest so that I can secure the booking and confirm numbers with the restaurant. I shall be waiting in the downstairs bar area of the restaurant from 7:00 pm on the 18th December to greet those who decide to come.
Lively Lincs
On Sat 16th Dec at 12:00pm - Pub discussion
Please note that our regular Pub discussion will take place on the third Saturday 16th at 12:00pm to avoid Christmas Market traffic. Join us in the alcove of the Adam and Eve on Lindum Hill for a discussion around "What is the most effective way for Santa to deliver to every home?"
On Thu 28th Dec at 3:00pm - Chat, games and leftovers
Join Jacquie and John at home for games and conversation on Thursday 28th from 3:00pm. Tea, coffee, etc and some snacks will be provided but you are very welcome to bring your leftovers to share. Please contact Jacquie by 26th for more details and so she has an idea of numbers.

Notts News
On Tue 5th Dec at 8:00pm - 5OTM
Join us at the Vat & Fiddle pub on Queensbridge Road (NG2 1NB) from 8.00pm on Tuesday 5th. If you've not been before the venue is a 1930s brewery tap serving Castle Rock beers brewed next door as well as the usual array of soft, hot and alcohol drinks. We can usually be found on the first table inside the Goldings Room to the left of the bar. Just look for a yellow Mblem on the table.
On Thu 14th Dec at 7:30pm - Christmas meal
Christmas meal
On Thursday 14th our get together at The Cadland in Chilwell becomes the Nottingham Mensa Christmas meal and pre-booking is essential. The cost is £14.99 for 2 courses or £17.49 for 3 courses. For menu options and to check availability contact Susan.
On Sun 31st Dec at 8:00pm - New Year's Eve party
On Sunday 31st I'm hosting a New Year's Eve party at my home in Langley Mill. Come and help celebrate the end of 2017 and start of 2018. I'll provide a buffet, music, décor and midnight countdown but please bring whatever you wish to drink.
The fun starts at 8.00pm and continues into next year! Some floor space available for overnight guests. Let me know if you'd like to come along (to help my catering) and for directions.
Advance notice Fri 9 March 6:00pm Greyhound Racing Maxine Bates We're through to the finals of the charity tournament at Nottingham Greyhound Stadium in Colwick. Gates open 6.00pm, first race 6.28pm and last race finished by 10.30pm. Arrive/leave when you like. Ample free parking and food/drink available at the venue. £3 per ticket with accompanied under 18s free.
Ciao for now!
Maxine Bates
Contact [Email] or [Phone Number] for details
News from Northampton
On Sun 10th Dec at 10:30am - Brunch
Our regular breakfast/brunch meeting is on Sunday 10th at the Rendezvous Coffee Shop in Market Walk, Northampton Town Centre at 10:30am. This time, after Pete's customary quirky quiz, we'll try to astound the staff and fellow patrons with some intelligent discussion (rather than the usual noisy inanities!) by debating "Does modern education infantilise our children?" Contact me for encouragement or reassurance.

Hertfordshire Happenings
On Thu 7th Dec at 8:00pm - ThOTM
As ever, we are at the Three Magnets, Leys Avenue, Letchworth. Thursday nights are curry nights but other food (standard Wetherspoons' fare) is available as well. Leys Avenue is the main shopping street in Letchworth and is a few minutes' walk from the station (Kings Cross to Cambridge line). Call me on [Phone Number] for more details and encouragement.
On Thu 28th Dec at 11:30am - Mince Pie specials at the Chinnor and Princes Risborough Railway
Fancy shaking off the post-Christmas blues? Join us for a steam hauled run on the Chinnor and Princes Risborough Railway for a "Mince Pie special". Meet at Chinnor station (Station Road, Chinnor OX39 4ER) at 1130 for 1200 departure. Contact Richard Allen on [Phone Number] for details and encouragement.
On Sun 31st Dec at 7:30pm - Concert
It's the annual Viennese style concert at the Barbican in London. We have been going for quite a few years now and the repertoire is a mix of traditional and less well-known. If you've been before, you know the score - if you haven't, then come along and see for yourself! Contact Richard Allen on [Phone Number] for details and encouragement.
Richard Allen
Contact [Email] or [Phone Number] for details

Mensans in MK & Bedford
Only two events in and around MK this month, as we are away for part of it, and everyone is busy with Christmas. Look out on the Facebook group or reminders list (see below) in case we decide to do anything impromptu between Christmas and New Year.
On Sun 3rd Dec at 10:00am - Breakfast
Our first get-together is on Sunday 3rd, when we visit Brown's, next to Jury's Inn on Midsummer Boulevard (West), for breakfast. Join us from 10am for a full breakfast, a snack, or just a drink.
On Fri 8th Dec at 3:00pm - T@3
T@3 has come round again – join us for tea, coffee, cakes and chat at Dobbie's Garden Centre in Fenny Stratford. As we are short of free Saturdays, for this time only it will be on a Friday – 8th December. Look out for us in the restaurant, probably in the conservatory area at the back.
There will be no Barge quiz this month, as the pub is never sure whether they will be running it in the last week or two before Christmas. We will be back again in January.
Just a reminder about our M-MK & Bedford Facebook group – if you would like to join please search for the group and send me a request. I also keep an email distribution list for meeting reminders and any last-minute changes, so if you would like to be added to this please let me know.
We hope to see as many of you as possible at one or other of our events this month. Do remember that you're welcome to bring a guest with you, so if you've never been to a Mensa event and are a little nervous about coming along on your own, just bring a friend.
And finally, a very merry Christmas to all our readers. Or, if you don't do Christmas, I hope you have a pleasant holiday break anyway.
Jo Sidebottom
Contact [Email] or [Phone Number] / [Mobile Number] for details

Mid Bucks
On Tue 5th Dec at 8:00pm - Indoor board games
We have moved the games evening to Tuesday this month, so if Mondays are difficult, this is your opportunity to try it out! Join Dave and Alison at their home in Flackwell Heath, near High Wycombe, for a relaxed evening of indoor board games.
Arrive for an 8pm start on Tuesday 5th December. Please contact Dave for directions and to let him know which games you would like to play.
On Sun 10th Dec at 12:15pm - Christmas meal & Fayre
Christmas meal
Join Val at 12:15 on Sunday 10th December for a different Christmas meal at Eat Thai, 14-15, Easton Street, High Wycombe, HP11 1NT. After lunch we will visit Wycombe Museum for their Christmas Fayre and their latest exhibition "The Art of Dying". Admission to the museum and Fayre is free. Check on: eat-thai.co.uk/ wycombemuseum.org.uk.gridhosted.co.uk/wordpress/events/ This is also where you book tickets for the Fayre's Magic Show (adults £3, children free), if you want to see it. If you intend to eat with us, please let me know by 26th November. Contact Val for more info.
On Fri 15th Dec at 10:30am - Coffee & Chat
Meet Val from 10:30 onwards on Friday 15th December for a morning of relaxed informal conversation, coffee and cake. This month we are returning to Seasons Café and Deli, 6 Market Square, Old Amersham HP7 0DQ. www.seasons-cafe-deli.com/ for location and menus. If you want to, you can let Val know in advance that you are coming. You will still be welcome if you just turn up on the day. We will have the Emblem on the table and do remember to check the back room if you can't see her when you come in. For further details or encouragement contact Val
Val Hinkins
Contact [Email] or [Phone Number] for details
Derby Diary
On Sat 9th Dec at 7:30pm - Christmas Party Night
Christmas Party Night
We're having a Christmas party night at the Kegworth Hotel on Saturday 9th and although in Derbyshire there are members already booked from Derby, Nottingham, Leicester, Lincoln, Milton Keynes and Rugby. This is not a private party but part of the hotel's own festive celebrations.
Dinner will be served at 7.30pm and the event ends at 1.00am. The cost is £22.50 for a 3 course dinner and disco. For menu choices and to check availability please contact Maxine.
Accommodation is available at the hotel if anyone wishes to stay overnight.
On Wed 20th Dec at 7:30pm - 3WOTM
From 7.30pm on Wednesday 20th it's our get together at the Standing Order on Iron Gate in the city centre. Join Pen and co for food and/or drink and some fun conversation. Look for the Mensa sign on a long table in the rear section of this Wetherspoon pub. New faces welcome.
Maxine Bates
Contact [Email] or [Phone Number] for details
Vineyard review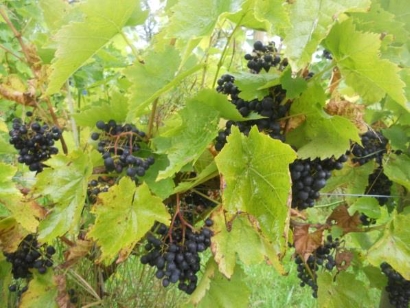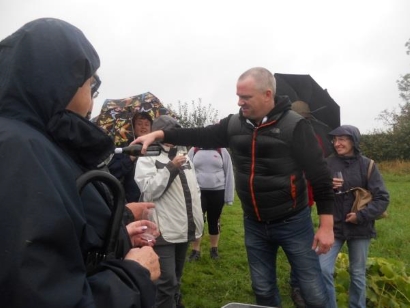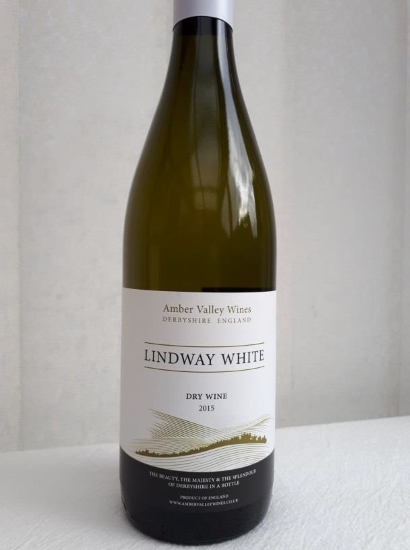 What better way to celebrate Mensa's 71st anniversary on Sunday 1st October than with a vineyard visit? 15 of us were given a private tour, talk and tasting at one of the UK's newest and most northerly vineyards in Amber Valley in Derbyshire. Despite the unfortunately timed rainy weather as our visit started, once hats were on and umbrellas up we had a very informative and interesting talk whilst walking around the vines.
We were able to see the bunches of grapes which a week later were due for harvesting so perfect timing in one way. It was lovely to hear how two men with the same dream had accidently met up and made it reality. Amber Valley Vineyards own two sites in the village of Wessington and currently produce around 4,000 bottles of white and pink wine each year. (Note, they prefer to call it English pink wine rather than the French name of rose.) It is only sold in a few select outlets including Chatsworth farm shop. Needless to say after our tasting most of us brought a bottle - or crate! - to take home.
Maxine Bates
Classical Music SIG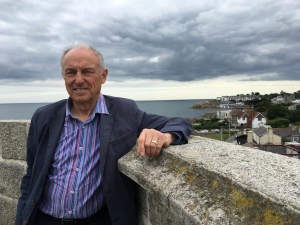 It has been my pleasure to act as secretary and newsletter editor for the Classical Music SIG for the past year. Issue 5 of the newsletter, TEMPO 16, is due for publication in March 2017. I am doing this out of the belief that music is a universal language to be enjoyed by everyone regardless of background training.
My definition of classical music is very elastic, stretching from medieval, through baroque, classical, romantic and modern experimental. It has been a joy to receive so many articles and letters from Mensa friends across the world, telling of their loves (and dislikes) in music, their musical adventures, or their local choral festivals and concerts. There are usually a couple of longer articles on particular themes, composers, or eras.
Whether you are an instrumentalist, vocalist, or simply a lover of great music, you are most welcome to join us. If you're quick, we'll even get you on the mailing list for the March issue and send you back numbers of the other four. I should add that it is your choice whether you receive an electronic version, a hard copy in the post, or both.
You can sign up for any SIGs via www.mensa.org.uk then click on the SIGs page in the members' area.
Brian Caul
20 Questions (No. 194)
The answers to the flags quiz in the October issue were United Nations, Rwanda, serious disease, 4, Royal Navy, Nepal, Fiji, black, lion, the sun, Tibetan New Year, the fly, Lebanon, 12, Malta, Brazil, Cape Verde, 7, Southern Cross and red. Congratulations to Alex Foster of Derby who wins the £10 book token.
You have no doubt heard Christmas songs playing on the radio and in shops for weeks, but how closely do you listen to the lyrics? Send your answers to '20 Questions (No. 194)', [Address] or to [Email] to arrive by the earlier date of 10th December for your chance to win a £10 book token before Christmas.
1. How many memories keep Chris Rea company whilst 'Driving Home For Christmas'?
2. What is eaten before carolling in 'Rocking Around The Christmas Tree'?
3. Where is Mariah Carey waiting in 'All I Want For Christmas Is You'?
4. In 'Fairytale Of New York' what flows through the rivers?
5. How long had the choir been practising in Paul McCartney's 'Wonderful Christmastime'?
6. How long is the room chilled for in 'Christmas Wrapping' by The Waitresses?
7. What colour were Elvis' tree decorations in 'Blue Christmas'?
8. Who keeps Santa sober for a day in Slade's 'Merry Xmas Everybody'?
9. In 'Mary's Boy Child', man will live for evermore because of what?
10. What did the ox and lamb do in David Bowie's 'Little Drummer Boy'?
11. In 'Do They Know It's Christmas Time?' what can kill you?
12. What did John Lennon hope the New Year would be in 'Happy Xmas (War Is Over)'?
13. Where did mommy tickle Santa in 'I Saw Mommy Kissing Santa Claus'?
14. How much is admission to 'Step Into Christmas' with Elton John?
15. What will father be doing in 'Baby It's Cold Outside'?
16. Who is a king in Cliff Richard's 'Mistletoe And Wine'?
17. What sort of car did Eartha Kitt want Santa to slip under the tree in 'Santa Baby'?
18. In Wham's 'Last Christmas' when did she give his heart away?
19. How many times is Santa checking his list in 'Santa Claus Is Coming To Town'?
20. What did Bing Crosby hope your days would be in 'White Christmas'?