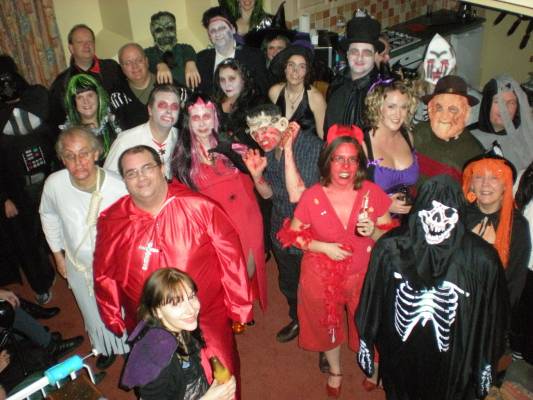 What a frightful weekend!
Did you get (or give) a fright at the Lakes Party weekend in December?
Regional News
This month we have our regional event taking place on Saturday 13th at The Charnwood Arms Hotel, Coalville, Leicestershire. The format of the evening is a three course dinner followed by basic dance tuition (waltz, cha cha cha, rock 'n' roll, salsa and line dancing) followed by a disco. Tickets are being subsidised from regional funds and cost £20 each. At the time of writing, just before Christmas, the event is looking popular. Bookings close 30th January so please be quick if you'd like to join us! Full details were on the cover of the January issue of Empress and can also be found on our regional web site at www.mensa.org.uk/eastmids or contact me on [Phone Number] or [Email]. All ages are welcome as are non-member guests
Latest news from Mensa HQ is that there are now 32 Special Interest Groups that produce pdf style newsletters. Whilst you are entitled to join two SIGs free of charge as part of your membership, if you wish to subscribe to any SIGs with a pdf newsletter then these are also free as there are no postage and packaging costs incurred. Contact the Mensa office for the current list of SIGs and get involved in something that interests you.
The main Mensa web site at www.mensa.org.uk is continually being updated. The office are hoping to create a 'wall of photos' featuring photos of members and a sentence what Mensa membership means to them or why they joined. This is designed to prove to prospective members that we are real people! If you would like to contribute please email a photo and a few words to [Email]
Finally we received an amazing 72 feedback questionnaires with Andrew Young of Lincoln drawn from the hat to win a £10 cheque. Thank you to everyone who completed a questionnaire. The results are printed in this issue of Empress.
Maxine Bates
Regional Officer
Events and Meetings
In the current circumstances surrounding the COVID-19 coronavirus, the expectation is that all events listed here are likely to be cancelled, if not already marked as such. If you intend participating in any event listed here, please contact the event organiser beforehand to confirm that the event is still on.

Notts News
Just our regular ten events in Nottinghamshire this month as I'm also hosting events in Derbyshire, Leicestershire and Yorkshire! Join us every Thursday for either a Latin American/ballroom dance class at 8.30pm and/or from 9.45pm for a drink and some socialising. The former takes place at Memorial Hall on High Road in Chilwell and the latter round the corner at the Beekeeper pub. Contact me if you'd like more information. Beginners very welcome.
On Fri 5th Feb at 8.00pm - 5OTM
On Friday 5th it's our get together at the Vat & Fiddle pub on Queensbridge Road. If you're wondering why we meet there it's because many years ago our regular pub venue closed for refurbishment and at the time the landlord of the Tom Hoskins pub was a Mensan. Both the landlord and the pub name have since changed but it's ideal for our needs being central yet with free parking right outside, close to both train and bus links, and with real ale brewed next door at the Castle Rock Brewery. Whatever day of the week the 5th falls we usually manage to get a table to the left of the bar. But there's only one bar so we should be easy to find and a yellow Mblem is always on display. New faces are welcome to join us from 8.00pm.
On Wed 10th Feb at 7.00pm - Chicks and Flicks
Our other regular event is a meal at Nando's chicken restaurant on Forman Street followed by a cinema visit at Cineworld. We'll be meeting at 7.00pm on Wednesday 10th inside the doors to the Cornerhouse in the city centre. Contact host Paul on [Phone Number] or [Email] for more info.
Our last Tuesday 'eating meeting' is heading over the border to Heanor in Derbyshire for a Bangladeshi meal at 7.30pm on 23rd. See Derby Diary for further details.
Finally we are planning some theatre trips in the summer. A group of us are going to see the Rocky Horror Show at the Theatre Royal on Friday 28th May. Seats in the front row of the upper circle cost £30. Our block booking of tickets are already sold but contact me to check for cancellations or book your own and join us on the night. Cirque du Soleil are touring with their 'Saltimbanco' show and will be appearing at the Nottingham Arena 21st-25th July. Tickets cost £40-£50. Please contact me if interested stating date preference. Tickets aren't cheap but their shows are spectacular!
Ciao for now!
Maxine Bates
Contact [Email] or [Phone Number] for details

Northants NNotes
On Mon 1st Feb at 9.00pm - FThOTM
We're now feeling quite at home in our new Northampton base so why not pay us a visit? The Malt Shovel in Bridge Street on Monday 1st February is where you will find us from 9.00pm onwards. We try to grab one of the tables towards the rear of the pub. There's no juke box or other things to disturb the flow of the conversation so if you haven't been before why not put it in your diary for this month.
On Thu 18th Feb at 8.00pm - Roadshow
After a two-year gap, the Roadshow meeting returns to the village of Spratton, which lies just to the east of the A5199 (the Welford Road if you're travelling out from Northampton). The Kings Head in Brixworth Road hosts the meeting and we'll be there at 8.00pm. With a bit of luck we might even get a game of skittles going; now's the time to practice your cheese throwing.
Ian Sargent
Contact [Email] or [Phone Number] / [Mobile Number] for details

Mid Bucks
On Sat 6th Feb at 12.30pm - Meal and Exhibition
On Saturday 6th February come to a special exhibition at Buckinghamshire County Museum of toys which (mostly) don't need batteries! Entitled 50 Years of Toys, the exhibition promises a nostalgic trip back to childhood, featuring Dinky cars, Hornby trains, Action Man, Sindy, Corgi and more famous names. There is also a separate display of Victorian toys.
The Museum closes earlier in the winter, so we will eat first and then look at the exhibition. Meet at Carlos's Portuguese Restaurant, near the Museum in Temple Street for lunch at 12:30. The menu includes a wide range of sea food, a good selection of vegetarian options as well as more conventional meat and fish dishes. Alternatively join us at the Museum entrance at 2.00pm
You are welcome to come to one or both parts of this event. Contact me by Sunday 31st January to let me know you are coming to the meal so that I can book us a table.
Val Hinkins
Contact [Email] or [Phone Number] for details

Lively Lincs
On Sat 13th Feb at 12.00pm - Chat with lunch/drinks
The FSOTH month is actually on the second Saturday at 12noon in Lincoln so, as Christine says, "as this is the third month in row we've moved it, I think we'll change it permanently to the second Saturday". Please join us in the coffee bar at The Collection, Danes Terrace. December's discussion ranged from 'What Art do you like?' to anecdotes on talking to nice call centre staff. Some have lunch/snack, others just drinks. I will try for a table at the far end of the room, spot the magazine and/or black Mblem. All very welcome.
For more details/encouragement please contact me or [Email]
Jacquie Harrison
Contact [Email] or [Phone Number] / [Mobile Number] for details

Leicestershire Letter
On Sat 27th Feb at 7.30pm - Meal
Well, the idea for February was a Thai meal in Asfordby, but unfortunately they no longer do them: so apologies to those who were looking forward to it. Maybe we can find a decent Thai restaurant somewhere for a future meeting. So, as the Marquis of Granby at Waltham has been recommended recently, that's where we'll be on Saturday 27th - meeting around 7.30pm. Waltham lies about 3-4 miles from Melton on the A607 Melton to Grantham road. If you get to Waltham, you can't miss the pub! (no prizes for doing so) . . . the Royal Horseshoes on the opposite corner has closed. I would like names by Monday 22nd February, please, although I don't suppose numbers will be too crucial.
Sue Watford
Contact [Email] or [Phone Number] for details
Derby Diary
On Wed 17th Feb at 7.30pm - 3WOTM
Our regular 3WOTM meeting at the Standing Order in Derby falls on Wednesday 17th this month. Join us for a meal or just a drink and some great conversation from 7.30pm. Look out for the yellow Mblem on a long table in the area just beyond the bar. Please feel free to contact me, for more details/directions or even if you just want some encouragement.
On Tue 23rd Feb at 7.30pm - Eating meeting
We're having an 'eating meeting' at 7.30 pm on Tuesday 23rd at Bay Leaf on Market Street in Heanor. This Bangladeshi restaurant has been tested by several Mensans and comes highly recommended. The service and food are excellent and prices reasonable. The venue does not have an alcohol licence so either buy soft drinks there or bring your own beer or wine. Please book with Maxine on [Phone Number] or [Email] by 19th so that a large enough table can be reserved.
Matthew Smith

Hertfordshire Happenings
On Thu 4th Feb at 8.15pm - FThOTM
From 8.15pm on 4th our regular first Thursday of the month meeting: we'll be around for our usual mix of lively conversation and good atmosphere at the Millstream, Cambridge Road, Hitchin. Good food and good beer both available! Call me for details and encouragement. The pub is about ten minutes' walk from the railway station.
On Sat 6th Feb at 3.00pm - T@3
Saturday 6th we're looking to start a T@3 event in the Hitchin area: location is yet to be confirmed but if you ring me, all will be revealed!
On Fri 26th Feb at 8.00pm - LFOTM
On Friday 26th from 8.00pm join us at the Cowper Arms, Digswell (near Welwyn village) for our new look Last Friday. Good food and good beer available to suit all tastes! The venue is next to Welwyn North railway station . Do come along and try it out for yourself!
Richard Allen
Contact [Email] or [Phone Number] for details

Mensans in MK & Bedford
On Thu 4th Feb at 8.00pm - FThOTM
First Thursday is at our regular venue of Jurys Inn on Midsummer Boulevard, on 4th February, from 8.00pm. Look out for the Mblem on one of the tables to the right in the foyer. Parking is a bit busy around Jurys and The Hub, so we try and get in across the road and walk through the underpass.
On Wed 17th Feb at 8.00pm - 3WOTM
Our Third Wednesday meeting at the Old Beams in Shenley Lodge is on 17th from 8.00 pm. If you're definitely planning to come, please let me know as it will help us to grab the right sized table, but don't let that put you off deciding on the spur of the moment – you'll still be welcome. See www.mcmullens.co.uk for location and menu details. You can eat or not, as you wish – their food is quite good and reasonably priced. Look around for the Mblem - we don't always get the same table each time but we are often in the small room through on the extreme right.
On Sun 28th Feb at 11.00am - Walk and Lunch
Our final meeting this month is a Sunday walk and lunch on 28th February. This time we're going to do Caldecotte Lake, on the south side of Milton Keynes. We'll meet at 11.00am in the car park of the Caldecotte Arms, on the north side of Bletcham Way (H10) and just east of the A5. Afterwards we will have lunch in the Caldecotte Arms, which is a Brewer's Fayre type pub/restaurant – it's easily recognisable as the one with the windmill.
Jo Sidebottom
Contact [Email] or [Phone Number] / [Mobile Number] for details

WATever ...
On Mon 8th Feb at 8.00pm - Pub meeting
On Monday 8th February join us at the Essex Arms, Langley Way, Watford for a pub meeting at 8.00pm. Please come along and join in the warm and friendly conversation! We will also be planning future events away from the pub.
Phone me on [Phone Number] or Elaine on [Phone Number] for information.
David Seddon
Contact [Email] or [Phone Number] for details

Berkhamsted
On Wed 24th Feb at 7.45pm - LWOTM
On Wednesday 24th February at 7.45pm-ish, we will meet at the White Horse Pub on the main road through Bourne End, plenty of parking at the back and they have a new cook. Some of us have dinner but some of us just come for one drink and a chat. All members young and adult are very welcome.
Jenny Habib
Contact [Email] or [Phone Number] for details
East Midlands Mensa Feedback Questionnaire – November 2009
Tea @ 3 @ Dobbie's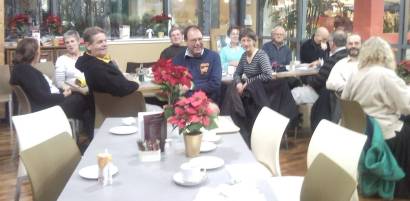 Jo Sidebottom writes, "Here's a group of us having T@3 at Dobbie's Garden Centre in Milton Keynes. I think we had the best turnout ever with a total of 16 people, from as far afield as the West Midlands! The store was all decorated for Christmas so after a leisurely chat over tea/coffee and cakes, most people went off afterwards to have a look round."
For your Mensa diary ...
What's happening in 2010?
19th-22nd March Portmeirion Weekend
9th-11th April Think @ Oxford
30th April-3rd May Irish Mensa AG (Dublin)
18th-20th June West Midlands Weekend (Worcester)
19th-23rd August Mensa @ Cambridge
27th-30th August Scottish Mensa AG (Oban)
17th-19th September (TBC) British Mensa AG (Chester)
and ...
Lakes Party Weekend
Friday 3rd - Monday 6th December 2010
A weekend event based at the CenterParcs Whinfell Forest village in Cumbria. Package includes three nights accommodation in a twin/double room, three parties, two meals, cocktail of the day, help-yourself bar throughout the weekend, unlimited access to the water dome, programme of events including walks, quizzes and much more.
See www.maruba-events.com for details.
20 Questions (No. 101)
Did you guess the London Tube stations from the December issue? They were Warwick Avenue, White City, Blackfriars, Mile End, Paddington, Chalk Farm, Oval, Vauxhall, Mornington Crescent, Westminster, High Barnet, Angel, Leicester Square, Harlesden, Bank, Highgate, Waterloo, Arsenal, Seven Sisters and Old Street. Entries were received from J E Green of St Albans, Lynda Brotherhood of Mansfield, Dave Simpson of Royston, Chris Benger of Bedfordshire, Simon Poulton of Shepshed, Chris Lonsbrough of Milton Keynes, Benjamin Hickman of Ashby de la Zouch, Geraldine Ellis of Nottingham, Anthony Smith of Watford, Judith Meller of Kegworth, Alex Foster of Derby, Ian Nelson of Letchworth, Grahame Blanchard of Towcester, M Etall of Watford, Stuart Duckmanton of Mansfield, K Scott of Watford, Michael Warren of Derby, Glyn Owen of Luton, Chris Impey of Tring, Andy Cole of Cleethorpes, Ian Metcalf of Milton Keynes, Tony Dodd of Belvoir, Mike Hadley of Lutterworth, Marianne Croll of Derby, Peter Lewis of Milton Keynes, Pamela Covey of Woburn, Peter Chamberlain of Rushden, Dawn Cox of Derby, Philip Abbott of Watford, David Ribbans of Luton, Roger Lord of Aylesbury, D W Dell of Leighton Buzzard and Roger Hayman of Leicester. Good to see so many new names this time! The randomly picked winner was Peter Chamberlain and a £10 book token is on the way to him.
As this month's regional event gives you the opportunity to learn how to dance, this month's quiz is all about dancing. Send your answers to arrive by 20th February to '20 Questions (No. 101)', [Address]
1. The tango originated in which capital city?
2. Which film featured the Pan Pacific Grand Prix dance contest?
3. East Coast and West Coast are styles of which type of dancing?
4. What does the word hula mean in the Hawaiian language?
5. The lady represents what item in the paso doble?
6. What is the name of the horizontal piece of wood held during ballet practice?
7. In which city would you find the Sambadrome?
8. Who established the Pineapple dance studios in London in 1979?
9. What is the name of the dance troupe created by Australian Dein Perry?
10. Flamenco dancing originated in which region of Spain?
11. Who played the character Baby in the film Dirty Dancing?
12. Which famous dancer was guest judge on Strictly Come Dancing 2009?
13. Who composed the ballet Swan Lake?
14. B-boys and B-girls practice which style of dancing?
15. Bhangra and Garba are traditional folk dances from which country?
16. Which dance contains steps called bota fogos?
17. The Bluebell Girls first performed at which theatre?
18. Who is the professional dance partner of Anton du Beke?
19. Latin, New York and Cuban are styles of which type of dancing?
20. Mo, Marie, Sue, Sandy and Zeb were members of which tap dancing troupe?