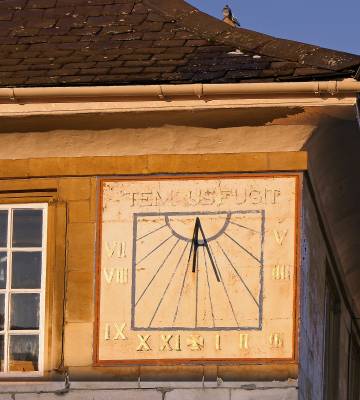 It's time to visit Oakham
Regional News
As I write we're coming out of the Big Freeze (which sadly affected several Mensa events), heading towards Christmas (hope it was a good one for you) and next stop is our Mardi Gras Party Night on Saturday 19th February. The venue is once again the Charnwood Arms Hotel in Coalville, which proved so popular last year being very easy access from M1 J22 and value for money. The event will start with an optional mask making session from 4.00pm in their Forest Suite where you can have fun with cardboard, glue, paint, glitter, ribbons and feathers! All free of charge if you let me know in advance so I can buy enough materials. Then from 7.00pm we have a three course Latin American themed meal followed by dance tuition in salsa, merengue, samba and cha cha cha followed by a disco until 1.00am. All for the bargain price of £20 per person. Full details can be found at www.mensa.org.uk/eastmids or contact me on [Phone Number]. Please note bookings close on 10th February.
Prior to this event the officers of East Midlands Mensa will be holding their annual committee meeting. As there were no nominations for the role of Regional Officer I will remain in post for the next two years. We are still seeking a Regional Publicity Officer willing to talk to the media should they wish to speak to a member rather than Mensa office staff and also a Local Secretary to cover the Luton area. If you would like to know more about what is involved in these voluntary though worthwhile roles please contact me at [Email] or on [Phone Number].
I'd love to hear from you!
Maxine Bates
Regional Officer
Events and Meetings
In the current circumstances surrounding the COVID-19 coronavirus, the expectation is that all non-online events listed here are susceptible to being cancelled, if not already marked as such. If you intend participating in any event listed here, please contact the event organiser beforehand to confirm that the event is still on.
Derby Diary
There will be 2 meetings in the Derby area in February.
On Wed 16th Feb at 7.30pm - 3WOTM
Regular Third Wednesday of the Month get together in the Standing Order in Irongate on 16th from 7.30pm.
On Tue 22nd Feb at 7.30pm - Eating Meeting
Maxine will behosting a meal at an exciting new Italian Restaurant, Carlucci , that opened in Heanor recently. The homemade pizzas and pastas are delicious and on Tuesday all main courses are BOGOF. Find the menu at www.carluccirestaurant.co.uk. Please book your place with Maxine on [Phone Number] or [Email] by 18th. Grazie! We know that not everyone can make our regular Wednesday meeting and Maxine has opted for a Tuesday evening, 22nd, which will also allow everyone to benefit from their "BOGOF" offer.
I look forward to meeting both old friends and new faces at each of these events.
Well, Spring is slowly approaching and the days are getting longer. I am looking forward to hosting a range of events across the Derby area over the next few months. I welcome recommendations from members as to good places to visit, be it a pub or a restaurant or something different.
Alistair Blackett

Mensans in MK & Bedford
On Thu 3rd Feb at 8.00pm - FThOTM
We continue with our regular First Thursday meeting at 8.00pm on 3rd February at Jurys Inn Hotel on Midsummer Boulevard. Look out for the Mblem on one of the tables to the right in the foyer. Parking is busy around Jurys and The Hub, so we usually try and get in across the road and then walk through the underpass.
On Sun 13th Feb at 10.00am - Breakfast meeting
Please join us for Sunday breakfast at 10.00am in Café Rouge in The Hub (not the Centre:MK/Destination Dining branch) on Sunday 13th. Feel free to come for a full breakfast, a snack, or just a drink, but if possible please let me know by Saturday 12th so we have an idea what size table to grab when we arrive.
We hope to see as many of you as possible at one or other of our events in February!
Jo Sidebottom
Contact [Email] or [Phone Number] / [Mobile Number] for details

Hertfordshire Happenings
On Thu 3rd Feb at 8.15pm - FThOTM
Our regular first Thursday of the month meeting will be on the 3rd from 8.15pm. Come and join us! We'll be around for our usual mix of lively conversation and a good atmosphere. As always, we're at the Millstream, Cambridge Road, Hitchin. Good food and good beer both available! The pub is about ten minutes' walk from the railway station.
On Fri 25th Feb at 8.00pm - LFOTM
Join us at the Cowper Arms, Digswell (near Welwyn village) for Last Friday, 25th, from 8.00pm. Good food and good beer available to suit all tastes! The venue is next to Welwyn North railway station (Kings Cross - Cambridge and Peterborough line with trains every 30 minutes).
Call me for more details and encouragement on either of the above events.
Richard Allen
Contact [Email] or [Phone Number] for details
More or Leicester
On Fri 11th Feb at 8.00pm - Eating Meeting
Our first rolling-roadshow / eating-meeting of the year is a special one as Pen and I both celebrate our birthdays in February. Bring cards and enormously expensive presents along to The Ferrers Arms, Lount, on Friday 11th at 8:00pm (details/directions/etc. available at http://www.ferrersarmspub.co.uk) where we'll be all ready for you. If you can't make it, then just send cards and presents . . . !
On Thu 24th Feb at 8.00pm - 3ThOTM Pub social
Because of the date of the Pen & Paul birthday bash earlier on in February, for the third month on the trot we've had to shift the date of the Third Thursday of the Month pub social at The Old Horse on London Road in Leicester. This time it'll be on Fourth Thursday (24th February) at 8.00pm. Conversation topic of the day is "Call this a winter? When *I* were young . . . etc". For details/encouragement/a chat, please call or email me.
See you soon!
Paul Coulson

Mid Bucks
On Sat 26th Feb at 7.00pm - Scrabble evening
On Saturday 26th at 7.00pm, it's time to gather round a warm (probably gas) fire and enjoy an evening of friendly games of Scrabble. Tea and coffee will be provided. The exact location will be confirmed depending on numbers, weather and other unpredictable factors! Numbers are limited so please ring or email me by Monday 21st February for directions and to reserve your place.
Advance notice - on Saturday 19th March we will be going to Wycombe Swan for the afternoon performance of Agatha Chrstie's 'Verdict', followed by a meal in the town centre. More details next month.
Val Hinkins
Contact [Email] or [Phone Number] for details

Notts News
On Sat 5th Feb at 8.00pm - 5OTM
Our regular pub social falls on Saturday 5th. Please join us from 8.00pm at the Vat & Fiddle pub on Queensbridge Road in the city centre to celebrate the weekend and two days off work – unless you work shifts or on a rota of course! Look for the yellow Mblem usually to the left of the bar and a warm welcome awaits.
On Wed 9th Feb at 7.00pm - Chicks & Flicks
Our "chicks & flicks" event will be on Wednesday 9th. Please meet inside the doors to the Cornerhouse at 7.00pm prompt. We'll then dine at Nando's. Afterwards we can watch a film at Cineworld or, as in previous months if the roads are likely to turn icy and we don't want to stay out late, we'll just go for chocolate pudding or hot chocolate drinks at a nearby pub. "Chicks & flicks" or "chicks & chocs" we'll still have a nice evening!
On Fri 18th Feb at 7.00pm - Greyhound Racing
This year I'm once again involved in raising money for Cancer Research UK and have been given 100 tickets by Nottingham Greyhound Stadium for Friday 18th. I will be selling these for £5 each. This covers admission and a race card and the usual price is £6. All proceeds will go to charity. The venue will only make money on any food or drink purchased during the evening. Arrive from 7.00pm. As part of the event my team (i.e. whomever I sell tickets to) will be allocated a trap number for certain races and the position the dog finishes in each race will score points on a league table basis. The stadium are hosting this event on six different nights and the winning team from each night will be invited back free of charge in October to compete for a trophy and a further £150 for their charity. Friends and family are warmly welcome to this fun night out and to help raise money for this worthwhile charity. Please contact me to obtain your ticket(s). Sorry, over 18s only.
This month's eating meeting is just over the border in Heanor so please see Derby Diary or details. The date will be Tuesday 22nd and the cuisine will be Italian.
On Thu 24th Feb at 8.00pm - At Home
Many thanks to Michael Rich who has volunteered to host this month's "at home" event. He lives in Stapleford and is offering an evening of chat, drinks, nibbles and traditional games from 8.00pm on Thursday 24th. Please contact him on [Phone Number] or [Email] for directions and so he knows how many people to expect.
Ciao for now!
Maxine Bates
Contact [Email] or [Phone Number] for details

Lively Lincs
On Sat 12th Feb at 12.00pm - 2SaOTM
We'll be holding the regular 2SaOTM in the coffee bar at The Collection, Danes Terrace. Do join us for lunch/snack or just a quick coffee. Usually we're at the far end of the room, spot the yellow Mblem. All very welcome. For more details or encouragement please contact me.
Christine Howells
Contact [Email] for details

Berkhamsted
I wish a Happy New Year to you all.
On Wed 23rd Feb at 7.45pm - LWotM
The meeting, on Wednesday 23rd, will be at the Old Mill on Berkhamsted High Street at the end nearest to Hemel Hempstead. There is a car park, but this is popular so try to be there early. I hope to see you there provided the weather allows. If we are in deep snow this meeting will be cancelled, but it should be clear by then. Sadly "Eat Fish" has closed down so we can no longer use their upper room.
Jenny Habib
Contact [Email] or [Phone Number] for details

WATever . . .
On Mon 14th Feb at 8.00pm - Video Evening
On Monday 14th from 8.00pm: a video evening, 'Random Numbers', hosted by Bryan, plus the usual conversation and comestibles. Please note - we do have a capacity limit, so you do need to contact me if you are planning on attending. I can then advise venue and directions.
On Mon 28th Feb at 8.00pm - Pub meeting
Monday 28th from 8.00pm: a pub meeting in the Essex Arms, Watford. Everyone is very welcome and please look for the magazine on the table.
David Seddon
Contact [Email] or [Phone Number] for details
Editor's Bit at the Bottom
Nick and I are always looking for interesting copy so, if you liked reading of Ian's exploits in Northern Ireland in January Empress, or John's evocative description of his town in this month's issue, how about writing about your town or an adventure you've enjoyed. Next month we'll be looking at some of the SIGs whose SigSec lives in the East Midlands. Prepare to be fascinated . . .
Looking forward to hearing from you anytime,
Rosie Jefferson
Oakham
by John Page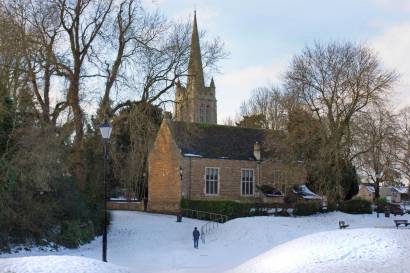 Oakham Old School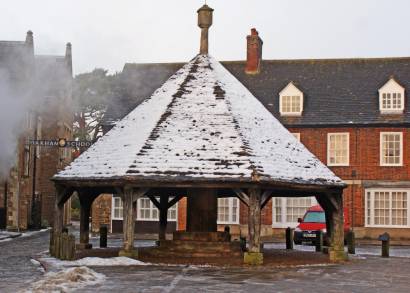 Oakham Stocks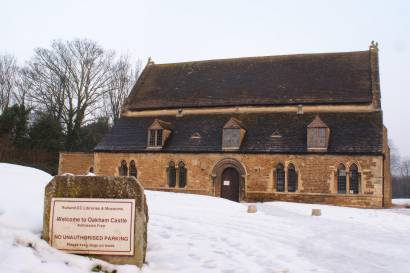 Oakham Castle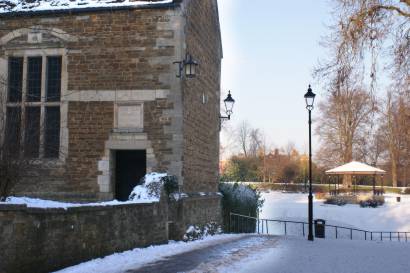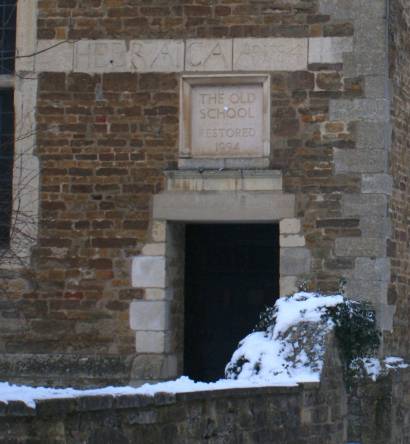 Old School Door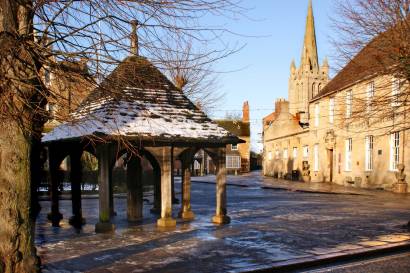 Oakham Pump
Returning from foreign parts, it is always comforting to know that the county boundary signs mean that home is never more than a dozen miles away. My town is Oakham, a relatively prosperous and expensive little bubble inside the, only slightly larger and more expensive, bubble of Rutland. England's smallest county nestles against the east side of Leicestershire but never dare to suggest to a Rutlander that the two counties are in any way linked. The relationship seen from Oakham has at times been a bit like Argentina and the Falklands without the shooting.
Rutland was reliant on feudal agriculture until the end of 1939 when things changed from dairy to arable and sheep farming and some fields still show the ridges resulting from ancient strip cultivation. We have an annual agricultural show that seems to reward the bull with the biggest appendages and the oldest tractor. I suspect that many locals learnt to drive on that tractor and have not changed their road sense since. Foxes are also pursued with vigour although the hounds are now aided by a very large eagle. Several landed estates still survive hidden away at the end of long drives behind impressive wrought iron gates and in some cases claiming ownership of most of the nearby village. In 1979 Anglian Water flooded the middle of the county to create Rutland water, leaving the inhabitants living on a broad, gently hilly towpath. We now profit from trout fly flickers and osprey twitchers whilst we cycle round the lake counting the birds and avoiding Bill Oddie for exercise.
The presence of a large public school helps to maintain property prices and ensures a good proportion of well-educated people amongst the local populace. The school has premises and sports fields throughout the north east part of town including the old workhouse building that seems a strangely appropriate venue. Cultural activities such as plays and concerts thrive, sometime centred round the school or utilising its facilities. After a few years residence, one discovers almost as many local clubs, societies and interest groups as Mensa has SIGs. More than one could shake a stick at and there are a lot of walking sticks around here. The residency qualification has nothing to do with exclusivity or unfriendliness, it is merely that most things are well patronised with no need for recruitment publicity. The assumption of long term residents seems to be that in such a small town "everybody knows about us".
Oakham is modernising; we no longer use the town water pump or stocks and only the occasional trial has been held in the suitably small castle since 1970. That said, the high street sundial still works almost as well as the day it was made – it was sunnier in those days – though a move to double summer time would require modifications involving a bent gnomon that could prove painful. The smithy under the spreading chestnut tree of Longfellow's "Village Blacksmith" poem is now an antique shop and this year the oldest chestnut tree had to be cut down despite its protection order.
We have a range of good eateries varying from small, family owned cafes up to Michelin starred luxury for those who can afford it. A spin-off benefit is that the village bakery which supplies the starry hotel has an outlet in town which sells very fresh bread using the flour from local windmills (we are not too modern) and irresistible (for me) banana muffins. We also seem to be well blest with take-away foods but the likes of Ronald McDonald and Colonel Sanders have yet to set foot in the county, let alone Oakham. In like fashion we have many small, characterful local shops without the big chains like M&S. It can be frustrating to shop if one is in a hurry and the shopkeepers want to stand and chat or display a sign, "Back in five minutes". Did they go four minutes ago or just thirty seconds? We do have a Tesco store but its planned expansion is currently subject to hot debate with petitions for and against. Subjected to local lobbying, the town council have approved the plan, declined the plan and then reapproved it with modifications, not helped by the fact that half the council had to declare an interest and abstain from voting. We do lack a leisure centre and multi-screen cinema but there are ample compensations.
For me, Oakham is like a wrinkly paradise but it can also be a teenager's purgatory.
20 Questions (No. 113)
Answers to the November quiz were beer, France and Spain, Venice, Munich, Sonar, 1991, Amsterdam, 1989, Dubrovnik, Portugal, Charles Bridge, Catalan, Geneva, George VI, 1810, jazz, Benfica, Rhine, Geneva and 4 with entries from Patrick Cavanagh of Ireland, T Hamilton of Sleaford, Andy Cole of Cleethorpes, Pamela Covey of Woburn, Rita Beeson of Kempston, Chris Impey of Tring, Diana Morris of Kettering, and someone who forgot to include their name and address! The winner of the £10 book token was Pamela – again!
This month's quiz is set by Alistair Blackett and all the answers are people with an animal in their name. Send your entries to '20 Questions (No. 113)', [Address], to arrive by 20th February.
1. The Secretary of State for Defence and MP for North Somerset.
2. The Chief Scout, a survival expert and former soldier well known for his TV work.
3. Former Sheffield Wednesday and England footballer banned from the sport 1964-1972.
4. TV psychiatrist and radio presenter in Seattle and a regular customer of a bar in Boston.
5. Radio personality known for his long running show on Talk Sport currently at LBC Radio.
6. Popular children's character created by AA Milne and friend of a 'bear of little brain'.
7. 18th century British General chiefly remembered for capturing Quebec from the French.
8. Three times winner of the US Open golf tournament, most recently in 2008.
9. Stage name of Yusuf Islam, a British Singer songwriter and Muslim convert.
10. The architect of St Paul's Cathedral in London.
11. Weather forecaster best remembered for remarks prior to the Great Storm of 1987.
12. A fictitious secret agent of the 1960s and 1970s, usually very smartly dressed.
13. Songwriter associated with fictitious furry creatures found in an area of south London.
14. English navigator who circumnavigated the globe and defeated the Spanish Armada.
15. Former Leicester and Nottingham rugby full back capped 25 times for England.
16. Former Lord Chancellor under Margaret Thatcher from 1979 to 1987 who died in 2001.
17. Sue Townsend serialised this boy's diaries between 1982 and 2009.
18. A former Royal Naval diver who disappeared in 1956 in Portsmouth harbour.
19. American actress born in 1964 who starred in Speed and Miss Congeniality.
20. Founder member and former base player with KC and the Sunshine Band.