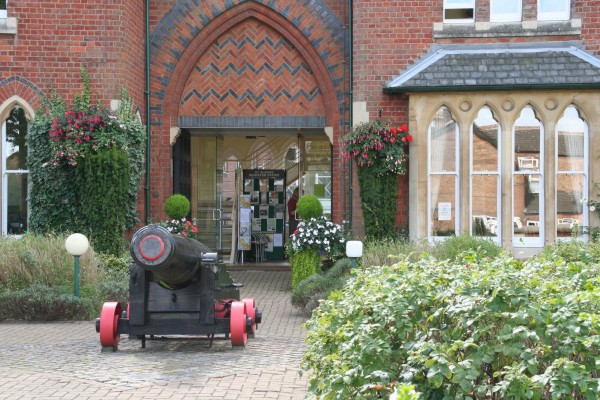 Do you recognise this doorway?
Regional News
The results of the questionnaire carried out at the end of last year are now available and makes interesting reading. Of the 2,473 respondents it was encouraging to see that 955 of them have enjoyed membership for more than 20 years. It shows that 24% of members are retired. Does this mean you would like to see more daytime events? I've tried them previously with limited success but perhaps I just chose the wrong day or activity. Those working part-time, flexi-time, unemployed or mothers at home with children may also be able to attend daytime events. If this is of interest to you please let me know and I'll see what can be arranged. The most popular type of events are lectures with 68% of members saying they would attend such an event. These don't need to be large scale and could easily be held at a home of a member or in a small function room. Please do get in touch if you would be willing to share your hobby or interest with other people with a short talk or demonstration on a specialist subject. We do have funds available to cover expenses for speakers. At previous Mensa events there have been talks on pest control, magic, reiki healing, hedgehogs, self-defence, travelling across the USA and much more. All subjects considered! Not surprisingly when it comes to employment of members the highest number work in information technology followed by education, finance and healthcare. Over 1/3rd of members would be prepared to travel over an hour to attend an event if they felt it was the right one at the right price for them. If you have suggestions for future events feel free to contact either myself or your Local Secretary. We'd love to hear from you.
Our next regional event is fast approaching and will be a Blues Party Night from 7.00pm to 11.00pm on Saturday 16th February at Diseworth Village Hall near East Midlands Airport so very accessible from M1 J23A or J24 with cheap overnight accommodation locally for anyone requiring it. There will be a buffet, bar, live music, disco (our own so no loud DJ), raffle, quiz and more. Free for members and only £5 for non-member guests. Please contact me as soon as possible to book your place(s). Look forward to seeing many of you there. See www.eastmidsmensa.org.uk or the January issue of Empress for full details.
Maxine Bates
Regional Officer
Events and Meetings
In the current circumstances surrounding the COVID-19 coronavirus, the expectation is that all events listed here are likely to be cancelled, if not already marked as such. If you intend participating in any event listed here, please contact the event organiser beforehand to confirm that the event is still on.

Berkhamsted
On Wed 27th Feb at 7.45pm - LWOTM
On Wednesday 27th we will meet as usual at the Old Mill at 7.45-ish., the pub set back from the London Road, next door to the Esso petrol station. Look for the Mensa Mag on the table. Come and drink/eat if you wish and discuss life, not too seriously.
Jenny Habib
Contact [Email] or [Phone Number] for details

Notts News
On Tue 5th Feb at 8.00pm - 5OTM
Join us at the Vat & Fiddle pub on Queensbridge Road in Nottingham from 8.00pm on Tuesday 5th. We're usually in the Golding's Room to the left of the bar although it was hired out on a recent visit so we sat in the main bar. Typically we had new faces and old faces returning along with the regulars so it became quite cosy, but a good evening was had by all. There will be a yellow Mblem on display or just ask the bar staff. Real ale is supplied by the adjacent Castle Rock brewery, there are good value soft or hot drinks, plus the usual wines and spirits.
On Thu 14th Feb at 7.30pm - Natter & nosh
Our "natter & nosh" event falls on Thursday 14th so don't stay home alone on Valentine's Day. Either bring your loved one out for the night or come along on your own for a meal and/or a drink any time from 7.30pm until late. Find us on the long table beyond the food order point at the end of the bar at the Beekeeper, Meadow Lane, Beeston.
On Fri 15th Feb at 7.00pm - Greyhound racing
On Friday 15th we have another of our visits to Nottingham Greyhound Stadium to take part in a new charity tournament. Tickets (admission and race card) cost £5 each with accompanied under 18s free. There is food and drink available at the venue as well as ample free car parking on the Colwick park and ride site right next to the stadium. Gates open at 6.00pm with the first race at 6.28pm and the last race finished by 10.30pm so you can arrive/leave when you like, but there will be a rendez-vous point at 7.00pm. As tickets have been donated all money raised will go to Cancer Research UK. Come and cheer on our allocated dog and enjoy a sociable - and sometimes profitable - night out. Last time there were 60 of us. Can we sell all 100 tickets this time?
For further information or to obtain tickets for the greyhound racing please contact me.
Ciao for now!
Maxine Bates
Contact [Email] or [Phone Number] for details

Mid Bucks
On Wed 13th Feb at 10.30am - Morning coffee
It's a while since we have indulged ourselves at Jung's Continental Bakery and Patisserie on the Broadway in Beaconsfield. Join me there for relaxed coffee, delicious cakes and pastries and pleasant chat from 10.30am onwards on Wednesday 13th.
See http://www.hpjung.com/aboutus.shtml for more details of this firm and its excellent range of tempting products.
On Sat 23rd Feb at 2.30pm - Theatre
The Thirty Nine Steps, as adapted by Patrick Barlow is coming to the Waterside Theatre in Aylesbury in February. I will be going to the Saturday afternoon performance on 23rd. The production has won several awards and is described as "the world's favourite comedy"! Further information is available at www.love39steps.com. If you would like to join me please obtain your own tickets from the theatre, but let me know you are coming so we can meet up. We will choose somewhere to eat after the show.
Another theatre trip is planned for March when Yes, Prime Minister is on at the Wycombe Swan from Tuesday 12th to Saturday 16th. We will be going to the Tuesday night performance. Please buy your own tickets. I expect this will be popular, so book early! More details from the Swan web site at www.wycombeswan.co.uk
Val Hinkins
Contact [Email] or [Phone Number] for details

Mensans in MK & Bedford
On Thu 7th Feb at 10.30am - New members meeting
The recent Social Pillar survey revealed that a surprising number of members are nervous about coming to a meeting of an established group in case it's cliquey and they feel left out. Well, naturally we don't think we're cliquey, but we do realise it can be daunting joining a bunch of people who already know each other! Also some people would prefer daytime meetings. I will therefore be in the restaurant of Dobbie's Garden Centre in Fenny Stratford at 10.30am on Thursday 7th February if any new members, or those who haven't been to a meeting for a few years, would care to join me for coffee. I will probably be in the conservatory area at the back, with an Mblem on show, but please call my mobile if you can't find me. Feel free to call me beforehand if you need any encouragement. And in the nicest possible way, I'd like regular meeting attendees to give this one a miss.
On Sun 10th Feb at 10.15am - Sunday breakfast
Sunday breakfast will be at 10.15am on Sunday 10th at Wetherspoon's on Midsummer Boulevard West, next to Chiquito's and not far up from the railway station (NOT the other Lloyds/Wetherspoons nearer the shopping centre and next to Jurys Inn). Come for a full breakfast, a snack, or just a drink – look for the Mblem on a table.
On Mon 18th Feb at 7.30pm - 3WOTM
On Monday 18th we have the first of our new Third Monday of the Month meetings at The Barge at Woolstone. A few of us have road tested their quiz recently and it's very well run, as well as being in aid of charity, so we've decided to run it as a monthly event. Join us from 7.30pm if you wish to eat or chat beforehand, and then from 9.00pm we will form one or more teams for the quiz. Cost is £1 per person. See www.vintageinn.co.uk/thebargewoolstone/ for location and menu details.
We hope to see as many of you as possible at one or other of our events in February. Do remember that you're welcome to bring a guest with you, so if you've never been to a Mensa event and are a little nervous about coming along on your own, just bring a friend.
Jo Sidebottom
Contact [Email] or [Phone Number] / [Mobile Number] for details

WATever . . .
On Mon 11th Feb at 8.00pm - 2MOTM
Watford on Monday 11th at 8.00pm: Life on other planets - what would they be like? (Dave Silver will be hosting) This was top of our list amongst members' selections for our 2013 agenda. Bring your thoughts and ideas for what should be a very interesting evening. I have already started some research into size of planet, size of star, gravity effects for life forms, biological composition (or otherwise). Fascinating Mr. Spock! . . . Please let me know if you plan on attending and I can let you have Dave's address. Please bring the usual small amount of nibbles/crisps etc..
On Mon 25th Feb at 8.00pm - 4MOTM
On February 25th a pub meeting at the King's Head, Bridge Road, Hunton Bridge WD4 8RE. We usually meet upstairs in the 'gallery' area furthest from the bar. The pub is easy to find from the dual carriageway (A41 Watford Road). From Watford turn right at the traffic lights, over the small bridge and then on the right. Look for the magazine or ask at the bar. New members are warmly welcomed.
David Seddon
Contact [Email] or [Phone Number] for details
More or Leicester
The FThOTM meeting that was scheduled for the 28th has been cancelled
Paul Coulson
Derby Diary
On Wed 20th Feb at 7.30pm - 3WOTM
We'll be at the Standing Order on Irongate in the city centre from 7.30pm on Wednesday 20th. Why not join us for reasonably priced food or just a drink? Find us in the low ceiling area at the rear of the pub. Phone in advance for further information or parking suggestions or just turn up on the night. All welcome.
On Tue 26th Feb at 7.30pm - Curry night
At 7.30pm on Tuesday 26th we're going to sample the curries at Maazi, Causeway Lane, Matlock. This Indian restaurant comes highly recommended and you can find their menu at www.maazi.co.uk. Please reserve your place by 22nd latest so a table can be booked.
Don't forget our regional event is taking place in Derbyshire at Diseworth Village Hall near East Midlands Airport. Food, drink, music and other entertainment. Free to members and only £5 for non-member guests. It's all happening between 7.00-11.00pm on Saturday 16th February.
Maxine Bates
Contact [Email] or [Phone Number] for details

Hertfordshire Happenings
On Thu 7th Feb at 8.15pm - FThOTM
On 7th from 8.15pm we're back to our regular First Thursday slot at the Millstream, Cambridge Road, Hitchin. Good food and good beer both available! The pub is about ten minutes' walk from Hitchin station.
On Fri 22nd Feb at 8.00pm - 4FOTM
On Friday 22nd from 8.00pm we'll be at the Cowper Arms, Digswell, Herts (by Welwyn North station) for LFOTM. The pub is next to the railway station, which is served by stopping trains from Kings Cross to Cambridge and Peterborough.
Would anyone be interested in joining me at occasional performances at the Gordon Craig Theatre in Stevenage? February and March have a number of interesting events on, in particular "A Murder is Announced" by Agatha Christie from 12th-16th February and "A Cricket Match" by Alan Ayckbourn from 5th-7th March. Give me a call if you're interested.
Richard Allen
Contact [Email] or [Phone Number] for details

Lively Lincs
Needless to say as I am organising, food is involved in all 3 of this month's opportunities to meet up, but hopefully it will fuel our little grey cells as we enter into one of our regular discussions or wander onto more general topics. The first two events are in Lincoln.
On Sat 9th Feb at 12.05pm - 2SaOTM
Firstly, the 2SaOTM pub discussion at the Adam & Eve on Lindum Hill on 9th from 12.05pm; do join us for as long as you like, have lunch or just a quick drink. This month's topic is 'Should we celebrate the centenary of all the major events of WWI?'
On Wed 20th Feb at 7.00pm - Chinese meal
Next, another of what may turn into a regular 2-monthly mid-week evening eating meeting: a Chinese meal at the Newport Arch on Wednesday 20th at 7.00pm, (please book with me by Saturday 16th thanks).
On Sun 24th Feb at 3.00pm - Teatime Thinking
Then, it's tea and cakes at my house near Alford on Sunday 24th, 3.00-5.00pm, to aid deliberation on 'Marx'.
Please contact me for directions, encouragement for all 3.
Christine Howells
Contact [Email] for details

Northants NNotes
Back in the Spring!
Ian Sargent
Contact [Email] or [Phone Number] / [Mobile Number] for details
Just think about it . . .
I used to eat a lot of natural foods until I learned that most people die of natural causes.
The easiest way to find something lost around the house is to buy a replacement.
Never take life seriously; nobody gets out alive anyway.
There are two kinds of pedestrians: the quick and the dead.
Life is sexually transmitted.
Health is merely the slowest possible rate at which one can die.
The only difference between a rut and a grave is the depth.
Whenever I feel blue, I start breathing again.
All of us could take a lesson from the weather; it pays no attention to criticism.
Why is it that one careless match can start a bush fire, but it takes a whole box to start a campfire?
Why is there a light in the fridge and not in the freezer?
Do illiterate people get the full effect of Alphabet Soup?
Have you noticed that when you blow in a dog's face, he gets mad at you, but when you take him on a car ride, he sticks his head out the window?
Marriage or Prison?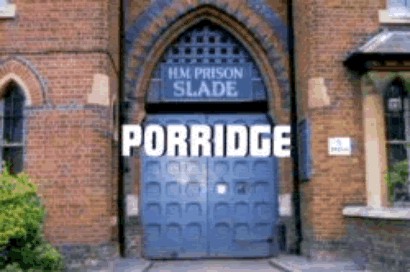 "Norman Stanley Fletcher, you have pleaded guilty to the charges brought by this court and it is now my duty to pass sentence. You are an habitual criminal who accepts arrest as an occupational hazard and presumably accepts imprisonment in the same casual manner. We therefore feel constrained to commit you to the maximum term allowed for these offences. You will go to prison for five years."
These famous words opened every episode of "Porridge", perhaps the best sitcom ever made. While many readers of Empress will have enjoyed watching the programmes (and they are still popular whenever repeated), I imagine far fewer readers will realise that the south of our area has a number of connections to the TV series.
The first is Slade Prison itself, or to be more precise those familiar forbidding slamming gates at the beginning of the programme. Although Slade Prison is supposed to be in Cumberland, those gates are (or were) rather nearer to home - in St Albans. The building itself was a civilian prison, becoming a military prison in 1915 and by the time the series was made it had become a council depot and the gates were still in situ. The building is now the city's registry office and is located near the junction of Stanhope Road and Victoria Street, near the railway station.
The second is sadly no more; the outdoor scenes when the prisoners were working on their allotments were filmed at a maltings on the eastern outskirts of Baldock. The building was destroyed by fire some years ago and an industrial estate now occupies the site, just east of the town centre on the former A505.
The third connection is much more recent; about two years ago, a statue of Ronnie Barker, dressed as Fletcher, was unveiled in Aylesbury, the town where he started his acting career. Appropriately, the statue is next to the town's new theatre.
20 Questions (No. ***)
The answers to our Christmas quiz were 26th December, Jacob Marley, Holiday Inn, Norway, ladies dancing, Montgomery Ward, Robert Burns, cranberry sauce, white, 1843, Melchior, Hogmanay, Christmas cracker, 1984, Greece, Dr Seuss, George V, greyhound, 6 and panettone.
Entries were received from Pamela Covey of Woburn, Michael Warren of Derby, Tony Dodd of Belvoir, Una Adams of Corby, Diana Morris of Kettering, Philip Abbott of Watford, Alex Foster of Derby and K A Scott of Watford. The winner is Alex.
This month's quiz is compiled by Les Hurst and all the answers contain 'ock'. Send your answers to arrive by 20th February to '20 Questions (No. 137)', [Address], for chance to win the £10 book token.
1. Lewis Carroll's spurious testudine
2. The mountains of the continental divide
3. Oncorhynchus nerka hits the sight
4. Aircraft that dropped the atomic bomb on Nagasaki
5. All correct, as in simple arithmetic
6. Container at the end of the rainbow
7. Elgar's overture to a place of idleness
8. The Clinton's White House cat
9. Pilgrims' destination in County Mayo
10. Field or ice game
11. Robert Hughes' TV history of modern art
12. Their firearms are almost happy
13. Illustrator of the Four Freedoms
14. Wool or cotton stuffing a mattress
15. Clostridium tetani more than closes the lips
16. A smaller, subsequent earthquake
17. Does nothing to stop a decapitation
18. D H Lawrence's winner
19. The glamorous couple behind BSA motorcycles
20. Lasting evidence of Variola infection