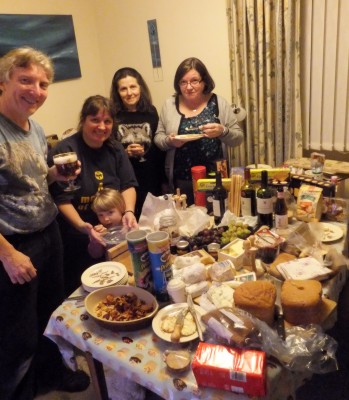 Mark and Rowena's Cheese Spread Deluxe
Regional News
As usual this month we have a range of events that include food and drink – as these seem to be the most popular – but also chance to go ten pin bowling or play boardgames as well as take part in other activities. Don't forget Mensa is a DIY society so if there's nothing that appeals you're welcome to contact your Local Secretary with suggestions or even host an event yourself. If you enjoy an unusual hobby or interest, why not invite other members along to try it out?
Many thanks to everyone who has compiled a '20 Questions' quiz for Empress over the last few months. They are always welcome so if you fancy testing the knowledge of other members on one subject please send any quizzes to me. You will, of course, get credit in Empress.
If you aren't able to join in our social events due to work or family commitments or you don't enjoy quizzes, there are dozens of special interest groups you can join to correspond with other members who enjoy the same interest. Star Trek? Rock music? Languages? Animal welfare? Chocolate? Sailing? Something for everyone! Contact the Mensa office or see www.mensa.org.uk for the full listing.
Don't forget there are several weekend events on the calendar for 2014 including Mensa At Portmeirion (21st-24th March), Thinks At Oxford (11th-13th April), Irish Mensa Annual Gathering in Limerick (2nd-5th May), Mensa At Cambridge (21st-24th August) and the British Mensa Annual Gathering in Cardiff (19th-22nd September). Again see the Mensa web site for programmes/booking forms as all these events are finalised.
I'm on [Phone Number] or [Email] and you're welcome to contact me at any time.
Maxine Bates
Regional Officer
Events and Meetings
In the current circumstances surrounding the COVID-19 coronavirus, the expectation is that all events listed here are likely to be cancelled, if not already marked as such. If you intend participating in any event listed here, please contact the event organiser beforehand to confirm that the event is still on.

Mid Bucks
On Thu 6th Feb at 10.30am - Morning coffee
No need to book, just join me from 10.30am onwards on Thursday 6th for a morning of informal conversation and coffee.This month we are returning to "The Cape" Grand Café and Restaurant on Station Road in Beaconsfield, HP9 1NN. This South African themed restaurant offers a full cooked breakfast as well as many varieties of coffee, tea, cakes and biscuits. For further information on the venue see www.thecapeonline.com
On Thu 27th Feb at 7.00pm - Cinema
On Thursday 27th at 7.00pm the Eden Cinema in High Wycombe will be showing the original production of Warhorse via "NT Live". Based on Michael Morpurgo's novel, it tells the story of Joey, a horse sold to the cavalry at the outbreak of World War I. Life-size horse puppets, music and songs are used to illustrate his journey from idyllic Devon to life in the trenches of France. A remarkable tale of courage, loyalty and friendship.
Please buy your own tickets from the cinema or on-line at www.cineworld.co.uk/whatson/event/Ntlive. Seats at Eden are usually unreserved, so if you let me know you are coming we will arrange to meet up and sit together.
Val Hinkins
Contact [Email] or [Phone Number] for details
Derby Diary
On Wed 19th Feb at 7.30pm - 3WOTM
Just our one regular "3rd Wednesday" event this month from 7.30pm on Wednesday 19th at the Standing Order on Irongate in the city centre. Find us on one of the long tables in the low ceiling area at the rear of the pub displaying a yellow Mblem. There are usually 12-16 of us of varying ages so everyone welcome. Some dine and some come along later for just a drink whether that's beer, wine, a diet Coke or coffee. All at good value prices as this is a Wetherspoon venue.
There's also an 'at home' event in Langley Mill on Friday 7th that may be very accessible for Derbyshire members as my house is right on the border of Notts/Derbys. See Notts News for details.
I'd like to try some walks in the spring/summer months so if you have any suggestions of circular routes anywhere within Derbyshire please do let me know.
Maxine Bates
Contact [Email] or [Phone Number] for details

Mensans in MK & Bedford
On Sun 9th Feb at 5.00pm - Ten-pin bowling
Our first meeting in February is something we haven't done for a while: ten-pin bowling. We're going to the newly re-opened Hollywood Bowl at Xscape at 5.00pm on Sunday 9th. The cost is £11.70 per person for two games. Please let me know by Sunday 2nd at the latest if you plan to come, so I can book the lanes. We will probably grab something to eat at their diner, either delivered to the lanes while we're playing, or afterwards.
On Mon 17th Feb at 8.30pm - 3MOTM Quiz
On Monday 17th we continue our Third Monday of the Month quiz meetings at The Barge at Woolstone. We meet from 8.30pm in time for the quiz at 9.00pm – cost is £1 per person. See www.vintageinn.co.uk/thebargewoolstone/ for location and, if possible, let me know beforehand if you're coming so we can reserve a big enough table.
On Sun 23rd Feb at 10.30am - Sunday breakfast
Finally, please join us for breakfast at 10.30am on Sunday 23rd at Wetherspoons on Midsummer Boulevard West, next to Chiquito's and not far up from the railway station (NOT the other Lloyds/Wetherspoons nearer the shopping centre and next to Jurys Inn). Come for a full breakfast, a snack, or just a drink – look for the Mblem on a table.
Just a reminder about our M-MK & Bedford Facebook group – if you would like to join please search for the group and send me a request. I also keep an email distribution list for meeting reminders and any last-minute changes, so if you would like to be added to this please let me know.
We hope to see as many of you as possible at one or other of our events in February. Do remember that you're welcome to bring a guest with you, so if you've never been to a Mensa event and are a little nervous about coming along on your own, just bring a friend. If you didn't make any New Year's resolutions in January, why not make a belated one in February to come along to at least a couple of meetings?
Jo Sidebottom
Contact [Email] or [Phone Number] / [Mobile Number] for details

Hertfordshire Happenings
On Thu 6th Feb at 8.15pm - FThOTM
Thursday 6th FThOTM at the Millstream, Hitchin from 8.15pm.
On Fri 28th Feb at 8.00pm - LFOTM
Celebrate the end of the shortest and most depressing month of the year! We'll be at the Cowper Arms, Digswell, Herts (by Welwyn North station) on Friday 28th from 8.00pm.
Richard Allen
Contact [Email] or [Phone Number] for details
More or Leicester
On Thu 6th Feb at 8.00pm - Pub meeting
A good rule in life is to know a man who runs a pub (preferably one with food!). Let me introduce you to Mitch Kasprzyk who's recently retired from the Royal Navy to take over the Paget Arms in Loughborough. The Paget Arms not only sells good beer (Steaming Billy!) but also food, and it's Steak Night on a Thursday! So . . . on Thursday 6th we're off to introduce ourselves to Mitch as he's kindly offered us a 25% discount off our food. I'll be there from 8.00pm.
On Tue 25th Feb at 7:30pm - Eating Meeting
Tuesday 25th and Pen Penny is hosting an Italian meal at ASK, Derby Road, Ashby De La Zouch. (You can see the menu at www.askitalian.co.uk). Book your place with Pen on [Phone Number] or [Email] by 21st please.
On Thu 27th Feb at 8:00pm - 4ThOTM
27th February, and it's back to The Craddock Arms for our usual Fourth Thursday shindig. I note this is the anniversary of the Treaty of Berwick (1560) which chucked the French out of Scotland. The discussion point for the evening is therefore "What on earth were they doing there in the first place?"
As usual, let me know you're coming so I can advise of any last minute changes of plan.
Paul Coulson
Northants NNotes
On Mon 10th Feb at 7.30pm - Pub social
Why not pop along to The Windhover on Brampton Road for a catch-up with other local Mensa members on Monday 10th at 7.30pm. The plan is to have a chat about what other events we can put together, so your input would be really valuable. One important thing is to give me a call on [Phone Number] or email [Email] to let me know you're coming so I can advise of any last minute changes of plan.
I look forward to seeing you there,
Paul Coulson

Notts News
On Wed 5th Feb at 8.00pm - 5OTM
Why not come along to the Vat & Fiddle pub on Queensbridge Road from 8.00pm on Wednesday 5th? Look for yellow Mblem on the table(s) in the Golding's Room to the left of the bar. Or contact me beforehand if you need directions or encouragement to join us. There is free parking outside. Or if you prefer to partake of the real ale brewed at the adjacent Castle Rock Brewery then Broad Marsh bus station is only a short walk away. New faces always welcome.
On Fri 7th Feb at 8.00pm - At Home
From 8.00pm on Friday 7th I'm inviting you to my home in Langley Mill for an evening of socialising and optional boardgames. Feel free to bring any games you'd like to play. I'll provide some nibbles, hot and soft drinks or BYOB. Please contact me for directions and to let me know if you'll be coming along.
On Thu 13th Feb at 7.30pm - Natter & Nosh
On Thursday 13th we're at the Beekeeper pub/restaurant on Meadow Lane in Beeston for food or just a drink. Feel free to pop along any time from 7.30pm until late. We'll be on the first long table beyond the food order point at the end of the bar with a yellow Mblem on display. This is a Hungry Horse venue so very reasonably priced. Contact me in advance with any questions or just turn up on the night.
Ciao for now!
Maxine Bates
Contact [Email] or [Phone Number] for details

Lively Lincs
On Sat 8th Feb at 12.00pm - Pub discussion
Our pub discussion topics are becoming more subtle to give a wider range. This month 'Is it cricket?', aimed at ways of life in general, not just sporting strategies. If you would like to join in, do come along to the Adam and Eve on Lindum Hill on Saturday 8th from about 12ish until we eventually wander home a few hours later. Pub lunches available.
On Tue 18th Feb at 7.00pm - Eating meeting
After a winter lull, our midweek eating meetings are back. We're off to the Tapas bar at the far end of West Parade in Lincoln on Tuesday 18th at 7.00pm. It really helps if you could please book with me by 15th, thanks.
On Sun 23rd Feb at 3.00pm - Teatime Thinking
Teatime Thinking at my house near Alford has migrated to considerations of various areas of the world. We will fuel our mental travels to the smaller countries of the Caribbean with tea and cakes. So, if you would like to journey with us, come along on Sunday 23rd 3.00-5.00pm.
Christine Howells
Contact [Email] for details

Berkhamsted
On Thu 27th Feb at 7:45pm - LThOTM
Please note the change of day for our regular meeting at The Old Mill, London Rd. Berkhamsted. Just Have a drink and a chat or eat with us. Pub does good meals. New members, partners etc., always welcome. Free Car Parking. Contact Jenny at [Email]
Jenny Habib
Contact [Email] or [Phone Number] for details
Editor's Bit at the Bottom
There are some readers who will browse a publication front to back, others back to front. If you are the latter you will already know that this month I have failed. For the first time since I started editing this newsletter I have failed to fit the '20 Questions' piece into its allotted space on the back page. Some months judicious use of a smaller font size will persuade it to fit – but this month that would have made it unreadable unless every newsletter came equipped with a magnifying glass. So for this month you will find that quiz on page 7. Will it make a difference to the number of entries, I wonder.
Rosie Jefferson
Hear my words
You can tune a piano but you cannot tuna fish.
I wondered why the ball was getting bigger, and then it hit me.
To write with a broken pencil is pointless.
When fish are in schools they sometimes take debate.
A thief who stole a calendar got twelve months.
The batteries were given out free of charge.
A will is a dead giveaway.
If you don't pay your exorcist you can get repossessed.
You are stuck with your debt if you can't budge it.
A boiled egg is hard to beat.
When you've seen one shopping centre, you've seen a mall.
When she saw her first grey hairs she thought she'd dye.
If you take your laptop for a run-around you could jog your memory.
A bicycle cannot stand alone as it's two-tyred.
When a clock is hungry it goes back four seconds.
The man who fell onto an upholstery machine is now fully recovered.
He had a photographic memory that was never developed.
The professor discovered that her theory of earthquakes was on shaky ground.
Those who get too big for their britches will be exposed in the end.
Know your English?
What is the longest English word that can be made using letters from only one row of the keyboard?
What is the only English word that ends in 'mt'?
Which four words in the English language end in 'dous'?
Which two words in the English language have all five vowels in order?
20 Questions (No. 149)
Did you guess the Christmas song titles from the December competition? They were Rudolph The Red-Nosed Reindeer, Silent Night, O Little Town Of Bethlehem, Good King Wenceslas, Joy To The World, Hark The Herald Angels Sing, We Three Kings, Away In A Manger, Angels We Have Heard On High, O Come All Ye Faithful, O Holy Night, I'm Dreaming Of A White Christmas, The Twelve Days Of Christmas, It Came Upon A Midnight Clear, Frosty The Snowman, All I Want For Christmas Is My Two Front Teeth, I Saw Mommy Kissing Santa Claus, Walking In A Winter Wonderland, Deck The Halls and Silver Bells. Lots of entries from Roger Plant of Nottingham, Judith Meller of Derby, D W Dell of Leighton Buzzard, David Addison of Mansfield, Pamela Covey of Woburn, Sue Barker of Bolton, Portia Berry-Kilby of Leics, Roger Lord of Aylesbury, Michael Warren of Derby, Chris Impey of Tring, Don Foster of Notts, Geraldine Johnson of Derby, Sue Pearson of Winslow, Lynn Faulkner of Nottingham and Beverley Sullivan of Leics. Congratulations to the winner Sue Barker!
This month's quiz is set by Patrick Cavanagh and concerns finance. Send your answers to arrive by 20th February either by post to '20 Questions (No. 149)', [Address] or by email to [Email]. Don't forget to include your name and address or we won't know where to send the £10 book token!
1. What currency was used in Australia before the introduction of the Australian dollar in 1966?
2. How many US cents are in a nickel?
3. What was the Republic of Ireland's currency just before the changeover to the euro?
4. Whose name is signed on all Euro banknotes (printed from 2003 to at least end 2011)?
5. What type of bird is shown on the back of the 2000 version of sterling £10 note?
6. Who is the female on the front of the current Australian 5 dollar note?
7. What do the letters A.E.R. mean when referring to interest paid or charged?
8. In sterling what is pre-decimal one pound fifteen shillings and four pence in present-day decimal currency?
9. Which country uses the naira as its currency?
10. What term do economists use to refer to a period when inflation is high but economic activity or growth rate is low?
11. Who was British Chancellor of the Exchequer at the outbreak of WW1 in 1914?
12. Who was the Irish Minister of Finance who died in June 2011 following a long battle with pancreatic cancer?
13. What do the French call the Paris Stock Exchange?
14. Who was the rogue trader who was the main contributor to the collapse of Baring's Bank in 1995?
15. What is the nickname for the London head office of the Bank of England?
16. What does the stock exchange mean by bears and bulls?
17. In what year did the "South Sea Bubble" burst?
18. What is the title given to the US equivalent of the Chancellor of the Exchequer?
19. Which two men appear on Bank of England £50 notes issued from 2nd November 2011?
20. In what year was the £1 sterling coin introduced in the UK?