What? Where? Why? Find out below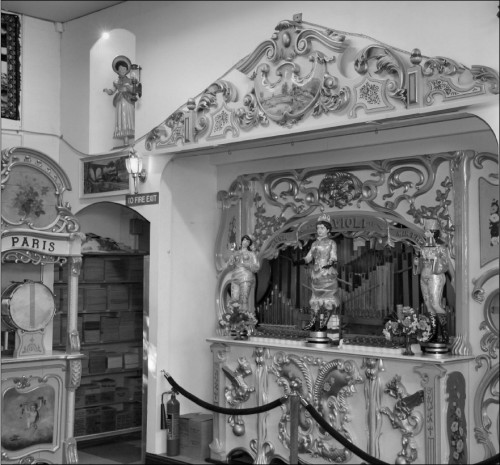 Resolve to attend an event in East Midlands in January
Meet Jill Miller
Win some Mensa goodies in our 20 Questions Quiz
Regional News
By the time you read this the new Mensa web site should be fully operational and you should have received your personal code (on the reverse of the address sheet with your Mensa Magazine) to gain entry. If you have internet access do visit www.mensa.org.uk where there are pages on Mensa related news stories, puzzles, psychometric testing, the gifted and talented programme, Mensa International, on line merchandise store, information on Special Interest Groups, event listings and much more.
A reminder that although our charity winter ball takes place in Nottingham on Saturday 17th February bookings close at the end of January. For full details of this weekend of events please see www.mensa.org.uk/eastmids or contact me on [Phone Number]. Tickets for the ball cost £25 with £5 from each sale going to Cancer Research UK. Nonmember friends and family are most welcome.
Prior to the ball the officers of East Midlands Mensa will be holding their annual committee meeting. If you have any issues to raise - whether good or bad - please pass them on to your Local Secretary before 17th February. Some regions hold elections for their main roles such as Regional Officer, Treasurer, etc. East Midlands officers have always declined to run such an election as everyone is happy and wants to keep the status quo. However, I am obliged to offer these roles so if anyone might be interested in my job please shout up!
The roles of Local Secretary are not elected but we are seeking volunteers for Lincoln (LN & PE20-25), Luton (LU) and Hemel Hempsted (HP1-4 & WD). Please contact me on [Phone Number] or [Email] for further information. The role is not a difficult one. The minimum requirement is to be a point of contact for members in your area and thus have your name, address and contact details available within Mensa. Hosting a regular or even occasional event is encouraged but not compulsory, though we find that those areas with a regular event attract a core group which only grows. I am living proof that the more you put in the more you get out of our society. From my self-taught experience of organising Mensa events I have now started my own event planning business!
Maxine Bates
Regional Officer
Events and Meetings
In the current circumstances surrounding the COVID-19 coronavirus, the expectation is that all events listed here are likely to be cancelled, if not already marked as such. If you intend participating in any event listed here, please contact the event organiser beforehand to confirm that the event is still on.
Derby Doings
On Tue 9th Jan at 8.00pm - Pub Meeting
A substitute meeting, in Boswell's Bar of the Green Man, in place of the one scheduled for last August. I was not in Ashbourne that evening because the exhaust pipe was not on the car but on the garage floor and I was a far from happy bunny. More info on [Phone Number] or [Email]
On Wed 17th Jan at 7.30pm - 3WOTM
Join us in the non-smoking area of the Standing Order on Irongate to swap stories of what happened over Christmas and New Year. Last year I moved house but I think this year will be far less eventful. I hope so, anyway.
Cheers
Bernie Briggs
High Wycombe & Amersham
On Tue 23rd Jan at 8.00pm - Pizza Restaurant
A visit to the Pizza Hut in White Hart St, - the restaurant with the ice cream machine! Call me for directions and encouragement on [Phone Number].
I hope that all Mensans and their families had a lovely Christmas and New Year. I will be getting rid of the January blues at the Pizza Hut.
Why not come along and tell me what sort of things you would like Mensa to be doing locally in 2007.
I look forward to seeing you.
Alistair Blackett

Herts & South Beds
On Tue 9th Jan at 7.30pm - Pub Meal/Boardgames
A new venue for our second Tuesday pub meal at the Old Red Lion, Hydean Way, Shephall Green, Stevenage. Bring some board games along as well! The pub is about 20-25 minutes' walk from Stevenage station and is served by bus routes 4 and 5 from the town centre and railway station. Ring Helen on [Phone Number]/[Phone Number] for details and encouragement
On Wed 10th Jan at 8.30pm - Pub Quiz
Come and join the fun at the monthly quiz at the Plume of Feathers, Little Wymondley. Food also available. The pub has changed ownership so please call for confirmation that the quiz will be running this evening. Little Wymondley village is served by bus 101 (Luton - Hitchin - Stevenage). Ring Helen or Richard for further details and encouragement!
On Sat 13th Jan at 10.00am - Country Walk
Our first walk of the year is over part of the Hertfordshire Way long-distance path, followed by a pub lunch. We'll meet at Wareside village at 10 am; please call me to confirm the exact starting point. Wareside is on the B1004 road north-east of Ware; the nearest stations are Ware and Hertford North. Transport from these stations can be arranged as bus services are infrequent. Call Richard for details and encouragement.
On Fri 26th Jan at 7.30pm - LFOTM
Join us in the lounge of the White Horse, Hertingfordbury to chill out at the end of the month - look for the mag and Mblem. Ring Gwen on [Phone Number] or me on [Phone Number] for details and encouragement. The hotel is about 20 minutes' walk from Hertford North station or alternatively bus 724 (Harlow - Hertford - Hatfield - St Albans) stops outside. Meals are available.
On Sun 28th Jan at 2.30pm - Board Games
Banish those winter blues with an afternoon of board games at my place, which is ten minutes' walk from the railway station and town centre. Nibbles will also be provided. Call me on [Phone Number] for details and encouragement.
On Every Fri evening - Cinema - Stevenage
Join Helen at the cinema in Stevenage on Friday evenings. Cineworld's 16 screens give plenty of choice! Call Helen for details
Richard Allen
Leicestershire
On Sat 20th Jan at 7.00pm - Meal and Drinks - Stevenage
Join us at the Harvester on New Ashby Road in Loughborough. Easy reach of the motorway and Loughborough. Look for a magazine on the table. New members are welcome! Email me for directions on [Email] or phone [Phone Number]
Rebecca Mawby
Congratulations to Leicester LocSec Rebecca Mawby who celebrates her 21st birthday on 13th January

Notts News
On Fri 5th Jan at 8.00pm - 5OTM
Join Paul for our first four events of the year as he deputises as Nottingham LocSec whilst I'm globetrotting! The first is our regular get together at the Vat & Fiddle pub near Nottingham railway station.
On Wed 10th Jan at 7.00pm - "Chicks & Flicks"
The second is our other regular event. Meet inside the doors to the Cornerhouse complex for a meal at Nando's informal chicken restaurant (veggie options too) followed by a film at Cineworld.
On Sun 14th Jan at 11.00am & noon - One Day - Two Events
Paul is hosting two more events at brand new venues on Redfield Way off the A52 ringroad. Meet inside the doors of Megabowl at 11.00 am for a game of Quasar costing £4.50 per person or 12.00 noon at the entrance to Nando's on the same complex. All ages welcome to either or both events. For further information on any of these four events please contact Paul on [Phone Number] or [Email].
On Thu 18th Jan at 8.30pm - Dance Class
Did you enjoy watching Strictly Come Dancing? Or want to learn a few steps for our winter ball? Then come along to the Memorial Hall, High Road, Chilwell for a one hour taster class in ballroom dancing with qualified instructors from the Bromage Webster School of Dance. Cost is £3.50 per person and there are classes every week if you want to continue on a pay-as-you-go basis.
On Mon 29th Jan at 8.00pm - Rocky Horror Show
The show returns to the Theatre Royal and I bought a block of 20 seats in the first three rows of the stalls as soon as they went on sale last summer. There are a few still available at a group discount of £24 each. Please contact me on [Phone Number] or [Email] if you'd like to join this fun night out and also help me celebrate my birthday!
On Tue 30th Jan at 7.30pm - "Postcode Pubcrawl"
Finally this month we meet at The Cadland in Chilwell, which is part of the Ember Inns chain. Join us for a meal or later for just a drink and to take part in their quiz starting after 9.00 pm. And pick up another stamp for your collector card!
Ciao for now!
Maxine Bates

Northants NNotes
On Thu 11th Jan at 9.00pm - 2ThOTM: Pub
Welcome to 2007. If Santa didn't give you what you really wanted pop along to the Dusty Fox at Harlestone and we'll commiserate with you over a pint.
On Thu 25th Jan at 8.00pm - Roadshow
After October's successful meeting there, the Roadshow returns to the Barley Mow at Paulerspury. The village lies just to the west of the A5 a few miles south of Towcester.
For details and directions phone [Phone Number] or send an e-mail to [Email]. At each venue (assuming that they are not snowbound!) look for the Mensa mag on one of the tables.
Thanks,
Ian Sargent

Milton Keynes & Bedford
On Not this month - No FThOTM
Following so closely on the heels of Christmas festivities and over-indulgence, we're not officially planning a Moveable Feast this month. If we feel like it closer to the time, we'll post on the East Midlands List. Normal service will be resumed in February.
On Wed 17th Jan at 8.00pm - 3WOTM
Continuing our new venue, the Suffolk Punch at Heelands. Saxon Street just below H3 (beside Novotel) - drive into Heelands and approach from back. Real ales/good value food - look for Mblem in lounge bar on right.
Contact me at [Email], or [Phone Number] / [Phone Number] for directions/encouragement for any event.
Jo Sidebottom

Lincoln
On Sun 14th Jans at 8.00pm - Pub Quiz
Join us at the Tap and Spile, Motherby Lane, Lincoln for a lively free general knowledge quiz. There is a live jam beforehand and the quiz is popular so we try and arrive about 8.00pm to get a decent table and give us chance to chat. Telephone [Phone Number] for encouragement, etc.
Jacquie Harrison

Berkhamsted
On Wed 31st Jan at 7.45pm - LWOTM
The White Horse pub, Bourne End on the Hemel Hempstead Road (the old A41) half way between Hemel and Berkhamsted. Do come and drink, eat or just join us for a quiet chat. All members welcome.
Jenny Habib
Discovering Musical Joy
Review by Richard Allen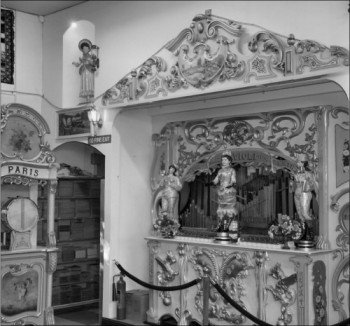 One of the joys of England as a country is discovering obscure museums dedicated to unusual subjects tucked away in odd corners of small country towns. One example of this is the Amersham Fair Organ Museum, the existence of which I only found out about in September 2006, when I picked up a flyer at the Bedfordshire Steam and Country Fayre. From the outside, the Museum looks like all the other anonymous units with which it shares an industrial estate but to go inside on an operating day is to be exposed to musical joy: the sound of seven fairground organs (not all at the same time, I assure you!) These masterpieces of musical engineering are put through their paces once a month for the aural delight of visitors and, believe me, they are loud! But did anyone mind? Of course not! The three Mensans (including me) who discovered this delightful place on 5th November definitely did not mind.
The Museum is one man's private collection and, as well as the monthly open days, tea and wonderful home-made cakes are provided - and are highly recommended! Admission is free but voluntary donations are requested.
We certainly enjoyed ourselves and are keen to return some other time - will you join us on our next visit?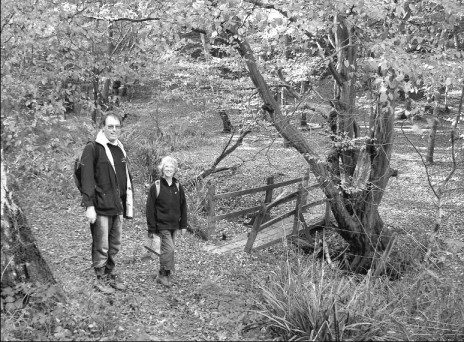 A Walk in the Woods
Hertford LocSec, Richard Allen, and Harlow LocSec, Gwen Jones, enjoy a walk over the golden carpet that was the floor of Broxbourne Woods in November.

Mensa @ Malvern 2007
30th March-1st April
Contact: Janet Gunnis
01684 563443
Jannet_shorter@hotmail.com
For details of the
programme,
The Fringe
and for a Booking Form:
Wishing all Empress Readers much happiness in 2007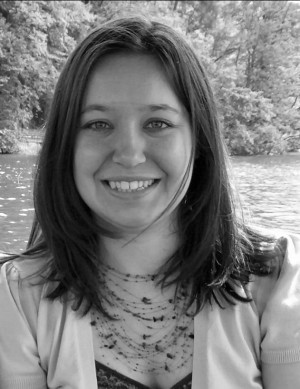 Meet Jill ...
Jill Miller from High Wycombe introduces herself.
When the Mensa magazine arrived on the doormat in December, my boyfriend asked me, 'Why are you in Mensa? Do you read the magazine?' His comment got me thinking . . . I pay my subscription but is there more I could get out of being a member than reading the magazine? Whilst feeling energetic at the beginning of the year with New Year's resolutions and all, I decided to contact my local coordinator. Although he was full of enthusiasm, I was a little apprehensive: what if the conversation was focused on something I know nothing about, like astrophysics or politics! Would anyone else supplement their Mensa magazine reading with a copy of 'Hello' magazine?
I became a member of Mensa in the 80's but my membership only properly began at the beginning of the year when I became an active member. My first meeting . . .
After taking a leaf out of Bridget Jones' diary and rehearsing intelligent things to say, I regret to say I didn't get to use any of my newly acquired political knowledge! Quite simply, they were friendly people with jovial conversation; my somewhat stereotypical view of Mensa was severely diminished! There must be something in the water in the East Midlands at the moment as each monthly meeting sees the arrival of new members.
I understand the requisite for this profile is to tell other members about your occupation and hobbies. Coming to the end of my 7th year of study, my friends are constantly asking when I am going to enter the 'real world' and leave Uni. I work part time for Discovery Foods Ltd in High Wycombe, a manufacturer and supplier of foods from Mexico and the Americas (tortillas, salsa, guacamole etc). The rest of my time is focused on obtaining a PhD in Management (human resources). It is a simple idea but something not widely addressed empirically: how do the social relationships between employees affect a firm's performance? Can employees having positive social relationships with others at work encourage them to 'go the extra mile' for the firm? Most interestingly, when do social relationships between employees stop having a positive affect for the firm and start to diminish productivity?
In terms of hobbies, my favourite thing to do in my free time is to get a complete break from work: escapism! My new adopted philosophy is that of the credit card advert: 'Life is more exciting when you say 'Yes!' Since adopting this somewhat terrifying approach to life, I have been scuba diving, snorkelling with and feeding barracudas, eaten my first curry, got stuck in the London dungeons, been paragliding, and learnt that fire water and Chinese food don't mix! I would recommend this philosophy to everyone.
20 Questions (No. 64)
Wine connoisseurs will know that the answers to the November quiz were Australia, Chardonnay, 1650s, rose, Italy, vine growing methods, November, Mosel, Canada, Chateau Mouton Rothschild, New Zealand, 14, Hungary, olive oil, Chile, Montmartre, California, Kent, Chenin Blanc and La Mare. We had all male entries this time from Matt Francis of Hertford, Mark Leverkus of Bedford, Chris Impey of Herts, Michael Warren of Derby, Robert Kerr of Leicestershire and Andy Cole of Cleethorpes and the winner of the Diamond logo mug was Chris.
Congratulations, Chris!
Just in case you didn't see enough food over the festive season, this month we return to anagrams and they are all menu items. Please send your answers by 20th January to '20 Questions (No. 64)', [Address], for your chance to win some Mensa goodies.
1. FIND HIS CHAPS
2. MAPLE BEACH
3. RID LARGE CAB
4. NEW CORSET
5. A CRAP CLOWN KIT
6. TROOPER'S LIFE
7. IN FRESH FIGS
8. TIGHT APES
9. OBLONG HAM JARS
10. SHYER FLIRTER
11. GUILTY LAWMAN
12. NABS A GRAND MESH
13. PALE PIPE
14. MAKE TURPS
15. FIERCE DIGGER
16. FEAST ROBE
17. TATTOOS WEEP
18. MICE RACE
19. GAS LANE
20. SOW SAUNTERED