Regional News
Happy New Year! Hope you enjoyed the festive season and are ready for the challenges of the coming year. David Seddon and the Watford Mensa group already have their programme of social events lined up for 2013. Do try and attend one of them if you live or work in the WD postcode or environs. Though remember any member can attend any event if you are visiting or passing through that area.
Peterborough LocSec, Peter Law, is trying to arrange an event especially for single members. This is likely to be a daytime activity in the springtime somewhere on the East Midlands/East Anglia regional border. Please contact Peter on 01733-649-707 to express interest or even suggest a venue.
After a request by several members I've set up a Facebook group. Search for "East Midlands Mensa" if you would like to join. Hear first about forthcoming events, have discussions and make friends with other members. This is purely for Mensa members living in our region and is a closed group so that only these members will see any postings on newsfeeds. Our m-eastmidlands Yahoo email group has been quiet lately. Would you like it to continue or be replaced by the new Facebook group? Would you use both, one of them, or neither of them? Please let me know your views. I'm on [Phone Number] or [Email]
Don't forget our next regional event will take place at Diseworth Village Hall near East Midlands Airport from 7.00pm to 11.00pm on Saturday 16th February. See details in this issue of Empress and add your name to the guest list via me please. It's free to members and only £5 for non-member guests. A bargain night out!
Maxine Bates
Regional Officer
Events and Meetings
In the current circumstances surrounding the COVID-19 coronavirus, the expectation is that all non-online events listed here are susceptible to being cancelled, if not already marked as such. If you intend participating in any event listed here, please contact the event organiser beforehand to confirm that the event is still on.
More or Leicester
On Thu 24th Jan at 8.00pm - 4ThOTM
It turns out that my New Year's resolution this year is to move the regular Third Thursday of the Month meeting to the Fourth Thursday. (I thought it was going to be something about cutting down on the cake, but it turns out I was mistaken!). Everything else remains the same, so we'll be meeting at The Craddock in at 8.00pm on Thursday 24th where we can compare what we all had for Christmas ("Socks again? Me too!").
If you have any queries about the above, or just want to get in touch, then please drop me a line or call.
Paul Coulson

Notts News
On Sat 5th Jan at 8.00pm - 5OTM
Our first event of the year will be a new members night from 8.00pm on Saturday 5th at the Vat & Fiddle pub on Queensbridge Road near Nottingham railway station. If you've never been to one of our social events why not come along and find out what you've been missing, suggest future activities and find out the benefits of Mensa membership? We'll be in the Golding's Room to the left of the bar. Pop in briefly or stay all evening. There's a range of real ale on offer (from the adjacent Castle Rock brewery) as well as good value soft drinks.
On Thu 10th Jan at 7.30pm - Natter & nosh
On Thursday 10th it's our "natter & nosh" event at the Beekeeper pub/restaurant on Meadow Lane in Beeston. Join us any time from 7.30pm to closing for a meal or just a drink accompanied by conversation. Find us on our regular table near the food order point at the end of the bar. There will be a yellow Mblem on the table.
On Wed 23rd Jan at 7.00pm - Cinema night
It's a long time since we've watched a film so we're going to Showcase Cinema in Lenton (on A52 near Queen's Medical Centre) on Wednesday 23rd. I'm advertising a meeting time of 7.00pm but please contact me in advance for cinema listings so we can decide what to see and adjust timings if necessary. There should be enough of us to get the Orange 2-4-1 offer making this a cheap night out.
On Tue 29th Jan at 7.30pm - Eating meeting
Our regular "eating meeting" falls on Tuesday 29th and we're going for a meal at 7.30pm at Miller's Barn at Phoenix Park, near park and ride and M1 J26. 2 courses cost £11.29 or 3 courses £13.29 or choose from their a la carte menu. Reserve your place by 25th please.
Ciao for now!
Maxine Bates
Contact [Email] or [Phone Number] for details

Mid Bucks
On Thu 10th Jan at 7:30pm - Eating meeting
Start 2013 by joining me for an informal meal at ASK, High Wycombe High Street on Thursday 10th at 7:30pm. Bring any ideas or suggestions for future meetings. If you can, please let me know you are coming by Sunday 6th so that I can book a table. You will still be welcome if you just arrive on the night.
On Sat 19th Jan at 11.00am - Museum
On Saturday 19th we are going to Aylesbury to see "A Lasting Impression: prints from the Museum collections". This exhibition contains original prints of Buckinghamshire people and places and displays a wide range of print making techniques. Meet me at the County Museum on Church Street at 11.00am. Afterwards we will either relax in the Museum café or find somewhere else to eat in Aylesbury. No need to book, but if you want any further information or encouragement, please contact me.
The Thirty Nine Steps, as adapted by Patrick Barlow, is coming to the Waterside Theatre in Aylesbury. I will be going to the Saturday afternoon performance on 23rd February. The production has won several awards and is described as "the world's favourite comedy"! Further information is available at www.love39steps.com. If you would like to join me please obtain your own tickets from the theatre, but let me know you are coming so we can meet up. We will choose somewhere to eat afterwards.
Val Hinkins
Contact [Email] or [Phone Number] for details

Northants NNotes
Back in the Spring!
Ian Sargent
Contact [Email] or [Phone Number] / [Mobile Number] for details

Mensans in MK & Bedford
I hope everyone had a good Christmas, and a very happy 2013 to one and all. Why not make it a resolution to attend a few local Mensa events this year? We always love to see new faces.
We won't be holding First Thursday of the Month at the Old Beams this month, partly because it's so early in the new year and partly because we haven't decided whether or not to continue with it this year. Look out for more information next month.
On Sun 13th Jan at 10.15am - Sunday breakfast
Sunday breakfast will be at 10.15am on Sunday 13th at Wetherspoon's on Midsummer Boulevard West, next to Chiquito's and not far up from the railway station (NOT the other Lloyds/Wetherspoons nearer the shopping centre and next to Jurys Inn). Come for a full breakfast, a snack, or just a drink – look for the Mblem on a table.
On Tue 22nd Jan at 8.00pm - Vietnamese eating meeting
On Tuesday 22nd we will be eating out in Bedford, at a newish Vietnamese restaurant, Que Huong in St Mary's Street. We will meet at 8.00pm but please let me know by Sunday 20th if you plan to come so that I can book a table.
We hope to see as many of you as possible at one or other of our events in January. Do remember that you're welcome to bring a guest with you, so if you've never been to a Mensa event and are a little nervous about coming along on your own, just bring a friend.
Jo Sidebottom
Contact [Email] or [Phone Number] / [Mobile Number] for details
Derby Diary
On Wed 16th Jan at 7.30pm - 3WOTM
We have two opportunities for eating, drinking and socialising this month. Our regular get together at the Standing Order on Irongate in the city centre falls on Wednesday 16th. Join us any time from 7.30pm for food or just a drink. We'll be on one of the long tables in the low ceiling area at the rear of the pub with a yellow Mblem on display. Phone Maxine on [Phone Number] if you need directions or parking suggestions.
On Fri 18th Jan at 7.30pm - At Home/Early Burns
Susan and Mark are once again inviting us to their home in Ilkeston from 7.30pm on Friday 18th. Come and spend a relaxing evening with old and new friends whilst enjoying an early Burns Night celebration with haggis, neeps and tatties on offer. Bring whatever you want to drink and any other nibbles if you wish. Please phone them on [Phone Number] for directions and to help catering.
Maxine Bates
Contact [Email] or [Phone Number] for details

Hertfordshire Happenings
On Thu 10th Jan at 8.15pm - 2ThOTM
Thursday 10th from 8.15pm: Not FThOTM - as the First Thursday is so close to New Year, I've moved it back a week so we've got something to help beat the January blues! As ever, we're at the Millstream, Cambridge Road, Hitchin. Good food and good beer both available! Call me for more details and encouragement. The pub is about ten minutes' walk from the railway station.
On Fri 25th Jan at 8.00pm - LFOTM
Friday 25th from 8.00pm: Digswell (by Welwyn North Station) LFOTM - we'll be at the Cowper Arms. Call me for more details and encouragement. The pub is next to the railway station, which is served by stopping trains from Kings Cross to Cambridge and Peterborough.
Richard Allen
Contact [Email] or [Phone Number] for details

Lively Lincs
On Sat 12th Jan at 12.05pm - 2SaOTM
Our popular pub discussions continue on Saturday 12th, 12.05-2.00pm at the Adam & Eve on Lindum Hill, Lincoln. This month the topic is 'How do we impose social boundaries?' and undoubtedly more general chat will follow. Do join us for lunch or just a drink. Contact me for encouragement.
On Sun 3rd Feb at 3.00pm - Teatime Thinking
** Note: Date changed to 3rd February from 27th January **
More talking at my house over tea and cakes on Sunday 3rd Feb, 3.00-5.00pm. This time of a philosophical bent with the wide-ranging topic of 'Liberty'. No previous knowledge required, everyone can join in. Contact me for directions.
On Sun 3rd Feb at 5.45pm - Indian meal
** Note: Date changed to 3rd February from 27th January **
This will be followed by another foray to the Charm Spice Indian restaurant in Spilsby for an eating meeting on Sunday 3rd Feb, 5.45pm. Everyone welcome but please would you book with me by Friday 25th, thanks.
Christine Howells
Contact [Email] for details

WATever . . .
On Mon 14th Jan at 8.00pm - My favourite things...
Monday 14th at 8.00pm: Watford - My favourite things... bring something of sentiment and share (Ros Groves will be hosting). This was a really interesting event last year with a few nice surprises! Please let me know if you plan on attending and I can let you have Ros' address. Please bring the usual small amount of nibbles/crisps etc.
On Mon 28th Jan at 8.00pm - Pub meeting
Monday 28th at 8.00pm: pub meeting - King's Head, Bridge Road, Hunton Bridge WD4 8RE. We usually meet upstairs in the 'gallery' area furthest from the bar. The pub is easy to find from the dual carriageway (A41 Watford Road). From Watford turn right at the traffic lights, over the small bridge and then on the right. Look for the magazine or ask at the bar. New members are warmly welcomed.
David Seddon
Contact [Email] or [Phone Number] for details
Editor's Bit at the Bottom
I wish a very Happy New Year to you all!
I hope you had a wonderful Christmas time and are looking forward to 2013 and the possibility of the best year of your life so far.
An update on Lesley Walker's 'Lashley Trilogy': the second book, 'The Horsemans Ride Out', is now available on Kindle and Lesley is currently writing the last book in the trilogy called 'Stage Bank Fair'. She tells me that Stage Bank Fair is what they say in the north east when everything's in a mess, e.g. 'It looks like Stage Bank Fair in here'.
This got me thinking of when I lived in Yorkshire and had to learn the meanings of 'ginnel' (narrow passageway between buildings) and 'snicket' (passageway between walls or fences) to follow directions. And that when I go to the AG in York in September this year I must take my old copy of 'The Snickelways of York'; this book describes a route around the centre of York using these old passageways. I remember (and this was back in the 80s so I hope it hasn't changed too much) turning off the busy shopping streets into a ginnel and being aware of the sound of the hustle and bustle gradually receding, to grow again as I approached the next busy thoroughfare; meanwhile I'd have passed through peaceful and fascinating areas I'd not otherwise have discovered.
Do you use any regional words or sayings? Please let me know them and I'll print a list in Empress.
Rosie Jefferson
Happy 92nd Birthday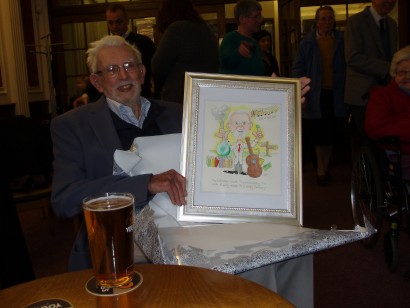 Sidney Scott, pictured here at his surprise 90th birthday party in January 2011
Sidney Scott, who lives with his lovely wife Katie in Watford, is the East Midlands region's oldest male Mensan and also one of the region's longest serving, having been a member since July 1960.
Born in London on January 20th 1921, Sidney was brought up in Blackpool and trained as a pharmacist at Manchester University before returning to London to work. There he took the Mensa test and still has the letter accepting him as "a member of the Mensa Panel and Society". This letter was typed as being from Victor Serebriakoff, a leading light in Mensa whom Sidney often met at meetings in London. Sidney recalls that the Mensa group at the time was quite small so he knew most people in it.
Sidney continued his studies undertaking a BSc in Mathematics at Birkbeck College (now part of the University of London), later gaining an MPhil, and finally a PhD at Reading University. By this time he had changed career and become a Maths Lecturer at Hatfield College of Technology (later a Polytechnic, now the University of Hertfordshire).
By the sixties Sidney was living in the Watford area and attending many Mensa meetings, most held in members' homes, and he hosted an occasional meeting usually about jazz - with recordings and much information. In addition to his interest in jazz he was also a very good classical guitarist.
Until fairly recently Sidney was still going to pub meetings, to meetings in members' homes and he hosted a Jazz evening at his own home, but, with increasing deafness and lack of mobility, attending these meetings is now rare - though they are always ringed in Empress. Unlike the early days he knows fewer people but is very proud of his membership, reads the magazine and tries some of the problems - particularly the mathematical ones.
Have a wonderful 93rd year, Sidney!
20 Questions (No. 136)
The answers to the November quiz were Men Without Hats, candy, Vietnam, First Time, The Buggles, Italy, Phyllis Nelson, red, Buckner & Garcia, Axel F, Eddy Grant, Toni Basil, 5, St Winifred's School Choir, Toto Coelo, JoBoxers, Black Velvet, MARRS, Animotion and Birmingham. Entries were received from Alex Foster of Derby, Sue Staples of Nottingham, Michael Warren of Derby, Patrick Cavanagh of Mullingar, Pamela Covey of Woburn, Chris Impey of Tring, Philip Abbott of Watford, T Hamilton of Sleaford and Una Adams of Corby. Pamela was drawn at random from all correct entries and receives the £10 book token.
This month we have a fruity quiz! Send your entries to arrive by 20th January to '20 Questions (No. 136)', [Address], for your chance to win.
1. Which fruit contains the highest amount of calories?
2. Alderman, orin and rubinette are types of which fruit?
3. What does fresh fruit have that juices lack?
4. Which country is the largest orange producer in the world?
5. In which English county does the Bramley apple festival take place?
6. Which fruit can help prevent cystitis?
7. Papain is an enzyme found in which fruit?
8. The flowers of the peach are produced in which season?
9. What is the fruit of the blackthorn?
10. Which fruit is highest is vitamin C?
11. The liqueur cassis is made from which fruit?
12. Which is the only fruit whose seeds grow on the outside?
13. Cloud, crab and fleshman are types of which fruit?
14. What is the name of the fruit that looks like a white strawberry?
15. Which fruit is radioactive?
16. The kiwi fruit is native to which country?
17. Which fruit consists of 92% water?
18. Which pungent fruit is banned in public places in South East Asia?
19. The Bellini cocktail consists of champagne and which type of fruit juice?
20. What is Scotland's national fruit?