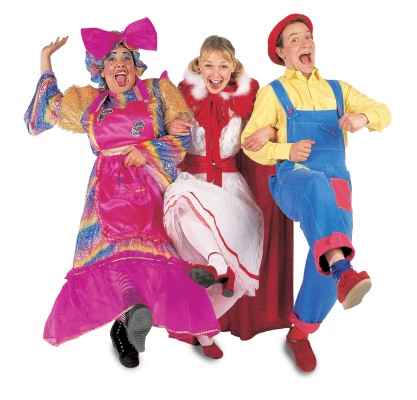 Have you got your tickets for the "panto & party" event?
Regional News
Well, as there were no volunteers to take over as East Midlands Mensa Regional Officer and no objections to me remaining in post, I guess I'm it for a bit longer! We do still have a couple of vacancies though for Derby Local Secretary and Northampton Local Secretary. So, if you live or work in the DE or NN postcodes and would like the opportunity to have some fun whilst making new friends, please get in touch for an informal chat. In the meantime, as a temporary measure, I will be hosting occasional events in Derbyshire and Paul will be straying over the border into Northants from Leicestershire. However, any member is encouraged to host any event. You don't need to be an officer to do that and help is always at hand to host a one off event or a regular get together. Please ask either myself or any LocSec.
Don't forget our "panto & party" event is fast approaching on Saturday 10th January. This takes place at Leverstock Green Village Hall in Hemel Hempstead with the location being chosen in response to those who expressed interest in such an event some months ago. Although especially suitable for families everyone is welcome regardless of whether you are bringing a little person! The event runs from 1.00pm to 4.30pm and you are welcome to invite non-member guests as we're not really restricted on numbers. It's just £10 per person for an exclusive 75 minute pantomime performance followed by buffet. There will also be party games and a goody bag for anyone attending who is aged under 13. Bookings can be made via www.mensa.org.uk or by phoning Diane at the Mensa office on 01902-772-771.
We are currently organising our next regional committee meeting and evening 'do' in February/March so watch this space! Hopefully full details will be announced in the next issue of Empress or on our Yahoo email group and Facebook group before then. Wishing you all a happy and healthy 2015 and looking forward to meeting many more of you at one of our social events throughout the year.
Maxine Bates
Regional Officer
Editorial
Welcome to 2015! I'm sure I'm not alone in spending much of the early part of January thinking about resolutions for the coming year. Many of us have spent December over indulging so it's a great time to consider self-improvement – losing weight, adopting a healthier lifestyle, learning a language or just being a little bit kinder to family and friends. I've yet to decide what my resolution will be (it's still November as I write this) but I might pick something easy to stick to – such as attending a few more Mensa events in 2015. That should be an easy one to achieve!
It's going to be a great year and I look forward to meeting some more of you.
Lucy Bengry
Events and Meetings
In the current circumstances surrounding the COVID-19 coronavirus, the expectation is that all events listed here are likely to be cancelled, if not already marked as such. If you intend participating in any event listed here, please contact the event organiser beforehand to confirm that the event is still on.

Mid Bucks
On Fri 9th Jan at 10.30am - Morning coffee
No need to book, just join me from 10.30am onwards for a morning of informal conversation, croissants and coffee. This month we are going to try the new branch of Patisserie Valerie which has just opened opposite Starbucks in the Eden Centre, High Wycombe, HP11 2DQ. Friends and family are welcome to join us. Please feel free to bring ideas for any events you would like to see and places you would like to visit in 2015.
On Sun 18th Jan at 12.15pm - Lunch
We will help Mark celebrate his birthday with a lunchtime meal at Wagamama, Denmark Street, Eden, High Wycombe, HP11 2DB. See http://www.wagamama.com/our-menu for details of the food on offer. This Japanese restaurant and noodle bar is usually very busy, so we will meet up outside at 12.15pm and all go in together. Please let me know if you are planning to join us so that we can look out for you.
On Sat 24th Jan at 2.00pm - Thaatre
The following weekend Neil Goulder is appearing as Aslan in a performance of The Lion, The Witch and the Wardrobe at The Elgiva Theatre, St Mary's Way, Chesham, HP5 1HR. Based on the classic C.S. Lewis novel, this timeless tale has been adapted for the stage by Adrian Mitchell with a beautiful score by Shaun Davey. It tells the story of four young evacuees, Peter, Susan, Edmund and Lucy who leave London to live in the country with Professor Kirk. Exploring his large and empty house they discover a portal in a wardrobe which takes them to the magical winter wonderland of Narnia. There they find adventure with a host of mythical creatures and have to battle with the White Witch. Theresa Goulder will be going to the Saturday matinee performance on 24th January at 2.00pm. Buy your tickets (£15.00 adult, £12.50 concession, £10.00 child) for the show either from"www.elgiva.com/index.php/whats-on-details/the-lion-the-witch-and-the-wardrobe-5142.html or by phoning the box office on 01494- 582-900.
Val Hinkins
Contact [Email] or [Phone Number] for details

Lively Lincs
On Sat 10th Jan at 12.00pm - 2SaOTM
I'm bunking off this month so Jacquie is very kindly going to host our usual pub discussion, with Susan as deputy, on a topic dear to their hearts: 'Are jigsaws a waste of time?' This will not be as simple as it seems, talk will range through all sorts of issues like what is the purpose of doing anything, is leisure time just that or should it be uplifting/calming/good-for-you in some way, etc. So, if you would like to explore such issues in a friendly fashion, do join in at the Adam and Eve on Lindum Hill, 12.00pm - 2.00pm ish. There's a free car park and pub food. Details, encouragement, etc: jacquie@johnjacquie.plus.com
On Thu 29th Jan at 7.00pm - Eating meeting
Not being one to miss a meal, I will be joining in again for our monthly midweek evening eating meeting, Last year, we had a great time at Carluccio's in central Lincoln, so we're returning at 7.00pm. All welcome, but do please book with me by 24th January, thanks.
Christine Howells
Contact [Email] for details

Mensans in MK & Bedford
I hope everyone had an enjoyable Christmas and is looking forward to another year of socialising with the MK & Bedford local Mensa group.
On Sun 11th Jan at 10.00am - Sunday breakfast
Sunday breakfast will be at 10.00am at Carluccio's in the Centre:MK. You will probably find us in one of the red booths just in front of the restaurant – look for the Mblem on a table. Come for a full breakfast, a snack, or just a drink. Contact me for directions and/or encouragement.
On Mon 19th Jan at 8.30pm - 3MOTM
Becky is kindly hosting the January quiz at The Barge in Woolstone as we are not available that day. Meet from 8.30pm - the quiz starts at 9.00pm and costs £1 per person. Look out for the Mblem. Please let Becky know if you plan to come so she can bag a large enough table - Rebecca.cave@taxwriter.co.uk, 01908-295-645 or 07941-168-131.
On Sat 31st Jan at 12.30pm - Lunch
Our final get-together is lunch at The Talbot in Loughton at 12.30pm. The pub offers an excellent value carvery, as well as other menu options. Please let me know by Thursday 29th January if you are coming in case I need to book. Contact me for directions and/ or encouragement.
Just a reminder about our M-MK & Bedford Facebook group – if you would like to join please search for the group and send me a request. I also keep an email distribution list for meeting reminders and any last-minute changes, so if you would like to be added to this please let me know. We hope to see as many of you as possible at one or other of our events in January. Do remember that you're welcome to bring a guest with you, so if you've never been to a Mensa event and are a little nervous about coming along on your own, just bring a friend.
A very Happy New Year to you all.
Jo Sidebottom
Contact [Email] or [Phone Number] / [Mobile Number] for details

Notts News
On Mon 5th Jan at 8.00pm - 5OTM
If this is your first day back at work after the Christmas and New Year break then cheer yourself up by coming along to the Vat & Fiddle pub on Queensbridge Road from 8.00pm for a friendly chat and to make new friends. We should be in the Goldings Room to the left of the bar. Please phone in advance for directions or encouragement to join us.
On Thu 8th Jan at 7.30pm - Natter & nosh
Our "natter & nosh" event falls in the same week as our "5OTM" event. Join us any time from 7.30pm until late at the Beekeeper pub/restaurant on Meadow Lane in Beeston. It's a Hungry Horse venue so good value food and/or drink. Find us on the long table just beyond the food order point at end of the bar. There will be a yellow Mblem on display.
On Sat 17th Jan at 5.00pm - Girls night in
I'm hosting a "girls night in" at my home in Langley Mill. The cost will be £5.00 per person including a two course Tex Mex buffet with veggie chili, rice, spicy potato wedges, nachos, salsa, guacamole, sour cream plus dessert and complimentary glass of wine. There will also be optional beauty treatments on offer including mini manicure, mini pedicure, mini facial, nail art, head/neck/shoulder massage costing £2.00 - £8.00 and lasting 20-30 minutes each. All proceeds from this event will go to Cancer Research UK. Please let me know if you'd like to come along as that will help catering and ensure we have enough beauticians. You are welcome to arrive any time from 5.00pm and food will be available throughout the evening. Tea, coffee and soft drinks will be available but feel free to bring your own additional wine or other alcoholic beverages.
This month's "eating meeting" is on location in Ashby De La Zouch. See the Leicester section for details.
Ciao for now!
Maxine Bates
Contact [Email] or [Phone Number] for details
Derby Diary
On Wed 21st Jan at 7.30pm - 3WOTM
Just our regular "3rd Wednesday" event this month from 7.30pm. It was lovely to see a few new faces at the end of the year and hopefully there will be more in the coming year. Find us on one of the long tables in the rear section of the Standing Order on Irongate in the city centre. Look for a yellow Mblem on the table and usually a dozen Mensans. You are welcome to arrive/leave when you like and enjoy a meal or just a drink. It's a Wetherspoon venue so very informal!
Two other events are taking place on the Derbyshire border that you are welcome to attend too. A meal and pamper night at my home in Langley Mill on Saturday 17th January and a Chinese meal in Ashby De La Zouch on Tuesday 27th January.
Maxine Bates
Contact [Email] or [Phone Number] for details
More or Leicester
My usual New Year's Resolution is not to make any resolutions (thus guaranteeing failure meaning I don't have bother thinking about it at all). This year is different though; I resolve to do my best to get a member or two out to their first meeting or two this year. Seems simple enough...
On Mon 12th Jan at 7.30pm - Eating meeting
Your first chance to help me avoid abject failure is a roadtrip to The Elms Pub in Lutterworth, right next to J20 of the M1. Not only Leicestershireonians, but also the denizens of Northampton, Rugby and Coventry are more than welcome. See you there at about 7.30pm, but just let me know you're coming by 10th January at the latest.
On Thu 22nd Jan at 8:00pm - 5ThOTM
Your next chance is at our regular Fourth Thursday at The Cradock Arms in Leicester at 8.00pm. Look out for the magazine or mBlem, or just give me a call!
On Tue 27th Jan at TBA - Eating meeting
Finally, there's an eating meeting hosted by Pen Penny up at The Wong Kwei in Ashby. You'll need to book this directly with Pen on [Phone Number] or [Email] by the 23rd January at the latest.
Paul Coulson

Hertfordshire Happenings
On Thu 8th Jan at 8.15pm - 2ThOTM
Given that the First Thursday is the 1st, we've moved to the Second Thursday for January so you can get over the back-to-work blues! As ever, we're at the Millstream, Cambridge Road, Hitchin from 8.15pm. Good food and good beer both available! Call me for more details and encouragement. The pub is about ten minutes' walk from the railway station.
On Fri 30th Jan at 8.00pm - LFOTM
Come and mark (almost) the end of January - possibly the most miserable moth of the year! As always, we're at the Cowper Arms, Digswell, which is by Welwyn North railway station, which is served by stopping trains from Kings Cross to Cambridge and Peterborough. Starting at 8.00pm, good food and good beer both available! Call me for more details and encouragement.
Richard Allen
Contact [Email] or [Phone Number] for details

Luton Leisure
On Tue 6th Jan at 7.30pm - 2TuOTM
Meeting at 7.30pm at The Brache Beefeater, Osborne Road, Luton LU1 3HJ. The bar is opposite the Vauxhall Design Building. There is free parking at the venue. Contact Bob for directions or encouragement to come along or just turn up on the night for a friendly chat and a drink. Look out for a MENSA magazine on the table. New faces are very welcome.
Bob Ford
Contact [Email] or [Mobile Number] for details
2014 IN REVIEW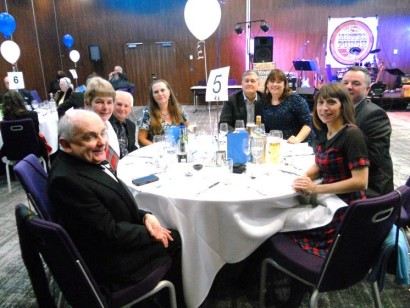 Burns night - January 2014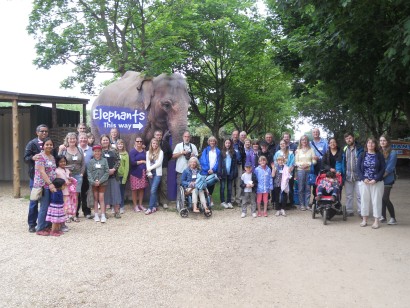 Twycross Zoo - June 2014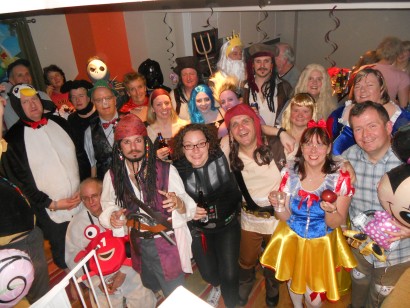 Lakes Party Weekend - November 2014
2014 was a great year; here are a few photos to remind you of some of the highlights.
Panto & Party
Many of you expressed an interest in the Panto & Party – don't leave it too late to get your tickets.
The event consists of an exclusive 75 minute performance of the pantomime Red Riding Hood by a professional touring theatre company.
It's set against a backdrop of the Magic Wood and packed with comedy, adventure, sing-a-long songs and audience participation.
Suitable for ages 3-12.
The panto is followed by a party with music and games for the children and a buffet for everyone.
Details: Saturday 10th January 2015, 1.00pm to 4.30pm at Leverstock Green Village Hall, Leverstock Green, Hemel Hempstead, HP3 8QG
Tickets are £10.00 per person. To book go to www.mensa.org.uk or phone the Mensa office on 01902-772-771.
Maxine Bates
Cancer Research UK Laboratory Tour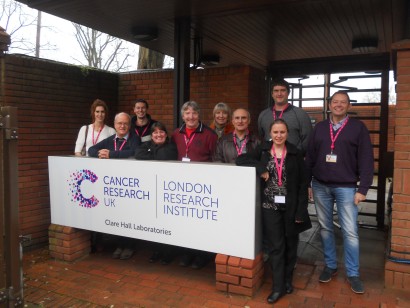 On Wednesday 26th November a privileged group of 16 Mensans visited Clare Hall. This is the site of some of the top laboratories of Cancer Research UK located in South Mimms, Hertfordshire. Tour opportunities are scarce even for Cancer Research UK staff or top fundraisers, but I was able to extract a favour from their managers as a thank you for my own constant fundraising. The site was once a smallpox hospital and the nurse's accommodation is now used for visiting international scientists. Half the site is a listed building and the rest contains purpose-built laboratories opened in the late 20th/early 21st century.
Upon arrival we were shown to the Manor Room where refreshments awaited before moving to the lecture room for a brief introduction to Clare Hall then longer talk entitled "Cytokinesis: How to cut in the middle?" by one of their scientists. I bet she regretted asking a bunch of Mensans if they had any questions! This was followed by the highlight of our visit; a tour of some of the laboratories where we had chance to play with a microscope and see expensive scientific equipment in operation. At the end of the tour an excellent buffet lunch was served in the Piano Room and we had chance to sit down and discuss what we had seen. The cost of the visit was donated directly to Cancer Research UK towards their life-saving work.
Guests travelled from as near as Watford and Welwyn to as far as Nottingham and Hampshire. As one member said... "It's amazing to have had a glimpse into the incredible work Cancer Research UK do there and I feel really privileged to have had the opportunity." In fact we were told we were possibly the last group to be allowed to visit before the laboratories relocate to the Crick Institute in central London in April 2015. A privilege indeed.
Maxine Bates
20 Questions (No. 160)
Did you guess the answers to our music quiz in the November issue?
They were The Mamas & The Papas, Adele, Madonna, Sergei Prokofiev, Brenda Lee, Mud, Procol Harum, David Gray, Antonio, Rihanna, Chas & Dave, OK Computer, Sting, Musical Youth, daughter, The Police, Bonnie Tyler, Beyonce, David Bowie and Shania Twain. Thank you to Alex Foster of Derby, Patrick Cavanagh of Ireland, Lynn Faulkner of Nottingham, Sue Barker of Bolton, Chris Impey of Tring, Roger Plant of Nottingham, Roger Lord of Aylesbury, Pamela Covey of Woburn D W Dell of Leighton Buzzard and Andy Cole of Cleethorpes for entering. Most of you got 20 out of 20 and Sue was drawn at random as the winner.
To stand a chance of winning a £10 book token this month, you scientific brains are invited to send your answers to arrive by 20th January by post to '20 Questions (No. 160)', [Address], or by email to [Email]. Remember to include your name and address! With thanks to Mark Sloan for compiling this quiz.
1. What energy powers the world's four largest power plants: nuclear, water, gas or coal?
2. Persons with which blood group are called universal donors?
3. What is nitrous oxide commonly called?
4. Which university town houses the Cavendish Laboratory?
5. What is measured by a Geiger-Muller counter?
6. Who in 1660 discovered the law of elasticity?
7. Which food is to blame for most cases of salmonella?
8. What do we call a straight line which touches a curve but continues without crossing it?
9. What gas is used as a disinfectant in drinking water?
10. Dmitri Mendeleev in 1869 published and devised the first what?
11. Which field of science is related with the study of nephrology?
12. Which black and white bird of the crow family has the scientific name Pica pica?
13. What is the name of the second biggest planet in our solar system?
14. What facet of human anatomy did William Harvey discover?
15. Atoms of the same chemical element that have different atomic mass are known as what?
16. If igneous and sedimentary are two of the three main rock types, what is the third?
17. What is the more common name for the patella?
18. Of what is a positron an antiparticle?
19. Electric resistance is typically measured in what units?
20. 'For every action there is an equal and opposite reaction' is which number of Newton's Laws?