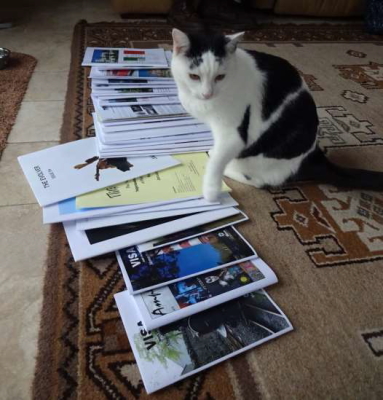 Where's the Cat SIG newsletter then?
Regional News
Happy new year! Let's start the year as we mean to go on. with lots of social events aimed at all ages and all budgets. Many thanks to all event hosts who are volunteers wanting to engage in fun activities whilst meeting new people. Any member can host an event. Just contact either myself or one of the Local Officers for help. As always at this time of year, it's wise to check with the host that the event is still going ahead in case of bad weather.
Every month throughout 2019 we arranged an 'eat & greet' event. The vast majority proved successful in encouraging new faces to appear and it's hoped now you've dipped your toe in the water we'll see you at future events. We do have regional funds that supported these events by providing free food and/or drink. If you have suggestions for a one-off event that may require a deposit to be paid or a subsidy would be helpful please do get in touch.
We will be using some of our funds to organise a regional event the afternoon of Sunday 9th February in the Northampton area. Details are being finalised as we go to print so please keep an eye on the Mensa websites, your email inbox, East Midlands Mensa Facebook group or the next issue of Empress for further details.
I'm on [Phone Number] or [Email] and look forward to hearing from you or seeing you in 2020!
Maxine Bates
Regional Officer
Editorial
Welcome to the January edition of Empress, my first as I start a new stint in the hot seat. Thanks to Maria once again for holding the fort for the last three months. Thanks also to Susan Graves for providing the cover star for this month, taken at her Eat & Greet meeting in October. All such pictures are very welcome and also help to bring a smile to the faces of the readership. They can be submitted, along with either a caption or a short description to empress@ mensa.org.uk. A lot is going on this month as usual, including an opportunity to apply for the top job in the area, Regional Officer. This job is appointed by the board rather than by election nowadays. I do have to say that Maxine has done, and continues to do, a magnificent job in the role. For more details, please see the advert below.
Mark Sloan
Member Profile - Miranda Priestley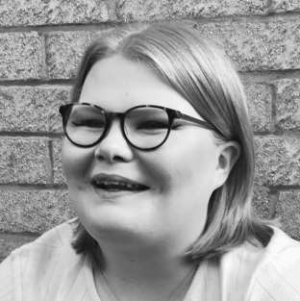 What's your name?
Miranda Priestley
What's your location?
Leicester
When did you join Mensa?
October 2018
Why did you join?
I joined the society, over a year ago now, as I really wanted to meet like-minded people who were passionate about similar things. I also loved the Mensa magazine that I was sent in the example pack; the puzzles at the end are still my favourite. In the magazine you can find information on local Mensa events as well as some really interesting articles from 'Mensans' all across the country. This really helped me in opening doors for meeting new people.
Have you attended any social events? If so, what were they like?
I have attended a couple; my favourite being a trip to Tissington in Derbyshire at Christmastime, visiting the hall for a Peter Pan themed experience. It was really great to throw myself into a new group of people and enjoy something together.
What is your occupation?
I graduated from Loughborough University this year with a BA (Hons) Graphic Communication and Illustration and I now work at a local charity called Focus as a Project Assistant. Located in the city centre, the charity aims to build valuable life and employability skills in young people across Leicester. In turn, this inspires and empowers them to create a positive impact in their own community and enables them to lead fulfilling lives through volunteering. I joined the charity as a volunteer whilst in my final year of my degree and found this experience so valuable and rewarding. If you would like to know a little more about volunteering with us or supporting us then please contact us. We would love to hear from you: focus-charity.co.uk miranda.priestley@focus-charity.co.uk
Do you have any hobbies/interests?
I have a side hustle! As I am a Graphic Design graduate, I work part-time as a Freelance Graphic Designer for my own business, Miranda Priestley Design as well as my full-time job at Focus. Branding and design strategy are my strengths and I have previously worked with start ups and charities in establishing their visual identity as well as working in a global corporate business as a Graphic Designer. Recently, I have been working on a project with Loughborough University and SAFOD to create an arts catalogue for publication around South Africa. If you are looking for a designer to support your business, please give me a shout and I would be happy to help.
https://mirandapriestley.co.uk/
[Email]
Events and Meetings
In the current circumstances surrounding the COVID-19 coronavirus, the expectation is that all events listed here are likely to be cancelled, if not already marked as such. If you intend participating in any event listed here, please contact the event organiser beforehand to confirm that the event is still on.

Derby Diary
On Wed 15th Jan at 7:30pm - 3WOTM
It's time for our first monthly get-together of 2020 in the centre of Derby. We will be at the Standing Order pub on Iron Gate (Wetherspoons) to eat or just for a drink and a chat from 7.30pm. Reasonable prices. Look for the yellow Mblem on a long table in the rear section. Contact Susan on [Phone Number] or [Email] for directions and/or encouragement. New faces especially welcome.
On Fri 31st Jan at 7:00pm - At Home
Join us for a (slightly belated) Burns supper of Haggis, neeps and tatties at our home in Ilkeston (DE7). Veggie alternative available if you let us know Have a chat in a relaxed atmosphere. Contact Susan on [Phone Number] or [Email] for encouragement and to let us know you are coming by Wednesday 29th January.
Susan Graves
Contact [Email] or [Phone Number] / [Mobile Number] for details

Hertfordshire Happenings
On Thu 2nd Jan at 8:00pm - FThOTM
Once again, we are at the Three Magnets, Leys Avenue, Letchworth. Thursday is traditionally curry night, but other food is also available (standard Wetherspoons fare). Leys Avenue is the main shopping street in Letchworth and is just a few minutes' walk from the rail station (Kings Cross to Cambridge line). Call me on [Phone Number], or email [Email] for further details and encouragement.
On Sat 18th Jan at 8:00pm - Theatre Group
Whipping It Up at the Barn Theatre. A satirical farce set in the Whips' office at Westminster. £13. If interested, please contact me on [Phone Number], [Phone Number] or email [Email].
On Sat 25th Jan at 7:45pm - Theatre Group
Alfie at The Little Theatre. Made famous by Michael Caine in the 1966 film. £14.50. If interested, please contact me on [Phone Number], [Phone Number] or email [Email].
On Wed 29th Jan at 7:30pm - Theatre Group
La Boheme. Live transmission from Covent Garden at the Broadway. 7.30pm. £18. If interested, please contact me on [Phone Number], [Phone Number] or email [Email].
On Fri 31st Jan at 8:00pm - LFOTM
As ever, we are at the Cowper Arms, Digswell. The pub is next to Welwyn North station and is served by stopping trains from Kings Cross to Cambridge. Good food, beer and conversation guaranteed! Please call me on [Phone Number] for more details and a spot of encouragement to come and join us.
Steve Thomas
Contact [Email] or [Mobile Number] for details

In Leicestershire
On Mon 20th Jan at 8:00pm - Pub Social
Join me for a drink and a natter at the Cradock Arms, 201 Knighton Road, Leicester, LE2 3TT. We usually gather in the lower part towards the rear of the bar. New faces are always welcome. You are also welcome to bring a friend. Look out for the magazine or Mblem. For directions or encouragement, please contact me on [Phone Number] or by email at [Email].
On Sat 25th Jan at 7:00pm - Pub meal
This month we are dining at the Soar Bridge Inn, 29 Bridge Street, Barrow Upon Soar LE12 8PN. There is a large car park, real ales and home cooked meals with a hygiene rating of 5. Booking in advance is essential so please let me know if you are joining us by 20th January.( Members can always bring a friend along.) Phone me on [Phone Number] or e-mail me at [Email]
Haydn Starkie
Contact [Email] or [Mobile Number] for details

Lively Lincs
On Sat 4th Jan at 10:30am - Morning coffee
Starting the year with a return visit to Doddington Hall Cycle Coffee shop, LN6 4RU - requested by several people who enjoyed the meeting there in October. Please let me know if you hope to attend, so I can try to keep enough seats in this popular spot! Please note it is in a different building from the main restaurant and shop. Contact Jacquie on [Phone Number] or [Email].
On Sat 11st Jan at 12:00pm - Pub discussion
Our regular Second Saturday meeting at the Adam & Eve Tavern, 25 Lindum Road, LN2 1NT (opposite Pottergate arch). This month we'll discuss "The psychology of Art Appreciation" - scope for discussion there! Traditional pub food, decent ales, hot drinks, car park. All very welcome. Find us in one of the side areas, Magazine on the table, or contact Jacquie for some encouragement on [Phone Number] or [Email].
On Wed 29th Jan at 7:00pm - Pub & puzzles
Today is designated National Puzzle Day (http://puzzleday.net/ ) so let's celebrate together. Join us for a drink and traditional pub meal at the Bluebell Inn, 1 Main Road, Belchford, LN9 6LQ - a cosy Wolds pub. Bring a puzzle to share around – cubes, tangrams, metal wire, mechanicals, etc. – or maybe even one of Life's great mysteries! All welcome. Booking essential, please contact Helen on [Email] or [Phone Number].
Jacquie Harrison
Contact [Email] or [Phone Number] / [Mobile Number] for details

Mid Bucks
On Wed 1st Jan at 2:00pm - Games Afternoon
Join me at home for a relaxed and informal start to the year with an afternoon of indoor board games, chat and Christmas treats. Tea, coffee, etc. provided. All members and friends welcome, but please contact me a few days before to book a space and get directions. Either telephone me on [Phone Number] or e-mail to [Email]
On Mon 13th Jan at 8:00pm - Indoor Games
Join Dave and Alison at their home in Flackwell Heath, near High Wycombe, for our regular monthly evening of indoor board games. All members and friends welcome. Space is limited, so please contact Dave for directions and to discuss what games you would like to play on [Phone Number] or by e-mail at [Email]
On Fri 17th Jan at 10:30am - Toys, Coffee & Chat
We return to Bucks County Museum in Aylesbury to see their Toy Box exhibition of toys we might remember from childhood. We'll also enjoy relaxed conversation, cake and coffee. See https://www.buckscountymuseum.org/museum/whats-on/exhibitions/ for further details. No need to book, but if you want me to look out for you, let me know you are coming on [Phone Number] or e-mail me at [Email]
For further details or encouragement contact me on [Phone Number] or e-mail me at [Email]
Val Hinkins
Contact [Email] or [Phone Number] for details

Mensans in MK & Bedford
On Sat 18th Jan at 3:00pm - T@3
Join us at Dobbie's Garden Centre in Fenny Stratford for tea, coffee, and cakes in the restaurant. We will probably be in the conservatory area at the back. Contact Jo at [Email], or [Phone Number] / [Phone Number] for directions/encouragement.
On Mon 20th Jan at 7:45pm - 3MOTM Quiz
Our monthly quiz outing to The Plough at Simpson. Meet from 7.45 for a 8.00pm start - cost is £1 per person. Please let me know if you are coming so I know if we will be one team or two. Contact Jo at [Email], or [Phone Number] / [Phone Number] for directions/encouragement.
On Sun 26th Jan at 10:00am - Breakfast
Join Christine and others at Brown's on Midsummer Boulevard from 10am for a full breakfast, a snack, or just a drink. Contact [Email] for directions/encouragement.
Just a reminder about our M-MK & Bedford Facebook group – if you would like to join please search for the group and send me a request. I also keep an email distribution list for meeting reminders and any last-minute changes, so if you would like to be added to this please let me know.
We hope to see as many of you as possible at one or other of our events this month. Do remember that you're welcome to bring a guest with you, so if you've never been to a Mensa event and are a little nervous about coming along on your own, just bring a friend.
Jo Sidebottom
Contact [Email] or [Phone Number] / [Mobile Number] for details
News from Northampton
On Sun 12th Jan at 10:30am - Brunch
Our first breakfast/brunch for the new year will be in the Zapato Lounge, 2 Newland Walk NN1 2EB off Market Square in the town centre. Look for the Mensa emblem. After an exhilarating quiz we'll consider which of the seven sins is the best - and worst - and which of them we are most guilty of. Contact Marianne on [Phone Number] or email: [Email] for inspiration or encouragement.

Notts News
On Sun 5th Jan at 8:00pm - 5OTM
Our first get together of the year at the Vat & Fiddle pub on Queensbridge Road, NG2 1NB. Look for yellow Mblem on table likely in Goldings Room to left of bar. New faces most welcome as are suggestions for future activities. Pop in for a quick drink or stay all evening. Directions/encouragement from Maxine on [Phone Number] or [Email] if required or just turn up on the night.
On Thu 9th Jan at 7:30pm - Natter & Nosh
Join us at The Cadland pub/restaurant on High Road, Chilwell, NG9 5EG, for a meal or later for just a drink. Extensive and reasonably priced menu at www.emberinns.co.uk plus offers usually available too. We have a large table reserved at the far side of the bar. Ample free car parking. Yellow Mblem will be on display. Questions? Contact Maxine on [Phone Number] or [Email]
On Fri 10th Jan at 7:30pm - Boardgames
An evening of boardgames at my home in Langley Mill. I have retro/classic games plus Mensa Connections but feel free to bring your own. Hot/soft drinks and nibbles provided. To confirm attendance and for directions please contact Maxine on [Phone Number] or [Email]
On Sun 12th Jan at 11:00am - Sherwood Forest Trail
An event specially for Mensans with children and Junior Mensans, though everyone is welcome. We will be doing one of the trails around the lovely Sherwood Forest. Free entry, but there is a cost for parking. Please let me know if you are coming, so I can select the right level of trail. Christina [Phone Number], [Email]
On Tue 21st Jan at 7:00pm - 3TuOTM
New year, new venue! Join the friendly Newark group at the Fox & Crown pub, 4-6 Appleton Gate, NG24 1JY, for food and/or drink and a chat. Suggestions for future events welcome. Contact Peter on [Phone Number] or [Email] or look for Mblem on the night. New members and guests welcome!
On Sat 25th Jan at 2:00pm - Museum
A visit to the Robin Hood Experience on Friar Lane in city centre. Hands-on family museum in a Georgian building with costumes, artifacts and audio-visuals dedicated to the local outlaw. £5 per person. Option of family friendly lunch beforehand. Please express interest with Maxine on [Phone Number] or [Email]
On Tue 28th Jan at 7:30pm - Eating Meeting
Different host, same idea for the regular last Tuesday visit to a restaurant. Join us for a Thai Meal at Grand Siam, 42 Nottingham Road, Eastwood NG16 3NQ. See www.grandsiam.co.uk for menu. It's high up the list on Tripadvisor for Nottingham. Free parking at council car parks. Please contact me on [Phone Number] or [Email] by Tuesday 21st January to book – it may be possible to add on later.
Ciao for now!
Maxine Bates
Contact [Email] or [Phone Number] for details
Regional Officer – East Midlands
Are you someone that likes to get involved with things?
Are you good at helping others achieve things?
Your region has a dedicated team of volunteers who look to organise activity for the members and encourage others from the region to get involved. They are constantly looking out for new ideas to help increase and expand the range of activities offered. The Regional Officer leads the team.
The post of Regional Officer is appointed on a three year term. The current period ends in February 2020. Applications are therefore invited from members who might be interested in taking up the post for the next three year term.
Main Purpose of role: The Regional Officer (RO) is to oversee the successful running of the region and help ensure that there is a good variety of activity available for members in the region and that these are promoted properly and regularly. The RO works with a committee of dedicated volunteer members to achieve this.
The role is likely to require a couple of hours or so per week and would suit someone with previous management or administration experience or someone who would like to take that first step of managing people and situations. Most communication is done by e-mail or telephone and the committee meet once per year. There is a support network of help from the other Regional Officers to share ideas or ask questions and the Mensa office offer considerable administrative assistance and help with planning and contracts for venues. The RO also attends two national workshops annually with all the other Regional Officers to review practices within Mensa and look at new ideas that could be used. Reasonable out of pocket expenses are reimbursed for attending these meetings.
If this is you and you are interested in meeting and working with others to build a programme of activity for members in the East Midlands region please request an application form and a job description by e-mailing applications@mensa.org.uk
Closing date for applications is Tuesday 14th January 2020. The appointment for this voluntary post will be made by the board of British Mensa.
If you want an informal discussion about the role please e-mail John Stevenage [Email] or telephone 01902 772 771 at the Mensa office during working hours.
20 Questions (No. 219)
Just five wine lovers entered our November competition and the answers were Tuscany, Bacchus, autumn, Merlot, 16, Benedictine, Argentina, tannins, New Zealand, staves, San Francisco, original wooden case, rose/pink, canopy, Kent, Portugal, France, Muscat, November and carbon dioxide. Well done to David Crozier from St Albans who wins the £10 book token.
Did you eat lots of biscuits over the festive season? If so you should have no trouble unscrambling these anagrams of types of biscuit! Send your entries to '20 Questions (No. 219)', [Address] or [Email] by 20th January. Don't forget to include your name and address!
1. SHOCK RATE
2. KNIFE WRAP
3. I GRAB A LID
4. STINGER GUN
5. CINE
6. DARK CHAT
7. NEW SHIVER LINE
8. A COLD ESKIMO YARN
9. NINE PUGS
10. MY MEGS ODD JAR
11. ROBO BUN
12. I HOOK TELESCOPIC COACH
13. STIR BAY MUSIC
14. TED KILL MAM
15. AIR TECH
16. RUSHY BREWS
17. DRUM SCARES CAT
18. VISITS EDGE
19. TECHNOLOGIC FEAR
20. NEW AGE HOWLS