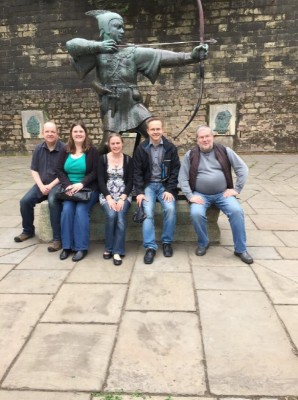 Members of British Mensa showing a Norwegian Mensan (second from right) the sights in Nottingham.
Editorial

Welcome to the July edition of Empress. My name is Maria Falces and I am the new third Editor. You should have read lots about me in the May issue so just a bit now. I was born in Spain and I came to England 12 years ago. Since then I have been moving on a regular basis due to work commitments and as a consequence I know more places here than in my own country.
Anyway, with the summer just here it is time to enjoy the sunny days in the garden and to prepare for the holidays. Are you doing anything exciting? Would you like to introduce yourself to the Mensa Community sending us your member profile?? Do please email your articles and photos. We would love to hear about you.
Maria Falces
Introduce Yourself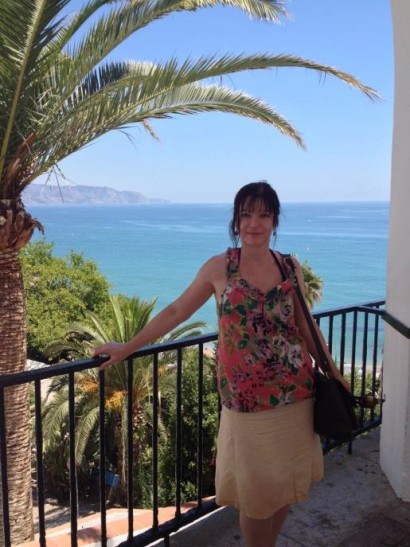 1.-What's your name?
My name is Anne Bitton.
2.-What's your location?
I live in Derby.
3.-When did you join Mensa?
I joined Mensa in March 2015.
4.-Why did you join?
I decided to take the Mensa test as a personal challenge, and was pleasantly surprised when invited to join!
5.-Do you belong to any SIGs? If so, which one(s)?
I don't yet belong to any SIGs, but my main interest is foreign language learning, so I may look at joining a group at a later date.
6.-Have you attended any social events?
If so, what were they like? Yes, I have attended one social event so far at the Standing Order in Derby in April. It was great to meet everyone.
7.-What's your occupation?
I own a small language company, based in Derby. Prior to this, I taught MFL for nearly 20 years.
8.-Do you have any hobbies/interests?
My main interests are playing badminton, language learning and world cookery. I like socialising with friends.
Regional News
Once again we have a variety of events to entice you out this month. So whether you enjoy eating, drinking, testing those brain cells at a quiz or just socialising with other members hopefully there is something you will find suitable. Don't forget you are welcome to host your own event so if there's an activity/hobby you do regularly and would like to invite others to join you please contact your LocSec and they would be happy to advertise it for you.
At the end of May the Nottingham and Derby groups were pleased to welcome members from the Netherlands and Norway. A Dutch couple appeared unexpectedly at our regular Derby event. In fact they had planned their tour of Scotland and England so that they would be in Derby to meet us! The Norwegian member was staying in Nottingham over the bank holiday weekend and had contacted the SIGHT Officer to see if any local members would like to meet up. So we arranged a lunchtime get together especially to meet him.
SIGHT is the Service of Information, Guidance and Hospitality to Travellers. This is a free service for Mensa members to link up with other members whilst travelling or working away both within the UK and around the world. The UK co-ordinator is Jay Yang who can be contacted on sight@mensaofficer.org.uk.
Over the years I have been fortunate to meet up with fellow members in Norway, Denmark, Australia, New Zealand and the USA. They can certainly add a new dimension to travelling by showing off lesser known parts of their city. I would highly recommend using this service if you get the opportunity. As ever please feel free to contact me on [Phone Number] or [Email]
Maxine Bates
Regional Officer
Please send your meeting announcements to Mark Sloan, either by snail-mail to 7, The Hollow, Castle Donington, Derby, DE74 2PA or by e-mail to [Email], to arrive no later than three days before the press date stated on last page of the magazine.
Events and Meetings
In the current circumstances surrounding the COVID-19 coronavirus, the expectation is that all events listed here are likely to be cancelled, if not already marked as such. If you intend participating in any event listed here, please contact the event organiser beforehand to confirm that the event is still on.

Derby Diary
On Sun 12th July at 12:00pm - Beer Festival
Derby CAMRA City Charter Beer Festival takes place in a giant marquee in Derby Market Place. If you're planning to go and would like company look for David holding a yellow Mblem outside the marquee entrance at midday. Free entry on Sunday as not all the ales will still be available after four days. Please contact David on [Phone Number] for further info.
On Wed 15th Jul at 7:30pm - 3WOTM
It's the 3rd Wednesday of the month so you'll find a bunch of happy Mensans on one of the long tables at the rear of the Standing Order on Irongate in the city centre. It's a Wetherspoon venue so good value food and/or drink. Even cheaper if you have a Cathedral Quarter card! Look for yellow Mblem on table or contact Maxine in advance on [Email] or [Phone Number].
On Tue 28th Jul at 7:30pm - Eating Meeting
George's claim to serve the best fish and chips so we're going to check it out at their restaurant on Bridge Street in Belper. See www.georgestradition.co.uk for menu and directions. Main meals from £4.40 to £7.75. Please reserve your place with Maxine on [Phone Number] or [Email] by 24th.
Maxine Bates
Contact [Email] or [Phone Number] for details

Hertfordshire Happenings
On Thu 2nd Jul at 8:15pm - FThOTM
NOTE TEMPORARY CHANGE OF VENUE. Note that our regular haunt at the Millstream in Hitchin is closed for refurb so we're at the Cowper Arms, Digswell, which is by Welwyn North railway station, which is served by stopping trains from Kings Cross to Cambridge and Peterborough. Good food and good beer both available! Richard's on holiday so I'll be hosting. Call me for more details and encouragement on [Phone Number].
On Fri 31st Jul at 8:00pm - LFOTM
As always, we're at the Cowper Arms, Digswell, which is by Welwyn North railway station, which is served by stopping trains from Kings Cross to Cambridge and Peterborough. Good food and good beer both available! Call me on [Phone Number] for more details and encouragement.
Richard Allen
Contact [Email] or [Phone Number] for details

Lively Lincs
On Sun 5th Jul at 10:00am - Beach Hut Day
Our annual day trip to the lovely sandy beaches of Mablethorpe is about to happen. Everyone welcome to join us at the quiet end of Mablethorpe, overlooking Queen's park where one can indulge the child within and ride on the little train; or challenge others to crazy golf, putting or bowls; or go for a ride on the boating lake. Tea, coffee and fruit cake provided, several eateries very close by. For details, [Email].
On Sat 11th Jul at 12:05pm - Pub discussion
I'm expecting a lively but friendly pub discussion this month on 'Surveillance is ok if you have nothing to hide?' If it's a topic which interests you, do join us at the Adam and Eve on Lindum Hill, Sat 11 July 12.05 until we leave several hours later. We hope to be in the garden, otherwise look in the alcove, seek the MBlem. Free car park, pub food available
On Thu 23rd Jul at 7:00pm - Eating meeting
A return to Wagamama on Brayford Pool, all welcome but please book with me by 18th if possible, thanks. Email me on [Email].
On Sun 26th Jul at 2.30pm - Afternoon tea
Come and enjoy a Sunday afternoon in our garden. Conversation, cake, home-made jam and home-grown fruit for tea! To let us know you're coming or to check our address, please telephone [Phone Number] or email [Email], by Saturday morning if possible. We look forward to seeing you.
Christine Howells
Contact [Email] for details

Mensans in MK & Bedford
On Sat 4th Jul at Lunchtime(tbc) - Thai lunch
We're visiting the Royal Thai in Stony Stratford for lunch. Booking essential by Thursday 2nd so I can reserve a table and confirm the time.
For directions/encouragement contact Jo by phone on [Phone Number] / [Phone Number] or [Email].
On Mon 20th Jul at 8:30pm - 3MOTM Quiz
Our monthly outing for the quiz at The Barge in Woolstone. Meet from 8.30 - the quiz starts at 9pm and costs £1 per person. Look out for the Mblem. Please let me know if you plan to come so I can bag a large enough table - [Email], or [Phone Number] / [Phone Number].
On Sun 26th Jul at 10:00am - Breakfast
Please join us for breakfast from 10 am at Carluccio's in the Centre:MK. Opt for a full breakfast, a snack, or just a drink - look out for the Mblem, probably in one of the red booths. For directions or encouragement contact Jo on [Phone Number] / [Phone Number] or [Email].
Jo Sidebottom
Contact [Email] or [Phone Number] / [Mobile Number] for details

Mid Bucks
On Sun 5th Jul at 11:00am - Circular Walk
Scenic walk from the National Trust Ashridge Visitor Centre, HP4 1LT to the hill fort at Ivinghoe Beacon. The full 7 mile walk includes open countryside and woodland. Some steep slopes. Return to the visitor centre for a late lunch. For further details or encouragement contact me on [Phone Number] or e-mail me at [Email]
On Fri 17th Jul at 10:30am - Coffee & Chat
Another new venue, this month we will try Haddenham Garden Centre, Stanbridge Road, Haddenham, HP17 8HN. Loads of space to park. No need to book, but if you want to let me know you are coming please phone [Phone Number] or e-mail me at [Email]
Val Hinkins
Contact [Email] or [Phone Number] for details
More or Leicester
On Fri 10th Jul at 7:30pm - Curry Night
Ahh, summer! What better way to herald its arrival than by celebrating with all things.... er.... summer-y? Pimms! Ice cream! Curry!! (Work with me on this, OK?). It's definitely time to tikka chance, and when it comes to Summer Curry Nights, there's naan better! (I can curry on these puns for ages!!) It's all happening on Friday 10th in Leicester from 7:30 onwards, so why not poppadom (see?) along and join in? The venue's to be confirmed (depending on numbers), so please can you let me know raita way, or by Fri 3rd at the very latest if you're planning to come along?
On Thu 23rd Jul at 8:00pm - FThOTM
Following on from the terrible curry puns, why not chilli out (oops!) at our regular Fourth Thursday Bash at The Cradock? Thursday 23rd at 8:00pm - I can't promise dancing girls, free beer a visit by a touring troupe of Russian Acrobats, but I CAN promise a magazine or yellow mBlem on the table, and the chance for a bit of a natter if you're cumin!
I look forward to seeing you there
Paul Coulson

Notts News
On Sun 5th Jul at 8:00pm - 5OTM
Round off the weekend with a friendly drink and chat in the Goldings Room of the Vat & Fiddle pub on Queensbridge Road. Adjacent to Castle Rock Brewery with views into the brewery from our table. Pop in briefly or stay all evening. Further info from Maxine on [Phone Number] or maxine@marubaevents. com or just turn up and look for yellow Mblem on table.
On Thu 9th Jul at 7:30pm - Natter & Nosh
We have not one but two opportunities of socialising at the Beekeeper pub/restaurant on Meadow Lane in Beeston. Our usual get together will be from 7.30pm on Thursday 9th. An evening of food or just a drink plus variety of conversation. Find us on the long table beyond the end of the bar at the Beekeeper pub/restaurant on Meadow Lane in Beeston. All welcome. Arrive/leave whenever convenient to you. Contact Maxine on [Phone Number] or maxine@marubaevents. com for directions if required. Large car park at the venue.
On Fri 17th Jul at 6:00pm - Family meal and Quiz night
Two meetngs in one. We will be returning to the Beekeeper pub/restaurant on Meadow Lane on Friday 17th at 6.00pm for an earlier than usual meal to encourage families to come out and say hello. It's a Hungry Horse pub/restaurant so there's a separate menu for children available. An idea of numbers would be helpful so a large enough table can be reserved. At 7.30pm the pub will be hosting a family friendly general knowledge quiz night. Many thanks to the landlord and staff at the Beekeeper for supporting our fundraising. Why not bring the family to this fun night out?
Ciao for now!
Maxine Bates
Contact [Email] or [Phone Number] for details

Luton
On Tue 7th Jul at 7:30pm - FTuOTM
At the 'Brache' Beefeater, Osborne Road, opposite the Vauxhall Design Building from 7.00pm. There is parking on site. Come along for a drink and a chat, or just the chat. Food is available at the bar or in the restaurant from the same menu. New faces will be welcome to join our group. Contact me for directions or more details.
Bob Ford
Contact [Email] or [Mobile Number] for details
Lakes Party Weekend
A weekend based at Whinfell Forest CenterParcs in Cumbria. Package includes three nights accommodation in twin/double room, three parties, buffet meals, help-yourself bar throughout weekend, cocktail of the day, unlimited access to the swimming dome, programe of walks, quizzes, tastings, boardgames and much more. All ages welcome. From £150 per person.
Full details at www.maruba-events.com or call organiser Maxine on [Phone Number].
East Midlands Mensa online
Join our Facebook group by searching for "East Midlands Mensa" or subscribe to our Yahoo email group by sending a blank email to m-eastmidlands-subscribe@yahoogroups.com Also see our frequently updated web site.
20 Questions (No. 166)
Thanks to the following members for entering the May competition. Alex Foster of Derby Pamela Covey of Woburn Roger Plant of Nottingham Roger Lord of Aylesbury Nigel Bryant of Bedford T Hamilton of Sleaford Rita Beeson of Bedfordshire The winner of the £10 book token was Alex. The answers were: 1) Charles Babbage 2) IBM 3) Australian 4) world wide web 5) Opera 6) Skype 7) 8 8) first ever domain name registered 9) iPod 10) Switzerland 11) Harvard 12) liquid crystal display 13) Dell 14) LPG 15) 5 16) Formula 17) the mouse 18) 7 19) web browsers 20) digital versatile disc
Once again this month's quiz is compiled by Mark Sloan. How sporty are you? Send entries to arrive by 20th July By post to: By email to: '20 Questions (No. 166)', [Email][Address].
1. In golf over how many holes is The Open Championship contested?
2. In cricket how many matches generally make up an Ashes test series?
3. Which 100/1 outsider won the 2009 Grand National?
4. The San Siro Stadium is in which Italian city?
5. The Eclipse Stakes is run at which racecourse?
6. In American Football which famous Miami Dolphins quarterback retired in 2000?
7. Sixways Stadium is the home ground of which English Premiership rugby union team?
8. In which athletic event did Bruce Jenner win the gold medal in the 1976 Summer Olympics?
9. Who won the men's single at Wimbledon in 1985 at the age of just 17?
10. Kareem Abdul-Jabbar played 20 seasons in which sport?
11. Nigel Owens is an international referee in what sport?
12. Which male tennis player has won the most Grand Slam singles titles?
13. What number is between 7 and 8 on a standard dart board?
14. Toby Flood plays for which rugby union club?
15. Which cricketer was named in the shortlist for Sports Personality of the Year 2013?
16. Who is the most decorated sailor in Olympic history?
17. In horse racing how many individual bets make up a Yankee?
18. Which British cyclist won the 100th edition of the Tour de France?
19. In rugby union who is the only forward to have dropped a goal for England?
20. What is 'The Green Monster' at Fenway Park, home to the Boston Red Sox baseball team?