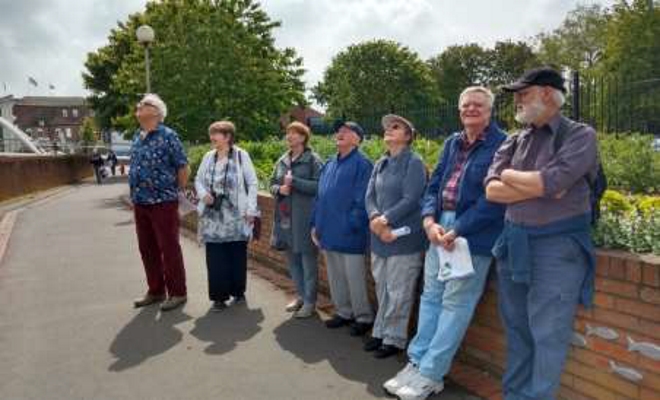 Above is a group of Lincs Mensans contemplating the dizzying height of the famous Stump in Boston.
Regional News
A jam-packed issue this month so my column is going to be very short so not to give the editor a headache fitting it all in! Lots of activities both indoors and outdoors for members of all ages whether you are a regular or sporadic attendee or never been to a Mensa event before. If the latter and living in NG or DE postcodes, please come along to our 'eat & greet' event on Saturday 13th July near the border of both counties. Free sandwiches and cakes! Opportunity to play retro games! The oldest ale house in D H Lawrence's town of Eastwood! Find out what you've been missing in Mensa!
As always, you can contact me on [Phone Number] or [Email] regarding any aspect of your Mensa membership. I look forward to meeting you.
Maxine Bates
Regional Officer
Editorial
Welcome to the July edition of Empress. A big thank you to Maria for taking the helm for the last three months. There's still a vacancy for a third Empress Editor if you'd like to take your creative side for a spin. All that's needed is a working knowledge of Microsoft Word and a few hours every month. It can be great fun! <Sound of laser activating> "You expect me to talk?" "No, Mr. Bond, I expect you to turn to the last page and try the 20 Questions quiz!!"
Mark Sloan
Member Profile – Matthew Hussey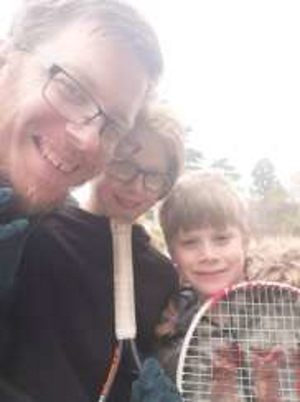 Name?
Matthew Hussey
Location?
Bedford
How long have you lived there?
Almost all of my 38 years.
How long have you been a member of Mensa?
About 10 years
Why did you join?
My dad was diagnosed with terminal cancer and had always said I could get in. I just did it to prove him right
Do you go to Mensa events?
No
What do you do for a living?
Software Engineering with a bit of Test Engineering and Management rolled in.
What are your interests?
Productivity tools and processes. Fidget Toys (Speed Cubes, Yoyos, etc). TV and Film. Coding.
Anything interesting about your home town?
John Bunyan was imprisoned here and wrote The Pilgrim's Progress. Charles Bronson was imprisoned here and caused a lot of trouble.
Something that no-one would guess about you?
Despite being a Metal fan I used to listen to the second Britney Spears album every morning while getting ready for school/work. Partly a bit of obsessive behaviour, partly loving Britney.
In Leicestershire
On Mon 15th Jul at 8:00pm - Pub Social
Join me for a drink and a natter at the Cradock Arms, 201 Knighton Road, Leicester, LE2 3TT. We usually gather in the lower part towards the rear of the bar. New faces are always welcome. Look out for the magazine or Mblem. For directions or encouragement, please contact me on [Phone Number] or by email at [Email].
On Sat 27th Jul at 7:00pm - Pub meal
We will be dining at the Three Crowns (a Cat & Wickets pub) 45 Far Street in the village of Wymeswold LE12 6TZ,this month. There is a drive to the side of the pub which leads to a car park at the rear. Booking in advance is essential but we welcome new and old faces. Please let me know by 22nd July if you would like to join us by either calling [Phone Number] or e-mailing [Email]
Lively Lincs
On Sat 13th Jul at 12:00pm - Pub discussion
Our Second Saturday meeting at the Adam & Eve Tavern, 25 Lindum Road (opposite Pottergate arch). Our topic is: "If you were a member of a different taxonomic class, order or phylum, what would you choose to be, and why?" (That is, not a mammal!) Pub food, decent beer, car park. All welcome. Look in the alcove, Magazine on the table, or contact Jacquie beforehand on [Phone Number] or [Email] .
On Sun 21st Jul at 3:00pm - Tea in the garden
Sunday tea in our country garden. We provide sunshine, tea and cakes! We grow many kinds of fruit - orchard tour on request. All very welcome, including guests. We need to know numbers, so please contact us by Friday 19th. Email us on [Email] or telephone [Phone Number] - please include your phone/mobile number so we can contact you if bad weather obliges us to cancel.
Jacquie Harrison
Contact [Email] or [Phone Number] / [Mobile Number] for details

Notts News
On Wed 3rd Jul at 7:30pm - Theatre
The award winning musical Calendar Girls comes to Nottingham Theatre Royal. Tickets in stalls or upper circle £46-50 with £6 discount for groups of 10+. Please express interest with Maxine on [Phone Number] or [Email] as soon as possible. Don't miss this extraordinary true story brought to life by famous faces.
On Fri 5th Jul at 7:30pm - 5OTM
We'll be at the Vat & Fiddle pub on Queensbridge Road (NG2 1BN) usually in the Goldings Room. Look for yellow Mblem on table and join us for food (served until 8pm) or later for just a drink. Real ales from the adjacent Castle Rock Brewery to soft drinks or coffee. Directions/encouragement from Maxine on [Phone Number] or [Email] or just turn up on the night. New faces always welcome!
On Sat 6-Sun 7 Jul at TBA - Open Gardens
An annual event with 20+ gardens of various sizes and designs open to the public from 1-5pm both days around Lady Bay (NG2 5AD). Cost £3.50 adult, free for children. Leaflet with map and descriptions available from each garden, primary school or scout hut. Plants and refreshments for sale. On number 11 bus route. Contact Sue on [Email] for further info or to arrange to meet up.
On Sat 6-Sun 7 Jul at 1:00pm - Relay For Life
Come and visit the Mensa team taking part in this 24 hour event for Cancer Research UK 1pm Saturday to 1pm Sunday. Walking, survivors lap, live music, demonstrations, food vans, fruity cocktails, candle ceremony, fundraising stalls and lots more. Venue is Harvey Hadden Stadium, Bilborough, NG8 4PB. Free parking! Free entry! All welcome! Further info from Maxine on [Phone Number] or [Email]. Donations gratefully received at http://relay.cancerresearchuk.org/goto/cocktailcrewteam
On Thu 11th Jul at 7:30pm - Natter & Nosh
Join our growing group for a meal or drink at The Cadland, High Road, Chilwell, NG9 5EG. Menu at www.emberinns.co.uk. Lovely food and great company! We have tables reserved at the far side of the bar. Ample free parking. Contact Maxine on [Phone Number] or [Email] or pop along on the night.
On Sat 13th Jul at 2:00pm - Eat & Greet
New and not-so-new members are invited to our room at the Old Wine Vaults, Church Street, Eastwood, NG16 3BP, to find out more about our society. Free afternoon tea of sandwiches and cakes. Buy your own drinks from the bar. Pinball machine and retro games table available plus outdoor play area for younger members. Please confirm attendance with Maxine on [Phone Number] or [Email] by 8th to help catering please.
On Sun 14th Jul at 10:00am - Festival
Cromford Road Festival in Langley Mill (NG16 4ED) runs from 10am to 4pm. Lots of free entertainment including male voice choir, marching band, live music, dance demos, whacky activities, shops and stalls, food and drink. A lovely event for villagers and visitors of all ages. Further info from Maxine on [Phone Number] or [Email]
On Tue 16th Jul at 7:00pm - 3TuOTM
Fancy a night out making new friends? Then come along to The Prince Rupert, Stodman Street, Newark, NG24 1AW, for food and/or drink and relaxed conversation. Look for yellow Mblem on table, most likely in room to right of door. Contact Pete on [Phone Number] or [Email] if needing encouragement or directions. All welcome!
On Tue 30th Jul at 7:30pm - Eating Meeting
Let's spend a summer evening near the river. We're going for an Indian meal at The Bridge And Bayleaf, Trentside, Gunthorpe, NG14 7FB. See menu at www.thebridgeandbayleaf.com and reserve your place with Maxine on [Phone Number] or [Email] by 26th latest please. New faces welcome.
Ciao for now!
Maxine Bates
Contact [Email] or [Phone Number] for details
News from Northampton
On Sun 14th Jul at 10:30am - Brunch
Come and join the fun at our breakfast/brunch meeting at the Rendezvous Coffee Shop in Market Walk, Northampton Town Centre. Pete will be offering a new, simpler quiz (!) and the brave among us will be describing the project/plan/dream that we've given up - to our regret (assuming we can remember!). Contact Marianne on [Phone Number] or email: [Email] for encouragement/advice.
On Sun 21st Jul at 3:00pm - Cream tea
A special seasonal treat: a strawberry cream tea and wander around Margaret's carefully planted wildlife friendly garden in Duston. It's free though donations are welcome! Contact Margaret on [Phone Number] or email: [Email] for information and directions.
On Sun 28th Jul at 1:30pm - Cricket
Come and watch the T20 match between the Northampton Steelbacks and the Yorkshire Vikings starting at 2:30pm. Meet at the County Ground main entrance in Abingdon Avenue an hour earlier. Tickets are £25 (£20 in advance). Recommended free parking in the official car park (via Park Avenue South), a 10 minute walk away. Contact Ian on [Phone Number] or email: [Email] for info and encouragement.

Hertfordshire Happenings
On Thu 4th Jul at 8:00pm - FThOTM
Once again, we are at the Three Magnets, Leys Avenue, Letchworth. Thursday is traditionally curry night, but other food is also available (standard Wetherspoons fare). Leys Avenue is the main shopping street in Letchworth and is just a few minutes' walk from the rail station (Kings Cross to Cambridge line). Call me on [Phone Number], or email [Email] for further details and encouragement.
On Thu 25th Jul at 6:30pm - Play
On Thursday, 25th July we will be in the grounds of Robinson College, Cambridge for a performance of Henry IV (Part 1). Meet at 6.30pm for a picnic or 7.30pm for the start of the play. Date may change if weather bad so phone/email me beforehand. Tickets at the gate £17 or £13 concession. Contact me on [Phone Number] or [Email] for directions/car sharing.
On Fri 26th Jul at 8:00pm - LFOTM
As ever, we are at the Cowper Arms, Digswell. The pub is next to Welwyn North station and is served by stopping trains from Kings Cross to Peterborough and Cambridge. Good food, beer and conversation guaranteed! Please call me on [Phone Number] for more details and a spot of encouragement to come and join us.
Steve Thomas
Contact [Email] or [Mobile Number] for details

Mensans in MK & Bedford
On Sat 6th Jul at 3:00pm - T@3
Join us at Dobbie's Garden Centre in Fenny Stratford for tea, coffee, and cakes in the restaurant. We will probably be in the conservatory area at the back. Contact Jo at [Email], or [Phone Number] / [Phone Number] for directions/encouragement.
On Mon 15th Jul at 8:15pm - Cancelled - 3MOTM
The monthly outing to The Barge at Woolstone has been cancelled because the Barge is no longer running a weekly quiz. Contact Jo at [Email], or [Phone Number] / [Phone Number] for details.
On Sun 28th Jul at 10:00am - Breakfast
Join Christine and others at Carluccio's in the Centre:MK from 10am for a full breakfast, a snack, or just a drink. You can still contact Jo at [Email], or [Phone Number] / [Phone Number] for directions/encouragement.
Just a reminder about our M-MK & Bedford Facebook group – if you would like to join please search for the group and send me a request. I also keep an email distribution list for meeting reminders and any last-minute changes, so if you would like to be added to this please let me know.
We hope to see as many of you as possible at one or other of our events this month. Do remember that you're welcome to bring a guest with you, so if you've never been to a Mensa event and are a little nervous about coming along on your own, just bring a friend.
Jo Sidebottom
Contact [Email] or [Phone Number] / [Mobile Number] for details

Mid Bucks
On Tue 16th Jul at 8:00pm - Indoor Games
Join Dave and Alison at their home in Flackwell Heath, near High Wycombe, for a relaxed evening of indoor board games. All members and friends welcome. Space is limited, so please contact Dave for directions and to discuss what games you would like to play on [Phone Number] or by e-mail at [Email]
On Sat 21st Jul at 11:25am - Chinnor by Steam Train
Meet on Platform 4 at Princes Risborough station, HP27 9DN to board the 11:35 steam train to Chinnor. (Or park free at Chinnor and catch the 11am train to meet us.) All-day tickets (adults £12, concessions available) can be bought at https://www.chinnorrailway.co.uk/article.php/2/visit-the-railway In Chinnor we will visit the windmill and Wee Bookshop & Café before returning to the station. Further details and encouragement on [Phone Number] or [Email]
On Fri 26th Jul at 10:30am - Coffee & Chat
Join me at the Air Raid Shelter Café and Tea Room in the Chilterns Centre, HP13 5ES for relaxed conversation, cake and coffee. This café has a WWII theme. No need to book, but if you want me to look out for you, let me know you are coming on [Phone Number] or e-mail me at [Email]
Val Hinkins
Contact [Email] or [Phone Number] for details

Derby Diary
On Wed 17th Jul at 7:30pm - 3WOTM
Join us for our monthly get-together in the centre of Derby. We will be at the Standing Order pub on Iron Gate (Wetherspoons) to eat or just for a drink and a chat from 7.30pm. Look for the yellow Mblem on a long table in the rear section. Contact Susan on [Phone Number] or [Email] for directions and/or encouragement. New faces especially welcome.
On Sat 27th Jul at 12:30pm - Pub Lunch
Join us for lunch at The Nags Head, Diseworth Road, Castle Donington (DE74 2PS) before some of us go on to the nearby Aeropark. Set menu of traditional pub food £10 for 2 courses, £12 for 3 courses. For menu, see their Facebook page (lunchtime menu) or drop me a line. Please contact me on [Phone Number] or [Email] by Friday 19th so I can confirm numbers.
On Sat 27th Jul at 2:00pm - Museum
Join us as we visit East Midlands Aeropark near Castle Donington which is both an aviation museum and a viewing area for East Midlands Airport. Entry is £4 (adults), £2 (age 5 – 16). Postcode is DE74 2PR, free parking. Skylink buses pass the entrance. Meet at ticket desk, or join us for lunch beforehand (see previous advert). Let me know to look out for you - [Email] or [Phone Number]
Susan Graves
Contact [Email] or [Phone Number] / [Mobile Number] for details
Codes and Ciphers: The Pall Mall Magazine 1896

An ever-popular subject – the wheeze of secret writing brings out the schoolboy in many readers who want to know How To Be Top Secret! The Pall Mall Magazine ran a series of articles which made the punters feel knowledgeable while telling them little or nothing. Watch out for anarchist ciphers! You have been warned.
Codes and Ciphers SIG aims at a more mature audience who need to hide PINs and Passwords and send notes of trysts and assignations. The 1896 magazine wrote – CIPHER – whereas, in 1922, the British Government opted for CYPHER in the formation of GCCS – Government Codes and Cyphers School – the forerunner of Bletchley and GCHQ. The spelling is irrelevant; the Arabic source word SIFR rhymes with differ and not lifer. There are two separate words: 'CODE' and 'CIPHER.' They are not synonymous. Members who confuse these words invite a Новичо́к Note in the post. True, most modern communications squirt out computer code; but, although the messages may be encoded or encrypted, that does not make the messages themselves a code. Most CODES are public. Most CIPHERS are secret.
Back to Pencil and Paper
Why a return to basics? Google knows all. Everyone has something to hide. Your handwritten notes cannot be hacked in a data breach. Paper burns. etc etc.
Test Your Textual Skills
Warning: many Mensans have taken this two-minute test. Many have failed.
Welcome to Codes & Ciphers SIG
W M O C R E E D I S L T E P S C O S H I O C & E G
Solution to Codes and Ciphers SIGSec Stephen Colbourn ([Email])
20 Questions (No. 213)
Just four entries to our Eurovision quiz from the May issue with Alex Foster of Derby winning. The answers were 7, Mans Zelmerlow, Switzerland, Gina G, Dana International, Katrina And The Waves, Marc-Antoine Charpentier, Dublin, 13 years, Lordi, Ukraine, 9, 2004, 4, Brotherhood Of Man, 1974, Portugal, Johnny Logan, Euphoria and Tel Aviv.
This month's quiz is all about James Bond and compiled by Maxine who has never seen a Bond film! Send your entries to arrive by 20th July to [Address] or [Email] for your chance to win the £10 book token.
1. In which film did the character Jaws first appear?
2. George Lazenby starred in how many Bond films?
3. What is Goldfinger's first name?
4. Which computer password does Boris use in "Goldeneye"?
5. In which year was "Octopussy" released?
6. Who invents Bond's gadgets?
7. Where was the Spectre base in "You Only Live Twice"?
8. In which Bond film does the baddie have a pet iguana?
9. Who sang the theme song to "Live And Let Die"?
10. What type of aeroplane crash landed into the sea in Thunderball"?
11. Which actress emerges from the sea in "Dr No"?
12. Who is Bond's enemy in "The Man With The Golden Gun"?
13. What was painted on Bond's parachute in "On Her Majesty's Secret Service"?
14. In which film does Bond wear a kilt?
15. What instrument did the girl play in "The Living Daylights"?
16. Who did Blofeld impersonate in "Diamonds Are Forever"?
17. What is the name of Bond's wife?
18. Who played R in "The World Is Not Enough"?
19. Who is Bond's CIA agent friend?
20. Which actress played May Day in "A View To A Kill"?