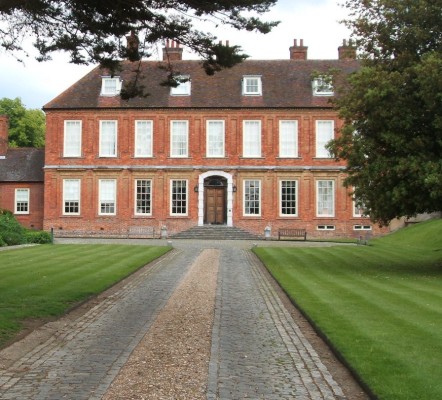 This month you can visit a house usually closed to the public
Regional News
I'm delighted to announce that Empress won the Highly Commended award in the Service category and it was presented to our Editor Rosie at the joint Regional Officers/ Regional Newsletter Editors conference in April. Many thanks to Rosie and Nick for volunteering their time to put together our newsletter each month. As ever, contributions of quizzes, event reviews, interesting stories about your job/hobbies/interests are always appreciated. Just post/email them to either of the Editors or myself.
Don't forget we have some weekend gatherings taking place over the summer. The annual Mensa At Cambridge event takes place at Trinity College 25th-29th July with the Young Mensa Future Paths taking place at Oxford on 27th July. Scottish Mensa play host over the bank holiday weekend (but not in Scotland) which this year is 23rd-26th August in Inverness. And the British Mensa Annual Gathering will be a weekend of activities, socialising and our AGM based at the Park Inn in the centre of York 20th-23rd September. For full details of these events see www.mensa.org.uk or contact Diane Salter at the Mensa office; see a taster on page 7.
Maxine Bates
Regional Officer
Events and Meetings
In the current circumstances surrounding the COVID-19 coronavirus, the expectation is that all non-online events listed here are susceptible to being cancelled, if not already marked as such. If you intend participating in any event listed here, please contact the event organiser beforehand to confirm that the event is still on.

Northants NNotes
On Mon 3rd Jun at 8.00pm - Evening Social
Just two events for members in the Northants area this month; one at a new venue and one at an old favourite. Our Northampton area meeting is on Monday 3rd at 8.00pm and a visit to the village of Milton Malsor beckons (or Milton Malzor if you insist). You will find us at The Globe in Green Street (NN7 3AT). As it's a one room pub it won't be too hard to find us. The pub doesn't have a car park and on-street parking in Green Street can be a bit tight so you may have to leave your car a couple of minutes' walk away but don't let that put you off!
On Thu 19th Jun at 8.00pm - Roadshow
Then it's the turn of the Roadshow on Thursday 19th at 8.00pm. The Barley Mow, High Street, Paulerspury, NN12 7NA, gets our trade this month and we can usually be found at the far end of the bar, to the right as you walk in the front door. The village lies to the west of the A5, just a short distance north of the Buckinghamshire border. If it's a clear night the car park provides a good viewpoint for star spotting when the sun goes down. For both meetings a copy of the Mensa mag on the table will identify the usual suspects.
Looking ahead, I'm hoping to organise a Saturday lunchtime visit to a far-flung part of the county if I can find a suitable date. There's also the chance of another scenic walk. Watch this space.
Ian Sargent
Contact [Email] or [Phone Number] / [Mobile Number] for details

Berkhamsted
On Wed 26th Jun at 7.45pm - LWOTM
Wednesday 26th at 7.45pm: our regular meeting at The Old Mill, London Rd, Berkhamsted. Have a drink only or eat with us. Pub does good meals. New members, partners etc. always welcome. Free car parking.
Jenny Habib
Contact [Email] or [Phone Number] for details

Mid Bucks
A busy month and I hope to see you at one or more of these events. Please contact me (details below) for further information, directions or encouragement.
On Sun 2nd Jun at 3.00pm - Harp Recital & Cream Tea
On Sunday 2nd at 3.00pm there will be a harp recital in the lounge at Bradenham Manor, a rare opportunity to see inside a house not usually open to the public. After the concert the manor grounds will be open to visitors. Tickets are £10, including a cream tea, and can be obtained from the Tourist Information Centres in High Wycombe, Princes Risborough & Marlow or via www.wycombeartsfestival.org. Space will be limited and last year's concert sold out, so please buy your tickets in advance, but let me know you are coming and I will look out for you.
On Thu 6th Jun at 10.30am - Coffee & Chat
Restaurant 101 in Amersham on the Hill has been recommended by one of our members. Join me there for relaxed coffee and conversation on Thursday 6th from 10.30am onwards. If you let me know you are coming I will save you a seat.
On Thu 13th Jun at 7.00pm - Theatre - The Audience
On Thursday 13th at 7.00pm Cineworld in the Eden Centre in High Wycombe has a live broadcast of The Audience from the National Theatre. Helen Mirren, Robert Hardy, Haydn Gwynne and Rufus Wright are among the stars in this dramatisation of the weekly audiences granted by the Queen to the many and varied Prime Ministers over the course of her reign. This event is likely to be very popular, so please buy your own tickets in advance, but let me know you are coming so we can keep seats for everyone. Meet in the foyer of the cinema at 6.30pm for the play or contact me to arrange an earlier rendezvous in town to eat first.
On Sun 16th Jun at 2.00pm - Model Village
Bring your children / grandchildren with you to Bekonscot Model Village on the afternoon of Sunday 16th. We will meet at the entrance at 2.00pm. Bekonscot claims to be the world's oldest model village – building started in 1929. More recently the TalkTalk TV adverts set to Annie's Song were filmed there. There are six miniature towns from the 1930s to explore, over 200 buildings, 3,000 inhabitants and 1,000 animals. All these are set in 1.5 acres of gardens. Additional attractions include a ride-on light railway, children's playground and model boats. A complex model railway system links them all. Refreshments are available inside the village. Bekonscot is also easily reached on foot from the railway station at Beaconsfield. Admission is £9.50 for adults; various concessions including family tickets are available and 2-for-1 offers if travelling by train. Children under two are free. Details: www.bekonscot.co.uk.
On Sun 23rd Jun at 11.30am - Holmes v Wodehouse Cricket
Neil Matthews will be Mensa's host at the annual cricket match between the Sherlock Holmes Society of London and the PG Wodehouse Society. This will take place at West Wycombe on Sunday 23rd between 11.30 am and 6.00pm and 1895 rules apply! Entry is free, but take your own food, drink and deckchairs. Contact Neil for more information at sigsofficer@btopenworld.com or [Phone Number].
This year's open air Shakespeare at Hughenden Manor is on 25th August. More details to follow, but note the date now.
Val Hinkins
Contact [Email] or [Phone Number] for details

WATever . . .
Wednesday 29th May - Friday 14th June: Bushey Festival summer weekend events – events to be confirmed. I will be emailing everyone on the list a selection of events and will then co-ordinate meetings. If you're not on my email list then please contact me. Planning for the events should be complete by the time you read this. See www.busheyfestival.org
On Mon 24th Jun at 8.00pm - Pub meeting
Monday 24th at 8.00pm: Pub meeting King's Head, Bridge Road, Hunton Bridge WD4 8RE. We usually meet upstairs in the 'gallery' area furthest from the bar. The pub is easy to find from the dual carriageway (A41 Watford Road). From Watford turn right at the traffic lights, over the small bridge and then it's on the right. Look for the magazine or ask at the bar. New members are warmly welcomed.
David Seddon
Contact [Email] or [Phone Number] for details
Derby Diary
On Sat 15th Jun at 7.30pm - At Home With Tarot
We have an unusual event this month hosted by Janine and Sandy at their home on Mackworth Estate. Please arrive 7.30pm for 8.00pm on Saturday 15th to be welcomed and seated for a talk on different aspects of the tarot by two readers. Afterwards there will be socialising plus the opportunity for a private reading, the charge paid directly to the readers. Hot and cold non-alcoholic drinks and snacks provided or BYOB. Please call Janine and Sandy on [Phone Number] for directions and to say you'll be there.
On Wed 19th Jun at 7.30pm - 3WOTM
On Wednesday 19th we have our regular get together at the Standing Order on Irongate in the city centre from 7.30pm. All welcome to join us for food and/or a drink whether that's five pints of real ale or one glass of diet Coke. There are usually 10-16 of us so a variety of conversations should be on offer and you can arrive/leave when you like.
We are still seeking a new Local Secretary for DE postcodes. If you think you could help – the role is not an onerous one – please give me a call or drop me an email for further information.
Maxine Bates
Contact [Email] or [Phone Number] for details

Mensans in MK & Bedford
On Sat 8th Jun at 3.00pm - T@3
Our first get-together this month is T@3 at Dobbie's Garden Centre restaurant on Saturday 8th. Dobbie's is in Fenny Stratford, just south of Milton Keynes. We will probably be in the conservatory out behind the restaurant, so look for the Mblem on a table.
On Mon 17th Jun at 8.30pm - 3MOTM
On Monday 17th we continue our Third Monday of the Month quiz meetings at The Barge at Woolstone. However, please note that we will only be arriving from 8.30pm in time for the quiz at 9.00pm – we are no longer meeting earlier to eat first. The quiz costs £1 per person – there is no limit on team size, although if we have a large group we can always split into two. See www.vintageinn.co.uk/thebargewoolstone/ for location and menu details. If possible, please let me know beforehand if you're coming so we can reserve a big enough table.
On Sun 30th Jun at 10.30am - Sunday breakfast
Sunday breakfast will be at 10.30am (please note the slightly later time!) on Sunday 30th at Wetherspoons on Midsummer Boulevard West, next to Chiquito's and not far up from the railway station (NOT the other Lloyds/Wetherspoons nearer the shopping centre and next to Jurys Inn). Come for a full breakfast, a snack, or just a drink – look for the Mblem on a table.
Just a reminder about our M-MK & Bedford Facebook group – if you would like to join please search for the group and send me a request. I also keep an email distribution list for meeting reminders and any last-minute changes, so if you would like to be added to this please let me know.
We hope to see as many of you as possible at one or other of our events in June. Do remember that you're welcome to bring a guest with you, so if you've never been to a Mensa event and are a little nervous about coming along on your own, just bring a friend.
Jo Sidebottom
Contact [Email] or [Phone Number] / [Mobile Number] for details

Hertfordshire Happenings
On Thu 6th Jun at 8.15pm - FThOTM
Thursday 6th from 8.15 pm: FThOTM - at the Millstream, Hitchin. Good food and good beer both available! Call for details/encouragement. The pub is about ten minutes' walk from the railway station.
On Fri 28th Jun at 8.00pm - LFOTM
Friday 28th from 8.00pm: LFOTM with Peter Best. Richard's on holiday so I'm standing in; we'll be at the Cowper Arms, Digswell, Herts (by Welwyn North station, which is served by stopping trains from Kings Cross to Cambridge and Peterborough). Call me on 01992-581-928 for more details and encouragement.
Richard Allen
Contact [Email] or [Phone Number] for details

Lively Lincs
On Sat 8th Jun at 12.05pm - Pub discussion
For this month's pub discussion at the 'Adam and Eve' on Lindum Hill, Lincoln, Saturday 8th, 12.05pm onwards, we are going to try to justify our gut instincts in deliberating as to exactly why taboos like cannibalism and incest are wrong. Free car park, food available.
On Sat 15th Jun at 10.30am - Beach Hut Day
Hopefully we will manage several beach hut days this year; it must be time for a good summer. The first will be on Saturday 15th, from 10.30am, all welcome to join us for any part of the day thereafter. I provide tea and cake, other food available close by. We will be at the quiet end of Mablethorpe's long sandy beach, backing onto Queen's Park. As well as the usual chat and camaraderie, there may be paddling, boules, crazy golf played . . .
On Sun 30th Jun at 3.00pm - Teatime Thinking
Teatime Thinking at my house near Alford on Sunday 30th will encompass the wide-ranging subject of 'Quality of Life'. Tea and lots of cake, 3.00-5.00pm, parking available, we may even sit in the garden.
For any of these, do contact me for details, etc.
Christine Howells
Contact [Email] for details

Notts News
On Wed 5th Jun at 8.00pm - 5OTM
This month we have four events that include food and drink and one event that involves testing your brain cells! Join us from 8.00pm until late in the Golding's Room at the Vat & Fiddle on Wednesday 5th. New faces, males or females, any age, always welcome to come along and join in our variety of conversations. The pub is near Nottingham railway station, close to Broad Marsh bus station and there's free parking in bays outside.
On Thu 13th Jun at 7.30pm - Natter & Nosh
On Thursday 13th we'll be at the Beekeeper on Meadow Lane in Beeston. Come along any time from 7.30pm until closing for a meal, snack or just a drink. We should be at the first long table in the family dining area just beyond the food order point at the end of the bar. A yellow Mblem will be on display.
On Tue 25th Jun at 7.30pm - Eating Meeting
For our "eating meeting" at 7.30pm on Tuesday 25th we're going to Gurkha Kitchen on Glaisdale Drive West (NG8 4GY) to sample their Nepalese and Indian cuisine. See menu at www.gurkhakitchen.org and book your place with me by 21st please so a table can be reserved.
On Fri 28th Jun at 7.30pm - Meal
We have two events on Friday 28th both taking place in the upstairs private function room at the Horse & Groom pub in Moorgreen (NG16 2FE). Join us from 7.30pm for a meal that can be ordered at the bar and served in our own room followed by a general knowledge quiz starting at 9.00pm. You are welcome to attend just one or both events. The meal is pay-as-you-go and the quiz is £2 per person to enter. Play individually or as part of a team. There will be prizes for the winner(s) and all proceeds will go to Cancer Research UK. Friends and family are welcome to support this charity event and hopefully gain some trivia at the same time. An idea of expected numbers would be much appreciated to help the pub and room set up.
Ciao for now!
Maxine Bates
Contact [Email] or [Phone Number] for details
More or Leicester
On Tue 4th Jun at 8.00pm - Eating meeting
Given that June 4th is the birthday of Christopher Cockerell, I thought what better way of celebrating than hovering around the servings at one of the buffet restaurants in Leicester! Given the wide range of options we have, drop me a line on [Email] to let me know whether you fancy Zuccheros on Charles Street, More on London Road, or one of the Chinese buffets. Whichever one we choose, we'll be meeting up for dinner at 8.00pm.
On Thu 27th Jun at 8.00pm - 4ThOTM
The fourth Thursday means it's time to head to The Craddock so that's where we'll be at 8.00pm on the 27th. I'll be trying to bring along an activity or two again to get things moving and to stimulate the occasional brain cell, so why not come along for the ride? The place sometimes gets crowded in parts, so look out for the magazine or yellow mBlem (usually in the lower bit), or give me a call to find me.
Paul Coulson
Editor's Bit at the Bottom
Hi! A reminder that you have until 30th June to enter the online quiz about the East Midlands Mensa website. The prize is a £20 voucher to spend in the Mensa shop – and all the answers can be found on the website. The quiz, compiled by Paul Coulson, may be found at www.eastmidsmensa.org.uk/QuizCompetition2013.ashx Good luck!
Rosie Jefferson
Meet . . . Robert Cooper of Nottingham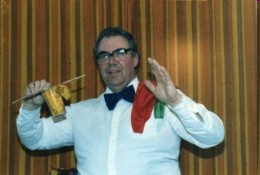 I am old enough not only to remember gas masks, but also to have actually worn one. I remember when horse and carts were not rare. I remember cobbled streets and trolley buses, rationing and a paper shortage which meant people went to the chip shop with basins.
In 1957 I became a psychiatric nurse just as the first tranquilisers were coming into use. After a couple of years I left the wards to work outside with the patients doing all kinds jobs including cleaning out pig sties on the hospital farm. Oh, yes, psychiatric hospitals had farms in those days. Cleaning out pig sties was quite an experience. There was up to a foot of compacted straw and excrement. When you first walked into the sty this was not offensive but as soon as the top layer was removed it was hot underneath and began to steam. And smell. And smell. It pervaded your clothing and soaked into your shoes and stayed with you for days. Colleagues would sniff and start looking around.
I became an official in most of the hospital clubs. In the social club I called bingo and DJ-ed a 50/50 disco as well as MCing. I have a huge collection of recorded music from 78s to CDs. I learned to play the organ after a fashion and performed magic as I introduced acts. Although I have never used them before a large audience I have a large collection of vent dolls.
In the Thatcher era I became a union rep and a branch secretary. I suppose no one wanted the job.
Anecdotes, I have many.
All my life I've read books, listened to courses on tapes and CDs. Today I am into DVDs from The Great Courses. Since I retired I have written poetry, mostly humorous and sent letters to the Nottingham Post. I appear to be a controversial figure in those columns. I also get anonymous nasty letters come to my home. Some people appear to believe that I am a know-it-all. Well, I hope I am, otherwise I will have wasted my money.
I have researched my ancestors and enjoy doing the same for others. I have helped a few thousand people, which makes me very experienced and I have made a few friends around the world.
I am a widower and have a son who is a bit like me. He is not interested in qualifications. He is a motor mechanic and a good one. He refers to manuals. Few mechanics do that but you pay for their mistakes.
That is a brief outline of me. What about you? My sisters encourage me to write my biography if only for our descendents. Well maybe. Some day.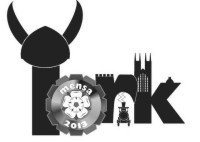 York – the best weekend in history
Annual Gathering 20-23 September 2013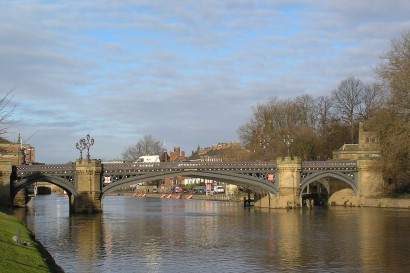 City walls and Minster: Lisa Jarvis*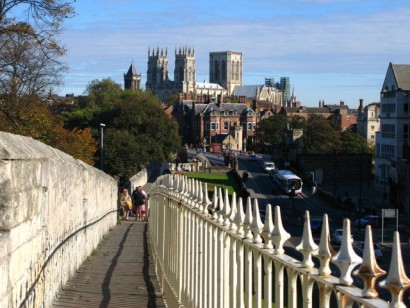 Skeldergate Bridge: Johnteslade*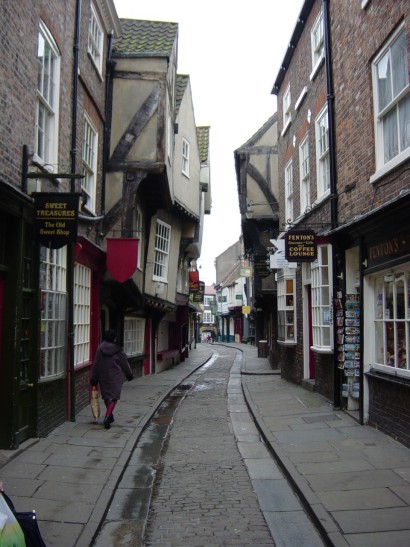 Shambles: Daveahern*
The York area has been inhabited since about 9000 BC, and previous populations included the Romans, Angles, Danes (Vikings) and, of course, Norman and later civilisations. Religion played a large part in the city's history, and the current Minster was started in 1220 and completed in 1472. Illegal Catholicism was for a long time a feature in York's life featuring, among others, Guido (Guy) Fawkes and St Margaret Clitherow. In 1686, the Bar Convent was founded (in secret owing to the anti-catholic laws) making it the oldest convent in the country. Another, presumably less religious individual not known for his adherence to the law, was Dick Turpin, hanged in the city in 1739 for horse stealing - his grave can still be viewed.
At various stages, York prospered and by 1660 it was England's third largest city after London and Norwich. Chocolate making in York started in 1785 and has continued ever since. York became a centre for the railways, but the rivers are the city's raison d'être, and to see the city from a different perspective, you can take a trip either on one of our organised trips, or hire your own small craft. A less welcome aspect of the city's history is alleged to come to us, in the form of its ghostly legacy. York is reputed to be one of the most haunted places in Europe. We have arranged for those who dare, to be taken on guided walks on two evenings to visit the sites of some of the more famous visitations.
York today is a bustling, if small, city with plenty of attractions, so make the most of Yorkshire hospitality and enjoy your stay. We have booked visits to all the iconic attractions and several smaller ones
We have a city centre hotel, The Park Inn, on the banks of the river. This modern building has had 7.3 million spent on refurbishment since 2009 and it awaits your custom. We have negotiated competitive rates (reduced further for Sunday night and published on the booking form) and if you wish to exploit these you can ring the hotel on 01904-459-988 quoting the reference MENS 060913. The booking form is now out, so you would be wise to give it your attention soon or you will find some of the smaller attractions oversubscribed.
Please do come and visit us in September, you will return enriched by the experience.
Chenda Appleyard and Richard Arthurs
York logo designed by Mensa member Elaine Newington-Ward
Photos: *commons.wikipedia.org
20 Questions (No. 141)
The answers to the April competition were Israel, solar eclipse, eyebrows, tongue, peanut oil, volleyball, University of Alaska, gold, apple, zero, Warner Communications, swine flu, J, strawberry, Earth, kite, teeth, urine, hearing and 100.
Entries were received from: Roger Plant of Nottingham, Alex Foster of Derby, Hilary Pedder of Newport Pagnell, Mike Hadley of Lutterworth, Pamela Covey of Woburn, Michael Warren of Derby, David Lewis of Hitchin, Philip Abbott of Watford and Marianne Croll of Derby.The winner was Alex. Well done!
For your chance to win the £10 book token this month send your answers to '20 Questions (No. 141)', [Address], to arrive by 20th June. Name the actor/actress who spoke these words and the film they were in. Thanks to Mark Sloan for compiling this two part quiz.
1. "Frankly, my dear, I don't give a damn."
2. "I'm going to make him an offer he can't refuse."
3. "A census taker once tried to test me. I ate his liver with some fava beans and a nice Chianti."
4. "Toto, I've got a feeling we're not in Kansas anymore."
5. "Bond. James Bond."
6. "Go ahead, make my day"
7. "All right, Mr. DeMille, I'm ready for my close-up."
8. "May the Force be with you."
9. "Fasten your seatbelts. It's going to be a bumpy night."
10. "You talkin' to me?"
11. "What we've got here is failure to communicate."
12. "I love the smell of napalm in the morning."
13. "Love means never having to say you're sorry."
14. "There's no place like home."
15. "E.T. phone home."
16. "They call me Mister Tibbs!"
17. "Rosebud."
18. "Made it, Ma! Top of the world!"
19. "I'm as mad as hell, and I'm not going to take this anymore!"
20. "Louis, I think this is the beginning of a beautiful friendship."