Pony Grand National: Mensans in action!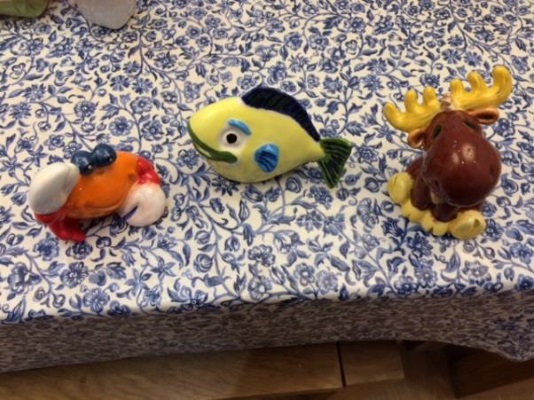 Pottery painting: Mensans relaxing!
Did you attend any event last month? Did you take a photo or would you like to write a little summary of it? Members sometimes feel a bit unease about attending events for the first time, just in case they are not as they expected. If you are attending any event, do please take a photo and send it with a caption to empress@mensa.org.uk.
Regional News
As you will have read in the last issue of Empress Paul Coulson suddenly and sadly passed away in March. His funeral was very well attended with over 200 people packed into the crematorium service. Thank you to all the Mensans who came to pay their respects from around the East Midlands and as far as Manchester and Dublin. I think we gave Paul a good send off.
Now having no LocSec in Leicester or Northampton does leave a gaping hole in our region. Thank you to the couple of members who have expressed interest in hosting an event in those counties. Hopefully some activities can be arranged soon. Anyone else is most welcome to get in touch if you may be prepared to host something. Any member can host any event and you don't have to be LocSec. So if you have a favourite pub or restaurant or walk or hobby you would like to share and make new friends in the process please give me a phone call or drop me an email. Paul was also Regional Publicity Officer so we are looking for an active member who would be willing to speak to the media from time to time. And we're also seeking a third editor to join Maria and Mark. Please contact me for further information on any of these roles.
At the recent conference for Regional Officers and Regional Newsletter Editors one of the questions we were asked was "What is Mensa?" One of the answers given was "A social group where I don't have to explain my jokes!" But what does Mensa mean to YOU? Let the editors have a one line answer and we may be able to make it into a future feature. I'm sure there would be lots of different responses.
Don't forget the British Mensa Annual Gathering takes place from Friday 8th to Monday 11th September based at the Novotel in Ipswich. This is the oldest Anglo-Saxon town in England and the county town of Suffolk and your chance to explore this part of the country whilst meeting new and old Mensans. See www.mensa.org.uk for full details of accommodation and programme of events and booking form
If the Mensa office don't hold an email address for you it would be worth notifying them as then you will be one of the first to hear about forthcoming events before they appear in print.
I'm on [Email] or [Phone Number]. Do get in touch!
Maxine Bates
Regional Officer
Editorial
Welcome to the June Edition of Empress. This will be my last edition for the following three months as Mark Sloan will be in charge over the summer.
We had lots of events in April, some of them for "in need of speed" minds and others for "in need of relax". Just remember to take a picture of any event you attend and send it to us with a caption. Talking about that, it was my turn to add a photo to "Where am I?". If you recognise the place or you think you do, send your answers to empress@mensa.org.uk. You can also send your own pictures from the East Midlands area or from far away.
Hopefully, we are going to have a lovely summer this year (we can only hope) and all events will be able to go ahead in lovely sunshine weather. I am a believer. Therefore, as the weather improves, I thought it would be appropriate to take your dog out for a walk (should you have one) while reading about the Dog SIG. It mentions the idea of "dog walkies". Interested? You could add a furry event in your local area.
Finally, I have a very encouraging Member's profile for those who believe we are "not normal people to talk to". Remove all your winter cobwebs should you still have any left and join an event, maybe for the first time!!!
See you in October. Have a lovely summer!
Maria Falces
Member's profile - Peter Jeffers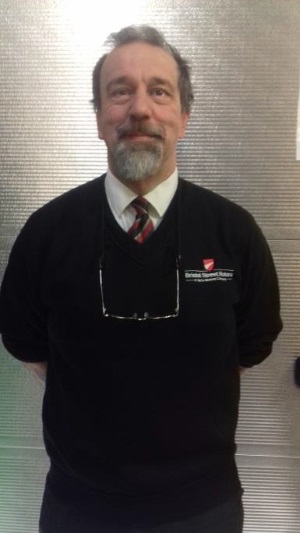 1.-What is your name (and age)?
Peter Jeffers and I admit to being 29!!! (Maybe at least twice)
2.-What do you do?
I am a tele sales advisor for car parts( Done most jobs within the industry over last 37 years)
3.-Where were you born?
In Widnes, Lancashire (Not Cheshire, Red Rose forever)
4.-When did you join Mensa?
First passed entrance exam around 1980 but wandered in and out of membership ever since.
5.-Why did you take the test?
I took test to prove that I could.
6.-Do you belong to any SIGs?
I haven't joined any SIGS. I must look sometime.
7.-Any particular interest?
Big sports fan especially Motor Racing and Rugby (League and Union) but only as spectator. ?
8.-Do you attend any meetings or events
I haven't attended any event just yet and I hadn't either attended a meeting until May 2016....in the past I saw everyone as potential Nuclear Physicists, Computer Boffins, Sci-Fi aficionados and far removed from reality.
I am pleased to say that Marianne persuaded me to try and found a friendly, down to earth, group of people similar to me...refreshing change of opinion followed.
Glad to take the plunge!
A change of personal circumstances meant looking for new social outlook. So far so good. Everyone should try it!!
Conversation covers all topics and people have opinions and knowledge backed up by common sense and a willingness to discuss.
Events and Meetings
In the current circumstances surrounding the COVID-19 coronavirus, the expectation is that all events listed here are likely to be cancelled, if not already marked as such. If you intend participating in any event listed here, please contact the event organiser beforehand to confirm that the event is still on.
More or Leicester
On Tue 27th Jun at 7.30pm - Eating meeting
In an attempt to continue Paul's good work in Leicester Mensa I'll be hosting this month's "eating meeting" in Loughborough and we're going to Tarboush Middle Eastern restaurant at 12a Market Street on Tuesday 27th. They serve a range of dishes from Syria, Lebanon and more at reasonable prices. There may be opportunity to try a shisha water pipe and if we're lucky there may even be a belly dancer! Menu is at www.tarboushcafe.com and please reserve your place with me by 23rd latest so I can book at table for 7.30pm. All welcome!
Maxine Bates
Contact [Email] or [Phone Number] for details

Lively Lincs
On Sat 3rd Jun at 12.00pm - FSaOTM
Test for you all, have you remembered that we are doing FIRST Saturdays for a few months? So, it's on Saturday 3rd June at 'Adam and Eve' on Lindum Hill, for our pub discussion. Hopefully, we will be in the garden. If the weather is inclement, we're usually in the alcove, whichever, look for MBlem on table. The topic is "Should all children be taught First Aid, how to swim ..........?" and will likely meander on to a general discussion of what we think children ought to be able to do for themselves and/or for the benefit of society in general; and, down any other diversions anyone comes up with. We meet around 12.00 and discussion proper starts at around 12.30, food available, free parking.
On Thu 15th Jun at 7:00pm - Eating meeting
I've had the temerity to move the eating meeting to a Thursday instead of the more usual Tuesday, sorry, all these holidays just keep getting in the way. Thus, THURSDAY 15th June 7pm, do join us at another old favourite, the Pyewipe Inn, towards Saxilby, Lincoln, where we will be hoping to be able to sit in the garden watching the boats go by. My spellchecker keepswanting to turn Saxilby into Sexily, which makes me smile but probably won't help you to find the place. All welcome but please book with me by 12th if possible, thanks.
Christine Howells
Contact [Email] for details

Notts News
On Mon 5th Jun at 8:00pm - 5OTM
If Mondays are bad for you then pop along to the Vat & Fiddle on Queensbridge Road (near Nottingham railway station) from 8.00pm on 5th June and cheer yourself up with a friendly drink and chat. We should be in the Goldings Room to the left of the bar and usually on the first table as you enter but just look for a yellow Mblem.
On Thu 8th Jun at 7:30pm - Natter & Nosh
Unusually two of our regular events fall in the same week so we're meeting at the Cadland pub/restaurant in Chilwell on Thursday 8th. Come along from 7.30pm for a meal or later for just a drink. We have tables 20-24 at the far side of the bar. Menu at www.emberinns.co.uk
On Sat 10th Jun at 12:00pm - Alphabet Event – R for Real Ale
Alphabet Event – R for Real Ale On Saturday 10th we have our "R" alphabet event that will be a Real Ale Trail in Newark. We'll meet for lunch at The Sir John Arderne on Church Street at midday then work our way around some of the hostelries in the town. You are welcome to come along if wanting soft drinks or wine as well. The event will officially end at 8.00pm when I have to catch my last train home! But as there are Mensans from various parts of the country booked into accommodation in the town I'm sure the fun will continue and there will be other things happening on the Friday night and Sunday too. Please message me if you'd like to be kept in the loop.
Ciao for now!
Maxine Bates
Contact [Email] or [Phone Number] for details
News from Northampton
On Sun 11th Jun at 10:30am - Sunday breakfast
Come and join us at the Rendezvous Coffee Shop in Market Walk, Northampton Town Centre at 10:30 on 11th June for a drink, breakfast or full brunch. We shall be discussing our favourite films this time. Contact Marianne on [Phone Number] or email: [Email] if you need additional encouragement.
Marianne Kendall
Contact [Email] or [Phone Number] for details

Hertfordshire Happenings
On Thu 1st Jun at 8:00pm - FThOTM
As ever, on Thursday 1st on June at 8pm we are at the Three Magnets, Leys Avenue, Letchworth. Thursday nights are curry nights but other food (standard Wetherspoons' fare) is available as well. Leys Avenue is the main shopping street in Letchworth and is a few minutes' walk from the station (Kings Cross to Cambridge line).
On Sun 4th Jun at 10:00am - Annual Vintage Bus Running Day
Annual Vintage Bus Running Day It's that time of the year again - the annual vintage bus running day at Hertford. I shall be there on Sunday 4th June from about 10am and you are welcome to join me for all or part of the day. Proceedings are centred on Hertford bus station, where you can get a programme; the event is free to attend but I do recommend you buy a programme to support the event.
On Friday 30th Jun at 8:00pm - LFOTM
Last Friday 30th June at 8pm is at our usual venue of the Cowper Arms, Digswell. The pub is next to Welwyn North station and is served by stopping trains from Kings Cross to Peterborough and Cambridge. Good food, beer and conversation guaranteed! Please call me for more details and encouragement.
Richard Allen
Contact [Email] or [Phone Number] for details

Mensans in MK & Bedford
On Sat 3rd Jun at 3:00pm - T@3
Our first event in June is a return to Dobbie's Garden Centre in Fenny Stratford (just south of MK) on Saturday 3rd for tea, coffee & cakes from 3pm in their restaurant. All members welcome as usual – we will probably be in the conservatory area at the back.
On Mon 19th Jun at 8:15pm - 3MOTM & Quiz
Our regular Third Monday visit to the Barge in Woolstone for the quiz is on Monday 19th. Meet from 8:15 - the quiz starts at 8:30pm and costs £1 per person. Please let me know beforehand if you're coming - the maximum team size is 6 people so it helps to know whether we'll be one team or two, or somewhere in between.
On Sun 25th Jun at 10:00am - Sunday breakfast
Sunday breakfast returns to Carluccio's in the Centre:MK. Join us from 10am on Sunday 25th for a full breakfast, a snack, or just a drink. We will probably be in one of the red booths in front of the restaurant.
Just a reminder about our M-MK & Bedford Facebook group – if you would like to join please search for the group and send me a request. I also keep an email distribution list for meeting reminders and any last-minute changes, so if you would like to be added to this please let me know.
We hope to see as many of you as possible at one or other of our events this month. Do remember that you're welcome to bring a guest with you, so if you've never been to a Mensa event and are a little nervous about coming along on your own, just bring a friend.
Jo Sidebottom
Contact [Email] or [Phone Number] / [Mobile Number] for details

Mid Bucks
On Sun 4th Jun at 4:00pm - Hokusai event
Discover the story behind the new Hokusai exhibition at the British Museum. Join me at the Empire Cinema in Cressex for a documentary about Hokusai's life, work and times at 4pm on Sunday 4th June (12A certificate). Please buy your own tickets, but contact me so I can look out for you. Also let me know if you would like to eat afterwards.
On Fri 16th Jun at 10:30am - Coffee morning
Join me any time after 10:30 on Friday 16th June for coffee at Seasons Café and Deli, 6 Market Square, Amersham, HP27 0AX. If you can, please let me know you are coming or e-mail me. You will still be welcome if you just turn up on the day.
On Mon 26th Jun at 8:00pm - Indoor board games
Join Dave and Alison at their home in Flackwell Heath for a relaxed evening of indoor board games. Arrive for an 8pm start on Monday 26th June. Please contact Dave on [Phone Number] or [Email] for directions and to let him know which games you would like to play.
Val Hinkins
Contact [Email] or [Phone Number] for details
Derby Diary
On Wed 21st Jun at 7:30pm - 3WOTM
Join us to celebrate the longest day of the year at the Standing Order on Iron Gate in the city centre any time from 7.30pm until late on Wednesday 21st. We'll be in the low ceiling rear section of the pub having rearranged the tables to make one long one! Come along for food and/or drink plus a variety of conversation. Just look for yellow Mblem on the table. It's always nice to see new faces.
Maxine Bates
Contact [Email] or [Phone Number] for details
Review of the Pony Grand National
Immediately prior to the real Grand National on Saturday 8th April Nottingham Mensa held a Pony Grand National at Greasley Parish Hall.
This was chance to ride a unique mechanical pony supplied by one of only two companies currently offering this for adults in the UK. Huge fun and a bit of exercise, although a few of us ached the following day!
£3 got members opportunity to take it in turns to ride around the hall on a variety of size ponies and towards the end of the event things got competitive with races to win some lovely trophies kindly donated by a local Mensan. The riding was against a backdrop of tea, coffee and cake.
Many thanks to Paul Coulson's family for donating the leftovers from his "cake wake" just prior to this event that we were able to sell to raise a bit of extra money for Cancer Research UK. Paul had been due to attend the Pony Grand National so his cake was a last act of kindness. There was also an Easter raffle full of champagne, wine, beer, chocolates and Easter eggs that proved quite popular. Thank you to everyone who came along and made it a really fun afternoon.
Maxine Bates
Advance notices
Notts Wed 5 July 8:00pm 5OTM/Sheep Racing Our regular get together in the Goldings Room of the Vat & Fiddle pub (NG2 1NB) includes sheep racing this month! Come and watch six battery operated sheep in racing silks stagger and bleat their way to the finish line! £2.50 to play with money going to Cancer Research UK. Ewe would be baaarmy to miss it! Further info from Maxine on [Email] or [Phone Number].
Notts Sat 15-Sun 16 July Relay For Life A Mensa team are taking part in this 24 hour event at Harvey Hadden Stadium in Bilborough from 1pm Saturday to 1pm Sunday in aid of Cancer Research UK. Live music, fundraising activities, walking round the track including candle of hope ceremony and lots more. Free entry! Come along and find us in the Cocktail Crew marquee serving fruity cocktails! More info from Maxine on [Phone Number] or [Email].
Cumbria Fri 3-Mon 6 Nov Lakes Party Weekend A weekend based at Whinfell Forest CenterParcs in the beautiful Lake District. Package includes 3 nights accommodation, 3 parties, some buffet meals, help-yourself bar, cocktail of the day, unlimited access to the swimming dome, boardgames, quizzes, tastings, walks, and much more. All ages welcome. Contact Maxine on [Email] or [Phone Number] for full details. Price from only £150.
Dog SIG
I noticed, in the September Mensa Magazine, that Dog SIG was one of those with no SIG Sec, and following the Mensa 70th anniversary tour of Scotland by the Regional Officer, Derek Sellar, I contacted the SIGs Officer to find out more. Since I'm a dog owner, with a now 'senior' (and very spoiled) Rough Collie ('Lassie dog'), I thought I'd try to put something back into Mensa and the world of dogs by trying to revive interest in Dog SIG.
I joined Mensa in 1991 and am already a member of Transport SIG. I've written a few articles for that in the past, but I'm neither a journalist nor a professional writer, just a now-retired civil servant, although I was once paid £20 for a hobby magazine article which I suppose means I was once a paid writer! Dog SIG has around 70 members, and since I became SIG Sec, and sent out a 'restart' letter, I've heard from about ten percent of the membership. The previous SIG Sec stepped down in 2013, after the spring 2013 magazine 'Paws for Thought' was sent out. An active SIG is required, under Mensa rules, to issue at least two magazines a year, with a minimum of eight pages per issue. Between my own introduction and material sent in, there was just enough material for a magazine issue at the end of November, although almost half of that was photographs. I've had two more articles sent in since then, so that's a start for the spring 2017 issue.
Like most SIGs, the main activity is sharing information about our common interest, in this case the health, wellbeing and activities of our furry friends, with pictures subject to technical limits (magazines can have a maximum four pages of colour photos, on the covers, and dog photos tend to be large and full of colour).
Facebook would be an ideal medium for this sort of thing, it's ideal for sharing photos and comments, but not everyone has, or likes using a computer, and Facebook is prone to privacy issues, unwanted adverts and other nuisances, so the magazine remains the point of contact for members. Luckily I can use a word processor, and have a comfy computer chair!
So far there isn't much prospect of meeting other SIG members, as we seem to be scattered across the UK from Skye to Shipston-on-Stour, judging by the responses I've had so far, and I don't have a membership list as it's held by the Mensa office, so SIG 'walkies' are unlikely for some time.
Dog owners usually tend to stop and chat in the street (or park) when they meet, usually about their pets, so Dog SIG is ideal for extending that 'chat' among fellow dog owners in Mensa.
Dogs, like their wolf ancestors, are generally social creatures, and tend to have the same effect on their owners, so I would encourage anyone who has a dog, or just likes dogs, to join and share in the 'chat'.
I'm on [Email]
20 Questions (No. 188)
How much did you Harry Potter fans really know in our April quiz? The answers were Alice, 160, Ginny Weasley, mischief managed, I open at the close, Severus Snape, King's Cross, The Order Of The Phoenix, Nagini, July 31st, Bill, The Weasleys, Bellatrix Lestrange, Severus Snape, 7, Mad-Eye Moody, in a frozen lake, Albus Percival Wulfric Brian Dumbledore, aknight and Nick. Helene Parry of Brentford wins the £10 book token.
Thanks to Gail Mitchell for compiling this month's quiz. The following are all books which have been short listed for the Man-Booker prize at some time since 1969. Can you name the book and author? Send your answers to '20 Questions (No. 188)', [Address] or [Email] to arrive by 20th June.
1. LWI by MS
2. TBFO by BB
3. WAACBO by KJF
4. MM by ESA
5. BL by MA
6. TBA by MA
7. DNSWHN by MT
8. N by JT
9. H by MF
10. TOOF by SM
11. TSV by SR
12. TB by PF
13. TCOD by WT
14. ATM by PL
15. PE by SK
16. ALL by HY
17. TNATG by IM
18. MP by BU
19. PCHHH by RD
20. LOS by BM