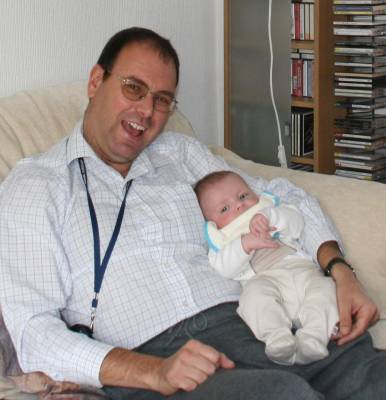 There's more to this picture than meets the eye
... see below.
Regional News
Firstly I have to announce the resignation of Les Draper Eames as Luton LocSec. Les moved from Luton to Northampton last year and, despite wishing to remain as LocSec, is now finding it difficult to arrange events back in Luton. Many thanks to Les for her contribution to East Midlands Mensa and for all the 'eating meetings' and other events she has organised. We are therefore looking for a volunteer to take over as Luton LocSec. The role does not need to be time consuming. You can simply be a contact for other members in the LU postcode and invite them along to the occasional activity you would be doing anyway. Please contact me on [Phone Number] or maxine@marubaevents. com for further details. We are also seeking LocSecs for Hemel Hempstead, Leicestershire and Lincolnshire if you live in those areas and would like to get a bit more involved in Mensa.
At the time of writing (mid January) our regional party night in February looked like being a success with over 100 people already on the guest list and nearing maximum capacity for the venue. I'm sure photos and a review will be appearing in the near future. We are already seeking suggestions for the type of event members would like to see in January/February 2010, hopefully to be held in the south of our region. Would you prefer another buffet and disco, a themed party, a black tie dinner or something else? Please contact either myself or your LocSec with ideas as we don't want to waste our time and Mensa's money organising an event that nobody wants to attend.
Meanwhile we have a joint East and West Midlands Mensa day out on Sunday 28th June. The venue is Twycross Zoo on our regional border where we have their activity centre for exclusive use all day. As you may be aware, Twycross is a leading centre for primate care and home to the PG Tips chimps. There will be a talk on the history of Twycross Zoo, the role of modern zoos and the importance of animal welfare. We'll then have fun sessions making enrichment – toys and feeding devices – for the animals and see these items being delivered to the enclosures and put in use. There will also be a guided tour of the zoo by the education staff and ample time to explore on your own. Tickets only cost £10 and this includes a buffet lunch. Standard admission is £11 so this is a bargain day out for all the family! Places are limited so book with me sooner rather than later.
Maxine Bates
Regional Officer
Events and Meetings
In the current circumstances surrounding the COVID-19 coronavirus, the expectation is that all events listed here are likely to be cancelled, if not already marked as such. If you intend participating in any event listed here, please contact the event organiser beforehand to confirm that the event is still on.

Mid Bucks
On Wed 11th Mar at 6.30pm - Historical Lecture
The National Science and Engineering Week (NSEW) organised by the British Science Association (formerly the BA) takes place between the 6th and 15th March 2009. Last year over 3,500 events were held across the country. See http://www.britishscienceassociation.org/web/NSEW/index.htm for full information for your local area. You may remember reading the reports about the Association's annual conference in the November 2008 Mensa magazine.
Join me on 11th March, 6.30-9.30pm, at the Shelley Theatre in the Court Garden at Higginson Park, Marlow, to "Meet Michael Faraday". This historical lecture, originally written by Johnny Ball, will be presented by an actor.
Contact me for directions/encouragement.
Val Hinkins
Contact [Email] or [Phone Number] for details

Mensans in MK & Bedford
On Thu 5th Mar at 8.00pm - FThOTM
First Thursday is at our regular venue of Jurys Inn on Midsummer Boulevard, on 5th March, from 8.00pm. Look out for the Mblem in either the foyer or the bar – most likely the foyer as it's quieter. Parking is a bit busy around Jurys and The Hub, so we usually try and get in across the road and then walk through the underpass.
On Wed 18th Mar at 8.00pm - 3WOTM
Our Third Wednesday meeting at the Old Beams in Shenley Lodge is on 18th March. If you're definitely planning to come, please let me know as it will help us to grab the right sized table, but don't let that put you off deciding on the spur of the moment – you'll still be welcome. See www.mcmullens.co.uk for location and menu details. You can eat or not, as you wish – their food is quite good and reasonably priced. Look around for the Mblem as we don't always get the same table each time.
On Sun 29th Mar at 12.30pm - Sunday Lunch & Cinema
Following an enjoyable outing a few months ago, we're going to repeat our Sunday lunch & cinema meeting. On Sunday 29th March we'll meet at 12.30pm for lunch at La Tasca in Xscape, and then will attempt to reach agreement about which film to go on and see at Cineworld afterwards. Call me on my mobile after about 1.15pm if you just want to come along to the film.
Hope to see you there,
Jo Sidebottom
Contact [Email] or [Phone Number] / [Mobile Number] for details

Lincoln
On Sat 7th Mar at 12.00pm - Lunch
On 7th March at 12 noon, join us in the Armoury Cafe at the Drill Hall, Free School Lane, for lively conversation and lunch or just a drink. All very welcome. For encouragement or directions please contact Christine at [Email] or ring me, number above.
Jacquie Harrison
Contact [Email] or [Phone Number] / [Mobile Number] for details

Northants NNotes
On Thu 5th Mar at 9.00pm - FThOTM
Our First Thursday meeting is on Thursday 5th March. Follow the A428 to Harlestone and pull over when you see the sign for the Fox & Hounds at Harlestone. If you've any ideas for events during the Summer this is the night to come along to talk about them. 9.00pm onwards.
On Tue 24th Mar at 8.00pm - Roadshow
The March Roadshow is on Tuesday 24th March and we go back to a place that we last visited six months ago. Head over to Pytchley (near Kettering) and join us in the bar of the Overstone Arms from 8.00pm.
For both meetings a copy of the Mensa Mag will show you who we are.
Ian Sargent
Contact [Email] or [Phone Number] / [Mobile Number] for details

Hertfordshire Happenings
On Thu 5th Mar at 8.15pm - FThOTM
On 5th March it's our regular FThOTM meeting. As always, we're at the Millstream, Cambridge Road, Hitchin, from 8.15pm. Good food and good beer both available! Call me on for more details and encouragement. The pub is about ten minutes' walk from the railway station.
On Fri 27th Mar at 8.00pm - LFOTM
Join us for LFOTM on 27th March from 8.00pm at the White Horse, Hertingfordbury village (about one mile west of Hertford town centre, just off the A414). A warm welcome and stimulating conversation guaranteed! Look for the Mag/Mblem. Hertingfordbury is about 20 minutes' walk from Hertford North station. Contact me, or Gwen on [Phone Number] for further details/encouragement.
Advance notice: Our next eating meeting will be in Hertford in April. This will be on a Saturday evening.
Richard Allen
Contact [Email] or [Phone Number] for details
Derby Diary
On Wed 18th Mar at 7.30pm - 3WOTM
Our regular 3WOTM meeting at the Standing Order in Derby falls on Wednesday 18th. Join us for a meal or just a drink and some great conversation from 7.30pm. Look out for the yellow Mblem on a long table in the area just beyond the bar. Please feel free to contact me, for more details/directions or even if you just want some encouragement.
On Sat 21st Mar at 9.00am - Paintballing
Later this month on Saturday 21st why not try something a bit different and join us for a day of paintballing at the Delta Force Paintball centre in Kegworth. The full day runs from 9.00am until around 4.00pm and will include 10-12 varied games. For more information and booking contact me as above by Saturday 7th March.
As always it would be great to hear from you if you have any suggestions for future meetings or events, or if you would like to advertise one of your own.
Matthew Smith

Berkhamsted
On Wed 25th Mar at 7.45pm - LWOTM
On 25th March at 7.45pm-ish we will meet at the White Horse at Bourne End, half way between Hemel Hempstead and Berkhamsted, Car parking is in the front and the back, which usually has plenty of spaces. Do come and join us for a drink, or to eat or just for a chat. All members welcome, come if you can, if you have to be late we would still love to see you.
Jenny Habib
Contact [Email] or [Phone Number] for details

Notts News
On Thu 5th Mar at 8.00pm - 5OTM
Join us once again at the Vat & Fiddle pub on Queensbridge Road for our monthly evening of drinking and chatting from 8.00pm on Thursday 5th. Whilst the pub is in the city centre it's not on a regular pub crawl route so is rarely crowded and has easy parking right outside. It's also near the railway station and Broad Marsh bus station for those travelling by public transport. All welcome, especially new faces.
On Wed 11th Mar at 7.00pm - Chicks & Flicks
Paul will be hosting our 'chicks & flicks' event on Wednesday 11th. We meet at 7.00pm prompt inside the doors to the Cornerhouse and from there dine at Nando's chicken restaurant (see www.nandos.co.uk for menu) followed by an optional film at Cineworld. Contact Paul on [Phone Number] for further info or if you're running late on the night. We get free unlimited soft drinks at Nando's and 2-4-1 cinema tickets so it's a cheap night out.
On Mon 30th Mar at 7.30pm - Bjorn Again
The 20th anniversary tour of Abba tribute band Bjorn Again comes to the Royal Concert Hall on Monday 30th with the show starting at 7.30pm. As Benny Andersson says "Bjorn Again has been going for twice as long as Abba did!" which proves their success. Tickets cost £18. Please contact me as soon as possible if interested in seeing this concert.
On Tue 31st Mar at 7.30pm - Eating Meeting
The following day, Tuesday 31st, we're going for a meal at The Bowman on Nottingham Road in Hucknall. The venue is a Two For One pub/restaurant so feel free to bring a guest! There is a large car park and the nearest tram stop is Butler's Hill. An idea of numbers would be appreciated but you are welcome to just meet us near the bar at 7.30pm.
Ciao for now!
Maxine Bates
Contact [Email] or [Phone Number] for details

Leicestershire Letter
On Sat 28th Mar at 7.30pm - Eating meeting
On 28th March at 7.30pm we're back to a favourite at The Sugar Loaf, Ab Kettleby. I'll try and book the conservatory. If you would like to come, please let me know by Monday 23rd March.
Sue Watford
Contact [Email] or [Phone Number] for details
Editor's Thanks
My thanks to Nick for editing February Empress for me when I was obliged to travel to the USA on business at a most inconvenient time in December. The trip out was delayed for an hour and a half, the plane sitting on a Heathrow runway while an engine problem was fixed – and we were about to fly for 8 hours over water! "Don't worry," the steward told me, "it's only the small engine that looks after the air-conditioning. Here, have some more champagne, you'll feel better about it then." He was right.
My thanks also to readers who responded to my item on irritating words/phrases. Read what they had to say on page 7. Perhaps you have words/phrases that effect you in some way – maybe something that brings back a happy or funny memory, or words that changed your life. Nick and I are always pleased to hear from you whether it's about words, a photo or write-up from an event, suggestions on how we could improve Empress, or just something you'd like to share with other readers.
Laid-up LocSec, or Be Careful What You Wish For!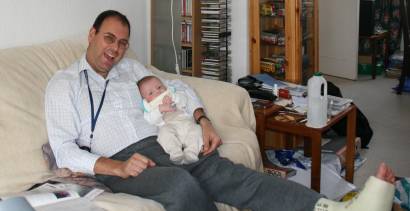 Early last year, during a particularly tiring and difficult time at work, I had mentioned to a particular friend that I would really appreciate a couple of months off work to do as little as possible and put my feet up. As some of you will know, this came to pass but not in the way I expected, as I managed to break my leg back in September in a stumble-and-fall accident at the Sittingbourne and Kemsley steam railway in Kent. Not the sort of thing you expect to happen on a day out! By the time you read this, I should be almost back to normal; as I write this at the end of January I am walking with a stick and managing quite a reasonable pace.
It's been a strange experience but one in which the principal disadvantages of discomfort, immobility and inconvenience were at least partially offset by a surprising number of advantages, such as: being able to spend more time with my nephew, who was 2 1/2 months old when the accident happened; being able to catch up with my reading and photograph indexing; being able to appreciate solitude and having time to think and take stock of life without being disturbed; understanding and appreciating what many other people have to put up with permanently; and not being exposed to various cold, winter vomiting and flu bugs! In spite of all that, I still don't recommend it!
I could not have coped, though, without the help, support, encouragement and general kindness of very many people. You know who you are and to all of you, I thank you.
I returned to work in early January and must have been the only person in the office who was almost overjoyed to be back at work! Having said that, my presence did result in an epidemic of mickey-taking from colleagues, so I suppose I could list helping to ease their post-Christmas blues as another benefit of my misfortune! Probably the thing I was most surprised and pleased about was the attitude of other people, in particular while travelling on the bus between Kings Cross and my office in Southwark. So far, I have not had to stand once; someone has always offered me a seat. It is very fashionable to complain about how rude and unhelpful people are but I have been pleasantly surprised and touched by the attitude of my fellow passengers on the number 63 bus.
I think the next time I want some time off though, I'll try something a bit less drastic!
(The photo is of me and nephew aged 3 months.)
Richard Allen
Words, Words, Wonderful Words
Many thanks to the readers who sent words/phrases that they find irritating.
Philip Lowry wrote:
You might perhaps add a list for the most pointless ways of padding out a conversation. The least favourite of mine is, "Have a nice day".
Although many conversations are now ended with the annoying, "Take care".
Worst opening to a meeting is perhaps, "Did you manage to find us alright?"
Edward Hawkins sent this list of 10 annoying words and phrases:
Know what I mean?
Sort of thing
I was like . . .
Having said that
Over the moon
Sorted
To take on board
Thank you very much indeed
A raft of measures
also any misuse of reflexive pronouns
While Andy Cole would like us to help eradicate the following:
1. Train station. Station is adequate, or railway station at a push, as, by default, all others are prefaced by bus, space, filling, petrol, and so on. Train station makes little sense, sounds childish, adds nothing, and is illogical.
2. Up to half price sale Trading Standards refuse to uphold that this is illegal on the basis that it is "universally understood". What it says is that sale items may cost as much as half price, what we are meant to "universally understand" is that sale items may cost as little as half price.
3. (for example) five times less than This is meant to mean a fifth of. However it says that if I owe you five times less than £5 then you owe me £20. (£5 – (5 * £5) = -£20)
4. Personal (or Unique) vehicle registration number As are all others hopefully
5. On that side of things Always superfluous
6. Around the patch Instead of around
7. (for example) ten items or less Instead of fewer than eleven items
8. You (or ya) know If I do you then should not have bothered telling me
9. Like . . . like . . . like Instead of silent commas which are (heaven forbid!) pauses
10. Know what I mean? Invariably, when asked, I find that I don't
What do you think? Do you agree with these suggestions? Are there any that you would like to add?
20 Questions (No. 90)
How much did you know about the year 1969? The answers from the January quiz were Woodstock, Wembley Stadium, The Clangers, Madrid, Kensington, James Earl Ray, Marmalade, Yasser Arafat, Richard Nixon, Georges Pompidou, 3, albatross, Johnny Ball, Gay Rights, John Lennon, Caernarfon Castle, Joan Collins, Coronation Street, Rocky Marciano and Tranquility.
Entries were received from Mike Hadley of Lutterworth, Andy Cole of Cleethorpes, Maggie Petch of Northampton, Pamela Covey of Woburn, Joyce Ellis-Croft of Northants, Geraldine Ellis of Nottingham, Carol Wheatcroft of Derby, David Ribbans of Luton, Steve Percy of Leicester, T Hamilton of Sleaford, Philip Abbott of Watford and Michael Warren of Derby with Philip being drawn as the winner of the £10 voucher.
This month we have another anagrams quiz. Unscramble the letters to find creatures.
1. CORNISH ORE
2. GO DANGLE EEL
3. PAINT CARES
4. PAGAN MINISTRY
5. MONGOLIAN RITUAL
6. IT REGATHERS HAWK
7. SHE AROSE
8. ZIP MEN ACHE
9. MILAN FOG
10. HAGS PROSPER
11. NARCOTIC ROBOTS
12. EDIBLE STEW
13. MOMS RATE
14. THE PLANE
15. ETHEL ATTACHED WEB
16. HUG DRONGO
17. TAKE ANTLERS
18. TEN SICK TICS
19. PRIME DONKEYS
20. OBTAIN COD
Send your entries to arrive by 20th March to '20 Questions (No. 90)', [Address] stating whether you would prefer to win £10 Leisure Voucher (valid at restaurants, shops, hotels and tourist attractions) or £10 National Book Token (valid at book stores around the UK).