Forget Winter ... Enjoy Spring
Regional News
The year got off to a bad start with the heavy snow and ice causing several of our events to be cancelled in January. Apologies if anyone braved the weather and road conditions to turn up and find the host missing. Regular attendees were notified and any cancellations posted on our email group. To subscribe send a blank email to m-eastmidlandssubscribe@yahoogroups.com. Hopefully by the time you read this spring will be well on its way.
However, despite the weather, two new Mensa groups were formed in January and both events attracted a good number of members. In Lincolnshire Adam Reece hosted a get together in Boston where there was good food, drink and conversation and a range of ages from 20s to 60s with local members as well as those making a four hour round trip from Notts and Derbys to join the fun. Adam is now planning future events in the south east of Lincolnshire and the next one is a Chinese meal on Saturday 20th March in Spilsby. See Lively Lincs in this issue for full details.
The Watford group goes from strength to strength thanks to new LocSec David Seddon, ably assisted by Elaine Yates. Half the attendees at their January event were new faces ranging from 23 to 89 years old and a whole spectrum of subjects were discussed as everyone got to know each other. Members have already planned their social events for the rest of 2010 and more can be added as other ideas are suggested or volunteer hosts found. To be kept up-to-date please contact David on [Phone Number] or [Email]. There are 123 members in the Watford area. If you are one of them, why not come out and meet the others?
We are planning some English themed events around the region to celebrate St George's Day on Friday 23rd April so look out for details in Mensa Magazine and Empress next month.
As always I'm happy to hear from you on either [Phone Number] or [Email]
Maxine Bates
Regional Officer
Engaged! Congratulations to Paul Henchliffe and Jenny Shorto
Events and Meetings
In the current circumstances surrounding the COVID-19 coronavirus, the expectation is that all events listed here are likely to be cancelled, if not already marked as such. If you intend participating in any event listed here, please contact the event organiser beforehand to confirm that the event is still on.

Notts News
On Fri 5th Mar at 8.00pm - 5OTM
Please join us from 8.00pm on Friday 5th for our monthly get together at the Vat & Fiddle pub on Queensbridge Road (near Nottingham railway station). New faces of all ages are very welcome. I would love to hear what type of events you want arranged later in the year. Those involving eating and drinking are usually popular but what else do you want to do – walks? theatre trips? ten pin bowling? quiz nights? visits to tourist attractions? Come and tell me! Look for the yellow Mblem usually to the left of the bar.
On Wed 10th Mar at 7.00pm - Chicks & Flicks
On Wednesday 10th join Paul and co for a meal at Nando's Portuguese chicken restaurant followed by an optional film at Cineworld. We meet at 7.00pm prompt inside the doors to the Cornerhouse in the city centre. Contact Paul on [Phone Number] or [Email] to help table reservation and for film listings.
On Tue 30th Mar at 7.30pm - Italian meal
We haven't been for an Italian meal for a while so this month our eating meeting heads to Pizza Hut where there is currently a £7 meal deal including a main course, starter or dessert, and drink. It's half price for children so why not bring the family? The restaurant is at Castle Meadows and the postcode is NG7 1GX. We'll be dining at 7.30 pm on Tuesday 30th. Please contact me by 26th so a table can be reserved. Restaurant recommendations around Nottinghamshire are very welcome, especially in the Newark, Grantham and Mansfield areas.
Ciao for now!
Maxine Bates
Contact [Email] or [Phone Number] for details

Northants NNotes
On Mon 1st Mar at 9.00pm - FMOTM
Monday 1st March is the date for our 1st Monday of the Month meeting and we are at our regular venue: The Malt Shovel, Bridge Street, Northampton. On or after 9.00pm you will find us at one of the tables towards the rear of the pub. If you have any ideas for walks or other events during the Spring and Summer tonight is the night to let us know.
On Thu 18th Mar at 8.00pm - Roadshow
The Roadshow meeting is on Thursday 18th March and it's another place we haven't been to for a while. The Alexandra in Victoria Road, Kettering is a smallish, but popular, back-street pub close to the town centre. We'll be there from 8.00pm and a copy of the Mensa mag will give away our location.
Occasionally I send out an e-mail to provide an update on meetings, particularly late changes to dates or venues. From the list I have for Northants members about 20 of the e-mail addresses no longer exist. If your e-mail address has changed in the last couple of years and you are not getting my e-mails please let me have your new contact details.
Ian Sargent
Contact [Email] or [Phone Number] / [Mobile Number] for details
Derby Diary
On Wed 17th Mar at 7.30pm - 3WOTM
Wednesday 17th March 7.30pm: 3WOTM at the Standing Order (Wetherspoons) on Irongate.
Matthew Smith

Hertfordshire Happenings
On Thu 4th Mar at 8.15pm - FThOTM
Thursday 4th March at 8.15pm for our regular first Thursday of the month meeting: we'll be around for our usual mix of lively conversation and a good atmosphere. As always, we're at the Millstream, Cambridge Road, Hitchin. Good food and good beer both available! Call me for more details and encouragement. The pub is about ten minutes' walk from the railway station.
On Fri 12th Mar and Sat 13th Mar at 7.00pm (Fri) and Afternoon (Sat) - Hitchin Beer Festival
On Friday 12th and Saturday 13th March it's Hitchin Beer Festival time again at the usual venue of the Town Hall, Brand Street (in the town centre and about 15 minutes walk from the station). I'll be there on Friday evening from about 7.00pm and also on Saturday afternoon - hope to see some of you then! Please call me for further details and encouragement.
On Fri 26th Mar at 8.00pm - LFOTM
On Friday 26th March from 8.00pm join us at the Cowper Arms, Digswell (near Welwyn village) for our new look Last Friday. Good food and good beer available to suit all tastes! The venue is next to Welwyn North railway station (Kings Cross - Cambridge and Peterborough line with trains every 30 minutes). Do come along and try it out for yourself!
Richard Allen
Contact [Email] or [Phone Number] for details

Mid Bucks
On Sat 6th Mar at 7:00pm - Scrabble evening
On Saturday 6th March at 7:00pm join us for an evening playing friendly games of Scrabble in Amersham. Tea and coffee will be provided.
Have you been inspired by watching the Scrabble World Championships on the television? See how many of the strange words featured you can remember, but if you use them be sure you know what they mean as we are going to ask! Numbers are limited, so please ring me by Sunday 28th February for directions and to reserve your place.
Val Hinkins
Contact [Email] or [Phone Number] for details

Lively Lincs
On Sat 13th Mar at 12.00pm - 2SaOTM
Christine's SSOTM in central Lincoln is in the coffee bar at The Collection, Danes Terrace from 12 noon on Saturday 13th March. Some have lunch/snack, others just partake of drinks. Usually we're at the far end of the room, spot the magazine and/or Mblem. All very welcome, for more details/encouragement please contact her on [Phone Number], or [Email] Afterwards, anyone who is interested is very welcome to join me at my partner, John's, photography exhibition at the nearby St Martin's Gallery (off Hungate). I'll be walking across after SSOTM meeting but there is nearby parking. For more details or encouragement to join in local social activities, please telephone me.
On Sat 20th Mar at 7.00pm - Chinese meal
Following the success of Adam's first event in the south east of the county he's arranged another at 7.00pm on Saturday 20th March. This time it will be a Chinese meal at The Beijing Dragon in Spilsby where the venue comes highly recommended by local members. If you would like to come along please contact Adam on [Phone Number] or [Email] by 17th to reserve your place. All welcome!
Jacquie Harrison
Contact [Email] or [Phone Number] / [Mobile Number] for details

Leicestershire Letter
On Sat 27th Mar at 7.30pm - Eating Meeting
Saturday 27th March 7.30pm: Eating in the Quorndon Fox, 46 High Street, Quorn. Numbers by Monday 22nd March please.
Sue Watford
Contact [Email] or [Phone Number] for details

Mensans in MK & Bedford
On Thu 4th Mar at 8.00pm - FThOTM
First Thursday is at our regular venue, Jurys Inn on Midsummer Boulevard, on 4th March from 8.00pm. Look out for the Mblem on one of the tables to the right in the foyer. Parking is a bit busy around Jurys and The Hub, so we usually try and get in across the road and walk through the underpass.
There will be no Third Wednesday meeting in March, as we will be away. We'll be back to normal again for April.
On Sat 27th Mar at 3.00pm - T@3
We finish off March with another popular T@3 on Saturday 28th at Dobbie's Garden Centre in Fenny Stratford, just south of Milton Keynes. Look for us in the restaurant from 3.00pm onwards – there are several sections so we may not be immediately obvious, but we'll be there somewhere. It should be full of spring flowers and Easter decoration by then, so worth a look.
Hope to see you there,>
Jo Sidebottom
Contact [Email] or [Phone Number] / [Mobile Number] for details

WATever . . .
On Mon 8th Mar at 7.50pm - Ten Pin Bowling
On Monday 8th March - Ten Pin Bowling at Hollywood Bowl Watford, Woodside Leisure Park, North Orbital Road, Garston, Watford, WD25 7JZ.
Please allow 20 minutes prior to bowling. Lane is pre-booked for 8:10pm. (2 games each) Please contact me to advise if you will be attending this event.
As well as bowling there is a bar and cafe. If you don't wish to bowl then please come along and socialise!
David Seddon
Contact [Email] or [Phone Number] for details

Berkhamsted
On Wed 31st Mar at 7.45pm - LWOTM
On Wednesday 31st March at 7.45pm-ish we will meet at the upper room in the "Eat Fish" restaurant on Berkhamsted High Street. All members young as well as adult very welcome, you do not have to eat if you do not wish to, (although the food is good if you do), have a glass of fruit juice or any other drink and enjoy the chat. I look forward to seeing you.
Jenny Habib
Contact [Email] or [Phone Number] for details
The Weakest Link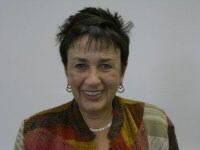 Early in 2009 I applied to be a contestant on the BBC1 daily quiz show "The Weakest Link". I was bored at the time, and I quite fancied sparring with Anne Robinson. Plus the odds of winning a reasonable amount of money weren't that bad either.
A few months later I was invited to an audition in Derby. I was accepted, and told that I would hear at some point when I would be on the show. Time passed, and it was September before I was contacted. My show was to be recorded at 8.30 am on a morning in October, so we would be put up at the Heathrow Sheraton the night before if we wished, all expenses paid of course. Travel was sorted out, and we were sent a list of what to bring, which included three outfits of different colours so that they could make sure we all looked different.
On the Big Day we were picked up from the hotel at 8.00 am and taken to Pinewood Studios. Then followed a couple of hours of preparations: wardrobe and makeup, photos of us before the show, and rehearsals of things like making sure we all turned our boards the same way and how to walk off when voted as The Weakest Link. Small people got given platforms to stand on, and the wardrobe people appeared frequently to tweak hair and clothes into perfection. It all took longer than you would believe possible, especially as we had one person who simply couldn't get things right.there's always one! We got rid of him after the first round though – it's called being practical.
Finally we were ready for the show, and at that point Anne Robinson walked on. No, you don't meet her in advance; the poor woman does three shows in a day, which is enough for anyone. The show went pretty much as it does on TV, except that things took longer and were repeated if necessary. But it was quite slick, and also very scary with all the cameras and darkness and so on. However, we did get a break between rounds, while they worked out the weakest and strongest links in that round and other important facts.
And Anne Robinson? She's clearly tough, but not as frightening as she seems on TV – she's tiny for a start. She's obviously playing a part, and is much nicer than she appears. When a contestant dug himself a hole, and then proceeded to dig it deeper, the contestants were all laughing, while Ann was trying to hide the twinkle in her eye. I enjoyed talking to her.but you do need to be quite thick-skinned, as anyone who's watched the programme will know.
Once voted off, you get interviewed for the comments part of the programme, then go off to eat and drink, chat, and watch the rest of the show on a big TV screen. And to wish it had all been different and you were still there...
They work several months ahead, but you are notified as to when your programme will be shown. It all seems very different on TV, and I was surprised at how good we all looked – but then, my team were a nice bunch! Overall I found it all great fun. However, it was time-consuming and quite stressful, and I'm not sure if I'd do it again. But maybe, in a year or two . . . we'll see . . .
('My' show was on Monday 11th January at 5.15 pm.)
MensaGames2010
Entries for MensaGames2010 can be taken until the end of March. Entries are a little down on last year, so if you have played MensaGames in the past, it's not too late for this year. They are also a good way to meet new people if you are a 'newcomer' too.
A 2010 Entry Form can be down loaded from the Games Page, to be found in the event section of the members area. Log-in using your user-name and password at www.mensa.org.uk or please call Diane Salter on 01902 772771 if you get stuck. Or just contact me and I will email you a copy.
The knockout games are an annual event where you are able to meet like-minded Mensans socially to play various games. Most games are one-to-one knockouts, with between five or six rounds for games such as Backgammon and Scrabble or just three or four rounds for games like Chess or Mastermind. Others such as Monopoly and Trivial Pursuit involve three or four players, with two participants going through to the next round. Age varies between 9 and 90 and there is normally a fairly even split between female and males. Why not try something new for the new decade!
First round matches will be starting very soon with the Games Finals taking place in the autumn. Please let the office have your entry forms as soon as possible; you may play in just one game or as many as you feel you have time for. All events are non-smoking and include: Brain of Mensa, Backgammon, Chess, Cribbage, Mastermind (code breaking), Mensa Connections (two-player version), Monopoly, Pool, Scrabble, Settlers of Catan, Snooker and Trivial Pursuit. There is an entry fee, of £5 per game entered, to fund prize money and administrative costs.
In the early stages of the games, one of the players in each match is nominated as the 'Home' player and has the responsibility of providing the venue - normally in their own home, although for some games (such as pool and snooker) they may choose a local club venue. Alternately they may suggest a neutral venue or offer to travel to the opponent's home. Although the games can be competitive in the later stages, the social side of playing is an important consideration, giving members a chance to meet new people in their own homes. For some people this may be their only or first 'active' participation in Mensa events. With this in mind, we try to arrange the matches so that the same participants don't play the same players as last year, at least in the first round of games. The other main factor is geographical and we try to keep travelling to a minimum in the early stages.
Some gamesters believe it is up to the 'Home player' to make contact and do all the arrangements; this is not true. It is important, however, that you arrange the game as soon as possible. If you are having real difficulties with arranging matches on schedule or with travelling, then let the Games Officer know and they will try to find a solution.
While we are very much in favour of games being played 'fact to face', there are certain games (e.g. Backgammon) which can be player over the Internet if both parties agree.
Alan Farrell, Games Officer. wafarrell@btinternet.com Tel: 01704 825335 or Mobile: 07977 221423 66 Church Road, BANKS, PR9 8ET. Good Gaming, Alan.
20 Questions (No. 102)
The answers to the English quiz in the January issue were Cornwall, English Heritage, gateway to Buckingham Palace, Windsor, Lichfield and Truro, Lincolnshire, Durham, Spithead, Chalk, Exmoor, Derwent Water, Cleopatra's Needle, Great Yarmouth, Longleat, York, Hampshire, Eyam, Canterbury cathedral, Seven Sisters and Blenheim. Thanks to the following people for entering: Alex Foster of Derby, Andy Cole of Cleethorpes, Geraldine Ellis of Nottingham, Mike Hadley of Lutterworth, Roger Plant of Nottingham, Judith Meller of Derby, Dave Simpson of Royston, Michael Warren of Derby, Pamela Covey of Woburn, Tony Dodd of Belvoir and Chris Impey of Tring. The winner was Andy and a £10 book token is on the way to you.
Can you name the major town/city where the head offices of these well-known businesses are located? Send your answersto '20 Questions (No. 102)', [Address], to arrive by 20th March for your chance to win a £10 book token.
1. Heinz
2. Vauxhall Motors
3. Boots
4. Ryanair
5. J D Wetherspoon
6. Thistle Hotels
7. PC World
8. Debenhams
9. Thomas Cook
10. Waterstones
11. KFC
12. W H Smith
13. Matalan
14. Wickes
15. Tesco
16. P&O Ferries
17. Argos
18. Costa Coffee
19. Toys R Us
20. British Mensa