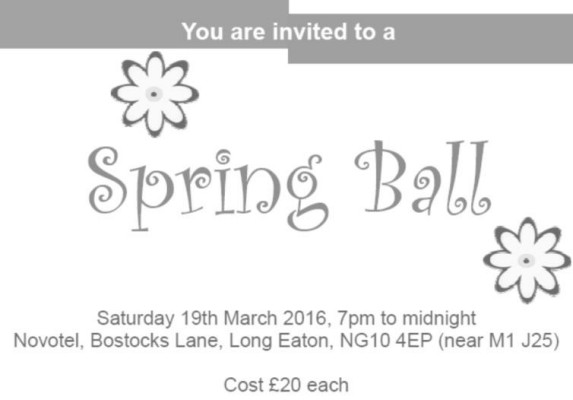 Regional News
Thank you to those who responded to the email sent out by the Mensa office on my behalf at the end of last year. However we still have a few roles still to fill. In addition to someone to cover Derby and Northampton we're now looking for a new Luton LocSec too. Thank you to Bob for hosting the regular event at The Brache for the last year or so and to the local members who have joined him. Lucy has also stepped down as an Empress Editor so thank you for all your stints at editing Empress, Lucy, and congratulations on your engagement! Would anyone be interested in joining the editorial team? It was lovely to hear from teen member Shaarika who wanted to get involved. She introduces herself in this issue of Empress and hopes to contribute a Junior Mensa column as her studies allow.
I was fortunate enough to spend a month in Australia in December/January. If you are travelling around the UK or the world in 2016 don't forget the SIGHT service. This is the Service of Information, Guidance and Hospitality to Travellers. You can use it to contact local members around the world whether needing information on places to visit, wanting to meet up for a coffee or needing accommodation.
See www.mensa.org.uk and click on the SIGHT tab in the members' area. I got in touch with Laura from Adelaide Mensa and we had started to plan a get together when her home was sadly destroyed by the bush fires just before Christmas. Needless to say her life had other priorities so we never got to meet. Although she remembered my travel plans and emailed me on the day I arrived in her city to wish me a pleasant stay.
Upon my return I organised our next regional event which will be a Spring Ball on Saturday 19th March. Venue is the Novotel East Midlands located at M1 J25. See the cover of this issue for details and contact me by 5th March to reserve your place. The event is being subsidised from regional funds so is an excellently priced £20 per person for dinner and dance. Friends and family are welcome if you wish to bring them with you. Prior to the Spring Ball the officers of East Midlands Mensa will be holding their annual committee meeting. If you have any issues you'd like raised for discussion please contact me on [Phone Number] or [Email]
Maxine Bates
Regional Officer
Editorial
Welcome to the March Edition of Empress. What a better way to celebrate the start of the spring than with a Spring Ball! Join us for a smart dinner and dance.
I have introduced a new section in this edition: Engagements. Would you like to celebrate any good news with the Mensan community? Do please contact us and I will try my best to include them.
Maria Falces
Engagements
Congratulations to Leics member Catherine Knee on her engagement to Andrew Kirkby up the Shard in London!
Congratulations as well to former Empress' Editor Lucy Bengry on her engagement.
Please send your meeting announcements to Mark Sloan to arrive no later than three days before the press date stated on last page of the magazine.
By e-mail to [Email]. By snail-mail to: Mark Sloan, [Address]
Join our Facebook group by searching for "East Midlands Mensa" or subscribe to our Yahoo email group by sending a blank email to: m-eastmidlands-subscribe@yahoogroups.com
Also see our web site: www.eastmidsmensa.org.uk See the main magazine for further details.
Events and Meetings
In the current circumstances surrounding the COVID-19 coronavirus, the expectation is that all events listed here are likely to be cancelled, if not already marked as such. If you intend participating in any event listed here, please contact the event organiser beforehand to confirm that the event is still on.
Derby Diary
On Sat 5th Mar at 1:00pm - Bolsover Castle Tour
On Saturday 5th we have a joint event with NorthEast Mensa at Bolsover Castle. Although in Derbyshire it has a Sheffield postcode (S44 6PR)! Meet in the castle visitor centre for a 1.00pm tour led by a Mensan guide and lasting 90 minutes. Afterwards there will be time to explore on your own. Entry is free for English Heritage members otherwise £9.80 adults, £8.80 concessions, £5.90 ages 5-15 or under 5s free. An idea of numbers would be appreciated though not essential. Please contact Janet Shackshaft on 07504-425633 or janetshacks@gmail.com.
On Wed 16th Mar at 7:30pm - 3WOTM
Our "3rd Wednesday" get together falls on 16th so you'll find a group of us re-arranging the tables in the rear section of the Standing Order on Irongate. There are usually 12-16 of us of various ages and a variety of conversations. Come along for food and/or drink. It's a Wetherspoon venue so good value. Look for a long table displaying a yellow Mblem.
On Tue 29th Mar at 7:30pm - Eating Meeting
This month our "eating meeting" takes place at the Tamarind Indian restaurant on Chapel Street in Spondon on Tuesday 29th. I'll be reserving a tablefor 7.30pm so please let me know if you'd like a place by 22nd. Menu can be found at: www.tamarindspondon.co.uk
Maxine Bates
Contact [Email] or [Phone Number] for details

Hertfordshire Happenings
On Thu 5th Mar at 8:00pm - FThOTM
We are now at the Three Magnets, Leys Avenue, Letchworth. Thursday nights are curry nights but other food (standard Wetherspoons' fare) is available as well. Leys Avenue is the main shopping street in Letchworth and is a few minutes' walk from the station (Kings Cross to Cambridge line). Call me on [Phone Number] for more details and encouragement. Curry nights attract a wide range of ages so however old or young you are, you will feel at home!
On Fri 27th Mar at 8:00pm - LFOTM
Last Friday is at our usual venue of the Cowper Arms, Digswell. The pub is next to Welwyn North station and is served by stopping trains from Kings Cross to Peterborough and Cambridge. Good food, beer and conversation guaranteed! Please call me on [Phone Number] for more details and encouragement.
Richard Allen
Contact [Email] or [Phone Number] for details

Lively Lincs
On Sat 12th Mar at 12.05pm - 2SaOTM pub discussion
We will be at our usual venue, 'Adam and Eve' on Lindum Hill, probably in the alcove, look for MBlem. This month's topic: 'What are the good things in life?
Christine Howells
Contact [Email] for details

Mensans in MK & Bedford
On Sat 12th Mar at 3:00pm - T@3
T@3 has come round again, so we'll meet in the restaurant at Dobbie's Garden Centre in Fenny Stratford on Saturday 12th. We'll probably in the conservatory area at the back, from 3pm – there'll be a yellow Mblem on the table. Contact me at [Email], or [Phone Number] / [Phone Number] for directions and/or encouragement.
On Mon 21st Mar at 8:30pm - 3MOTM Quiz
Our monthly visit to the Barge in Woolstone for the quiz is on Monday 21st. Meet from 8.30 - the quiz starts at 9pm and costs £1 per person. Look out for the Mblem on a table. Please let me know beforehand if you're coming so I can bag a large enough table.
On Sun 27th Mar at 10:00am - Sunday breakfast
Easter Sunday: Sunday breakfast will be on 27th at 10am at Carluccio's in the Centre:MK. Yes, we know it's Easter Day! You will probably find us in one of the red booths just in front of the restaurant – look for the Mblem on a table. Come for a full breakfast, a snack, or just a drink.
Just a reminder about our M-MK & Bedford Facebook group – if you would like to join please search for the group and send me a request. I also keep an email distribution list for meeting reminders and any last-minute changes, so if you would like to be added to this please let me know.
We hope to see as many of you as possible at one or other of our events in March. Do remember that you're welcome to bring a guest with you, so if you've never been to a Mensa event and are a little nervous about coming along on your own, just bring a friend.
Jo Sidebottom
Contact [Email] or [Phone Number] / [Mobile Number] for details

Mid Bucks
On Fri 11th Mar at 10:30am - Conversation and coffee
Meet me from 10:30am onwards on Friday 11th March for a morning of informal conversation and coffee. This month we are going to Café Zest in House of Fraser at the Eden centre in High Wycombe. Combine coffee and cake with some relaxed retail therapy. If you can, please let me know in advance that you are coming so I can choose a suitable table. You will still be welcome if you just turn up on the day.
On Sun 20th Mar at 2:30pm - Open Garden
In March 2015 Country Life described the garden at Chesham Bois House as "A beautifully designed paradise". Located at 85 Bois Lane, Chesham Bois, HP6 6DF this three acre garden will be opening for the National Gardens Scheme on the afternoon of Sunday March 20th. Please join me at the entrance at 2:30pm. We will hope for good weather to enjoy the herbaceous borders, walled garden, old orchard, wildlife pond, small canal and former bowling green. They promise good disabled access, plants for sale and refreshments. Further details at http://cheshamboishouse.co.uk/ Admission is £4.00 for adults.
For further details or encouragement contact me on [Phone Number] or e-mail me at [Email]
Val Hinkins
Contact [Email] or [Phone Number] for details
More or Leicester
March always marks the arrival of spring with nature bursting forth, the days started to lengthen once more, and the arrival of Easter cakes in the shops; speaking of which...
On Sat 12th Mar at 11:00am - C is for Cake
Our regional A-Z project to celebrate Mensa's anniversary means that "C" arrives in Leicester..... standing for "Cake", obviously! To mark the event, we're off to the delightful Deli Flavour Delicatessen on the top floor of the Silver Arcade in Leicester on Saturday 12th at 11:00am. Not only some excellent tea, coffee and cake, but also a great range of local organic produce is available. You'll like this place...!
On Thu 24th Mar at 8:00pm - 4ThOTM
Wwe're off to The Cradock at 8:00pm for our usual get-together and discussion of who got up to what at the previous weekend's Regional Spring Ball! Please feel free to give me a call or email me for a chat, directions, whatever.
All the best
Paul Coulson

Notts News
On Tue 1st Mar at 7:00pm - Cinema
"C" is for cakes in Leicester this month, but "C" is also for cinema in Nottingham! Members of all ages are welcome to join us for a night out at Showcase Cinema in Lenton (on the ringroad and near QMC) on Tuesday 1st. I've advertised a time of 7.00pm but please contact me in advance so we can decide which film to watch and in case the meeting time needs changing. Anyone with a "Meerkat Movie" voucher can be admitted on a 2-4-1 basis so feel free to bring a friend!
On Sat 5th Mar at 8:00pm - 5OTM
On Saturday 5th we'll be at Vat & Fiddle on Queensbridge Road in Nottingham city centre from 8.00pm. So if you've no plans for the weekend do join us for a chat and drink, whether alcoholic or non-alcoholic. The pub is near the railway station, Broad Marsh bus station and has free parking outside. New faces always welcome!
On Thu 10th Mar at 7:30pm - Natter & Nosh
Our "natter & nosh" event returns to the Beekeeper pub/restaurant on Meadow Way in Beeston. Let's see what the place looks like after a month off and a refurbishment. Look for yellow Mblem on a table from 7.30pm on Thursday 10th. You are welcome to join us at any time during the evening for a meal or just a drink as well as good conversation.
On Mon 21st Mar at 7:30pm - Theatre
The musical Annie returns to the Royal Concert Hall starring Lesley Joseph as Miss Hannigan. Would anyone be interested in seeing the 7.30pm performance on Monday 21st? Tickets are priced from £16-£35 although there's a discount of £4 for any bookings of 8+ people. Please contact me as soon as possible if interested stating seating preference.
Ciao for now!
Maxine Bates
Contact [Email] or [Phone Number] for details
Spring Ball
Our next regional event will be a Spring Ball on Saturday 19th March 2016 taking place at the Novotel East Midlands at M1 J25. Our private bar will open 7pm with three course dinner served at 7.30pm followed by a range of dance music (ballroom, latin, disco) until midnight. Menu: Spring vegetable soup served with a crusty bread roll OR Melon fantail with raspberry vinaigrette Supreme of chicken in a peppercorn sauce OR Goat's cheese and puff pastry crown with mixed leaves both served with roast potatoes and seasonal vegetables Chocolate fudge cake with cream OR Apple pie with custard Cost only £20 per person. Please contact me to book by 5th March. Friends and family are welcome too. If anyone would like overnight accommodation the Novotel are offering a double occupancy bed and breakfast rate of £79. There are cheaper deals online (hotels.com or booking.com) from £58 depending if you want breakfast or a non-refundable booking.
Advanced Notices
Mid Bucks: On Saturday 2nd April MarkSandford is hosting a trip to the Wycombe Swan to see a revival of Terence Rattigan's play "Flare Path". Set in 1942 and based on his wartime experiences as a tail-gunner, the play paints a picture of life in Britain including the stresses and strains endured by the families of those engaged in active service. Please buy your own tickets for the 2:30pm performance from the theatre or on-line at https://wycombeswan.co.uk/Online. Prices from £28 - £17.50. Ring Mark on [Phone Number] or e-mail him at [Email] to let him know you are coming. We may go for an informal meal in High Wycombe afterwards.
Notts/Derbys: Sat 14 May 7:00pm, Eurovision Party. Maxine Bates It's my annual Eurovision party at my home in Langley Mill! Watch the contest on TV, heckle the acts, eat, drink, wear something and / or bring a buffet contribution relating to a European country.Contact Maxine on [Phone Number] or [Email] for directions and to say you'll be there. Some beds / floorspace available for overnight guests.
Cumbria Fri 4-Mon 7 Nov, Lakes PartyWeekend Maxine Bates A weekend based at Whinfell Forest CenterParcs. Parties, eating, drinking, swimming, walking, quizzes, tastings and much more or just relaxation in the beautiful Lake District if you prefer. Come and make lots of new friends of all ages. Contact organiser Maxine on [Phone Number] or [Email] for further details.
Member Profile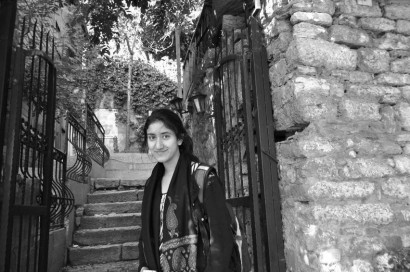 What is your name?
My name is Shaarika Munshi and I live in Nottingham. I turned 15 in February.
When and why did you join Mensa?
I took the Mensa test after my Dad gave me a Mensa puzzle book that I thought was very interesting. After discovering that I could solve quite quickly and enjoyed doing so, I decided to try out for Mensa.I scored the highest score of 162 in the test when I was 12.
What are you studying?
I'm in year 10 at school, and my favourite subjects are English, Latin and Geography.
What are your hobbies/interests?
I enjoy Drawing, Badminton and Bharatanatyam (Indian Classical dance). I also love books of any genre. As far as TV series go, I am a great fan of Sherlock and Anime.
Why do you want to get involve?
Despite there being many other young Mensas around the East Midlands, I still haven't met one! So, having a column for juniors would certainly help involve younger members in the local events, maybe even getting more readers for Empress!
Plus anything else you'd like to share with readers!
I also love writing the occasional horror stories, which have been well received and I hope to share them with you in the future.
The Barbican Concert on 31th December
New Year is associated with lots of things but perhaps the most endearing is music. Many of us will watch the famous concert from the Grand Hall of the Musikverein in Vienna each 1 January and feel it is part of a long, long tradition. Except that it isn't; the "tradition" of a New Year's Day concert only dates from 1941 (it was started as a morale-booster) and was continued in the post-war era (during which time live broadcasting, first by radio and then by television, was introduced) as an attempt to try to look to the future after the horror of 1939-45.
The New Year's Eve concert at the Barbican is a similarly new "tradition" as the Barbican Centre is relatively new, opening in 1982. The New Year's Eve concerts had been running since 1976 and had originally taken place at the Royal Albert Hall. They have been conducted by John Georgiadis ever since they started and this concert was his fortieth. His personal website is worth visiting.
In keeping with the "tradition" of "new traditions", a group of London and East Midlands (well, the southern end of it) Mensans has been going to the concert for eleven years and the pattern is now well-established; meet at the Wetherspoon's pub (the Sir John Oldcastle) near Farringdon Underground station at about 5.30 for a drink and a meal and then walk the ten or so minutes to the Barbican for the concert, starting at 7.30. This year was no exception and the programme of music was of the usual high standard, accompanied, as ever, by the Johann Strauss Dancers.
The range of music differs from year to year and John Georgiadis makes a point of including some less-well-known works as well as the old favourites. In addition, there is always time for a little fooling around by the orchestra! Certain parts of the repertoire are fixed in stone; the first part ends with the Radetzky March; the second part starts with Johann Strauss the Younger's "Champagne Polka" and ends with the most famous work of all "By The Beautiful Blue Danube" (except that whenever I've seen the river, it's always muddy brown!!!). Last year's concert included Eduard Strauss's "Bahn Frei! Polka Schnell" (Clear The Track! Fast Polka) which is supposed to represent a railway journey (with the conductor and an assistant wearing greaseproof caps, blowing whistles and waving red and green flags!) and Carl Michael Ziehrer's "Snowballs Waltz" in which the dancers throw polystyrene snowballs at the audience!
I mentioned the "Champagne Polka" earlier; part of the tradition is that the conductor and an assistant hand out glasses of bubbly to the orchestra; unfortunately at the last concert this did not quite go according to plan, resulting in a few red faces on stage!
Six of us went and a very enjoyable evening was had by all. If you want to know what goes on in the encores, or to learn a bit about the history of "By the Beautiful Blue Danube", I suggest you come to this year's concert; I hope to see a few new and familiar faces there to keep our own tradition going.
See you on 31 December 2016!
20 Questions (No. 174)
As I spent 22 hours on a flight home from Australia I compiled a quiz so this month we have an Ozzie theme! Send your answers to arrive by 20th March by post to '20 Questions (No. 174)', [Address], or by email to [Email]
The answers to the January competition were Castlemaine XXXX, PG Tips, Smash, Campari, Heineken, British Telecom, O2, Sugar Puffs, Cinzano Bianco, Boddingtons, Yellow Pages, Shake & Vac, Guinness, OXO, R Whites lemonade, Heat Electric, Bird's Eye beef burgers, Cadbury's Fruit and Nut, Sony Playstation and Kia Ora. The winner was Nigel Bryant of Bedford. A £10 book token is on the way to you.
1. In which state is the Barossa Valley wine region?
2. What is the name of the stadium built for the 2000 Olympics?
3. Which two animals are depicted on the Australian coat of arms?
4. The landmark Katu Tjuta is better known as what?
5. In which National Park was 'Crocodile Dundee' filmed?
6. Who was Australia's first Aboriginal senator?
7. Australia's first casino opened in which state?
8. Which body of water separates the Australian mainland from Tasmania?
9. What is the name of Australia's national anthem?
10. In which year was Sydney Harbour Bridge opened?
11. What is the young of an echidna called?
12. What is the name of Kylie Minogue's lingerie range?
13. The Ghan train first ran between which two towns?
14. Which lake is situated in the capital of Canberra?
15. What is the second oldest city in Australia?
16. On which date does the Sydney to Hobart yacht race traditionally begin?
17. Which Australian author wrote 'On The Beach'?
18. What song played during Scott and Charlene's wedding on Neighbours?
19. Who designed Sydney Opera House?
20. The name of which river is part of a world heritage site in both England and Australia?