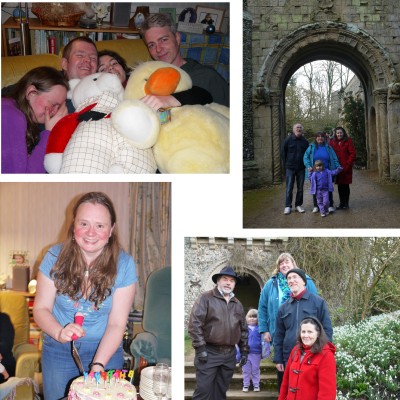 Regional News
As usual we have a variety of events to hopefully entice you out this month. If you've never attended one of our social events – which is a staggeringly high proportion of Mensa members – feel free to contact the host in advance and they will look out for you and make you welcome. We realise it can be nervous taking that first step but hopefully you won't regret it and make lifelong friends.
Events involving food and drink are always popular which is why there are many of them. But these don't always have to feature alcohol and lots of calories. I recently drove down to Milton Keynes to surprise Jo at her "T@3" event at Dobbie's Garden Centre and enjoyed a pleasant afternoon chatting to a dozen members over wine and coffee, salads and cake. If you can suggest a venue for a get together – whether that's a walking route, restaurant, pub quiz or theatre performance – do please contact your Local Secretary.
To prove we don't just eat and drink, you may have noticed I occasionally advertise fundraising events. They are mostly for Cancer Research UK as I feel this is a disease with whom most people have a link whether directly or indirectly. I personally know far too many Mensa members who have died of cancer or fortunately beaten the disease and if one life can be saved through my fundraising then I'll be very happy. For me combining my interests of Mensa and fundraising is a wonderful use of my time and efforts. But what charities do you support and why? Please write to the Empress Editor and let them know.
As always I'm available on [Phone Number] or [Email] and happy to hear from you.
Maxine Bates
Regional Officer
Events and Meetings
In the current circumstances surrounding the COVID-19 coronavirus, the expectation is that all events listed here are likely to be cancelled, if not already marked as such. If you intend participating in any event listed here, please contact the event organiser beforehand to confirm that the event is still on.
Derby Diary
I'm holding my annual Eurovision party at my home in Langley Mill on the Notts/Derbys border from 7.00pm on Saturday 10th. See Notts News for details and do join us.
On Wed 21st May at 7:30pm - 3WOTM
As usual we'll be in the rear of the Standing Order on Irongate in the city centre from 7.30pm on Wednesday 21st. This is as late in month as our "3rd Wednesday" event can fall. Join us for a meal or just a drink. Stay all evening or pop in for an hour. All welcome, especially new faces of which we've seen quite a few over recent months.
On Fri 23rd May at 7:30pm - Theatre
At 7.30pm on Friday 23rd Susan Luke invites you to join her at Derby Theatre to watch Northern Broadsides play "An August Bank Holiday Lark". This is set in the idyllic summer of 1914 rural Lancashire. Tickets cost £25.50 or £23.50 for concessions. It's expected to be popular so tickets will have been purchased by the time you read this. Contact Susan on [Email] or [Phone Number] to find out seat location then buy your own tickets and arrange to meet up on the night.
Maxine Bates
Contact [Email] or [Phone Number] for details

Notts News
On Mon 5th May at 8:00pm - 5OTM
There are five events for you this month. Starting with our regular get together at the Vat & Fiddle pub on Queensbridge Road (near Nottingham railway station) from 8.00pm on Monday 5th. Why not join us for an alcoholic or non-alcoholic drink and chat to round off the bank holiday weekend? Just look for a yellow Mblem on the table, usually in the Golding's Room to the left of the bar.
On Thu 8th May at 7:30pm - Natter & Nosh
Our other regular event falls in the same week this month. We'll be at the Beekeeper pub/restaurant on Thursday 8th and you are welcome to come along for food or just a drink any time from 7.30pm until closing. The menu and bar are reasonably priced as this is a Hungry Horse venue. We have the first long table beyond the food order point at the end of the bar. Again look for a yellow Mblem.
On Fri 9th May at 7:00pm - Greyhound racing
The following evening on Friday 9th we return to Nottingham Greyhound Stadium in Colwick to take part in another charity tournament. Come and cheer on our allocated dog at this fun night out whilst raising money for a very worthwhile cause. I've kindly been donated 100 tickets by the stadium and selling them for £5 each (normal admission and race card is £6) and all this money goes to Cancer Research UK. In addition accompanied under 18s are admitted free of charge. There is food and drink available at the venue and ample free parking. You are welcome to invite friends, family and work colleagues and arrive/leave any time from 6.00pm to 10.30pm. There will be an optional rendez-vous point at 7.00pm. If we win we go through to the finals in October with chance to gain a trophy and cash prize.
On Sat 10th May at 7:00pm - Eurovision party
Then from 7.00pm the following evening on Saturday 10th we have another event! It's time for my annual Eurovision Song Contest party at my home in Langley Mill! Watch the show. Heckle the acts. Eat a buffet of European foods (contributions welcome). Wear something related to a European country (optional but adds to the fun). Please bring whatever you wish to drink. Some beds/floorspace available for overnight guests. Contact me for directions and to let me know you'll be there to help catering. All welcome!
On Tue 27th May at 7:30pm - Eating meeting
Finally at 7.30pm on Tuesday 27th we're going to Navarra Italian restaurant on Oakdale Road in Bakersfield for our "eating meeting". I've not previously visited but the venue gets good reviews and the menu is reasonably priced so let's give it a go! Book your place with me by 21st please to ensure we can get a table. Restaurant recommendations appreciated for us to try in the coming months.
For further information, to ask questions, to buy tickets or to book places on any of these events please contact me on [Phone Number] or [Email]
Ciao for now!
Maxine Bates
Contact [Email] or [Phone Number] for details

Lively Lincs
On Sat 10th May at 12:05pm - Pub discussion
All the regulars this month, kicking off with the 2SaOTM pub discussion at the Adam and Eve on Lindum Hill, 10th May from 12.05 until we all go home several hours later. If you want to join in talking about 'Censorship', or just to listen, lunch or just imbibe, do join us for as long as you feel like. We're usually in the alcove, Mblem on the table.
On Tue 20th May at 7:00pm - Eating meeting
For our mid-week eating meeting, we're re-visiting the chinese restaurant, the Ocean at North Hykeham on Tuesday 20th at 7pm. It would be helpful if you could let me know you're coming by 17th, thanks.
On Sun 25th May at 3:00pm - Teatime Thinking
Lastly, over tea and cakes at my house near Alford, Sun 25 May 3-5pm, we'll be continuing our geographical coverage, this time of the Pacific island groups.
Christine Howells
Contact [Email] for details

Mensans In MK and Bedford
We have IMAG and a few other commitments in early May, so our events are all later in the month this time.
On Mon 19th May at 8:30pm - 3MotM Quiz
On Monday 19th we continue our Third Monday of the Month quiz meetings at The Barge at Woolstone. We meet from 8.30pm in time for the quiz at 9pm – cost is £1 per person. See www.vintageinn.co.uk/thebargewoolstone/ for location and, if possible, let me know beforehand if you're coming so we can reserve a big enough table.
On Sun 25th May at 10:00am - Sunday Breakfast
Please join us for breakfast at 10.00 am on Sunday 25th – note the new earlier time. Also please note we are back at Carluccio's in the Centre:MK – probably in one of the red booths just in front of the restaurant. Come for a full breakfast, a snack, or just a drink – look for the Mblem on a table
On Sat 31st May at 2:00pm - Higgins Museum
Finally, another trip to Bedford on Saturday 31st to visit the recently renovated Higgins Museum & Art Gallery. We did an outing a few years ago but it should look very different now. See http://www.thehigginsbedford.org.uk for more details (entry is free of charge). Meet just inside at 2pm – let me know in advance if you're coming and we will look out for you, but I will be holding an Mblem. Afterwards we may stay for an early dinner either at their restaurant, the Higgins Pantry, or another eatery in the Castle Quarter.
Just a reminder about our M-MK & Bedford Facebook group – if you would like to join please search for the group and send me a request. I also keep an email distribution list for meeting reminders and any last-minute changes, so if you would like to be added to this please let me know.
We hope to see as many of you as possible at one or other of our events in May. Do remember that you're welcome to bring a guest with you, so if you've never been to a Mensa event and are a little nervous about coming along on your own, just bring a friend.
Jo Sidebottom
Contact [Email] or [Phone Number] / [Mobile Number] for details

Herts Happenings
On Thu 1st May at 8:15pm - FThOTM
As ever, we're at the Millstream, Cambridge Road, Hitchin. Good food and good beer both available! Call me on [Phone Number] for more details and encouragement. The pub is about ten minutes' walk from the railway station.
On Fri 30th May at 8:00pm - LFOTM
As ever, we'll be at the Cowper Arms, Digswell, Herts (by Welwyn North station). Call me on [Phone Number] for more details and encouragement. The pub is next to the railway station, which is served by stopping trains from Kings Cross to Cambridge and Peterborough.
Richard Allen
Contact [Email] or [Phone Number] for details
On Sat 17th May at 3:00pm - Crazy Croquet
The next event at the Lawrence household in Welwyn is Crazy Croquet on Saturday 17th May. From 3 pm onwards, the plan is to have some lighthearted croquet on the back lawn with the odd libation or two and plenty of laughter. Kerensa, their four year old daughter (and member in her own right) will no doubt provide her own particular brand of entertainment, making it a very family-friendly event. Email Rowena on rowenamlove@gmail.com or call her or Mark on [Phone Number] if you want more details.
Rowena and Mark Lawrence
More or Leicester
On Fri 16th May at 7:30pm - Eating meeting
Sometimes, trying to decide what restaurant to head to is a bit like herding kittens. Some like Chinese, some like Indian, some want Thai, some want Italian.. all of these problems are solved with a trip to Zucchero's World Buffet on Charles Street in Leicester where you can have any combination of the above. Not only that, but there's a pancake machine where you can get fresh crepes, AND it's right next to an ice cream machine! What's not to like?? We're there on Friday 16th May, but please let me know by Tuesday 6th at the very latest if you're coming as I'll have to book a table!
On Thu 22nd May at 8:00pm - 4ThOTM
Once we've de-podged after our eating-meeting, normal life (or what passes for it) resumes at the Craddock on the Fourth Thursday. I note it's A-List celebrity Dale Winton's birthday that day, so do feel free to bring a cake!
More details / a chat / whatever is available by dropping me a line at [Email] or give me a call on [Phone Number].
I look forward to seeing you there.
Paul Coulson

Berkhamsted
On Thu 29th May at 7:45pm - LThOTM
Our regular meeting at The Old Mill, London Rd Berkhamsted.
Have a drink or eat with us. Pub does good meals.
New members, partners etc. always welcome. Free Car Parking.
Contact Jenny at [Email].
Jenny Habib
Contact [Email] or [Phone Number] for details

Mid Bucks
On Thu 1st May at 10:30am - Coffee & Chat
Meet me from 10:30am onwards on Thursday 1st May for a morning of informal conversation and coffee. This month we are heading for the café at Hildreth's on Wycombe Road in Prestwood, HP16 0HJ. Free parking and delicious cake! A good range of garden and household items is also available for sale in the shop. See http://www.hildreths.co.uk/ for further details and directions.
The café can get very busy, so if you know in advance you are coming please contact me on [Phone Number]. You will still be welcome if you just turn up on the day.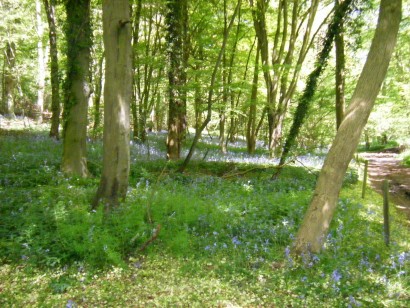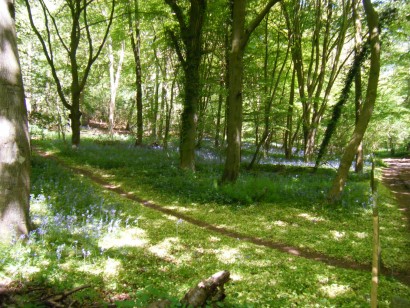 On Sat 10th May at 10:30am - Bluebell Walk
On Saturday 10th May come and enjoy a 4.5 mile circular walk from Studley Green garden centre, taking in the bluebells in Bottom Wood. This is a favourite route, with gentle gradients and no stiles, although it can be muddy in places after heavy rain. The bluebells should be out and you can expect to see red kites flying. If we are quiet enough we may surprise some muntjac deer as well.
The garden centre is at the western end of Studley Green on the A40. It is served by a regular bus service, Arriva route no 40 which runs between High Wycombe and Thame, so is readily accessible and also has plenty of car parking space.
Meet outside the garden centre to start walking at 10:30am. We expect to return by 1:30pm so if you prefer not to do the walk, please join us at the café for a late lunch. For further details or encouragement contact me on [Phone Number] or e-mail me at [Email]
Val Hinkins
Contact [Email] or [Phone Number] for details
Editorial
Page 6 this month includes a couple of photos of bluebell areas from an earlier visit to a site on a another event this month - Studley Green. The merit of printing monochome photos of bluebells is admittedly dubious, but to see the photos in all their glory, you can always take the opportunity to visit the web site at www.eastmidsmensa.org.uk.
Snowdrops and Pancakes
An international band of Mensans strolled through the snowdrops and tossed pancakes in Hertfordshire in March. Making the journey from as far afield as Germany and Ireland as well as from other parts of the region, they had fun doing a variety of activities.
In the afternoon some went to Benington Lordship, famous for its snowdrops, while others decided to check out The Lordship Arms, the award-winning CAMRA pub in Benington Village. Afterwards they headed back to Welwyn for a pancake party at the home of Mark and Rowena. French friend Christine was on hand to help prepare some of the crepes, which were then filled with a whole variety of fillings.
Jennie Weatherill had come along and a little bird had let the hosts know it was her birthday so a homemade Red Velvet cake duly made an appearance during the evening.
The fiery glory of the evening, though, in a literal sense, was the Feuerzangenbowle that Tina Siewert had brought from Germany. It was a sort of mulled wine topped with a flaming rum-soaked sugar cube. Delicious.
By Rowena M Love.
'20 Questions (No. 152)'
The answers from the Irish quiz in March were Galway, 1690, River Liffey, Dublin, flute, harp, snakes, Trinity College Dublin, potato and cabbage/kale, 1845, Michael Flatley, Ballykissangel, Dingle Bay, County Clare, Samuel Beckett, The Clarence Hotel, drum, cockles and mussels, maternity hospital and New Midleton Distillery. Entries were received from Alex Foster of Derby, David Lewis of Hitchin, Patrick Cavanagh of Ireland, Grahame Blanchard of Towcester, Michael Warren of Derby, Chris Impey of Tring, Una Adams of Corby, Carol Wheatcroft of Derby, Peter Edwards of Hertfordshire, Roger Plant of Nottingham and Pamela Covey of Woburn. The winner, drawn at random from all correct entries, was Michael who just happened to be celebrating a special birthday at the time the prize was sent out so a double celebration!
As spring has sprung we have a flowery quiz this month. Send your answers to arrive by 20th May by post to '20 Questions (No. 152)', [Address] or by email to [Email]. Either way please remember to include your name and address so we are able to get the prize to the winner.
1. The poinsettia originated in which country?
2. During the War Of The Roses which colour represented Lancashire?
3. What is your birth month flower if born in December?
4. Helianthus is the scientific name for which flower?
5. Which flower was the original source of the drug digitalis?
6. What is the national flower of Slovenia?
7. The vanilla bean comes from which type of flower?
8. African, shasta and white button are varieties of which flower?
9. During which century were tulip bulbs worth more than gold?
10. Who had a hit with "Build Me Up Buttercup"?
11. Which flower bulb can be used in place of onions in cooking?
12. Measuring barely a millimetre what is the world's smallest flower?
13. What colour is the speedwell flower?
14. In which state are over 60% of the United States' cut flowers grown?
15. The freesia is named after a botanist from which country?
16. Who was the Roman Goddess of flowers?
17. The myosotis flower is more commonly known as what?
18. Saffron spice comes from which type of flower?
19. In which month does the Battle Of Flowers take place in Jersey?
20. Which poet wrote "a rose is a rose is a rose"?