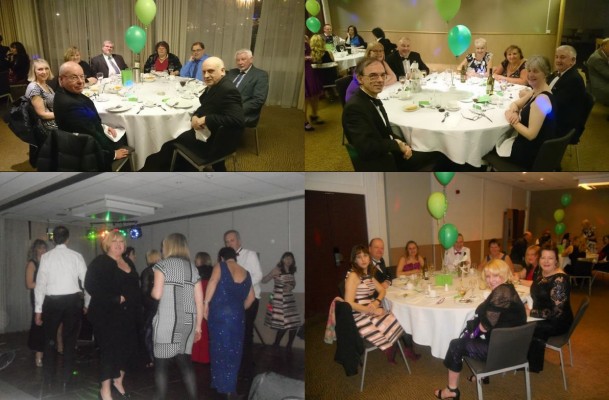 Spring Ball
Regional News
Firstly thank you to everyone who attended our Spring Ball in March. It was an evening of great food, great music, great company, great dresses and we raised £200 for Cancer Research UK with a raffle too. Thank you to the men who danced the waltz and quickstep with me. Although we'd never danced together previously and made the steps up as we went along the other guests seemed impressed and now want to learn how to ballroom dance themselves! The Novotel actually emailed me after the event to say we had been a delight to serve and we would be welcome back any time.
Our next regional event is a Family Fun Day at Wicksteed Park in Kettering, Northants, on Sunday 26th June. This lovely family owned park has over 30 rides and attractions suitable for all ages in addition to a boating lake, narrow gauge railway, the world's oldest water chute, crazy golf, walk-through aviary, geocache trail and much more. Tickets cost £14 but FREE to any guests under 0.9m tall. To book online please go to www.mensa.org.uk, click through to the members area and scroll down the national events. Or phone Diane at the Mensa office on 01902-772771. But do it by 10th June to get this special rate! We'll be meeting at the entrance at 10.30am but you can stay as long as you like. Please bring a picnic so we can lunch together. Parking charges apply but all money goes back to the park to help maintain and improve it. Feel free to use either our Facebook group or Yahoo email group to request/offer car shares.
Bookings are now open for our 70th anniversary event on Saturday 1st October too. This will be a 1940s themed evening to link in with when Mensa was founded. There will be a 1940s themed dinner (no, not rations!) followed by dancing to a big band and DJ plus more. Venue is the Radisson Blu Hotel near East Midlands Airport where we have received top notch service at previous events. If you can only attend one event this year, make it this one! Again go to the events page on the Mensa web site for full details and to book online.
Finally thank you to Marianne for offering to host a brand new event in Northampton. This will be at the Rendezvous Coffee Shop on Market Walk from 10.30am on Sunday 15th May. Pop along for a drink, breakfast or full meal and to meet each other. With enough support this may become a regular event for Northampton members. Contact Marianne on [Phone Number] or [Email] if you need directions or some encouragement to come along and say hello. Remember any member is welcome to host an event, you don't need to be a LocSec to get involved. Could you invite other members to join your hobby or interest?
As always, I'm on [Email] or [Phone Number] if you'd like to get in touch.
Maxine Bates
Regional Officer
Editorial
Welcome to the May Edition of Empress. There are so many events going on that it has taken quite a lot of time, effort and brain power to fit them all in just 8 pages.
The Spring Ball was such a success that I have managed to fit a couple of reviews.
Do please thank your LocSecs and all the volunteers for making my editing life so hard and your social life so enjoyable
Richard Dimmock
Maria Falces
Member Profile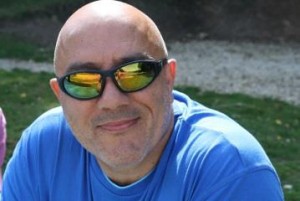 What's your name?
Andy Kemp.
Where do you live?
Heighington, near Lincoln.
When did you join Mensa?
About 1980 I think – it's all a bit hazy!
Why did you join?
I had been one of the winners of a competition in the London Evening News in 1978 but didn't join then – I saw an advert later when I had a little more money, so I applied.
Have you attended any events?
Never attended an event though would very much like to, if I had time. Cambridge always looks fun.
Any hobbies/interests?
I like to ski, run the occasional OCR (obstacle course race), go to the gym, travel (have worked all over the world and at various times been based in Vancouver, Miami, Lima, Thailand and Malaysia), study the stars and read – I have around 4,000 books in the house and approximately 50,000 in storage that I have acquired over the years!
Do you belong to any SIGs?
Think! (Philosophy) and Astronomy SIGs. Would love to join more, if I had time!
What's your occupation?
Tax planning consultant working in our own accounting and business services company.
Anything else?
I have 5 children, eldest sings opera/classical in London and youngest is just 4, so life is full. One thing I have become very interested in is supporting the group who are refurbishing the magnificent art deco Ritz theatre in Lincoln – a fantastic cause!
Spring Ball Reviews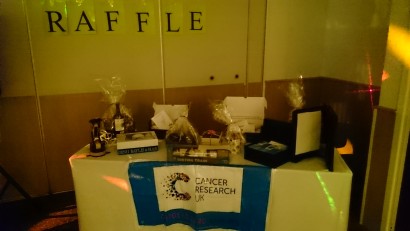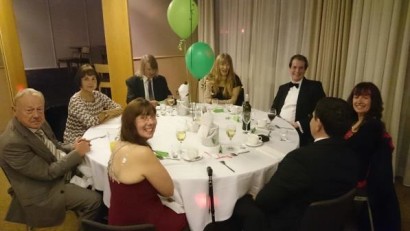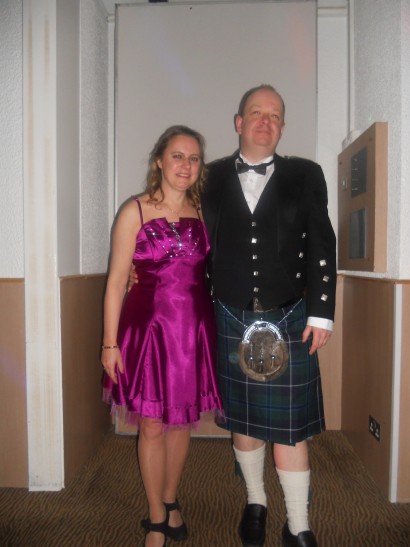 A chance to dress up in your finest; to add a touch of the James Bond and Pussy Galore to the East Midlands social scene.
With our own private bar and a bottle of "peanut grijjio" chilling nicely in the ice bucket we were set fair to tuck into our three-course dinner delighting in the company of friends old and new. Afterwards, there was the chance for a dance (well... a wobble around the walking stick in my case) to a disco who understood that you didn't have to deafen everyone in order to provide entertainment!
All in all, it was an absolutely excellent evening. We thoroughly enjoyed it, even though we won nothing in the raffle (although we were delighted to see tons being raised for cancer relief). Many many thanks to Maxine for organising yet another excellent event.
Paul and Lesley Coulson
My wife and I attended the Mensa Spring Ball at the Novotel Nottingham on Saturday 19th March. We both had a very enjoyable evening. The 3 course meal was delicious and plentiful and we enjoyed the company of different people at our table.
The raffle in aid of Cancer research had a range of excellent prizes (All donated by members) and I believed it raised in excess of £200 for this very worthy cause. The music provided was varied and together with the visual accompaniment ensured that those who wished to dance had plenty of opportunity to do so.
Many thanks must go to Maxine Bates for organising once again a very successful evening.
Brian and Pat Samuels
Events and Meetings
In the current circumstances surrounding the COVID-19 coronavirus, the expectation is that all non-online events listed here are susceptible to being cancelled, if not already marked as such. If you intend participating in any event listed here, please contact the event organiser beforehand to confirm that the event is still on.
Derby Diary
On Saturday 14th it's my annual Eurovision party at my home in Langley Mill right on the Notts/Derbys border. See Notts News for full details.
On Wed 18th May at 7:30pm - 3WOTM
We're at the Standing Order on Irongate in the city centre from 7.30pm until late on Wednesday 18th for food and/or drink. Look for a yellow Mblem on a long table in the rear section of the pub. It's not a Mensa event unless we've rearranged the tables!
Derbyshire is a beautiful county for country walks. If you can recommend any circular routes of around 4-5 miles please get in touch. Especially if there's a nice pub either in the middle or end for a refreshment stop!
Maxine Bates
Contact [Email] or [Phone Number] for details

Hertfordshire Happenings
On Thu 5 May at 8:00pm - FThOTM
As ever, we are at the Three Magnets, Leys Avenue, Letchworth. Thursday nights are curry nights but other food (standard Wetherspoons' fare) is available as well. Leys Avenue is the main shopping street in Letchworth and is a few minutes' walk from the station (Kings Cross to Cambridge line). Call me for more details and encouragement.
On Sun 8th May at 1:00pm - Stotfold Mill Steam Fair and Country Show
This is the fourteenth year of the popular country fair at Stotfold Mill, which is always worth a visit. The Mill itself, a restored watermill, will be open and there will be various displays and shows on (plus a real ale tent!). Stotfold Mill is an increasingly rare example of a working watermill, which was almost destroyed by fire many years ago but has been painstakingly restored. I plan to be there from about 1 pm on the Sunday; if you're interested in coming, give me a call on [Phone Number] for details, encouragement and directions. Stotfold is on the A507 west of Baldock and north of Letchworth and the event is signposted using temporary AA signs, but for satnav users the postcode is SG5 4NU. I can pick people up from Letchworth or Hitchin stations.
On Fri 27th May at 8:00pm - LFOTM
Last Friday is at our usual venue of the Cowper Arms, Digswell and what better way to start the Bank Holiday weekend?
Late announcement: I plan to be at the Baldock beer festival on the afternoon of Saturday 30 April; location is Brandles School, Weston Way, Baldock SG7 6EY. If anyone's interested in coming, please give me a call!
Richard Allen
Contact [Email] or [Phone Number] for details

Lively Lincs
On Sat 14th May at 12:05pm - Pub discussion
We will be at our usual venue, 'Adam and Eve' on Lindum Hill, maybe in the garden, otherwise in the alcove, look for MBlem. This month's topic: 'Can political dimensions be avoided in museum collections?'
On Thu 26th May at 7:00pm - Eating meeting
By popular request, a return to one of our favourites, Carluccio's. All welcome but please book with me by 21st if possible, thanks.
Christine Howells
Contact [Email] for details

Mid Bucks
On Mon 9th May at 8:00pm - Indoor games evening
Enthusiastic games players Dave and Alison invite you to their home in Flackwell Heath for an evening of indoor games – possibilities available include Boggle, Enigma, Sherlock Holmes, Mid- Life Crisis and many others. Arrive for an 8pm start on Monday 9th May. Space is limited, so please contact Dave on [Email] or [Phone Number] for directions and to let him know which games you would like to play.
On Fri 13th May at 10:30am - Conversation and coffee
Meet me from 10:30am onwards on Friday 13th May for a morning of informal conversation and coffee. This month we are returning to the café at Chenies Garden Centre near Little Chalfont, WD3 6EN. Only two miles from Junction 18 on the M25. Free parking. Delicious cake! A good range of plants, garden tools, garden furniture, gifts and food is also available for sale in the shop. See http://www.vanhage.co.uk/garden-centres/chenies for further information and an idea of the goods and services on offer. The café can get very busy, so if you know in advance you are coming please let me know so I can assemble enough chairs. You will still be welcome if you just turn up on the day.
On Thu 19th May at 7:30pm - Comedy
On Thursday May 19th Mark Steel asks "Who Do I Think I Am?" at the Old Town Hall, High Wycombe. After appearances on Have I Got News for You, the News Quiz, QI and Room 101, Mark Steel is a well-known performer. He also writes for the Independent. "Who Do I Think I Am?" tells the story of his search for his own origins – a surprising and enthralling history. First presented at the Edinburgh Festival in 2015 The Scotsman's review described it as frank, dryly funny and moving, but subtly thought-provoking too. Please note there is a minimum age limit of 14 years. Tickets (£16.00) and further information from https://wycombeswan.co.uk/Online. Doors open at 7:30pm and the show starts at 8:00pm. Please buy your own ticket(s), but let me know you are coming so that we can meet up beforehand.
On Sun 22nd May at 11:00am - Chiltern Walk
Meet me at Saunderton Station at 11 am on Sunday 22nd May for a 7 mile walk in the Chiltern Hills. We will stop for a pub lunch on the way to Bledlow and then visit Bledlow Manor Gardens before walking on into Princes Risborough. The gardens are only opened to the public a few times a year for charity and there is a £5 admission charge. Refreshments will also be on sale. If coming by car, park at Princes Risborough station and take the train to Saunderton for the start of the walk. Note there are no facilities at Saunderton. I will need to book us a table for lunch, so please let me know you are coming by Sunday 15th May. For further details or encouragement contact me.
Val Hinkins
Contact [Email] or [Phone Number] for details
More or Leicester
On Tue 10th May at 7:30pm - Eating Meeting
Feeling Tuesday-ish? Second day back at work and the weekend still seems miles away? Why not treat yourself and come along to The Boot Room's CBA menu on Tuesday 10th May at 7:30 in Leicester? This is one of my favourite city centre restaurants, and their CBA menu is an excellent reasonably-priced introduction. More info from them at www.thebootroomeaterie.co.uk but we'll need to book early as it gets popular. Please can you let me know by 3rd May at the latest so I can do the necessaries? CBA? Can't be a......
On Mon 23rd May at 8:00pm - 4MOTM
After that, it's our first Fourth Monday as our Fourth Thursday is no more! It has ceased to be. If you go to The Cradock on a Thursday, we won't be there; go on the fourth Monday instead. (Incidentally, this is likely to be the last time we go there as we look to move to a new venue). Write this down and stick it on the fridge: Monday Twenty Third May – Leicester Mensa's First Fourth Monday at Eight. Simple, eh?
Paul Coulson

Mensans in MK & Bedford
On Sun 8th May at 11:00am - Campbell Park Walk
Our first event in May will be a leisurely walk around Campbell Park on Sunday 8th. We'll meet outside the front of MK theatre at 11am and walk over the footbridge to the park together. Please let me know if you'd like us to look out for you.
On Mon 16th May at 8.30pm - 3WOTM & Quiz
Our monthly visit to the Barge in Woolstone for the quiz is on Monday 16th. Meet from 8.30 - the quiz starts at 9pm and costs £1 per person. Look out for the Mblem on a table. Please let me know beforehand if you're coming so I can bag a large enough table.
On Sun 22nd May at 10:00am - Sunday breakfast
Sunday breakfast will be on 22nd at 10am at Carluccio's in the Centre:MK. You will probably find us in one of the red booths just in front of the restaurant – look for the Mblem on a table. Come for a full breakfast, a snack, or just a drink.
Just a reminder about our M-MK & Bedford Facebook group – if you would like to join please search for the group and send me a request. I also keep an email distribution list for meeting reminders and any last-minute changes, so if you would like to be added to this please let me know.
We hope to see as many of you as possible at one or other of our events in March. Do remember that you're welcome to bring a guest with you, so if you've never been to a Mensa event and are a little nervous about coming along on your own, just bring a friend.
Jo Sidebottom
Contact [Email] or [Phone Number] / [Mobile Number] for details
New for Northampton
On Sun 15 May at 10:30am - Breakfast
The inaugural get-together will be at the Rendezvous Coffee Shop, Market Walk. This is a new event with a new host so do please come for a drink, breakfast or something more substantial. Contact Marianne on [Phone Number] or email [Email]. I'll be in the seating area on the left of the entrance nursing a copy of the Mensa magazine. Look for the red hair!
We are in need of a LocSec. Would you volunteer? If so do please contact Maxine: [Phone Number] or [Email]

Notts News
On Thu 5th May at 8:00pm - 5OTM
Lots happening this month! Join us from 8.00pm on Thursday 5th at the Vat & Fiddle pub on Queensbridge Road. Almost city centre but not quite enough to have to pay for parking! We'll most likely be in the Goldings Room to the left of the bar. Just look for a yellow Mblem or Mensa Magazine on one of the tables.
On Thu 12th May at 7:30pm - Natter & nosh
A week later on Thursday 12th we're at the Beekeeper on Meadow Lane in Beeston. We should be on one of the larger tables to the left as you enter but ask for me and I'll make sure the greeter shows you to our table if we are elsewhere. They have gone posh and now have a greeter at the door. But it's the same good value food and drink so come along any time from 7.30pm.
On Thu 19th May at 7:00pm - Fashion show
On Thursday 19th I'm organising a fashion show to take place at Underwood Miner's Welfare (NG16 5GA). Doors open 7.00pm with the show starting at 7.30pm. It will feature items from most of the major high street clothing stores and afterwards there will be chance to try and buy at heavily reduced prices. Tickets cost £3 including admission, the show and entry into a prize draw. Please contact me if you'd like to buy any. There will also be a raffle and tombola with all proceeds going to Cancer Research UK. Get there early as last year this event was hugely popular!
On Tue 31st May at 7:30pm - Eating meeting
At 7.30pm on Tuesday 31st we return to Gino's Italian restaurant on Church Street in Ruddington (NG11 6HD). As this is a popular place I've already reserved a table but please let me know by 27th if you'd like to come along in case numbers need altering. Their menu is at ginos-ruddington.com where you can see their Tuesday special offers too.
Ciao for now!
Maxine Bates
Contact [Email] or [Phone Number] for details
Advance Notices for Notts
From Sally Branston on Sunday 12 June: [Phone Number] or [Email]
Join us for Sunday lunch at 12:30pm in the beautiful town of Newark. Venue to be confirmed depending on who is interested but likely to be Zizzi's Italian restaurant on Castle Gate with great views of the castle and river Trent. Please contact Sally to express interest by 10th so a table can be reserved.
At 2:00pm there is a free guided walk around Newark led by a Mensa member pointing out all the historical features of the town. Meet outside the castle entrance ready to set off at 2pm prompt. The walk will finish at the National Civil War Museum that you are welcome to visit afterwards.
Our last activity of the day is a visit to the brand new National Civil War Museum at 3:15pm. Entrance £7 adults, £6 concessions, £3 children (5-16), free for under 5s. 50% discount for members of English Heritage. 10% discount for groups of 10+. See www.nationalcivilwarcentre.com for further info or contact Sally.
Can you help?
15 year old female junior member seeks work experience preferably within the fields of IT or engineering. Ideally the week of 4th-8th July 2016 but any week or even a couple of days in July or August would help. She lives in the NG9 postcode so work experience required in the Notts/Derbys area please. Please contact Maxine on [Phone Number] or [Email] in the first instance and I'll put you in touch.
20 Questions (No. 176)
The answers to our Ozzie quiz in the March issue were South Australia, Homebush Bay, emu and kangaroo, The Olgas, Kakadu, Neville Bonner, Tasmania, Bass Strait, Advance Australia Fair, 1932, puggle, Love Kylie, Adelaide and Alice Springs, Lake Burley Griffin, Hobart, 26th December, Nevil Shute, Suddenly, Jorn Utzon and Derwent. Nigel Bryant from Bedford wins once again!
Thanks to Les Hurst for setting this month's quiz which is all related to famous people or places. Send your answers to arrive by 20th May by post to '20 Questions (No. 176)', [Address] or by email to [Email] remembering to include your name and address so we know where to send the prize of a £10 book token.
1. Which actor's name can be anagrammatised as "genuine class"?
2. According to Chas & Dave the word target rhymes with which place name?
3. Who rejected the title of Duke of London?
4. Which gardener invented the Ha-Ha, a sunken wall?
5. Which English town was nicknamed "Ironopolis"?
6. The early hippies who lived in caves above Matlock in Derbyshire called themselves what?
7. Which singer was nicknamed "The Forces' Sweetheart"?
8. Which country was the birthplace of Ugg boots?
9. According to Arthur C Clarke there are nine billion what?
10. Edith Piaf born in 1915 was named after who?
11. In 1972 which animal would give you no pain?
12. Called the Pas de Calais by the French what is its English name?
13. Which Benfica player was nicknamed "The Black Pearl"?
14. Who designed the Morris Minor and the Mini?
15. Who is Bill Pronzini's refutation of this quiz?
16. Which Nottingham tram stop takes its name from D H Lawrence's personal symbol?
17. Who was France's alleged inventor of the champagne method?
18. Chaim Noskwith gave his name to which lingerie company?
19. Which German leader was known as "The Iron Chancellor"?
20. The name of which city is Spanish for "White House"?