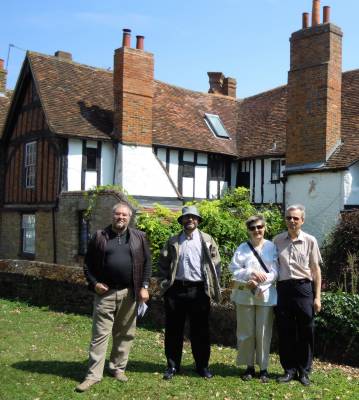 Chris, Victor, Val and Peter (Jo behind the camera) – and a couple of fascinating features on the house.
Regional News
If you attended the Annual Gathering in Coventry I hope you had an enjoyable weekend and saw new things and met new people. The newsletter awards ceremony was a small part of the event and I'm delighted to say that once again Empress won the award in the service category. Well done to our Editors Rosie and Nick, all the LocSecs who write a regular piece, everyone who has compiled a quiz, and anyone who has contributed a feature over the last year. We wouldn't have won without you! As always, if you would like to comment – either positively or negatively - on this newsletter or suggest new features please do contact either myself or Rosie as we'd appreciate hearing from you.
As Christmas is approaching there are several "eating meetings" with a festive theme on the Mensa calendar. You are welcome to come along whether you are a new member or regular attendee of events. Don't worry about all those extra calories as we're planning some active events during 2012 to link in with the Olympics. By that I don't mean we're all expected to run marathons but hopefully there will be opportunity to meet other members outside the popular pub and restaurant locations. Event suggestions welcome!
The final weekend gathering of the year is the Lakes Party Weekend that I'm organising based at CenterParcs in Cumbria 11th-14th November. Although not a Mensa exclusive event, in reality everyone who comes has a Mensa connection. The package costs £125 and includes three nights accommodation in a twin room (supplement for sole occupancy), three parties, three buffet meals, help-yourself bar throughout the weekend, cocktail of the day, unlimited access to the water dome, walking in the Lake District, cheese tasting, quiz and much more. Around one third of bookings are from Mensa members in the East Midlands so car shares may be possible. Please contact me on [Phone Number] or [Email] for further information or to check availability.
Next year's Mensa calendar includes weekend gatherings in Portmeirion, Cork, Cambridge, Belfast and Renfrew so far. Keep an eye on www.mensa.org.uk as details are finalised.
Maxine Bates
Regional Officer
Events and Meetings
In the current circumstances surrounding the COVID-19 coronavirus, the expectation is that all events listed here are likely to be cancelled, if not already marked as such. If you intend participating in any event listed here, please contact the event organiser beforehand to confirm that the event is still on.

WATever . . .
On Mon 14th Nov at 8.00pm - Movie Night
Monday 14th at 8.00pm: Movie Night - feet up and bring the popcorn! [Address]. Will decide and advise nearer the time which film to watch. Please do let me know if you plan to attend as numbers may be limited.
On Mon 28th Nov at 8.00pm - Pub meeting
Monday 28th at 8.00pm: Pub meeting – Essex Arms, Langley Way, Watford. WD17 3EG. Please look for the Magazine on the table. New members always warmly welcomed.
David Seddon
Contact [Email] or [Phone Number] for details

Notts News
On Sat 5th Nov at 8:00pm - 5OTM
Remember remember the 5th of November – and join us at the new look Vat & Fiddle pub on Queensbridge Road! Find us in the new room to the left of the bar probably on the first table as you enter. We'll be there from 8 until late as it's a Saturday. Last time we met we had the room to ourselves and the pub had overcatered on a private tour of their Castle Rock brewery so offered us the leftover buffet including sushi, samosas and satay chicken sticks. Yummy! If anyone would be interested in a tour of this micro-brewery please let me know and I'll try to arrange one.
On Wed 9th Nov at 7.00pm - Chicks and Flicks
On Wednesday 9th we're meeting inside the doors to the Cornerhouse at 7.00pm prompt. We'll then head round the corner for a meal at Nando's restaurant whilst debating which film to watch at Cineworld later. Contact me in advance if you would like the options. We tend to choose from films starting between 8.00pm and 9.00pm so dinner isn't too rushed and it's not a very late finish and prefer 2D to 3D. You are welcome to join us for just the meal.
On Wed 23rd Nov at 8.00pm - Sheepy racing
You may have seen the hilarious sheep racing at the Nottingham AG in 2006 or Bristol AG in 2009 or at local events over the years. It's a while since the flock have had an outing and they'll be making an appearance in the function room of the Horse & Groom pub in Moorgreen at 8.00pm on Wednesday 23rd. A pound or two will buy you a wad of sheepy money so you can gamble on the races and there will be a prize for the winner and the landlord will be donating all takings to Macmillan Cancer Care. Contact me for further details or directions or just turn up on the night.
On Tue 29th Nov at 7.30pm - Eating meeting
Our last Tuesday eating meeting will be a festive feast at The Beekeeper on Meadow Lane in Beeston at 7.30pm on 29th. We don't usually return to the same venue consecutive years but the pub/restaurant was so good at re-arranging our group booking last year at very short notice when hardly anyone could get there due to the heavy snow and ice. Plus every diner receives a voucher booklet valid at Hungry Horse venues throughout the year so we've had lots of free food and drink during 2011. The cost is £8.99 for 2 courses or £11.99 for 3 courses and at the time of writing there are already 17 of us booked. Phone or email me to be added to our reservation.
Ciao for now!
Maxine Bates
Contact [Email] or [Phone Number] for details

Hertfordshire Happenings
On Thu 3rd Nov at 8.15pm - FThOTM
Regular FThotM meeting on 3rd from 8.15pm. Come and join us! We'll be around for our usual mix of lively conversation and a good atmosphere. As always, we're at the Millstream in Hitchin. Good food and good beer both available! Call me for more details and encouragement. The pub is about ten minutes' walk from the railway station.
On Fri 25th Nov at 8.00pm - LFOTM
LFotM on 25th from 8.00pm. Join us at the Cowper Arms, Digswell (near Welwyn village). Good food and good beer available to suit all tastes! The venue is next to Welwyn North railway station (Kings Cross - Cambridge and Peterborough line with trains every 30 minutes). Contact me for further details and encouragement.
Richard Allen
Contact [Email] or [Phone Number] for details

Mensans in MK & Bedford
On Thu 3rd Nov at 8.00pm - FThOTM
Once again we are away for First Thursday, but once again Becky Cave has volunteered to step into the breach. Join her at 8.00pm on the 3rd at Jurys Inn Hotel on Midsummer Boulevard (west). Look out for the Mblem or mag on one of the tables to the right in the foyer. Contact Becky on 07941-168-131 for directions or encouragement.
On Sun 13th Nov at 8.00pm - My Favourite Things
Mike Hargreave Mawson continues to host meetings at his home in Bedford this month, with "My Favourite Things" on Sunday 13th. This month's theme for My Favourite Things is odours, so bring along samples or memories to share with others.
Mike's address is [Address]. He strongly advises contacting him in advance for directions and parking hints if it's your first visit - email [Email] or phone [Phone Number]. It's great to see meetings happening in Bedford again and hopefully they will be well supported by Bedford members.
On Thu 17th Nov at 8.00pm - Tea and Crumpets
Now that autumn is well and truly here, come and join us by the fireside at Oaklands for a nice cup of tea and some hot buttered crumpets. E-mail Mike on [Email] or phone [Phone Number] for directions/encouragement/parking hints.
On Sun 27th Nov at 10.15am - Sunday breakfast
Sunday breakfast will be at 10.15am on Sunday 27th, but over the winter months we are moving to Brown's restaurant on the front of The Hub (next door to Jurys Inn), which we think is a bit cosier. Feel free to come for a full breakfast, a snack, or just a drink, but if possible please let me know by Saturday 26th so we have an idea what size table to grab when we arrive.
We hope to see as many of you as possible at one or other of our events in November.
Jo Sidebottom
Contact [Email] or [Phone Number] / [Mobile Number] for details

Mid Bucks
On Sat 5th Nov at 2.30pm - Theatre
I will be going to the Wycombe Swan on the afternoon of Saturday 5th to see Alan Ayckbourn's comedy Season's Greetings followed by an informal meal in town. Please buy your own theatre tickets, but ring or e-mail me at to let me know you are coming.
Val Hinkins
Contact [Email] or [Phone Number] for details

Lively Lincs
On Sat 12th Nov at 12.00pm - 2SaOTM
Our usual venue is changing management, so we will have to go elsewhere for our usual 2SaOTM, on 12th from 12-2, for frivolous chat and some more serious discussion over food and/or drink. It will probably be to the Adam and Eve pub on Lindum Hill in Lincoln. However, please email me if you are thinking of joining us so that I can let you know if there has to be a late change of plan.
Christine Howells
Contact [Email] for details
More or Leicester
On Thu 17th Nov at 8.00pm - 3ThOTM
In medieval times, meetings of great importance were heralded by the lighting of bonfires and the sacrificing of virgins (or something). These days, an entry in Empress is all it takes! On Thursday the 17th, we'll be gathering at the meeting hut known as The Craddock Inn (http://tinyurl.com/leicsMensaTTOTM) at 8.00pm. Conversation will be varied, and company convivial!
On Wed 30th Nov at 8.00pm - Eating meeting
On Wednesday 30th thoughts turn to Scotland as we celebrate St Andrew's Day with an eating-meeting at Wetherspoons in the Market Place in Leicester. I'm not Scottish, so that shouldn't stop you either! If there's no haggis on the menu, then we'll just have to mek do wi' a wee dram (or two...!)
For either of these, please feel free to drop me a line or call me so I know to look out for you.
Paul Coulson
Derby Diary
On Wed 16th Nov at 7.30pm - FWOTM
There's just one event this month due to holidays, job searching and other commitments. Our regular 3rd Wednesday get together on 16th at the Standing Order on Irongate will be an early Christmas meal and requires pre-booking. The cost is £7.49 for main course including a drink then £2.00 each for starters or desserts so choose from 1, 2 or 3 courses. Please contact Maxine on [Phone Number] or [Email] for menu and to book. You are welcome to join us for just a drink later and we'll do our best to squeeze you around our reserved table.
Alistair Blackett

Berkhamsted
On Wed 30th Nov at 7.45pm - LWOTM
The LWotM meeting on Wednesday 30th will be at 7.45pm at the Old Mill on Berkhamsted High Street (at the end nearest to Hemel Hempstead). There is a car park but this is popular so do try to be there early. This is St Andrew's Night. Any of you Scots want to come with a bit of Burns to read? I do hope some of you newer members will make an effort to meet us.
Jenny Habib
Contact [Email] or [Phone Number] for details
Editor's Bit at the Bottom
Ooh, I'm a bit squashed this month. So just turn the page and read the reviews . . .
Rosie Jefferson
IT Without Tears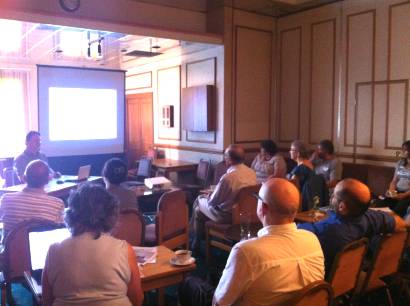 Members and their guests from various locations in East Midlands attended "IT without tears", MK and Bedford's Mensa Brilliant event. We had three excellent speakers: first, Rosie Jefferson, Empress editor, talked about laying out material for a newsletter. She illustrated this expertly by taking us through the steps for formatting a plain text article into the finished product, including enlarging the headings, enhancing the text, inserting photos and captions, and adding quotations in text boxes to fill any excess space. Everyone agreed that the finished article looked much more eye-catching than the original, even though the content was unchanged.
Next, Vince Lammas, a non-Mensan who had kindly agreed to participate, gave a demonstration of Excel charts and pivot tables. He showed how charts could easily be created using the various wizards, and then formatted as desired. He demonstrated the use of pivot tables to show information in two dimensions, and also showed us a neat trick of his own invention to achieve similar results by an alternative and more flexible route. He also emphasised the principle of keeping original data in separate worksheets from charts and tables, to avoid the risk of accidentally corrupting the data.
Finally, Paul Scofield, a local Milton Keynes member, talked about data security. He described the various approaches used by hackers to crack passwords, and gave us some techniques for increasing the security of our passwords. He also explained the use of anti-virus and anti-spyware software, why it is necessary to have either a hardware or software firewall, or both, and how to secure our wireless networks. We were all surprised to discover how simple and quick it can be for someone to discover key information from an unsecured PC or network.
Everyone seemed to find the workshop useful and went away having learned new information. Despite a few last minute panics with different software versions, and laptop connectivity (all successfully resolved in time!), the event was very successful. I am grateful to all three speakers, and to Chris Lonsbrough for his audio-visual expertise in setting up all the equipment. I think we can safely say we did Mensa's 65th birthday proud!
Sunny Sunday Stroll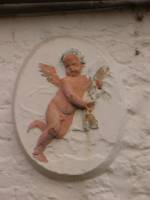 Receiving the photo at the top of this page of a sunny Sunday stroll had your editor asking about the house and its plaque. I'm so pleased that I did! This was Jo's response:
"The building in the background is the Manor House in Church Street. It's an early Tudor house, and you might just be able to see that one of the chimneys is twisted. Queen Elizabeth I was once a visitor to the house. The plaque on the wall is dedicated to St. Rumbold, the 'baby' saint of Buckingham, who according to legend was born around 650 AD. He only lived for three days but during this time precociously declared he was a Christian and performed many miracles!
We had a very leisurely two hour saunter around the town with an information leaflet that pointed out the various landmarks, before enjoying lunch in Prezzo, which fittingly is also housed in a Tudor building."
Boxley Abbey had a famous portrait of the saint. It was small and of a weight a child could lift it but at times became so heavy even strong people could not lift it. According to tradition the attempt to lift the portrait was a test of a woman's chastity. In practice, those who paid the priest well could lift the portrait with ease, while others could not. On the dissolution of the monasteries in England, it was found that the portrait was held by a wooden pin by an unseen person behind the portrait.
Mensa's 65th birthday
Party Time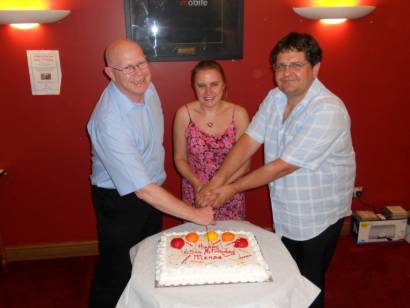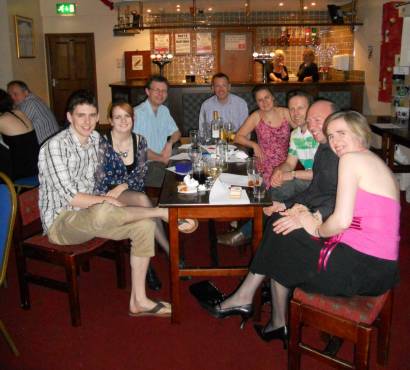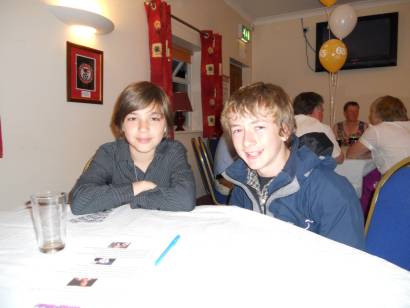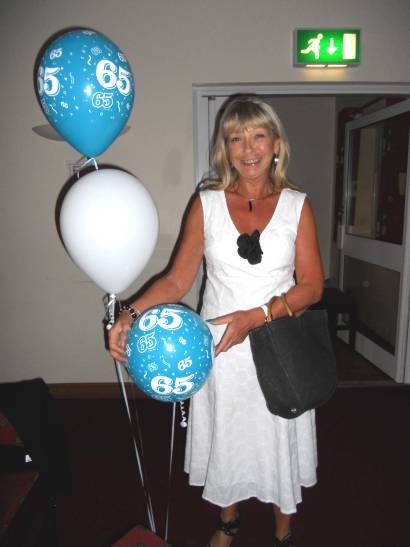 It was Brilliant!
Over 40 members and guests arrived at the function room at Ilkeston Town FC in Derbyshire to celebrate Mensa's 65th birthday on Saturday 1st October. This included Kai and Blade, teenagers from Leics, and Sue from Nottingham who is one day older than Mensa! We also had members from Birmingham and Manchester join us.
There was a quiz to keep people occupied whilst everyone arrived and the questions were all about 1946, the year Mensa was founded. Congratulations to the winners Nigel and Jenny. Once the buffet had been devoured it was time to cut the specially made birthday cake and this was done by Ian, Maxine and Paul the Northampton, Nottingham and Leicester LocSecs respectively. Rather yummy it was too!
We then drew the raffle which raised over £60 for Cancer Research UK and many people went home with prizes ranging from wine to games to gadgets. Then it was time to dim the lights and do some dancing, although apart from the popular Macarena and Time Warp guests preferred to sit and chat.
Using our own sound system rather than hiring a DJ with loud music and flashing lights this was easily possible.
Throughout the evening I chatted to new members, those who hadn't been to an event for a while and regular attendees. What a lovely bunch of people! It was great to receive thanks from the new faces for inviting them to a free night out and making them feel welcome.
20 Questions (No. 122)
Answers to the train questions in the September issue were Vitesse, Frank Sinatra, Trans-Siberian Express, Little Eva, Paris and Istanbul, 4 feet 8½ inches, Tokyo, Doobie Brothers, William Huskisson, Madrid, 18, Marrakesh Express, New York Grand Central, The Mallard, Glenn Miller, Sri Lanka, William McGonagall, The Flying Scotsman, Darwin and Adelaide, and Clarksville. Entries were received from Michael Warren of Derby, Rita Beeson of Kempston, Pamela Covey of Woburn, Alex Foster of Derby, Chris Newbold of Quorn, Andy Cole of Cleethorpes, J E Green of St Albans, Diana Morris of Kettering, Patrick Cavanagh of Dublin, Philip Abbott of Watford, Pat Naylor of Nottingham and Chris Benger of Bedfordshire with Rita being first out of the hat and winning the £10 book token.
This month's quiz will suit foodies. Send your entries to arrive by 20th November to 20 Questions (No. 122), [Address]
1. What type of nut is used in marzipan?
2. How many times each year are cocoa beans harvested?
3. What is the name of the syrup-like by-product of sugar refining?
4. The "Rhubarb Triangle" is in which county of England?
5. What is the oldest variety of grape in the world?
6. Which salad was created at the Brown Derby restaurant in Hollywood?
7. Parasol and blewitt are types of what foodstuff?
8. What is the main ingredient of the Indian dish aloo?
9. By which name is the vegetable beta vulgaris better known?
10. What was the food of both the Roman and Greek Gods?
11. Fettucini is the Italian translation of which word?
12. What fruit is the main ingredient of guacamole?
13. Which mountain is shown on Toblerone packaging?
14. Gorgonzola cheese originated in which country?
15. Which sauce is made from marsh-whorts?
16. Alderman, orin and rubinette are varieties of which fruit?
17. What is Scotland's national fruit?
18. Which country is the largest orange producer in the world?
19. What is the main ingredient of Welsh rarebit?
20.Which type of apple originates from Southwell in Nottinghamshire?