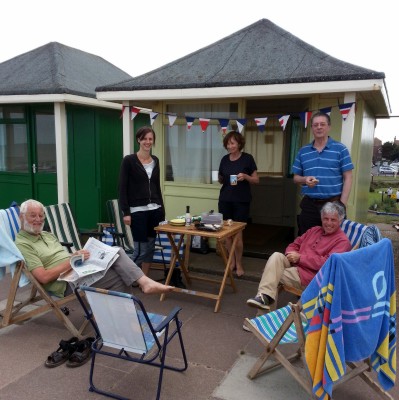 Regional News
Hopefully you're now getting used to the new-look Magazine and web site. I asked for feedback on our Facebook group and, being Mensa, got lots! Mostly it was positive though there seemed to be concern over font size for those with less than perfect vision. I passed this back to the Mensa office and am told the size is to be amended. Feedback is still welcome either to the office or myself.
It's always nice to hear from members with feedback, whether positive or negative, questions or just for a chat. One member recently asked why their birthday wasn't mentioned in Empress and how to get it included. Whilst every birthday is special the ones listed in our newsletter each month are those celebrating reaching another decade, i.e. 10th to 100th. It would be nice to give all a mention but unfortunately space does not allow. I extract the information from a list of current members in the East Midlands region supplied to me by the office. So far there have been no objections so we hope our birthday greetings help give Empress a friendly feel. Happy birthday to everyone celebrating this month!
Do you have friends, relatives or work colleagues you think may be interested in joining Mensa? There are supervised test sessions held throughout the country. Forthcoming tests in our region include The International Community Centre in Nottingham on Saturday 2nd November, The Quaker Centre in Milton Keynes on Saturday 23rd November and The Y in Leicester on Saturday 7th December. For further information contact Helen Oliver at the Mensa office on 01902-772-771 or helen@mensa.org.uk or book via www.mensa.org.uk. An ideal early Christmas present for the person who has everything!
Maxine Bates
Regional Officer
Events and Meetings
In the current circumstances surrounding the COVID-19 coronavirus, the expectation is that all events listed here are likely to be cancelled, if not already marked as such. If you intend participating in any event listed here, please contact the event organiser beforehand to confirm that the event is still on.

Notts News
On Mon 4th Nov at 7.45pm - Theatre - The Complete Works of William Shakespeare (Abridged)
We're off to Nottingham Playhouse on Monday 4th for the Reduced Shakespeare Company's "The Complete Works of William Shakespeare (Abridged)". It's hilarious whether you are au fait with Shakespeare or not. The performance starts at 7.45pm and tickets range from £10-18 so reasonable for a quality show direct from the West End. Please let me know as soon as possible if interested so we can try to make a group booking.
On Tue 5th Nov at 8.00pm - 5OTM
The following evening we have our regular get together at the Vat & Fiddle pub on Queensbridge Road. Join us any time from 8.00pm on Tuesday 5th for a chat, or sometimes debate, over a drink. New faces always welcome. There's free parking right outside or buses from nearby Broad Marsh station.
On Thu 14th Nov at 7.30pm - Natter & nosh
On Thursday 14th we have our other regular get together at the Beekeeper pub/restaurant on Meadow Lane in Beeston. The current tram works should not interfere with reaching the venue and there is a large car park. Find us beyond the food order point with a yellow Mblem on display any time from 7.30pm until closing. We are usually the last ones to leave! You are welcome to have a meal or just a drink. Please note that next month's event on Thursday 12th December will be our festive meal and requires pre-booking at £9.99 for two courses or £12.99 for three courses.
On Fri 15th Nov at 6.28pm - Greyhound racing
Finally on Friday 15th we return to Nottingham Greyhound Stadium in Colwick to take part in the finals of a charity tournament. Tickets have been donated by the stadium and we are selling them for £5 (normal admission and race card is £6) and all money goes to Cancer Research UK. Gates open 6.00pm with the first race at 6.28pm and the last race finished by 10.30pm. Food and drink are available at the venue as is ample free parking. You may arrive and leave when you like and under 18s are free with an accompanying adult. A further cash prize and trophy are up for grabs so fingers crossed our allocated dog wins again! Feel free to invite your family, friends and work colleagues as we have been given 100 tickets.
Ciao for now!
Maxine Bates
Contact [Email] or [Phone Number] for details

Mid Bucks
On Wed 6th Nov at 10.30am - Conversation and coffee
Join me from 10.30am on Wednesday 6th for informal conversation and coffee. We are going to try a new venue - The Cape on Station Road in Beaconsfield. It describes itself as a Grand Café and Restaurant and has a South African theme. A full cooked breakfast menu is available as well as many varieties of coffee, tea, cakes and biscuits. For further venue information see http://www.the/capeonline.com
On Sat 30th Nov at 2.30pm - Theatre - A Midsummer Night's Dream
A Midsummer Night's Dream is coming to High Wycombe's Swan theatre on Saturday 30th. Mark Sandford will host this event and invites you to the afternoon performance starting at 2.30pm. Please contact Mark at [Email] or on [Phone Number] to let him know you are coming but buy your own tickets at www.wycombeswan.co.uk/Online/
Val Hinkins
Contact [Email] or [Phone Number] for details

Lively Lincs
On Sat 9th Nov at 12:05pm - Pub discussion
It's a quiet month for us, just our pub discussion at the Adam and Eve on Lindum Hill on Saturday 9th. We will be chatting about 'When will geo-political boundaries end?' We usually arrive just after noon and start the debate at about 12.30 but feel free to join us when you like for as long as you like. Some join in, others just listen. There is pub food available and a free car park. Contact me for further details.
Christine Howells
Contact [Email] for details
More or Leicester
On Thu 28th Nov at 8.00pm - 4ThOTM
Ever since Neanderthal times, November has been the traditional month for shopping for Christmas presents, double-checking the festive wine is still drinkable and, in my mother's case, putting on the Christmas Day sprouts for a nice, long boil. Given this hive of activity, there'll be just one meeting this month: our usual "Fourth Thursday" at The Craddock Arms (http://www.thecradock.co.uk/) on the 28th at 8.00pm. Look out for the Mensa magazine, the yellow Mblem or a table covered in cake crumbs, and you'll have found us! Alternatively, give me a call or email me for a chat/directions/etc.
Paul Coulson

Mensans in MK & Bedford
On Sun 10th Nov at 12.30pm - Sunday lunch and walk
Our first event in November is Sunday lunch and a walk in Newport Pagnell on Sunday 10th. This is Remembrance Sunday, so I will check nearer the time which restaurants have availability. We will aim to meet at 12.30pm but this might also need to be adjusted slightly. After lunch we will follow the town heritage trail and take in some of the historic sights of this old coaching town.
On Mon 18th Nov at 8.30pm - 3MOTM
On Monday 18th we continue our Third Monday of the Month quiz meetings at The Barge at Woolstone. We meet from 8.30pm in time for the quiz at 9.00pm – cost is £1 per person. See www.vintageinn.co.uk/thebargewoolstone/ for location and, if possible, let me know beforehand if you're coming so we can reserve a big enough table.
On Sun 24th Nov at 10.30am - Sunday breakfast
Sunday breakfast will be at 10.30 am on Sunday 24th at Wetherspoons on Midsummer Boulevard West, and not far up from the railway station. Come for a full breakfast, a snack, or just a drink – look for the Mblem on a table.
Just a reminder about our M-MK & Bedford Facebook group – if you would like to join please search for the group and send me a request. I also keep an email distribution list for meeting reminders and any last-minute changes, so if you would like to be added to this please let me know.
We hope to see as many of you as possible at one or other of our get-togethers in November. If you've never been to a Mensa event and are a little nervous about coming along on your own, feel free to bring a friend. Or call me first if you would like to know a bit more about it first – I'd be happy to chat to you.
Jo Sidebottom
Contact [Email] or [Phone Number] / [Mobile Number] for details
Derby Diary
On Wed 20th Nov at 7.30pm - 3WOTM
Our "3rd Wednesday" event falls on 20th November and you'll find us in the low ceiling area at the rear of the Standing Order pub on Irongate in the city centre. This is a Wetherspoon venue so good value food and drink and you are welcome to join us for one or both any time from 7.30pm until 10.30ish. Look for a yellow Mblem on the table or contact me beforehand and we'll look out for you. New faces always welcome!
On Tue 26th Nov at 7.30pm - Eating meeting
At 7.30pm on Tuesday 26th our "eating meeting" will be at Bluey's Australian Steakhouse on Nottingham Road in Alfreton. The restaurant comes highly recommended and there is opportunity to sample a range of exotic meats such as kangaroo, wild boar, crocodile, water buffalo, camel and much more. See www.blueys.org.uk for full menu. Normal steaks are also available as are vegetarian/vegan dishes upon request.
Please book your place with me by 19th latest stating if you'd like any of the exotic steaks as these need to be ordered in specially by the restaurant. It should be a bonzer night!
Maxine Bates
Contact [Email] or [Phone Number] for details

Hertfordshire Happenings
On Sat 2nd Nov at 6.00pm - Cheese and Wine
Saturday 2nd from 6.00pm: Cheese and Wine at Welwyn. Bring along a bit of cheese, the more unusual the better; Rowena and Mark Lawrence will provide the craic and the crackers. Family friendly event. Contact Rowena on [Email] or [Phone Number] for details.
On Thu 7th Nov at 8.15pm - FThOTM
Thursday 7th November from 8.15pm: FThOTM at the Millstream, Hitchin Tuesday
On Tue 26th Nov at 8.00pm - Theatre - Anne Boleyn
26th November at 8.00pm: the play "Anne Boleyn" at the Little Theatre, Balfour Street, Hertford. Barry Grossman writes, "I will be appearing at this play which features the life and tragic death of Anne Boleyn. Cost is £12.50; please contact me on [Phone Number] for further information. The venue is on the north side of Hertford, about ten minutes' walk from Hertford North station. If you want to book, please send a cheque by 8th November to me at my home address: [Address].
Please include an email or phone number and I will confirm receipt. Tickets can then be collected at the theatre foyer. Don't worry, the foyer is tiny, you will find everyone and find the tickets. The steward or front of house manager will help you with any problems."
On Fri 29th Nov at 8.00pm - LFOTM
Friday 29th November from 8.00pm: LFOTM at the Cowper Arms, Digswell
Richard Allen
Contact [Email] or [Phone Number] for details
A Typical Local Meeting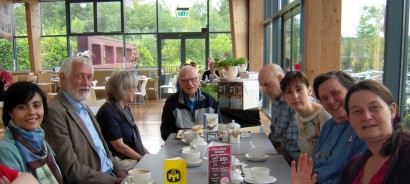 A number of people responded to the recent social survey saying they were nervous about coming along to meetings, thought they might be cliquey, or that everyone would be cleverer than them. So I thought it might be of interest to describe a typical local meeting in Milton Keynes.
Our most popular meeting is probably our quarterly T@3 at Dobbie's Garden Centre so I'll pick this one to describe in more detail. Dobbie's restaurant consists of several rooms leading on from each other – with large internal windows so you can see clearly from one to the next. We aim for the furthest room at the back, where there is likely to be most space. I aim to arrive in time to get my coffee and cake(s!) and be at a table a few minutes before 3.00pm.
We select a table that can be added to as more people arrive, and usually end up dragging one or two more tables over. We are easily visible and have the yellow Mblem clearly on show. I also have my phone out so anyone lost can call or text and be "talked in".
From 3.00pm people start arriving. They might be regulars, new people who have contacted me beforehand or occasionally someone new turns up unannounced, which is fine too. Most people first find us at our table, then go and buy their tea/coffee and cakes. Everyone buys their own; no-one feels obliged to buy for other people so it's nice and simple. We usually stay for a couple of hours, and whilst most people arrive near the start, a few drift in later.
What do we talk about? Anything and everything. Depending on the number of people present, there might be two or three conversations going on. We always ensure new people are involved in the conversation. We talk about current events, both national and local – really the sort of thing any group of friends talks about. I will play musical chairs to sit with new people for a while to chat. I like to find out about new people, but hopefully without interrogating them too rigorously! It's all very informal. People leave whenever they like – some stay until the restaurant closes whilst others may go earlier. The garden centre is open after the restaurant has shut, so as we go our separate ways at the end, a couple of us might have a stroll round doing a bit of window (or real) shopping. I quite often get something for supper from their excellent food hall.
Another friendly, relaxed and informal meeting is our monthly Sunday breakfast at Wetherspoons's. Again we arrive early to grab a big enough table, and ensure an Mblem is on view for anyone who doesn't know us. Everyone orders and pays for their own food and drink, which can be anything from a coffee, to a snack, to a mega-size Full English (veggie version also available).
Something like a walk is obviously a bit different – we will have the Mblem clearly on view at the starting point, and we hang on a few minutes to give any latecomers chance to find us. As we walk round people naturally break into conversational groups, which dissolve and reform repeatedly throughout the walk. No-one will be left on their own; everyone is included.
Restaurant meals usually require people to let me know in advance so I can ensure we reserve a large enough table. Some people will have three courses, others only one. The bill is usually split on the basis that people keep their own tallies and pay only for what they have ordered.
I hope this defuses any myths and misapprehensions, and encourages a few more people to take the first step and attend a meeting. If there is anything you are still nervous about, or any questions still troubling you, please contact me (or your own LocSec) beforehand and we will do our best to reassure you further. Don't forget that guests and partners are equally welcome, if you would like to bring someone with you
I was a member for ten years before going along to my first meeting and was horribly nervous, but after a couple of times I wondered what I had been so worried about!
Beach Hut Day
The sun shone on us for our latest beach hut day at Mablethorpe and people came and went during the day. So, here is a snapshot in more ways than one. There was imbibing of much tea, eating of BBQ food and fruit cake, all to keep our strength up as the intrepid amongst us went for a swim and the slightly less intrepid paddled. The inner child of some enjoyed trips on the miniature train, the light-up yo-yo and the flashing bouncy ball while the 'grown-ups' played boules, walked along the sandy beach, read the paper and were entertained by my inept attempts at juggling. Do join us next year to enjoy your form of seaside amusement.
20 Questions (No. 146)
The answers to the September quiz were bridge, demons, George Michael, Ian Carmichael, Michael Crawford and Michele Dotrice, Michael Corleone, Michael Douglas, Michael Faraday, Michael Heseltine, Michael Martin, Michaela Strachan, Michaelmas daisy, Mick Jagger, Mickey, Mikal Gilmore, Mike d'Abo, Mont Saint- Michel, row the boat ashore, St Michael's Mount and Vicki Michelle. Unfortunately a printing error meant the last question was missing from Empress, although the eagle-eyed spotted it was on the web site at www.eastmidsmensa.org.uk. We received entries from Pamela Covey of Woburn, Helene Parry of Brentford, Michael Warren of Derby, Roger Plant of Nottingham, Carol Wheatcroft of Derby and Alex Foster of Derby. By coincidence the winner of the Michaels quiz was Michael!
This month our quiz is once again compiled by Les Hurst. A 9 or nine appears in either the question or answer. For your chance to win the £10 book token send your answers to arrive by 20th November to '20 Questions (No. 146)', [Address], or by email to [Email]
1. Which mountains form the backbone of Italy?
2. "Stop. Look around. Here it comes. Here it comes." What?
3. A floor between floors.
4. Cuspids are calcified dental structures more often called what?
5. Feeling depressed about lead poisoning brings old age?
6. Holbrook Jackson wrote about which decade?
7. How many years separated the first use of 999 from its national availability?
8. If dogs are canine, what are frogs?
9. Janet Evanovich followed Seven Up and Hard Eight with which Stephanie Plum novel?
10. Jesuit's Bark is more often called what?
11. John Buchan placed which means of descent beside the Thames?
12. 99 Red Balloons was a hit for whom?
13. Residents of the former Dahomey now have which nationality?
14. Sheena Easton's hit song 9 to 5 was retitled what in the USA?
15. The Nine Days Queen of England was born where in the East Midlands?
16. The ruins of which Assyrian city lie across the Tigris from Mosul?
17. Transistor radios were commonly powered by which cuboid?
18. Which London postal district could but does not exist?
19. Which rhymes rise then fall in emphasis?
20. William Kempe's dance from London to Norwich in 1600 was the original what?