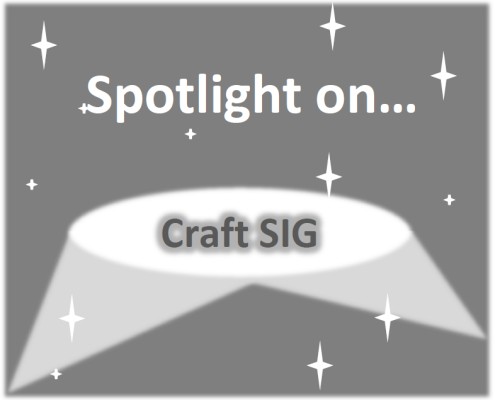 Regional News
Lots of exciting events coming up! If you're quick - and if there's still availability - you may just be in time to grab a place on my Lakes Party Weekend taking place 14th-17th November. Although based at CenterParcs Whinfell Forest in Cumbria there will be members attending from the East Midlands and beyond - including Australia this year! See www.maruba-events.com for full details and contact me as soon as possible to join the fun.
On Wednesday 26th November there's a unique opportunity to visit Clare Hall in South Mimms, Hertfordshire, which is one of the leading cancer research facilities in the UK if not the world. Access is usually restricted to top fundraisers, but as I'm classed as one of those I've pulled a few strings to allow a group of Mensans to visit. The event will run from 11.00am to 2.30pm and include arrival refreshments, introductions to Clare Hall, a talk by a scientist with a Q&A session, a tour of the labs to see their cutting edge technology, plus a buffet lunch. The cost is £25 which will go to the vital work of Cancer Research UK. However, places are very strictly limited and may be sold out by the time you read this. There's an advantage to subscribing to our Facebook and Yahoo email groups where this event was advertised as soon as finalised! Please contact me to enquire about availability if you are interested.
We have another event in Hertfordshire on Saturday 10th January aimed at families. So whether you are a junior member, a Mum, Dad, grandmother, grandfather, aunty or uncle with younger members of the family you are warmly invited to our "Panto & Party" event. The venue is Leverstock Green Village Hall, Hemel Hempstead, HP3 8QG. Back in September I contacted all members aged under 13 for whom the Mensa office hold an email address - in most cases this went directly to parents - to gauge interest in such an event. The feedback was very positive so a big "thank you" to everyone who got in touch. The location was chosen to suit the majority of respondents and also for easy access from M1 J8. Come and watch the exclusive 75 minute Red Riding Hood pantomime performed just for us by a professional touring theatre company. The show is set against a backdrop of the Magic Wood and packed with comedy, adventure, sing-a-long songs and audience participation. This will be followed by party games for the children and buffet for all. The event will take place from 1.00pm to 4.30pm and the cost is £10 per person whether adult or child. Book online at www.mensa.org.uk or contact Diane at the Mensa office on 01902-772-771. It will be a great afternoon.oh yes it will!
Finally my current stint as East Midlands Regional Officer will be up at our next committee meeting. At the time of writing the date is to be confirmed but likely to be the end of February. After 15 years in the role is it time for a change? Would anyone be willing and able to take over as Regional Officer? Please get in touch with either myself or John Stevenage at the Mensa office if you would like an informal chat about what it entails.
I'm on [Phone Number] or [Email]
Maxine Bates
Regional Officer
Editorial
Welcome to this month's Empress. I hope everyone has had a great Halloween with more treats than tricks and that you're all looking forward to seeing some fireworks (if you haven't seen some already). Looking at November, it looks like you're all spoiled for choice with the regional events on offer – from lunch to quizzes and from breakfast to theatre - there's sure to be something to tempt you.
It's lovely to be able to feature Craft SIG this month – the Craftophile newsletter is well worth a read and I'd recommend it to anyone with an interest in crafts.
Lucy Bengry
Events and Meetings
In the current circumstances surrounding the COVID-19 coronavirus, the expectation is that all events listed here are likely to be cancelled, if not already marked as such. If you intend participating in any event listed here, please contact the event organiser beforehand to confirm that the event is still on.

Mid Bucks
On Sat 8th Nov at 2.30pm - Theatre
Mark Sandford is hosting a trip to the Wycombe Swan to see Harper Lee's classic set in the Deep South of America: To Kill a Mockingbird. Tickets cost £23-£29, please buy your tickets for the 2.30pm performance from the theatre directly or you can purchase on-line at wycombeswan.co.uk/Online/. Ring Mark on [Phone Number] or e-mail him at [Email] to let him know you are coming. We will go for an informal meal in High Wycombe afterwards.
On Fri 21st Nov at 10.00am - Morning coffee
No need to book, just join me from 10.00am for a morning of informal conversation and coffee. This month we are returning to Jung's Patisserie on the Broadway in Beaconsfield, HP9 2PD. A short walk from the railway station, this patisserie serves delicious coffee and cakes.
On Sun 30th Nov at 12:00pm - Pre-Christmas lunch
Join me at 12 o'clock for a pre-Christmas lunch at Eat Thai, 14-15 Easton Street, High Wycombe, HP11 1NT. This restaurant is very popular and I will need to book, so please contact me by Friday 21st November to let me know you are coming. After we have finished lunch we will walk up to Wycombe Museum for their Christmas Craft Market. Free entry, musical entertainment and mulled wine available as well as a selection of craft stalls. If you are not coming to the meal first, please contact me so that we can arrange to meet.
Val Hinkins
Contact [Email] or [Phone Number] for details

Lively Lincs
This month we are carrying on with the tried and tested popular regular meetings. If you would like to suggest anything different, do please email me and I'll see what can be arranged.
On Sat 8th Nov at 12.05pm - Pub discussion
Our pub discussion returns to the topic of the justice system, this time considering various issues around 'What are prisons for?' Doubtless, there will also be plenty of other topics chatted about. All welcome to join us at the 'Adam and Eve', on Lindum Hill in Lincoln from 12.05pm until we all wander off. Free car park, pub food available, look for the Mblem, we're usually in an alcove.
On Tue 18th Nov at 7.00pm - Eating meeting
At 7.00pm, we're off to Wagamama on Brayford Pool for another adventure with their menu. It would be helpful if you could book with me by 14th November.
Christine Howells
Contact [Email] for details
Get Involved
Could you contribute content to Empress? Maybe you are planning an event or have some ideas for content you'd like to see in the newsletter?
Please send any content, ideas or suggestions to one (or all) of the Empress editors and we'll do our best to include it.
If you're interested but need encouragement or advice, just get in touch. Our contact details are on page 8.

Mensans in MK & Bedford
On Sun 9th Nov at 10.00am - Sunday breakfast
Sunday breakfast will be at 10.00am at Carluccio's in the Centre:MK. You will probably find us in one of the red booths just in front of the restaurant – look for the Mblem on a table. Come for a full breakfast, a snack, or just a drink. Contact me for directions and/or encouragement.
On Mon 17th Nov at 8.30pm - Pub quiz
We continue our Third Monday of the Month quiz outings at The Barge at Woolstone. Meet from 8.30pm in time for the quiz at 9.00pm – the cost is £1 per person. See www.vintageinn.co.uk/thebargewoolstone/ for location and, if possible, let me know beforehand if you're coming so I can reserve a big enough table. We don't always get the same table, so look out for the Mblem. Contact me for directions and/or encouragement.
On Thu 27th Nov at 7.00pm - Eating meeing
Our final event in November should really be a walk or outing, but to brighten up a gloomy month we're going for a sunny Caribbean meal instead! Join us at Turtle Bay in The Hub, CMK, at 7.00pm - see http:/www.turtlebay.co.uk/ for details of menu and location. Please let me know by Monday 24th November if you plan to come, so I can book a table. Contact me for directions and/or encouragement.
Just a reminder about our M-MK & Bedford Facebook group. If you would like to join, please search for the group and send me a request. I also keep an email distribution list for meeting reminders and any last-minute changes, so if you would like to be added to this please let me know.
Jo Sidebottom
Contact [Email] or [Phone Number] / [Mobile Number] for details

Notts News
On Sat 1st Nov at 9.00am - Gymathon
Our first event of the month won't be to everyone's taste as it's a 12 hour "gymathon" taking place at Greasley Sports Centre (NG16 3QN). A team of us will be endeavouring to keep a bike, rower and cross-trainer in constant motion from 9.00am to 9.00pm and getting sponsored to do so in aid of Cancer Research UK. Please get in touch if you'd like to sign up for one (or more) of the 30 minute stints or go to www.justgiving.com/teams/greasleygymathon to sponsor any of us. Every donation no matter how large or small is very gratefully received.
On Wed 5th Nov at 8.00pm - 5OTM
We shall be aiding our recovery from our gym exertions at the Vat & Fiddle pub on Queensbridge Road. Join us any time from 8.00pm. We're usually in the Goldings Room to the left of the bar where a yellow Mblem will be on display. The pub is adjacent to Castle Rock Brewery which is usually illuminated at night.
On Thu 13th Nov at 7.30pm - Natter & nosh
I'll be having a pre-CenterParcs get together at the Beekeeper pub/restaurant on Meadow Lane in Beeston. Whether you're coming on my Lakes Party Weekend the following day or not you're welcome to join us for dinner or just a drink any time from 7.30pm. Find us on the first long table beyond the food order point at end of the bar with a yellow Mblem on display.
On Thu 27th Nov at 7.30pm - At Home
Finally from 7.30pm, Michael Rich will kindly be inviting us to his home in Stapleford for a warm up to Christmas. Please bring any spare decorations along - that will be returned in the New Year - so we can decorate the tree/house accompanied by festive nibbles. Contact Michael on 07831-755-737 or [Email] for directions and to say you'll be there.
Ciao for now!
Maxine Bates
Contact [Email] or [Phone Number] for details
Derby Diary
On Wed 19th Nov at 7.30pm - 3WOTM
We'll be at the Standing Order on Irongate in the city centre for our usual get together. Join us from 7.30pm for food and/or drink in the rear section of this Wetherspoon pub.
On Tue 25th Nov at 7.30pm - Eating meeting
Our "eating meeting" returns to Fresh Ground on King Street in Belper at 7.30pm. See www.freshgroundbelper.co.uk for their homemade deli style menu. Please book your place with me by Friday 21st November at the latest as the restaurant is quite small and may require pre-ordering of food. This is an ideal venue for our November event as excellent value when many people have additional expense with Christmas approaching.
On Fri 28th Nov at 7.30pm - Party night
If you're free, then come along to a party night in the function rooms of Ilkeston Town Football Club (DE7 8JF). Tickets cost £6 each including buffet and disco with proceeds going to Cancer Research UK. There will also be an optional raffle with some fabulous prizes. Book sooner rather than later as this was a sell out last time. All ages welcome for this fun night out any time from 7.30pm to 12.30am.
Maxine Bates
Contact [Email] or [Phone Number] for details
More or Leicester
On Sat 1st Nov at 11.00am - Tea and cakes
The American writer Bill Bryson noted that the British like their pleasures small (as opposed to the in-your-face instant gratification demanded by his kinfolk). He knew he was going native the first time he went "Ooh, lovely!" when receiving tea and cake one day. Well, it's time to re-affirm his observations with tea and cakes at 11.00am at Brucciani's cafe on Churchgate in Leicester. Look around for the magazine or yellow Mblem on a table, or just give me a call and go "Where are you?" Note: All nationalities welcome!
On Thu 27th Nov at 8.00pm - 4ThOTM
This happens to be the fourth Thursday, and that seems the ideal date to hold our usual fourth-Thursday get together. We'll be at The Cradock (www.thecradock.co.uk/) from about 8.00pm. It's also Thanksgiving Day in the US, so Stars and Stripes are in order, I think!
For either of the above (any Mensa event in Leicester, actually), please feel free to bring along a partner/friend/bloke-you-met-on-a-bus. The more the merrier! I look forward to seeing you there.
Paul Coulson

Hertfordshire Happenings
On Thu 5th Nov at 8.15pm - FThOTM
First Thursday of the month. Scope for some heated discussion on Bonfire Night, perhaps? As ever, we're at the Millstream, Cambridge Road, Hitchin from 8.15pm. Good food and good beer both available! Call me for more details and encouragement. The pub is about ten minutes' walk from the railway station.
On Fri 28th Nov at 8.00pm - LFOTM
Last Friday of the month. As ever, we'll be at the Cowper Arms, Digswell, Herts (by Welwyn North station) from 8.00pm - could it be a bit spooky tonight? Call me for more details and encouragement. The pub is next to the railway station, which is served by stopping trains from Kings Cross to Cambridge and Peterborough. This will be our last 'Last Friday' of the year.
ADVANCE NOTICE
As ever, a few of us will be going to the Viennese New Year's Eve concert at the Barbican in London on 31st December. We've been going for a number of years and it's a great way to see out the old year. If you're interested, please let me know. Full details appear under the London area in the main Mag.
Richard Allen
Contact [Email] or [Phone Number] for details

Luton Leisure
On Tue 4th Nov at 7:30pm - FTuOTM
Our meetings will be on the first Tuesday of the month. Join us for our now regular get together at The Brache Beefeater, Osborne Road, Luton, LU1 3HJ. The venue is in Osborne Road, opposite the Vauxhall Design building and has free parking. Look for a Mensa Mag on the table on the night or contact me in advance. All welcome!
Bob Ford
Contact [Email] or [Mobile Number] for details
Spotlight On….. Craft SIG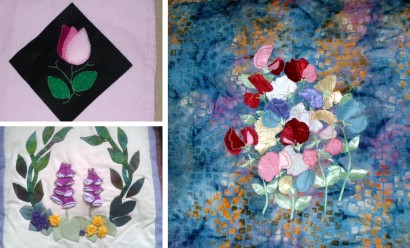 Photographs of beautiful appliqué sent to Craft SIG – clockwise from top left: Wendy Kimble, Anne Rushton and Berry Laverick. Other examples of contributions can be seen in the on-line version in full colour.
Kay Lockie from Amersham is the SIG Sec for Craft SIG. The SIG is for anyone who enjoys crafting. The newsletter, Craftophile, can be described as a magazine with between 40 and 80 pages in each issue. There are regular features, challenges and competitions and a popular quiz page with small prizes awarded. Topics covered include needlecrafts, paper-crafting, scrapbooking, knitting, drawing and painting, jewellery making et al. New members are always welcome and encouraged to send in photos, articles, projects or challenges about their favourite crafts.
Kay and the newsletter editor, Anne Ruston, regularly attend large craft events such as Festival of Quilts and Crafts for Christmas at the NEC and the Knitting and Stitching Show at Alexandra Palace and members are welcome to meet up there for a coffee and a browse of the many stalls.
If anyone would like to receive a past copy of Craftophile, Kay's email address is kaylockie@outlook.com, snail mail is Kay Lockie, Jumeirah, 14 Bois Avenue, Amersham, Bucks, HP6 5NU.
Kay Lockie
20 Questions (No. 158)
Not too many entries for our September competition probably due to the late arrival of the Mensa Magazine and Empress that month. But thanks to Roger Plant of Nottingham, Pamela Covey of Woburn and Helene Parry of Brentford for entering. Pamela wins the £10 book token. The answers were RENFE, Dublin and Belfast, Fiat, 1957, Mallard, White Star Line, induction/compression/combustion/exhaust, Cádiz and Barcelona, Den Beste Sykkel, France, 270, Ford Model T, Eurotunnel, De Havilland 106 Comet 1, Hungary, Peninsular & Oriental, U-Bahn, Bratislava/Vienna/Budapest/Belgrade, Rhine and Svetlana Savitskaya.
This month we have a musical quiz compiled by Mark Sloan. Send your answers to arrive by 20th November to '20 Questions (No. 158)', [Address] or by email to [Email]. Don't forget to include your name and address.
1. Which group comprised John Phillips, Denny Doherty, Cass Elliot and Michelle Phillips?
2. London born Miss Adkins is better known by which name?
3. Which singer sang the song 'Hanky Panky' from the 'I'm Breathless' album?
4. Who composed the classical piece 'Peter And The Wolf'?
5. Which singer was known as Little Miss Dynamite?
6. Les Gray was the lead singer of which group?
7. Which group's best-known recording is the 1967 single 'A Whiter Shade of Pale'?
8. Which singer-songwriter from Sale released the album 'White Ladder' in 1998?
9. What is the first name of composer Vivaldi?
10. What is the better known stage name of Robyn Fenty?
11. Which musical duo had the albums 'Rockney' and 'A Christmas Knees-Up'?
12. Which Radiohead album has been cited as one of the greatest albums of all time?
13. Which singer is married to Trudie Styler?
14. Which British reggae band are best remembered for their 1982 single 'Pass The Dutchie'?
15. What relationship is Miley Cyrus to country singer Billy Ray Cyrus?
16. Stewart Copeland was the drummer with which band?
17. Which Welsh singer was born Gaynor Hopkins in June 1951?
18. Whose 2013 world tour was called 'The Mrs Carter Show'?
19. Which famous singer and musician wrote Mott The Hoople's hit 'All the Young Dudes'?
20. Which country pop singer was born Eilleen Regina Edwards?