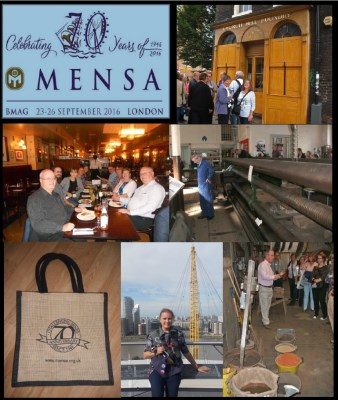 Regional News
By the time you read this the 70th anniversary celebrations will almost be over. Did you attend the Annual Gathering in London a few weeks ago? If so, did you enjoy it?
I thoroughly enjoyed my visit catching up with lots of friends in beautiful sunshine whilst viewing the capital from both the roof of the O2 and Emirates cable car over the Thames.
I write this as we are about to start the East Midlands Mensa celebrations with a 1940s weekend in and around the East Midlands Airport town of Castle Donington. The highlight event is a 1940s themed dinner dance complete with big band. To say I am sorely disappointed with the support from East Midlands Mensans is an understatement. Of the bookings only one third of guests are actually members from our region, the others are either Mensans from other parts of the UK or non-members. The date was chosen as falls on the actual anniversary, the theme was chosen to link in with the founding year and the event was subsidised from regional funds, i.e. your money that benefitted others and not you.
On the back of this disappointing turnout - despite me spending hours and hours promoting the event all over the place - I'm thinking that I should quit as Regional Officer as I clearly don't have the support of members in the region. Maybe after 17 years it's time for a fresh face at the helm? Would anyone be interested in taking over the role? Please contact either myself or John Stevenage at the Mensa office for further information on what is involved.
We are also seeking a new editor for Empress. Thanks to Richard Dimmock for his stint but he has decided editing is not for him. Mark Sloan will be a guest editor for the January issue but there is space for a brand new editor to join the team. In the meantime many thanks to Maria for keeping the Empress ship afloat.
I'm on [Phone Number] or [Email] if you'd like to get in touch.
Maxine Bates
Regional Officer
Editorial
Welcome to the November Edition of Empress. Did you attend any Mensa Event last month?
I hope you did. I managed to see some old friends from different parts of the country during the BMAG. I also had a great relaxing weekend at Castle Donington thanks to Maxine. Photos to come next month.
I have published a few photos from the BMAG that our East Mensans sent me. Try to guess where exactly they were taken and, if you feel a bit jealous well. I hope to see you in forthcoming events.
Just remember that all the LocSecs organise events in a voluntary manner and their reward is just to see you attending them.
Maria Falces
Member's profile- Andrea Garlick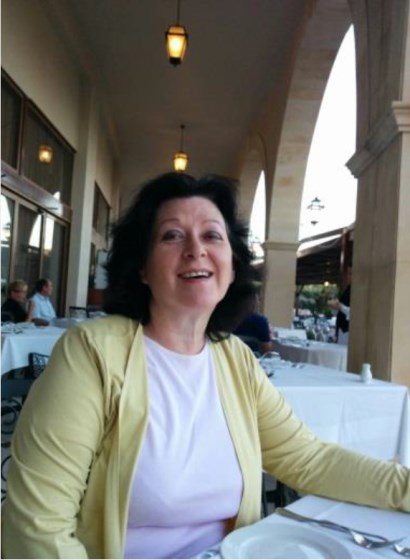 Where are you from?
I was born in Darlington in County Durham. When I was at school I wasn't the top of the class – I always did reasonably well but was never outstanding. Having been at an all-girls school until I was 18, when I then went to college in London in 1973 things went a bit haywire! I suddenly had a social life and discovered parties and the students' bar! Sad to say the studies were neglected to an unbelievable extent with the inevitable result of being kicked out at the end of my first year – bye bye Ealing Technical College.
What's your occupation?
I had a series of rather boring jobs in London for the next two years, then I realised I had to do something a bit more interesting. I re-applied to University and was accepted by Newcastle – so back to the North East again. It was a 4 year course – the third year being spent in France (teaching English to French school children).
I graduated in 1980 with a Desmond in French. It took a while to get a proper job. I applied to the Civil Service and passed the exam to go in as a direct entrant Executive Officer. I was then allocated to the Department of Employment and found myself back in London working at the Unemployment Benefit Office in Isleworth.
I decided I wanted to do something a bit more exciting and looked at joining the RAF. To improve my chances of being accepted I joined the Royal Auxiliary Air Force – the RAF's TA.
After a couple of months spending a couple of nights and one weekend a month with the RAuxAF, one of the permanent staff members came back from the Falklands where he'd been on a 6 month detachment – and the rest as they say is history. We started going out and then when he was posted to Cambridgeshire
I decided to go with him so left the Civil Service.
I spent a couple of years moving round the country (we got married in February 1985). Our first son was born in 1987 and the second in 1990. When the younger one was just 6 weeks old the other began a long training course some miles away and we didn't see much of him at all. At home with a toddler and new baby I felt as though my brain had given up completely. This was what prompted me to sit the Mensa test – I just wanted to confirm that I still had a functioning brain. To my surprise I passed the home test. I sat the supervised test in Lincoln after a sleepless night with the toddler and baby and somehow still managed to pass – a couple of points lower than the home test, but still enough to pass. So I joined in the summer of 1990. In the following years we had various postings in the UK, two in Germany then back to the UK. While we were living in Chester, my husband and I split up. A couple of years later when my older son was in Year 6
I wasn't happy at the thought of the secondary schools we had a choice of – although they were classed as good schools. At this point my sister asked if I had considered a Steiner School –
I hadn't even heard of them, let alone considered them. Having looked into their locations, we came to Derbyshire to look at Michael House School. I liked the look of it. After Easter the boys came for a trial fortnight and after that I had to sell a house, buy a house and organise the move with a huge amount of help from my sister who came with me on almost all the visits. We moved in June 1999 and have been in Derbyshire since then – the longest I have spent in any one place. Since I moved to Derbyshire I have worked as an adult education tutor, a secondary level teacher, PA at various places and at the end of last year left the Ilkeston Register Office after ten years as a Registrar. I am now working as an independent celebrant, conducting ceremonies whether that is weddings or funerals or whatever you would like to celebrate or commemorate. If you want to find out more you can check my information on www.andreagarlick-celebrant.co.uk
What does Mensa mean to you?
Mensa has offered me the chance to take part in social activities – very useful when you keep moving house! I also joined a couple of the SIGs – and even produced the French SIG newsletter for a couple of years.
Events and Meetings
In the current circumstances surrounding the COVID-19 coronavirus, the expectation is that all events listed here are likely to be cancelled, if not already marked as such. If you intend participating in any event listed here, please contact the event organiser beforehand to confirm that the event is still on.
More or Leicester
On Wed 9th Nov at 7:00pm - Dinner
We've not had a get together in South Leicestershire for a while, so now's your chance. We'll be eating on 9th November from 7:00-7:30, venue TBC depending on attendees - might be Lutterworth or Market Harborough. Drop me a line by 3rd November.
On Sun 20th Nov at 10:30pm - ChocFest
Stop The Presses! We've just found out that ChocFest 2016 takes place on Melton Cattle Market on Sun 20th November. There'll be Chocolates, Cakes, Liqueurs, Crepes, Torts, Macaroons, Desserts and a LocSec who thinks he's found heaven! For a change from chocolate, there'll be champagne, pies, wines, cheese, beer... OK, and LOTS more chocolate! Entry is only £4 and the gates open from 10:00 so give me a call at about 10:30 and we'll work out where to meet. Did I mention the chocolate??? I need a little lie down....
On Mon 28th Nov at 6:30pm - 4MOTM
On Monday 28 Nov join us for eating from about 6:30 (puds for a quid!!), we'll retire to the bar for a drink when it becomes our regular 4th Monday of the month gig. So... munchies from 6:30, drinkies from 8:00. Stamford Arms, Groby.
Advance Notice
Christmas Dinner on 19th Dec.
Our normal 4th Monday of the Month will be on the 3rd Monday of the month, and will - as if by magic! - transform itself into the traditional Leicester Christmas Curry! We'll head back again to the Mem Saab in Highcross so booking is essential. Please let me know by Monday 5th November at the latest.
Paul Coulson

Lively Lincs
On Sat 12th Nov at 12:05pm - Pub discussion
The discussion at the "Adam and Eve", Lindum Hill on Saturday 12th November is around "Have democracies ever declared war on each other?" Around is the word – we do enjoy tangents. Look for the magazine in the alcove from 12.05pm. We usually move onto the topic at 12.30pm. There is food available and free parking.
On Tue 15th Nov at 6:45pm - Meal and Quiz
We're returning to the Carpenters Arms, Fiskerton on Tuesday 15th, it's a friendly village pub where we can all find something we like to eat and a car park. We meet at 6.45pm so we can eat before the quiz afterwards and you are welcome to just join us for the quiz if you prefer. Please let me know either option by 10th (on [Phone Number] or [Email]) so that I can book a table/work out how many teams we will need. Hope to see you soon.
Christine Howells
Contact [Email] for details

Notts News
On Sat 5th Nov at 8:00pm - 5OTM
Eating, drinking, pampering and knitting are all on offer this month! Starting on Saturday 5th with our get together at the Vat & Fiddle pub on Queensbridge Road. It's near Nottingham railway station, tram stops and bus stops and just far enough out of the city centre to have free parking right outside the pub. Look for a yellow Mblem on the table, most likely in the Goldings Room to left of the bar, from 8.00pm.
On Thu 10th Nov at 7:30pm - Natter & Nosh
On Thursday 10th we're meeting at The Cadland in Chilwell for food from 7.30pm or later for just a drink. All welcome and you'll find us on tables 20-24 at the far side of the bar. Note that our 8th December event will be the Nottingham Mensa Christmas meal and requires pre-booking. Contact me if you'd like to see menu choices or check availability. 2 courses for £13.49 or 3 courses for £15.99.
On Tue 15th Nov at 6:45pm - Meal and Quiz
Join us at the Carpenters Arms, Fiskerton, on Tuesday 15th from 6.45 pm. Friendly village pub with good food, car park. Just come to the quiz if you prefer. Please let Jacquie know either option by 10th (on [Phone Number] or [Email]) if you hope to join us so that she can book a table/work out how many teams we will need.
On Fri 25th Nov at 7:30pm - Girls Night In
Following the success of my 'Girls Night In' earlier in the year we're doing it all again on Friday 25th at my home in Langley Mill. Anne-Marie will be showcasing her range of Tropic bodycare, skincare and make up. There will be chance to try and buy as well as a little pampering. Also an optional raffle sheet with lovely prizes up for grabs and raising money for Cancer Research UK. Hot drinks, soft drinks and nibbles provided or BYOB. Come along for a fun night from 7.30pm and to meet some lovely ladies. Contact me for directions and to confirm attendance please.
On Sat 26th Nov at 12:00pm - K is for knitting
Alphabet Event - K
The following day we have our 'alphabet event' where K is for knitting! I have never visited the Framework Knitters Museum in Ruddington (NG11 6HE) so time to correct that! Explore the listed buildings, learn about the industry, see a knitting machine in action, have a go on the circular knitting machine, see the hosiery collection featuring Queen Victoria's stockings! Light refreshments available in their tea rooms. Admission is £4 adult or £2 child. Meet outside at 12.00 noon on Saturday 26th although an idea of numbers would be helpful.
Ciao for now!
Maxine Bates
Contact [Email] or [Phone Number] for details

Hertfordshire Happenings
On Thu 3rd Nov at 8:00pm - FThOTM
As ever, we are at the Three Magnets, Leys Avenue, Letchworth. Thursday nights are curry nights but other food (standard Wetherspoons' fare) is available as well. Leys Avenue is the main shopping street in Letchworth and is a few minutes' walk from the station (Kings Cross to Cambridge line). Call me for more details.
On Fri 25th Nov at 8:00pm - LFOTM
Last Friday is at our usual venue of the Cowper Arms, Digswell. The pub is next to Welwyn North station and is served by stopping trains from Kings Cross to Peterborough and Cambridge. Good food, beer and conversation guaranteed! Please call me for more details.
Advance Notice
Viennese style New Year's Eve concert at the Barbican, London
This will be the twelfth year we've been going and it remains as enjoyable as ever. If you're interested, please drop me a line or give me a call as tickets sell fast. We meet at a nearby Wetherspoon's for a drink and a meal at 5.30 and then walk to the Barbican, which is about ten minutes' walk. The concert finishes at about 10, so you can get to any celebrations you may have planned!
Richard Allen
Contact [Email] or [Phone Number] for details

Mensans in MK & Bedford
On Sun 13th Nov at 10:00am - Sunday breakfast
We return to our new venue of Brown's, next to Jury's Inn on Midsummer Boulevard, for breakfast on Sunday 13th. Join us from 10am for a full breakfast, a snack, or just a drink.
On Mon 21st Nov at 8:30pm - 3MOTM and Quiz
Our monthly visit to the Barge in Woolstone for the quiz is on Monday 21st. Meet from 8.30 - the quiz starts at 9pm and costs £1 per person. Please let me know beforehand if you're coming so I can bag a large enough table.
On Sun 27th Nov at 12:30pm - Sunday lunch
Our final event in November is Sunday lunch at the new(ish) Antep Turkish restaurant in Wolverton at 12.30pm on Sunday 27th. We've tried it a couple of times and enjoyed it – see www.antepkitchen.co.uk for more details. I will reserve a table as it may be busy, so please let me know by Thursday 24th if you plan to come.
Just a reminder about our M-MK & Bedford Facebook group – if you would like to join please search for the group and send me a request. I also keep an email distribution list for meeting reminders and any last-minute changes, so if you would like to be added to this please let me know. We hope to see as many of you as possible at one or other of our events in November. Do remember that you're welcome to bring a guest with you, so if you've never been to a Mensa event and are a little nervous about coming along on your own, just bring a friend.
Jo Sidebottom
Contact [Email] or [Phone Number] / [Mobile Number] for details

Mid Bucks
On Fri 4th Nov at 10:30am - Conversation and coffee
No need to book, just join me from 10:30am onwards on Friday 4th November for a morning of informal conversation and coffee. This month we are going to the café at Chenies Garden Centre near Little Chalfont, WD3 6EN. An opportunity to scour their shop for Christmas gifts, decorations, kitchen gadgets and unusual food items as well as gardening and plant ideas. See www.vanhage.co.uk/garden-centres/chenies/ for further information and an idea of the goods on offer.
On Tue 8th Nov at 7:30pm - Italian Meal
It has been a while since we had an evening meal in High Wycombe. Italian food is usually popular and the Villagio's restaurant in the Eden Centre is our choice for Tuesday 8th November at 7:30pm. villagiorestaurants.co.uk/highwycombe for further details. Please let me know by 1st November if you are coming so that I can book a table
On Mon 14th Nov at 8:00pm - Indoor Games
. Join Dave and Alison at their home in Flackwell Heath for a relaxed evening of indoor board games. Arrive for an 8pm start on Monday 14th November. Space is limited, so please contact Dave on [Email] or [Phone Number] for directions and to let him know which games you would like to play.
Val Hinkins
Contact [Email] or [Phone Number] for details
Derby Diary
On Wed 16th Nov at 7:30pm - 3WOTM
We return to the Standing Order on Irongate on Wednesday 16th any time from 7.30pm until late. Join us for food and/or drink in the rear section of this Wetherspoons pub. Numbers at this event seem to increase every month so a variety of conversation guaranteed. Look for yellow Mblem on one of the long tables.
On Fri 18th Nov at 7:00pm - At Home
At 7.00pm on Friday 18th Susan and Mark invite us to their home in Ilkeston for an evening of socialising. Food will be provided – possibly a big pot of something hot and tasty – for those who advise attendance in advance. Contact the newly married Mr & Mrs Graves on [Phone Number] for address/directions and to say you'll be there.
On Tue 29th Nov at 7:30pm - Eating Meeting
A Moroccan restaurant has recently opened in Belper so we're going to sample their tagines, flat breads, etc, at 7.30pm on Tuesday 29th. It's called Olive and is located on the market place. Please let me know by 25th if you'd like to join us so a table can be reserved.
Advance Notice
Christmas Dinner on 8th December
Our regular event at The Cadland in Chilwell becomes the Nottingham Mensa Christmas meal. £13.49 for 2 courses or £15.99 for 3 courses. Contact Maxine for menu and to book. Fiver deposit required.
Maxine Bates
Contact [Email] or [Phone Number] for details
Mensa 70th Anniversary – BMAG – London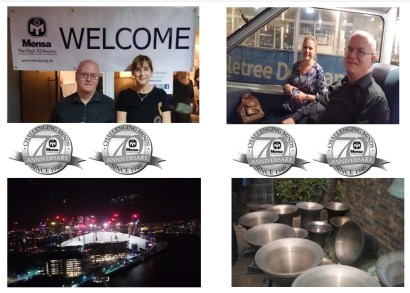 20 Questions (No. 181)
Did you guess the 'nine' answers from the September issue? They were Apennines, 19th Nervous Breakdown, Mezzanine, Canine, Saturnine, 1890s, 39, Ranine, To The Nines, Quinine, The 39 Steps, Nena, Beninese, Morning Train, Bradgate Park, Nineveh, 9 Volt Battery, E19, Feminine and Nine Days Wonder. The £10 book token is on the way to Nigel Bryant of Bedford.
This month the clues are all names of confectionery. Send your answers to arrive by 20th November to '20 Questions (No. 181)', [Address], or [Email]
1. Mothers local
2. Garden flowers
3. 100% Au
4. Wobbly infants
5. Toothless drink
6. Gem orchard
7. Musical bard
8. Pub pins
9. Sport for princes
10. Spin around
11. Assorted toys
12. Dark occult
13. One who wanders
14. Money making royalty
15. Marriage arrangers
16. High class thoroughfare
17. Dairy holder
18. Edible fasteners
19. Ten cent pub
20. Clever folk