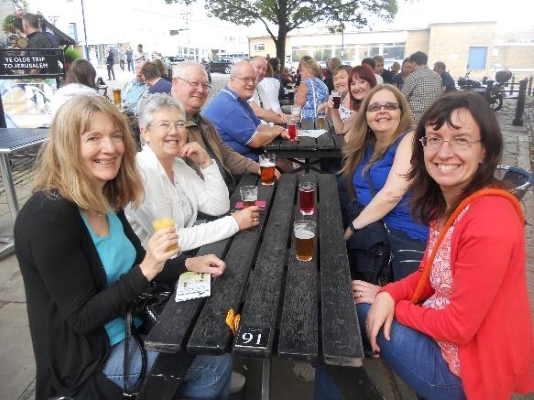 Beer in August. See the Robin Trail and National Brewery Centre below.
Regional News
I'll keep my column brief this month as there's lots that Maria has to squeeze into these pages. Thank you, as always, to everyone who is hosting an event and everyone who is attending one too. Now is the time to be booking your place for one or more of the umpteen Christmas meals and party nights we have on offer. Please see Empress, Mensa Magazine or our website at www.eastmidsmensa.org.uk for details and contact the host to check availability.
As ever, suggestions for future events are welcome. Sometimes the crazy stuff works! In years gone by dozens of members have turned out for dinner in the Ikea café (where they don't take reservations so bagging enough tables was a challenge!) or for BATS which stood for Breakfast At Toddington Services at some unearthly hour! Feel free to contact me with those suggestions!
Maxine Bates
Regional Officer
Editorial
Welcome to the November Edition of Empress.
I hope you enjoyed the many walks offered last month. There are lots of events happening in November as well. Check for the RAF visit (in MidBucks) and Tissington Hall (Derby).
This is also the time to start thinking about Christmas presents and Christmas dinners. Don't forget to book a place (or two).
As usual, I have a few photos from previous events to encourage members to join us.
Days are getting shorter and nights cosier. Put the kettle on, sit comfortably and enjoy the reading.
Maria Falces
In Leicestershire
On Mon 19th Nov at 8:00pm - Pub Social
Join us for our usual convivial third Monday of the Month gathering at the Cradock Arms, 201 Knighton Road, Leicester, LE2 3TT. We usually gather in the lower part towards the rear of the bar. Look out for the magazine or Mblem. For directions or encouragement please contact me on [Phone Number] or by email at [Email].
On Sat 24th Nov at 7.00pm - Evening meal
This month's meal is at the Crown Inn, 106 Main St., Asfordby LE14 3SA. Their car park is up a drive beside the inn. If you would like to come along, then please let me know by 19th November, as booking ahead is essential. You can contact me on 01949 861356 or e-mail me at [Email]
Lively Lincs
On Sat 10th Nov at 12:00pm - Pub discussion
Our regular Second Saturday meeting at the Adam & Eve Tavern, 25 Lindum Road, LN2 1NT (opposite Pottergate Arch). We'll have a discussion around the subject of "Remembrance". Car park, pub food, all welcome. Find us in the alcove, Magazine on the table. Contact Jacquie on [Phone Number] or [Email] for encouragement or more details.
On Sun 25th Nov at 12:00pm - Lunch/town walk
Join us for a light lunch at the Riverside Café at The Hub, Navigation Wharf, Sleaford, NG34 7TW. Large free car park nearby. Afterwards, depending on the weather, we'll either explore the town's interesting places, or visit The Hub's current exhibitions. All welcome, but please let us know you're coming so we can look out for you. Contact [Email] or [Phone Number].
Jacquie Harrison
Contact [Email] or [Phone Number] / [Mobile Number] for details

Notts News
On Mon 5th Nov at 8:00pm - 5OTM
Join some of us straight back from our weekend at CenterParcs and find out what you missed! New and old faces all welcome for a drink and chat at the Vat & Fiddle pub on Queensbridge Road near Nottingham railway station. Look for a yellow Mblem on the table most likely in the Goldings Room to left of bar. Directions/encouragement from Maxine on [Phone Number] or [Email]
On Thu 8th Nov at 7:30pm - Natter & Nosh
Our regular '2nd Thursday' get together at the Cadland, High Road, Chilwell, NG9 5EG, where we have a large table reserved at the far side of the bar. There will be a yellow Mblem on display. Menu at www.emberinns.co.uk. Join us for a meal or later for just a drink. Contact Maxine on [Phone Number] or [Email] or just turn up on the night.
On Fri 9th Nov at 6:00pm - Greyhound Racing
We return to Nottingham Greyhound Stadium in Colwick for another charity racing tournament. Tickets £4 (normal admission and race card £7) with all money going to Cancer Research UK. Contact Maxine on [Phone Number] or [Email] to purchase in advance. Accompanied under 18s only £1 payable on the gate. Food, drink and ample parking available at the venue. Friends, family and work colleagues welcome!
On Fri 16th Nov at 7:30pm - Girls Night In
An evening of fun, laughter, pampering, wine and nibbles at my home in Langley Mill. Anne-Marie will be showcasing her lovely range of Tropic beauty products. There will also be an optional lucky dip and chick lit for sale for only £1 each. Please RSVP to Maxine on [Phone Number] or [Email] so we have an idea of numbers.
On Tue 20th Nov at 7:00pm - 3TuOTM
We're at the Prince Rupert on Stodman Street in Newark from 7pm for food and/or drink. Pop in briefly or stay all evening. We should be in the room to the right as you enter the pub. Look for a yellow Mblem on the table. Further info from Pete on [Phone Number] or [Email] or just turn up on the night. All welcome!
On Tue 27th Nov at 7:30pm - Eating Meeting
We're heading to Frankie & Benny's, Mansfield Road, Sutton In Ashfield, NG17 4NU, for some American style dining. Menu at www.frankieandbennys.com including some special deals of £3 starter, £6.99 main course and £3 dessert. Reserve your place with Maxine on [Phone Number] or [Email] by 23rd please. New faces welcome.
Ciao for now!
Maxine Bates
Contact [Email] or [Phone Number] for details
News from Northampton
On Sun 4th Nov at 10:30am - Brunch
As usual our breakfast/brunch meet-up will be at the Rendezvous Coffee Shop in Market Walk, Northampton Town Centre. Pete will offer another (simpler!) quiz then we can discuss the most exciting/satisfying thing we've ever done. Contact Marianne at [Phone Number] or email: [Email] for more info.
On Sat 10th Nov at 2:30pm - Cream Tea
Explore the Heart of the Shires Shopping Village at Weedon NN7 4LB, meeting at Darlington's Tea Rooms for refreshment before/after some Christmas shopping. If possible, let me know if you intend to join us as we may need to book a table if there's a crowd. Contact Marianne as above for encouragement.

Hertfordshire Happenings
On Thu 1st Nov at 8:00pm - FThOTM
As ever, we are at the Three Magnets, Leys Avenue, Letchworth! Thursday nights are curry nights but other food (standard Wetherspoons' fare) is available as well. Leys Avenue is the main shopping street in Letchworth and is a few minutes' walk from the station (Kings Cross to Cambridge line). Call me on [Phone Number] for more details and encouragement.
On Fri 30th Nov at 8:00pm - LFOTM
As ever, we are at the Cowper Arms, Digswell. The pub is next to Welwyn North station and is served by stopping trains from Kings Cross to Peterborough and Cambridge. Good food, beer and conversation guaranteed! Please call me on [Phone Number] for more details and encouragement.
Richard Allen
Contact [Email] or [Phone Number] for details

Mensans in MK & Bedford
On Wed 7th Nov at 7:00pm - Indian meal
Join us for at the well-reviewed Grange in Grange Farm for a taste of India. Please confirm by Monday 5th at the latest so I can book a table. Contact Jo at [Email], or [Phone Number] / [Phone Number] for directions/encouragement and confirmation of restaurant.
On Mon 19th Nov at 8:15pm - 3MOTM Quiz
Our monthly quiz outing to The Barge at Woolstone. Meet from 8.15 for a 8.30pm start - cost is £1 per person. Please let me know if you are coming so I know if we will be one team or two. Contact Jo at [Email], or [Phone Number] / [Phone Number] for directions/encouragement.
On Sun 25th Nov at 10:00am - Breakfast
Join us at Brown's on Midsummer Blvd (next to Jury's Inn) from 10am for a full breakfast, a snack, or just a drink. Look out for the Mblem on a table. Contact Jo at [Email], or [Phone Number] / [Phone Number] for directions/encouragement.
Just a reminder about our M-MK & Bedford Facebook group – if you would like to join please search for the group and send me a request. I also keep an email distribution list for meeting reminders and any last-minute changes, so if you would like to be added to this please let me know.
We hope to see as many of you as possible at one or other of our events this month. Do remember that you're welcome to bring a guest with you, so if you've never been to a Mensa event and are a little nervous about coming along on your own, just bring a friend.
Jo Sidebottom
Contact [Email] or [Phone Number] / [Mobile Number] for details

Mid Bucks
On Mon 12th Nov at 8:00pm - Indoor Games
Join Dave and Alison at their home in Flackwell Heath, near High Wycombe, for a relaxed evening of indoor board games. All members and friends welcome. Space is limited, so please contact Dave for directions and to discuss what games you would like to play on [Phone Number] or by e-mail at [Email]
On Sat 17th Nov at 11:00am - RAF Halton & Halton House
Trenchard Museum and James McCudden Flight Heritage Centre, followed by lunch and Halton House. £15 cash on the day. Accompanied children welcome. Advance booking is essential and photographic ID will be required for everyone 16 and over. Please contact me by 5th November on [Phone Number] or e-mail [Email] to see if any places are still available.
On Fri 23rd Nov at 10:30am - Coffee & Chat
This month we are returning to Café Zest in House of Fraser at the Eden Centre in High Wycombe. Very close to the bus station. No need to book, but if you want me to look out for you, let me know you are coming on [Phone Number] or e-mail me at [Email]
For further details or encouragement contact me on [Phone Number] or e-mail me at [Email]
Val Hinkins
Contact [Email] or [Phone Number] for details

Derby Diary
On Sat 17th Nov at 12:00pm - Christmas at Tissington
We will visit historic Tissington Hall near Ashbourne (DE6 1RA) where rooms will be dressed in the theme of "Christmas in Neverland". Cost is £12.50/£11.50 concessions, £8.50 for children, under 5s free. We'll have a bite to eat afterwards at Herbert's Tearooms. Tissington Car Park £3.50 for up to 4 hours. Please contact me on [Phone Number] or [Email] by Sunday 11th November so I can prebook tickets
On Wed 21th Nov at 7:30pm - 3WOTM
It's our regular Third Wednesday get-together at the Standing Order pub on Iron Gate (Wetherspoons). Join us to eat or just for a drink and a chat from 7.30pm, reasonable prices. Look for the yellow Mblem on a long table in the rear section. Contact Susan on [Phone Number] or [Email] for directions and/or encouragement. New faces especially welcome.
Susan Graves
Contact [Email] or [Phone Number] / [Mobile Number] for details
The Robin Trail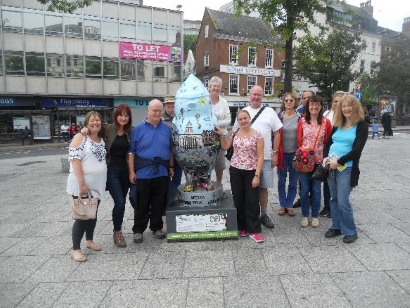 The historic pub crawl in Nottingham on 18th August combined with doing the "Hoodwinked" trail spotting 33 decorated robins around the city.
The National Brewery Centre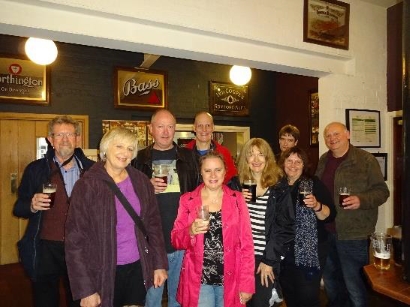 10 members enjoyed a tour of the National Brewery Centre in Burton Upon Trent which included beer tasting. Afterwards, most went to Wetherspoons on the High Street - as this was a success, Susan is considering hosting or supporting another event in Burton soon - please contact her if this would be of interest - [Email]
A few suggestions from Richard Allen
Opera? Shows? Theatre?
Do you like to watch live transmissions of opera from Covent Garden and The Met? Or first-class stage shows from the National? Do you like supporting your local theatre? Perhaps you enjoy concerts or maybe seeing a Shakespeare play performed in the Masters' gardens in Cambridge? If so, why not join our mailing list to hear what we've booked or let us know what you're planning to see and find out if others would like to join you. At present our trips are mainly based around north and east Herts but, if there's enough interest, the area could easily be widened.
Theatrical society performances?
We also go to local theatrical society performances, usually in Hertford. Contact Lyn Packman at [Email]
Viennese style concert
It's rapidly coming to the end of the year and once again, a group of us will be going to the Viennese style concert at the Barbican in London. Those of you who've been will know the score and if you haven't, you don't know what you've missed! Good music plus a few gags guaranteed!
Contact me for further details!
The Heritage Open Days weekend by Richard Allen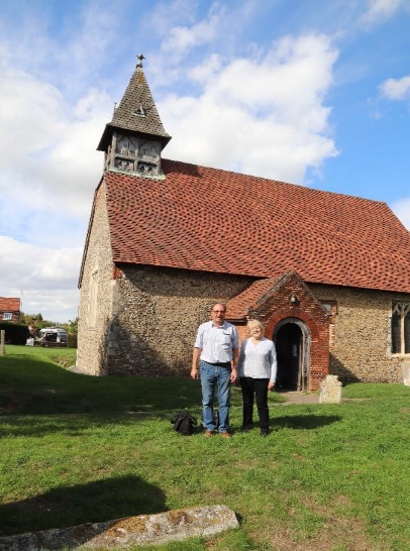 Anne Sparrowhawk and Richard Allen outside St Leonard's church.
Many readers will be aware of the Heritage Open Days weekend in September each year, when a number of places often not open to the public are open for tours, with events taking place at others.
A few local Mensans took advantage of this weekend on both Saturday 8th and Sunday 9th September; on the Saturday we visited Ridgmont station, where there were displays at the small museum located there. I also found myself having a very interesting discussion with a local artist who had been commissioned to provide appropriate artwork for the interiors of the new trains (well, reconditioned ex-District Line ones, but new to the main line railway!) to be introduced later this year.
There is also a very nice cafe at the station where a very pleasant cream tea was enjoyed and which I thoroughly recommend if you're in the area, or are driving on the M1 and fancy somewhere different to stop (it's less than a mile from junction 13).
Afterwards, we went to the parish church of All Saints in Bow Brickhill, dating from the 15th century (although it fell into disuse between about 1640-1750), where it was possible to climb up the steps to the top of the tower, from which some spectacular views could be had. The church itself is well worth a visit, having many internal features dating back to the time of construction, although most of the features date from after the 18th century reconstruction.
On the Sunday, we visited St Leonard's parish church in Bengeo, north of Hertford, which is of Norman origin and again well worth a visit. We also visited the charming village of Wheathampstead, which has a number of pleasant tea rooms as well as a small display at the site of the former railway station (so now you know why we went there!).
20 Questions (No. 205)
Just four entries to the Abba themed quiz in September with Pamela Covey of Woburn winning the £10 book token. The answers were 1974, helicopter, Summer Night City, tinned fish, I Can Do It, Dancing Queen, The Hep Stars, 33, Westlife, Bjorn, Chiquitita, 1999, Anni-Frid, The Day Before You Came, 5, Erasure, a large spotlight, Blondie's Heart Of Glass, Linda and Super Trouper.
Many thanks to frequent winner Nigel Bryant for compiling this month's quiz on photography to give you all a chance! Send your entries to arrive by 20th November to '20 Questions (No. 205)', [Address] or [Email] not forgetting to include your name and address.
1. If a shutter speed is 1/100, what is twice as quick?
2. What is the name for the blur produced in the out-of-focus parts of an image produced by a lens?
3. Which is a larger aperture - 1.4 or 2.8?
4. The 1966 'Blowup' was inspired by which photographer?
5. Which photographic agency was formed by four photographers including Robert Capa and Henri Cartier-Bresson?
6. Which photographer was Queen Elizabeth's brother-in-law?
7. What does HDR stand for?
8. Which camera company makes Nikkor lenses?
9. Which 1960s fashion model was known as 'The Shrimp'?
10. Which make of camera built around a 500EL body went to the moon?
11. The resolution of digital cameras and camera phones is measured in what?
12. Sir Donald McCullin is famous for what sort of photography?
13. What type of lens is an 18-35mm?
14. What is the term for close-up photography?
15. What is a TLR?
16. Which company produces the EOS range of cameras?
17. What TLA is a system for quantifying the sensitivity of a digital camera's image sensor to visible light?
18. What are Manfrotto known for?
19. What is the name of the book containing a collection of photographs taken by a son of David and Victoria Beckham?
20. What do you call a construction that allows photographers to get closer to wildlife?