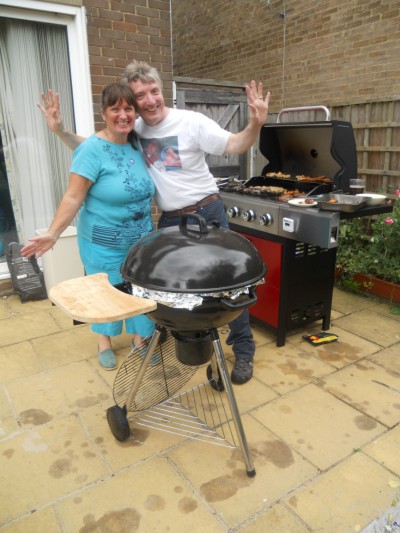 Regional News
Firstly thanks must go to Richard Allen, Rowena Love and Mark Lawrence for hosting our regional family day out in August. It was lovely to meet so many new people who are now encouraged to come out to more of our social events. There's a review and photos of the event on the opposite page. Don't forget tickets are already on sale for our next regional event which is a Burns Supper at the Radisson Blu Hotel near East Midlands Airport on Saturday 25th January. See www.eastmidsmensa.org.uk for full details.
As well as the usual array of events involving food and drink it's good to see Young Mensan Will Gregory hosting his debut event. This is a discussion/debate which sounds interesting. So if you're in the Bedford area on Monday 14th October do pop along to The Pilgrims Progress on Midland Road from 7.30pm and support Will and LocSec Jo. If you have your own ideas for social events please do get in touch with either me or your LocSec. Maybe you have a hobby or interest you'd be prepared to share with other members?
Finally I'd like to say thank you to Ian Sargent who has been Northampton LocSec for many years and is stepping down from the role at the end of this month. We therefore have vacancies for the roles of LocSec to cover Northampton, Luton and Derby. If anyone would like an informal chat about what is involved I would love to hear from you on either [Phone Number] or [Email]. It can be huge fun and a great way to make new friends. I've been Nottingham LocSec for 18 years so what better recommendation!
Maxine Bates
Regional Officer
Events and Meetings
In the current circumstances surrounding the COVID-19 coronavirus, the expectation is that all events listed here are likely to be cancelled, if not already marked as such. If you intend participating in any event listed here, please contact the event organiser beforehand to confirm that the event is still on.

Northants NNotes
"And now the end is near and so I face . . ." No, that's quite enough of that! October sees the end of my tenure in the LocSec position, and, as it has not been possible to continue the Milton Malsor meetings, there will be no regular events for members in Northamptonshire. It's likely that I will organise a couple of scenic walks per year so occasional notifications of those will appear in Empress.
On Thu 3rd Oct at 7.30pm - FThOTM
Our First Thursday meeting in Northampton is on Thursday 3rd at the Eastgate in Abington Street, meeting at 7.30pm. The early start is so that members can partake of a subsidised 2-course meal – advance booking is required so that I can ensure that enough funds are available. Non-members are welcome but they will have to pay full price. Blue Badge parking is available outside the pub, whilst on-street parking for others is within a 5-minute walk. It's a Wetherspoon's pub so don't expect haute cuisine. My first memory of this building was as a toy shop that was very popular with the children of the town – the wooden slide from the ground floor into the basement may have had something to do with it.
On Thu 17th Oct at 8.00pm - Roadshow
And so to the very last Roadshow. On Thursday 17th October at 8.00pm we are paying a visit to The Boat Inn, Stoke Bruerne, NN12 7SB. One of the most well-known pubs in the county but just in case you are not familiar with the location the village can be reached from the A508 and A43. We will be in the lounge, which is on the left as you walk through the front door. The pub has been run by the same family since 1877 and the ashes of one of the previous landlords are interred under the floor of the canalside bar (go and have a look – you will smile).
For both events a copy of the Mensa magazine on a table will point us out. If you need any further information contact me.
Ian Sargent
Contact [Email] or [Phone Number] / [Mobile Number] for details

Mid Bucks
On Thu 3rd Oct at 10.30am - Coffee morning
No need to book, just join me from 10.30am onwards on Thursday 3rd for a morning of conversation and coffee at "The Grocer @ 91" on the High Street in Old Amersham, HP7 0DT. Further information on the venue at www.thegrocerat91.co.uk/home/4575802811
On Thu 17th Oct at 8.00pm - Theatre
The Madness of George III is coming to High Wycombe's Swan theatre. We will be going to the performance on Thursday 17th, which starts at 8.00pm. Alan Bennett's witty play tells the story of the King's illness and his many treatments. George reputedly had little time for medical advice and refused to co-operate with his physicians. His incapacity led to a fierce struggle for power and influence between scheming members of his family and household. Let me know if you would like to meet up for a meal before the performance and we will agree a time and place. Please buy your own tickets for the theatre, www.wycombeswan.co.uk/Online/ but contact me to let me know you are coming.
Mark Sandford will host another visit to the Swan theatre at the end of November. The play is A Midsummer Night's Dream, which will be performed on Saturday 30th at 2:30pm. More details next month, but you may want to obtain your tickets now from the theatre, www.wycombeswan.co.uk/Online/
Val Hinkins
Contact [Email] or [Phone Number] for details

Mensans in MK & Bedford
On Wed 9th Oct at 8.00pm - Eating meeting
Our first event in October is a visit to Buckingham for dinner. The Nelson Street Restaurant sounds very promising according to its website (www.nelsonstreetrestaurant.co.uk) so we thought we'd try it on Wednesday 9th at 8.00pm. Please let me know by Monday 7th if you plan to come, so I can book a table.
On Sun 13th Oct at 10.30am - Sunday breakfast
Sunday breakfast will be at 10.30am on Sunday 13th at Wetherspoons on Midsummer Boulevard West, next to Chiquito's and not far up from the railway station (NOT the Lloyds/Wetherspoons nearer the shopping centre and next to Jurys Inn). Come for a full breakfast, a snack, or just a drink – look for the Mblem on a table.
On Mon 14th Oct at 7.30pm - Discussion
Monday 14th sees a brand new event: Bedford Young Mensan Will Gregory has volunteered to host a discussion on the topic of "Angels and apparitions: reconciling the rational and religious". Will describes himself as "level-headed and logical" but he has experienced seeing an angel, and has been endeavouring to work out how this could be scientifically viable! It sounds like a fascinating subject and one with great potential for debate and discussion, so do come along to the Pilgrim's Progress in Midland Road at 7.30pm and participate.
On Mon 21st Oct at 8.30pm - Pub quiz
On Monday 21st we continue our Third Monday of the Month quiz meetings at The Barge at Woolstone. We meet from 8.30pm in time for the quiz at 9.00pm – cost is £1 per person. See www.vintageinn.co.uk/thebargewoolstone/ for location and, if possible, let me know beforehand if you're coming so we can reserve a big enough table.
Just a reminder about our M-MK&Bedford Facebook group – if you would like to join please search for the group and send me a request. I also keep an email distribution list for meeting reminders and any last-minute changes, so if you would like to be added to this please let me know.
We hope to see as many of you as possible at one or other of our get-togethers in October. If you've never been to a Mensa event and are a little nervous about coming along on your own, feel free to bring a friend. Or call me first if you would like to know a bit more about it first – I'd be happy to chat to you.
Jo Sidebottom
Contact [Email] or [Phone Number] / [Mobile Number] for details

Lively Lincs
We remain creatures of habit in October, continuing with all our favourites but with the additional attraction of a concert at the cathedral.
On Sat 12th Oct at 12.05pm - 2SaOTM
On Saturday 12th from 12.05pm for 2-3 hours, our regular 2SaOTM at the Adam & Eve pub on Lindum Hill will feature a discussion on 'Men and Women - who's better at what?' I'm looking forward to discovering how much we can agree on, do join us to add your pennyworth. Bar food is available for those who need sustenance, free car parking.
On Wed 23rd Oct at 7.00pm - Choral music concert
Wednesday 23rd at 7.00pm will see us at the cathedral for a concert of early sacred choral music by The Sixteen. They featured in Simon Russell Beale's BBC TV series on the subject. Tickets are available online: Lincolncathedral.com/shop, by visiting the cathedral shop or calling 01522-561-644. For more details, [Email]
On Sun 27th Oct at 3.00pm - Teatime Thinking
Our monthly bit of Teatime Thinking at my house near Alford will be on Sunday 27th from 3.00-5.00pm to discuss 'Time; Totalitarianism'. I provide tea and various cakes, you bring your mind. Contact me for further details, directions, encouragement, etc.
On Tue 29th Oct at 7.00pm - Eating meeting
We had a great time when we tried a new venue in August, so we are minded to try another new venture this month. Hence, we're off to Saffron on Eastgate for a spot of Indian cuisine. All welcome to join us on Tuesday 29th at 7.00pm. It would help if you could book with me by 26th if possible, thanks.
Christine Howells
Contact [Email] for details

Notts News
On Sat 5th Oct at 8.00pm - 5OTM
We have four events this month and three of them happen to be in Beeston. So if you live in the NG9 postcode area hopefully one of our events will entice you out. It's always nice to see new faces. But we start with our regular '5th of the month' get together at the Vat & Fiddle on Queensbridge Road in the city centre from 8.00pm on . . . guess when . . . the 5th! The pub is adjacent to Castle Rock Brewery, which is usually well lit at night. We usually have the first table inside the Golding's Room to the left of the bar but the Mensa logo will be on display wherever we are.
On Thu 10th Oct at 7.30pm - Natter & nosh
From 7.30pm on Thursday 10th we have our 'natter & nosh' event at The Beekeeper on Meadow Lane in Beeston. As the name implies this event involves food and chat, though you are welcome to come along for just a drink if you don't wish to eat. It's a Hungry Horse venue so good value and this month we have some discount vouchers if dining too. Find us displaying a yellow Mblem on the long table just beyond the food order point at the end of the bar.
On Sat 19th Oct at 10.00am - Beauty Science Day
On Saturday 19th there will be a Beauty Science Day held on the site of Boots HQ in Beeston. It will run from 10.00am to 4.30pm and includes two lectures and four hands-on sessions in state-of-the-art industrial laboratories as well as refreshments and a buffet lunch. If you've ever wondered how cosmetics and toiletries are developed this is your chance to find out and you'll be able to make your own and take home. Full details can be found at www.eastmidsmensa.org.uk – but be quick as the event went on sale in August and was 50% sold out within a week.
On Tue 29th Oct at 7.30pm - Eating meeting
Finally we're back in Beeston for our 'eating meeting' at 7.30pm on Tuesday 29th at Amores Italian restaurant on Station Road. Find the menu at www.amoresrestaurant.co.uk and book your place with me by 25th latest please.
Local member Eveline Thoenes is appearing in the Gilbert & Sullivan light opera The Pirates of Penzance as part of the Beeston Musical Theatre Group. The show runs from 28th October to 2nd November at the Duchess Theatre, Chatsworth Centre, Long Eaton. Tickets cost £10-£12. If you would like to attend the 7.30pm performance on opening night Monday 28th please book via ww.bmtg.org.uk and contact Maxine on [Phone Number] if you would like to meet up before/after the show.
Ciao for now!
Maxine Bates
Contact [Email] or [Phone Number] for details
More or Leicester
On Mon 7th Oct at 8.00pm - Eating meeting
We start off October with a trip to Zucchero's in the city centre. Chips & curry? Check! Sushi & spuds? Check! Yorkshire pud on a Thai green curry? It's yours if you want it! We'll be there on Monday 7th at 8.00pm, but let me know by the Friday beforehand if you're coming so I can get a big enough table (and to advise of any last minute changes of plans).
On Wed 9th Oct at 7:30pm - Die Fledermaus
From Wednesday 9th to Saturday 12th, Leicester Mensa member Joyce Moore invites you to Johann Strauss's "Die Fledermaus" at The Concordia Theatre in Hinckley. Lots of fun and some cracking music; tickets and further information are available from Joyce on [Phone Number] or [Email]
On Thu 24th Oct at 8:00pm - 4ThOTN
I note that the date of our usual 4th Thursday (24th) falls on the 10th Anniversary of the last flight of Concorde. Colossal white elephant or Engineering marvel? We'll have a debate! Usual thing – look out for the magazine or yellow mBlem to find us.
Just a reminder that everyone is welcome – friends, relatives or just yourself. First ever meeting? We're a friendly bunch who rarely bites, and most of us are house-trained. Why not take the plunge and say "Hello"? I really look forward to seeing you soon.
Paul Coulson
Derby Diary
On Wed 16th Oct at 7.30pm - 3WOTM
Join us at the Standing Order on Irongate in the city centre from 7.30pm until late on Wednesday 16th. We'll be on one of the long tables (long because we push several tables together!) in the low ceiling area at the rear of the pub. If you're new you're welcome to phone in advance or turn up on the night and look for the yellow Mblem on the table. Come for a meal or just a drink. And if you have a Cathedral Quarter loyalty card bring that as it gets 20% discount on food!
On Fri 18th Oct at 8.30pm - Ilkeston Charter Fair
Ilkeston's Charter Fair returns to the town for the 761st time and we'll be visiting on Friday 18th. This street fair is one of the oldest and largest in Europe with many of the same rides that appear at the more famous Goose Fair in Nottingham earlier in the month. So whether you want some white-knuckle thrills or traditional side shows or just to soak up the atmosphere wandering around with a candy floss or pot of minted peas (I never realised the minted bit is typically East Midlands!) you're welcome to join us. I propose meeting at 8.30pm but please contact me for the rendezvous point as this will depend on who is interested in coming and where it is easiest for the majority to park. Our visit may also be postponed until the following night in the case of inclement weather.
Maxine Bates
Contact [Email] or [Phone Number] for details

Hertfordshire Happenings
On Thu 3rd Oct at 8.15pm - FThOTM
As ever, we're at the Millstream, Cambridge Road, Hitchin. Good food and good beer both available! Call me on [Phone Number] for more details and encouragement. The pub is about ten minutes' walk from the railway station.
On Fri 25th Oct at 8.00pm - LFUTM
As ever, we'll be at the Cowper Arms, Digswell, Herts (by Welwyn North station). Call me on [Phone Number] for more details and encouragement. The pub is next to the railway station, which is served by stopping trains from Kings Cross to Cambridge and Peterborough.
Richard Allen
Contact [Email] or [Phone Number] for details

Berkhamsted
On Thu 31st Oct at 7.45pm - LThOTM
The Old Mill, Berkhamsted
Jenny Habib
Contact [Email] or [Phone Number] for details
Editor's Bit at the Bottom
Hello again! I'm back in the editor's chair for the October to April issues of Empress so here's where you send your newsletter copy, comments and constructive criticism.
What do you think of the new format newsletter? Will you use it differently now that it's part of the magazine – although in the centre so it can be extracted? Will you extract it? Because of its new location I'm reconsidering what information it should include. What would you like to see in your newsletter? Please send me your answers to these questions – have a say in your newsletter's new look.
To give feedback on what you think of the new magazine please write to Brian Page: [Email]
Rosie Jefferson
Do Something Different
There are plenty of opportunities to eat and drink in the region this month, something we can all do with pleasure, but how about doing something different as well. Especially if you've not been to an opera, a play or a choral concert for a long time (or even if you have), think about going with a group of fellow Mensans and comparing notes afterwards.
Hinckley's Concordia Theatre Wednesday 9th – Saturday 12th Johann Strauss's "Die Fledermaus"
"A Magnum of Madcap Charm - sentenced to spend a few days in jail, Gabriel decides to postpone his punishment by first stopping in at Prince Orlovsky's ball. At the party, he makes eyes at a mysterious Hungarian countess, who is actually his own wife in disguise. Everyone lies, everyone dances . . . but no matter, as there is only one guilty party: the champagne!"
High Wycombe's Swan Theatre on Thursday 17th Alan Bennett's "The Madness of George III"
"A witty and gripping play which is not to be missed."
"It's like The West Wing in the nineteenth century."
"Much of the posturing between the Whig and Tory parties is reminiscent of today's political climate."
Lincoln Cathedral on Wednesday 23rd Early sacred choral music by The Sixteen
"The Sixteen is recognised as one of the world's greatest ensembles."
"The Sixteen's total commitment to the music it performs is its greatest distinction."
"The Sixteen's sound was as beautiful as ever"
Have a great time! (And then write to Empress about it . . .)
BBQ REVIEW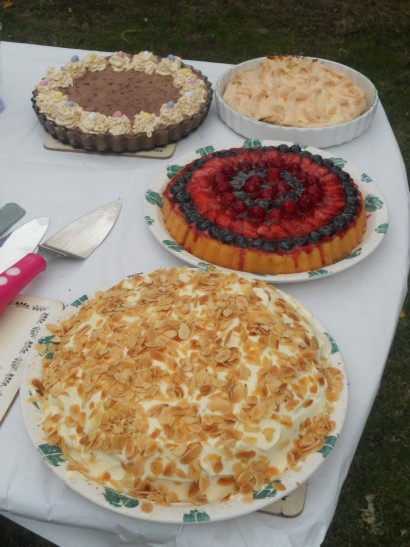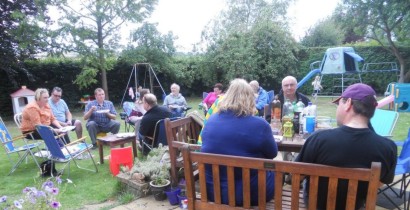 When Mensa friends Rowena and Mark mentioned they were planning a summer BBQ and would like to meet other members I jumped on the chance to turn it into a regional event based in Hertfordshire as I'm aware the majority of our big events are held in the north of our region. Luckily Rowena and Mark didn't object to inviting strangers (but strangers are only friends you've not met yet!) into their home nor spending hours buying and preparing the food.
So on Saturday 17th August we gave members the option to meet at Hatfield House in the morning followed by a BBQ in the afternoon. Around half the attendees joined in both parts of the day. Thanks to Herts LocSec Richard for co-ordinating the visit to Hatfield House where the group split into two; one group touring the house and the other visiting the farm park.
Around 3.00pm guests starting arriving in Old Welwyn for the BBQ. The weather forecast had been for rain from then until late into the evening and we'd had a few spots earlier. However, whilst it was quite chilly at times we did see some rays of sunshine and the rain stayed away until the BBQ was coming to a natural end. So we were able to sit outside on the patio and lawn chatting to each other and enjoying the excellent food.
Mark fired up the BBQ and served pork in pineapple and papaya marinade, chicken in white wine marinade, burgers, sausages, salmon, roast butternut squash, vegetarian bacon and more all accompanied by a variety of breads, salads and relishes. The food was so tasty I think most people had a couple of visits to the BBQ. Although we had to save room for Rowena's homemade desserts including chocolate and orange cheesecake, a fruity flan, citrus meringue and coffee cake. Nobody went hungry!
It was great to see so many new faces at this event including a few families. The children played together wonderfully. Particular thanks to Raluca and Ainsley for bringing their husbands and children as I realise one family had some distance to travel and the other came straight from a birthday party. Thanks too, of course, to Richard, Rowena and Mark for hosting the event. Many people thanked me but all I did this time was turn up and pay for the food from our regional funding!
As one guest commented: "It was very nice to see everybody, you had gathered together a very nice group and the venue was very pleasant."
20 Questions (No. 145)
Did you guess the summer songs from the August issue? They were Cruel Summer by Bananarama, Summertime Blues by Eddie Cochran, Summer Rain by Belinda Carlisle, Summer Nights by John Travolta & Olivia Newton-John, The Boys Of Summer by Don Henley, In The Summertime by Mungo Jerry, Our Last Summer by Abba, Summer Sunshine by The Corrs, Summer's Almost Gone by The Doors, Summer In The City by The Lovin' Spoonful, Summer Of Love by The B52s, Endless Summer Nights by Richard Marx, Summer Fling by K D Lang, Summertime by Abbie Mitchell, Summer of '69 by Bryan Adams, Farewell My Summer Love by Michael Jackson, That Summer by Garth Brooks, Someone Somewhere In Summertime by Simple Minds, Those Lazy Hazy Crazy Days Of Summer by Nat King Cole and Summer Holiday by Cliff Richard.
Entries were received from Tony Dodd of Belvoir, Michael Warren of Derby, Roger Plant of Nottingham, Pamela Covey of Woburn, Philip Abbott of Watford, David Lewis of Hitchin and Chris Impey of Tring. Most got top marks so the winner was drawn at random and the £10 book token is on the way to Roger.
Many thanks to David Lewis for compiling this month's quiz. Name the song title containing a colour and the singer(s) represented by the following groups of letters; e.g. GGGOHTJ = Green Green Grass Of Home Tom Jones. Send your entries to arrive by 20th October either by email to [Email] or by post to '20 Questions (No. 145)', [Address]
1. BEGVM
2. FIBJND
3. FOJPS
4. GSB
5. GTLP
6. IBTWYPDBBH
7. LIRCDB
8. LTPS
9. MBSELO
10. MYD
11. NNRBN
12. PCSS
13. PIBRS
14. RRWUBF
15. SDMDE
16. SRHB
17. SVTRBRG
18. WITBFHJ
19. YAPTMB
20. YSTB