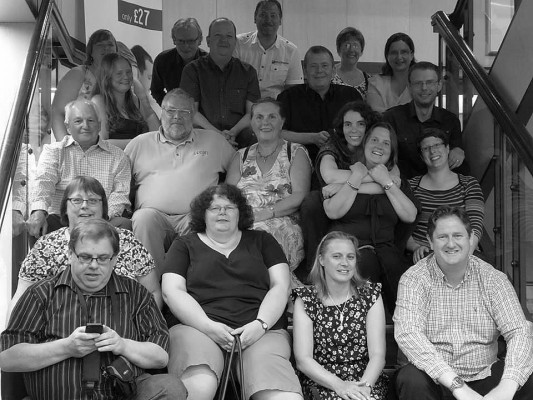 Operation Penguin
Penguin? Yes, penguin.
Regional News
After a trial run as Luton Local Secretary I'm pleased to say that Bob Ford officially takes up that role. Thank you to everyone who supported his first event in August. Based on those who attended it was decided to change both the venue and date of this regular event. It will now be held on the 1st Tuesday of each month at The Brache Beefeater on Osborne Road (opposite the Vauxhall Design building). Do pop along if you can and meet others in this newly formed group of Mensans.
I note a lot of teenagers have recently joined Mensa who live in the Grantham area. I assume this is following a school testing programme. If you can suggest any events suitable for this age group it would be great to hear from you regardless of where you live. It's always nice to see families come out to our events and I realise they are not always suitable for younger members or those of you with younger children.
As well as family friendly events I'm also seeking suggestions for our annual regional event due to take place February/March 2015. Previously we've held everything from a Valentine's ball to Burns supper to Chinese New Year banquet to Wild West barn dance to live music to buffet and disco. What would YOU like to see? An event in a hotel with sit down waiter served meal or in a village hall type venue with help-yourself buffet prepared by ourselves? As the last few events have been in the vicinity of East Midlands Airport I'm thinking we should hold the event further south but still with easy access from the M1 motorway. So venue suggestions are most welcome.
Please drop me a line on [Email] or give me a call on [Phone Number] as your opinions really do count. Finally I'd like to wish our Empress Editor and Regional Web Officer Nick a very happy day as he celebrates a landmark birthday this month. And, of course, to British Mensa as we celebrate our 68th anniversary on 1st October.
Maxine Bates
Regional Officer
Events and Meetings
In the current circumstances surrounding the COVID-19 coronavirus, the expectation is that all non-online events listed here are susceptible to being cancelled, if not already marked as such. If you intend participating in any event listed here, please contact the event organiser beforehand to confirm that the event is still on.

Notts News
On Fri 3rd Oct at 8.00pm - Goose Fair
Lots happening this month whether you enjoy food, drink, culture or fun times. Starting with our annual trip to Goose Fair at Forest Recreation Ground on the outskirts of the city centre. This will be on Friday 3rd with a meeting time of 8.00pm but please contact me in advance as the rendez-vous point will depend on who is coming and how we are all getting there and also may be cancelled if heavy rain. Come along to try the new white-knuckle rides or traditional 'cake walk', eat minted peas or 'cocks on sticks', play on the side stalls, or just take a stroll to soak up the fairground atmosphere.
On Sun 5th Oct at 8.00pm - 5OTM
We're meeting again at the end of that weekend from 8.00pm on Sunday 5th. Find us in the Goldings Room to left of the bar at the Vat & Fiddle pub on Queensbridge Road (near Nottingham railway station). Our August event coincided with their quiz and we won. So free chips at half time and chocolates for winning. A fun but not very healthy night out!
On Thu 9th Oct at 7.30pm - Natter & nosh
On Thursday 9th we'll be at the Beekeeper in Beeston for our ever popular 'natter & nosh' event. Come to eat or just drink and chat any time from 7.30pm. We'll be on the long table beyond the food order point at the end of the bar. Just look for the yellow Mblem on display. All welcome! 18 of us are already booked for the Nottingham Mensa Christmas meal there on 11th December. Let me know if you'd like adding to our booking, subject to availability of space. The cost is £9.99 for 2 courses or £12.99 for 3 courses.
On Tue 28th Oct at 7.30pm - Eating meeting
This month's 'eating meeting' will be a Nepalese meal at Mount Gurkha Village restaurant, Tamworth Road, Long Eaton, at 7.30pm on Tuesday 28th. See mountgurkhavillage.co.uk for their menu with a good selection of Nepalese as well as Indian and Chinese dishes or even a seven course set menu. Book your place with me by 24th please. Restaurant recommendations are always welcome!
On Wed 29th Oct at 7.30pm - Theatre - Annie
One of my favourite musicals returns to Nottingham Theatre Royal at 7.30pm on Wednesday 29th. Would anyone like to come and see Annie with me? What's not to like about this red-haired orphan girl with attitude!? Plus some great singing and dancing. Tickets range from £10 to £19.50. Please contact me and I'll try to arrange group booking and see if we can get discount too.
On Fri 31st Oct at 8.00pm - Halloween
On Friday 31st I'm having a Halloween themed evening at my home in Langley Mill from 8.00pm. There may be some pumpkin carving or bobbing for apples or just some frightening food. Scary dress encouraged though not essential. Let me know if interested so we can decide the format of the evening. Unfortunately it won't be a full blown late night party as I'm organising and participating in a 12 hour 'gymathon' the following day!
Ciao for now!
Maxine Bates
Contact [Email] or [Phone Number] for details
Derby Diary
On Wed 15th Oct at 7.30pm - 3WOTM
Join us any time from 7.30pm on Wednesday 15th at the Standing Order on Irongate in the city centre. Being a Wetherspoon venue there is good value food and/or drink. Plus extra discount if you have a Cathedral Quarter card. Just look for the yellow Mblem on one of the long tables in the low-ceiling section at the rear of the pub. New faces always welcome and you can stay as long as you wish. The conversation was so enthralling at a recent event we were surprised to look at our watches and find it was nearly midnight!
Our 'eating meeting' on Tuesday 28th takes place in Long Eaton and my 'at home' on Friday 31st will be in Langley Mill. As both these towns are on the Notts/Derby border you are welcome to attend. Please see the Notts News section for further details.
Advance Notice
This is also advance notice of an early Christmas party night in the function rooms at Ilkeston Town Football Club on Friday 28th November. Tickets cost £6 each and include a buffet and disco. The party runs from 7.30pm until 12.30am. There will be a cash bar. Proceeds from this event will go to Cancer Research UK. Tickets are limited and it was a sell out last time so please buy sooner rather than later from me to avoid disappointment.
Maxine Bates
Contact [Email] or [Phone Number] for details

Mensans in MK & Bedford
On Sun 12th Oct at 10.00am - Sunday breakfast
Sunday breakfast will be on 12th at 10.00am at Carluccio's in the Centre:MK. You will probably find us in one of the red booths just in front of the restaurant– look for the Mblem on a table. Come for a full breakfast, a snack, or just a drink.
On Mon 20th Oct at 8.30pm - 3MOTM
On Monday 20th we continue our Third Monday of the Month quiz outings at The Barge at Woolstone. Meet from 8.30pm in time for the quiz at 9.00pm – cost is £1 per person. See www.vintageinn.co.uk/thebargewoolstone/ for location and, if possible, let me know beforehand if you're coming so I can reserve a big enough table. We don't always get the same table so look out for the Mblem.
On Tue 28th Oct at 7.00pm - Eating meeting
Our final event in October is a Thai meal at 7.00pm on Tuesday 28th at Thai Modern on Upper Fourth St, CMK. See http://thaimodern.co.uk/ for details of menu and location. Please let me know by Sunday 26th if you plan to come, so I can book a table.
For any of the above events please contact me directions and/or encouragement.
Just a reminder about our M-MK & Bedford Facebook group - if you would like to join please search for the group and send me a request. I also keep an email distribution list for meeting reminders and any last-minute changes, so if you would like to be added to this please let me know.
We hope to see as many of you as possible at one or other of our events in October. Do remember that you're welcome to bring a guest with you, so if you've never been to a Mensa event and are a little nervous about coming along on your own, just bring a friend.
Jo Sidebottom
Contact [Email] or [Phone Number] / [Mobile Number] for details

Mid Bucks
I have broken my arm so am unable to drive at the moment. This month's events are local so that I can reach them easily!
On Fri 3rd Oct at 10.30am - Morning coffee
No need to book, just join me from 10.30am onwards on Friday 3rd for a morning of informal conversation and coffee. This month we are returning to The Lido on The Rye in High Wycombe, HP11 1QX. Approached from the A40 via Bassetsbury Lane, this café does a range of food and a very good cappuccino. There is a public car park right outside, modest parking charges apply. Alternatively it is a pleasant walk along Easton Street past Pann Mill and across the Rye from the centre of High Wycombe. For information on the venue see http://www.fusion-lifestyle.com/centres/Wycombe_Rye_Lido/facility/Cafe
On Sun 12th Oct at 12:00pm - Sunday lunch
Then come to The Elaichi Restaurant at 188 Cressex Road, HP12 4UA (on the roundabout where Cressex Road and New Road meet) for a leisurely lunch on Sunday 12th at 12noon. Usually a quiet and relaxing venue, its walls are decorated with paintings copied from the Sistine Chapel. There is parking immediately outside or in nearby roads. This restaurant prides itself on preparing exquisite Bangladeshi dishes specially suited to the European palate. Despite the liberal sprinkling of chilli symbols on their menu, the food is milder than most local restaurants. However, all dishes can be made hot for those who prefer a more fiery experience! Check out the menu for yourself at http://www.elaichiofhighwycombe.co.uk/PDF/Elaichi-Eat-In-Menu.pdf I will need to make a booking, so please contact me by Friday 3rd to let me know you are coming.
I look forward to seeing some of you at the Middle Temple tour in London on Friday 17th October.
Advance notice: In November Mark Sandford will be hosting a trip to the Wycombe Swan to see Harper Lee's classic set in the deep South of America, "To Kill a Mockingbird". Please buy your own tickets for the performance at 2.30pm on Saturday 8th November. Prices from £23 - £29. Ring Mark on [Phone Number] or e-mail him at [Email] to let him know you are coming. We will probably go for a meal afterwards. Further details next month.
Val Hinkins
Contact [Email] or [Phone Number] for details

Lively Lincs
On Sat 11th Oct at 12.05pm - Pub debate
Our pub debates are very civilised, which is just as well as this month's topic is 'Misogny lives?' It will be interesting to find whether there is a male/female divide on opinions. I doubt it, though - we're all pretty good at seeing things from other angles. If it's a topic that appeals to you, or you just fancy a Saturday lunchtime in the pub, do join us on the 11th from 12.05pm for as long or short as you like, just listen or join in, at the Adam and Eve on Lindum Hill. There's a free car park, it's on a bus route, there is food for those who want it. We meet from about 12ish and leave several hours later.
On Tue 21st Oct at 7.00pm - Eating meeting
Our popular midweek evening eating meetings continue with a return visit to Thai No.1 on the Bailgate, Tuesday 21st at 7.00pm. If you would like to join us, you'll be very welcome but please book with me by 16th, many thanks.
Christine Howells
Contact [Email] for details

Luton Leisure
On Tue 7th Oct at 7.30pm - FTuOTM
Our FTuOTM get together has a new venue. Join us on Tuesday 7th from 7.30pm at The Brache Beefeater, Osborne Road, Luton, LU1 3HJ.
The venue is opposite the Vauxhall Design building, and there is free parking.
Bob Ford
Contact [Email] or [Mobile Number] for details

Hertfordshire Happenings
On Thu 2nd Oct at 8.15pm - FThOTM
On Thursday 2nd from 8.15pm it's FThOTM and we'll be at the Millstream, Cambridge Road, Hitchin. Good food and good beer both available! The pub is about ten minutes' walk from the railway station.
On Fri 31st Oct at 8.00pm - LFOTM
On Friday 31st we'll be at Digswell (by Welwyn North Station) from 8.00pm at the Cowper Arms - could it be a bit spooky that night? The pub is next to the railway station, which is served by stopping trains from Kings Cross to Cambridge and Peterborough.
For either of the above events call me for more details and encouragement.
Richard Allen
Contact [Email] or [Phone Number] for details
More or Leicester
On Thu 23rd Oct at 8.00pm - 4ThOTM
Come along to The Cradock Arms, Knighton Road, LE2 3TT, from 8.00pm on Thursday 23rd for an evening of chat and drink. We should be in the downstairs area with a yellow Mblem/Mensa magazine on display. New faces are always welcome! Suggestions for future events are most welcome too. Contact me (as above) for further info.
Paul Coulson
Operation Penguin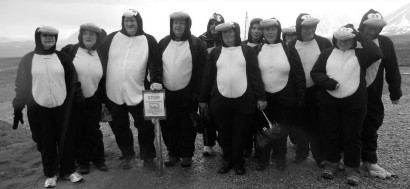 Look what crazy capers you could get up to if you get involved with Mensa activities!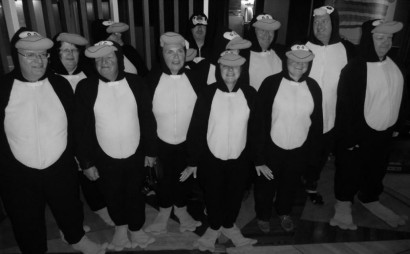 "In the cocktail bar on the ship that evening, when it was less muddy, we were able to wear our feet" Maxine Bates, organiser extraordinaire
Earlier this year Mensans from Dublin, London, South Wales, Manchester, The Wirral, Lincoln, Cambridge, Milton Keynes, Nottingham and Derby formed the majority of a group of 21 who set sail on calm seas and in warm sunshine to visit the Arctic.
Operation Penguin had been in planning for 15 months. The plan was to entertain the locals, ship's crew and fellow passengers by dressing as penguins when the ship docked at the scientific research station at Ny Alesund in Spitzbergen (see http://sverdrup.npolar.no/). Ny Alesund is the furthest north a person can go without being on a polar expedition.
The upper photo was taken ashore in Ny Alesund (the sign says" STOP. POLAR BEAR DANGER. Do not walk beyond this sign without a weapon"). The lower photo was taken in the cocktail bar on the ship that evening. Can you spot officers of East Midlands Mensa – Maxine, Jo and Mark Penguin?
The group were the largest on the cruise and became known by the entertainment staff as 'The Penguins', and made it onto lots of photos taken by other passengers. The cruise director and his assistant even conducted the final night quiz in borrowed penguin onesies!
(the above information was provided by Maxine Bates)
20 Questions (No. 157)
The literary answers from the August competition were Peter Pan, Herbert George, St Mary Mead, Margaret Mitchell, Mildred Hubble, Rikki Tikki Tavi, no bigger than his father's thumb, Barbara Cartland, Emily, Pandora Braithwaite, King Lear, William Wordsworth, George Orwell, Great Expectations, Joseph Heller, 20 years, New Moon, Dawn French, Oliver Mellors and Hamlet. Entries were received from Roger Plant of Nottingham, Pamela Covey of Woburn, Nigel Bryant of Bedford, Chris Impey of Tring, Roger Lord of Aylesbury, Patrick Cavanagh of Ireland, Sue Barker of Bolton, Helene Parry of Brentford, Lynn Faulkner of Nottingham and Alex Foster of Derby. Nigel was first 'out of the hat' and wins the £10 book token. As you may see some of these entrants don't actually live in the East Midlands region but are keen enough to either subscribe to Empress as one of their free SIGs or read it via the Mensa web site. Thank you!
This month's quiz is set by Mark Sloan. The new academic year is now under way. Can you guess the British universities from the English translation of their motto? Send your entries to arrive by 15th October by email to maxine@marubaevents. com or post to '20 Questions (No. 157)', [Address], for your chance to win the £10 book token.
1. Excellence and zeal
2. The way, the truth, and the life
3. On the threshold of wisdom
4. Explore, dream, discover
5. These days of peace foster learning
6. Now by all your mastered arts
7. From here, light and sacred draughts
8. Learn each field of study according to its kind
9. In night is counsel
10. Through efforts to high things
11. From the ground to the sun
12. My soul doth magnify the Lord
13. Without knowledge, all is in vain
14. With holiness and with wisdom
15. Let us seek higher things
16. That they have life and have it more abundantly
17. Knowledge, wisdom, humanity
18. A city is built on wisdom
19. Experience teaches
20. To discover the causes of things