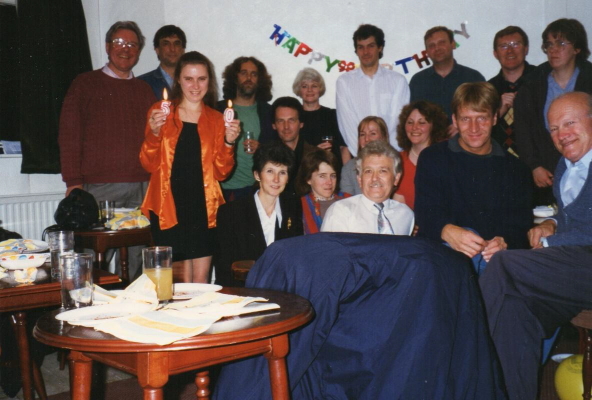 Some long-time memories! Check if you can recognize all the people in the pics.
Regional News
I'm delighted to welcome not one but two new officers to the East Midlands Mensa team. Haydn Starkie takes up the role of Leicester Local Officer. Along with Pen and Sue, Haydn has kindly kept Leicester Mensans active since Paul's sudden death two years ago. He has decided to take on the role of Leicester Local Officer to keep Paul's legacy going and so that Leicester is represented within East Midlands Mensa. Please join him at The Cradock on the 3rd Monday of each month or at other events around the county.
Christina Andersen-Bacon steps into the brand new role of Family Officer. She will be a contact for junior members (aged under 18) and for adult Mensans who wish to participate in events with their children or grandchildren. Christina lives with her husband and twin children in Lincolnshire and is looking forward to meeting other families from around our region. Please do feel free to get in touch with her with suggestions for future family friendly events.
Recently there has been discussion on our East Midlands Mensa Facebook group about subjects that Mensans might be prepared to talk to other members about for no longer than an hour. These included a wide variety of subjects from flying airliners to tax to weather observations. As part of the diamond anniversary celebrations I organised a three day series of workshops hosted by Mensans for other Mensans that included topics such as wine tasting, self-defence, card making, magic, travel tips and much more. We are now seeking members who would like to give an insight into their specialist subject by giving a short talk or demonstration. There will be funds available to cover any travel or out-of-pocket expenses and maybe even some free food! Please do get in touch with myself if you could help and I'll see if a one day event can be arranged giving members the option to dip in and out of various sessions with a meal included for some socialising time. The location will obviously depend on who expresses interest but maybe we could run one in the north and one in the south of the region.
Finally a happy 73rd anniversary to Mensa on 1st October! Please do try to get involved in the coming year if you are currently not active in our society.
I'm on [Phone Number] or [Email]
Maxine Bates
Regional Officer
Editorial
Welcome to the October Edition of Empress. I am back for the following three months. Big thanks to Mark for working solid hard over the last few months. This month we celebrate the 73rd anniversary of Mensa. It takes place in Reading. Photos to follow. I have found some photos for the 50th and 70th anniversary. Some people (Maxine) never change. Have a look at them and try to recognize the faces.
Enjoy the reading!
Maria Falces
In Leicestershire
On Mon 21st Oct at 8:00pm - Pub Social
Come along to the Cradock Arms, 201 Knighton Road LE2 3TT and have a general chat over a drink or two. You will find me at a table with the Mblem at the lowest end of the bar. Members who haven't been before are always welcome and you can bring a friend along too. There is parking at the pub. You can contact me on [Phone Number] or e-mail [Email]
On Sat 26th Oct at 7:00pm - Pub meal
After the skittles last month, we will be relaxing with dinner at the Sugar Loaf, 2 Nottingham Road, Ab Kettleby near Melton Mowbray LE14 3JB. This pub is on the A606 and has a car park by it. All members are welcome but booking ahead is essential so I need to know by 19th Oct if you intend to join us. Please contact me on [Phone Number] or at [Email]
Lively Lincs
On Sat 12th Oct at 12:00pm - Pub discussion
Our regular Second Saturday meeting at the Adam & Eve Tavern, 25 Lindum Road, LN2 1RT (opposite Pottergate arch). Join us to discuss the not-totally-serious proposition that "The only truly ethical diet consists of that which has evolved to be eaten". Traditional pub food, decent ales, hot drinks, car park. Find us in the alcove, Magazine on the table, or contact Jacquie beforehand on [Phone Number] or [Email].
On Sat 19th Oct at 10:30am - Coffee and Greet
Another meeting to encourage local Mensans to try social events but everyone welcome. Join us for a free coffee and scone at the Cycle Coffee Shop at Doddington Hall, LN6 4RU (not main restaurant but signposted). Please contact Jacquie on [Phone Number] or [Email] for directions/encouragement and so she knowns how large a table we'll need.
On Wed 30th Oct at 7:00pm - Eating meeting
Shoo Cuisine, 12-14 Clasketgate, Lincoln, LN2 1JS - opposite Theatre Royal. Trying out a new Chinese restaurant, fixed-price all-you-can-eat menu with waiter service, vegetarian options available. Good reviews on TripAdvisor! All welcome, and of course you can bring a guest. Jacquie will need to book a table, so please contact her no later than 24th October, on [Phone Number] or [Email]. Looking forward to seeing you there.
Jacquie Harrison
Contact [Email] or [Phone Number] / [Mobile Number] for details

Notts News
On Tue 1st Oct at 2:00pm - Afternoon Tea
We're celebrating Mensa's 73rd birthday with a lovely afternoon tea at The Mulberry Tree Cafe, Strelley Hall, NG8 6PE. A selection of sandwiches, homemade cakes and scones with clotted cream and jam plus choice of tea and coffee with refill. £12.95 per person. Gluten and/or dairy free option available for £2 supplement. Ample free parking. Please contact Maxine on [Phone Number] or [Email] to reserve your place.
On Sat 5th Oct at 8:00pm - 5OTM/Sheep Racing
Our regular get together but this month including hilarious sheep racing! We have private use of the visitor centre attached to the Vat & Fiddle pub on Queensbridge Road, NG2 1NB. Watch as six Shaun The Sheep stagger and bleat their way to the finish line. Help raise money for Cancer Research UK with a prize for the winner. Further info from Maxine on [Phone Number] or [Email] if needed.
On Thu 10th Oct at 7:30pm - Natter & Nosh
Join our ever growing group for a meal or just a drink at The Cadland, High Road, Chilwell from 7.30pm until late. Look for yellow Mblem on a long table beyond the bar if entering the pub from the car park. Directions/encouragement from Maxine on [Phone Number] or [Email] or just turn up on the night.
On Tue 15th Oct at 7:00pm - 3TuOTM
Our "3rd Tuesday" get together returns to The Ram, 19 Castle Gate, Newark, NG24 1AZ. Join us for food and/or drink plus interesting conversation. Look for Mblem to the right as you enter this Georgian pub. Pop along briefly or stay all evening. All welcome! Contact Pete on [Phone Number] or [Email] for any encouragement to come and say hello.
On Sat 26th Oct at 10.30am - Regional Wayzgoose
Come and join us for a day out in Retford. Planned activities during the morning then optional local visits and exploring afterwards. More details in newsletter and on website. If you would like a free lunch please book with Chenda by Sun 20th October. [Phone Number][Email]
">
On Tue 29th Oct at 7:30pm - Eating Meeting
It's "Tapas Tuesday" at Esquina, 384 Tamworth Road, Sawley, NG10 3AU, where 2 large tapas dishes and 1 side cost £13.95. Vegan menu also available. See www.esquinasawley.co.uk. Why not join us for a taste of Spain? Reserve your place with Maxine on [Phone Number] or [Email] by 25th latest please.
Ciao for now!
Maxine Bates
Contact [Email] or [Phone Number] for details
News from Northampton
On Sat 5th Oct at 11:00am - River Walk
Join us for a walk with super scenery including a stroll along the River Nene. Meet at The Dukes (previously the Dukes Arms), High St., Woodford NN14 4HE, returning there for lunch. Ian will try and not lead us astray. Contact him for advice/encouragement at: [Email]
On Sun 13th Oct at 10:30am - Brunch
A change of venue! Our usual breakfast/brunch will take place at the Zapato Lounge, Welsh House, 2 Newland Walk NN1 2EB - just near the main entrance to the Grosvenor Centre. We'll probably be sitting in one of the window seats either side of the entrance. Pete will be quizzing us and we'll reveal our favourite time of day. Contact Marianne for directions/encouragement.

Hertfordshire Happenings
On Thu 3rd Oct at 8:00pm - FThOTM
Once again, we are at the Three Magnets, Leys Avenue, Letchworth. Thursday is traditionally curry night, but other food is also available (standard Wetherspoons fare). Leys Avenue is the main shopping street in Letchworth and is just a few minutes' walk from the rail station (Kings Cross to Cambridge line). Call me on [Phone Number], or email [Email] for further details and encouragement.
On Tue 8th Oct at 6:30pm - Theatre Group - Mozart
A live transmission of Mozart's Don Giovanni from Covent Garden at the Broadway Cinema, Letchworth. £18. If interested, please contact me on [Phone Number] or [Phone Number], or email [Email]
On Sat 19th Oct at 7:30pm - Theatre Group - Cavendish Winds
Cavendish Winds at Weston Church. A young wind quintet who are gaining international recognition. £16. Contact me on [Phone Number] or [Email] for directions.
On Thu 24th Oct at 7:15pm - Theatre Group - Don Pasquale
A live transmission of Donizetti's Don Pasquale at The Broadway, Letchworth. £18. If interested, please contact me on [Phone Number] or [Phone Number], or email [Email]
On Fri 25th Oct at 8:00pm - LFOTM
As ever, we are at the Cowper Arms, Digswell. The pub is next to Welwyn North station and is served by stopping trains from Kings Cross to Peterborough and Cambridge. Good food, beer and conversation guaranteed! Please call me on [Phone Number] for more details and a spot of encouragement to come and join us.
Steve Thomas
Contact [Email] or [Mobile Number] for details

Mensans in MK & Bedford
On Sun 6th Oct at 3:00pm - T@3
Join us at Dobbie's Garden Centre in Fenny Stratford for tea, coffee, and cakes in the restaurant. We will probably be in the conservatory area at the back. Contact Jo at [Email], or [Phone Number] / [Phone Number] for directions/encouragement.
On Mon 21st Oct at 7:45pm - 3MOTM Quiz
Our monthly quiz outing to The Plough at Simpson. Meet from 7.45 for a 8.00pm start - cost is £1 per person. Please let me know if you are coming so I know if we will be one team or two. Contact Jo at [Email], or [Phone Number] / [Phone Number] for directions/encouragement.
On Sun 27th Oct at 10:00am - Breakfast
Join us at Brown's on Midsummer Boulevard from 10am for a full breakfast, a snack, or just a drink. Jo at [Email], or [Phone Number] / [Phone Number] for directions/encouragement.
Just a reminder about our M-MK & Bedford Facebook group – if you would like to join please search for the group and send me a request. I also keep an email distribution list for meeting reminders and any last-minute changes, so if you would like to be added to this please let me know.
We hope to see as many of you as possible at one or other of our events this month. Do remember that you're welcome to bring a guest with you, so if you've never been to a Mensa event and are a little nervous about coming along on your own, just bring a friend.
Jo Sidebottom
Contact [Email] or [Phone Number] / [Mobile Number] for details

Mid Bucks
On Mon 14th Oct at 8:00pm - Indoor Games
Join Dave and Alison at their home in Flackwell Heath, near High Wycombe, for a relaxed evening of indoor board games. All members and friends welcome. Space is limited, so please contact Dave for directions and to discuss what games you would like to play on [Phone Number] or by e-mail at [Email]
On Fri 18th Oct at 10:30am - Coffee & Chat
Coffee at Roots, 22A High Street, Chesham, HP5 1EP. We are promised lovely food and good coffee. No need to book, but if you want me to look out for you, let me know you are coming on [Phone Number] or e-mail me at [Email]
On Tue 29th Oct at 7:00pm - Leonardo
Join me at the Empire Cinema, Crest Road, High Wycombe, HP11 1UA to see Exhibition on Screen, Leonardo: The Works. Ticket prices, certification and booking details are not yet available; check at https://www.empirecinemas.co.uk/synopsis/exhibition_on_screen_leonardo_-_the_works_2019/f6746 for full details and to book your tickets. Possible meal first. Let me know you are coming and if you want to eat first on [Phone Number] or e-mail me at [Email].
For further details or encouragement contact me on [Phone Number] or e-mail me at [Email]
Val Hinkins
Contact [Email] or [Phone Number] for details

Derby Diary
On Wed 16th Oct at 7:30pm - 3WOTM
We'll be on a group of tables in the rear section (beyond the bar) of the Standing Order (Wetherspoon) pub on Iron Gate in the centre of Derby. Look for the yellow Mblem. Drop in briefly or stay all evening for food and/or drink and chat. New faces especially welcome. Contact Susan on [Phone Number] or [Email] for directions and encouragement
On Fri 18th Oct at 7:00pm - Ilkeston Fair
Soak up the atmosphere at the Charter Fair which takes place throughout the centre of Ilkeston. Try a ride or two and maybe some fairground food. Weather dependent. Contact Susan on [Phone Number] or [Email] to arrange a meeting point or to arrange to park at our house and walk in (20 min walk)
On Wed 23rd Oct at 7:30pm - Pub Quiz
Join us for a pub quiz at the Queen's Head at 1 Breach Road, Marlpool near Heanor (DE75 7NJ). A refurbished five room Victorian alehouse with real ales and traditional ciders. Quiz starts at around 8.15pm but we need to be earlier to get a table. New faces especially welcome. Contact Susan on [Phone Number] or [Email] for directions and encouragement
On Sat 26th Oct at 2:00pm - Eat & Greet
Not been to a meeting before? Or not for ages? Meet other Mensans over a free afternoon tea of sandwiches and cakes with tea/coffee. The location is Mackworth (DE22) at the home of local members Janine and Sandy. Book with me to get the address. I would like an indication of numbers by Tuesday 22nd October, but it's fine to decide on the day and e-mail or text me - [Email] or [Phone Number]
Susan Graves
Contact [Email] or [Phone Number] / [Mobile Number] for details
Regional Wayzgoose Saturday 26th October
Our next regional Wayzgoose will be on Saturday 26th October in Retford, which is quite handy for East Mids members, starting at 10.30am. The venue is The Elms Hotel, London Road, Retford DN22 7DX. Tea and coffee will be available on arrival, and the bar will be open at lunchtime. There is free car parking at the venue and there is disabled access. There will be planned activities during the morning, including an icebreaker, group chats, guest speaker and quiz, and optional informal explorations of the area in the afternoon.
If you would like a free lunch, please book with Chenda by Sunday 20th October. If you are unable to book in advance, you are still welcome to come along, but you will not get a free lunch. If you book and then find you are unable to attend, please try to let me know, so that we can cancel your lunch booking or offer it to a latecomer.
Chenda Appleyard
Monkeys by my window by Pam Cooper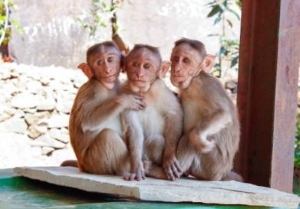 At home I wake at first light, to the sound of the first birdsong, or to the whimper of dogs needing to go out. Here, monkeys tapping at the window hoping for breakfast brought me out of slumber - a few nuts perhaps, or a chapati?
We got up to see heavy white cloud across the valley, looking like a vast lake. Higher up, pine-clad hills rose, giving way to the snowy peaks of the high Himalayas. The sky was a clear blue, the whole scene breath-taking.
As well as this fabulous view, The Sun & Snow Inn had the advantages of a lovely garden, very good food, and irony was added free to laundry charges!
I enjoy a bit of irony. A slight downside was that there was no electricity during the night, the power lines having been brought down by monkeys.
The village itself was unremarkable, but it did have a museum dedicated to Gandhi, and tea plantations were not far away.
Our journey here brought us through terraced river valleys and pine forests. We stopped at little cafes for sweet milky coffee or masala chai. We passed ornate Hindu temples, all flags and tinsel with much bell-ringing. Goats, dogs and monkeys took their chances with the traffic while pack-mules took life more sedately. Sari-clad women carried baskets of animal dung on their heads, no doubt to dry out for fuel. Even in April it can be quite cool at these altitudes.
Earlier we had visited Jim Corbett National Park. We were in the leading jeep and were the only people to see a tiger that day, indeed in five days. It ambled across the road in front of us just 100 metres away. We also saw peacocks displaying their wonderful tail feathers, spotted deer just like Bambi, langur monkeys and numerous birds.
Almost at the end of this trip we came to the busy town of Nainital. The word tal means lake and nain means eyes. The name derives from the legend that the eyes of the goddess Sati (Parvati) fell from the skies whilst her body was being carried through the heavens by Shiva and formed the water.
Densely wooded hillsides arise around Nainital lake, dotted with dwellings. At night the lights of the houses across the valley formed a magical sight. Sitting in the April sunshine, surrounded by flowerbeds, we listened to the Friday call to prayer and observed a macaque, large as a Labrador, but grey and hairy, raid a bin and make off with his lunch.
This is not the famous golden triangle so loved by tourists, but far better, in my view. A taste of northern India is amazing
Pam
20 Questions (No. 216)
After no entries in July there was a bumper crop in August. The answers were Victoria Adams, Alfred Pennyworth, Arthur, Albert Square, Princess Beatrice, Leopold Stokowski, Alice Horton nee Tinker, Helena Bonham Carter, Louise Nurding, children of Queen Victoria, Bristol, Lincoln Memorial, William Henry Fox Talbot, Gerald Ford, Chrysler Building, Imelda Marcos, Vauxhall Bridge, Plymouth, Derek Bentley and all brands of motor vehicles. Andy Cole of Cleethorpes was first 'out of the hat' (i.e. randomly selected by a bemused non-member work colleague!) and wins the £10 book token.
As Goose Fair takes place in Nottingham this month we're testing your knowledge of the city. Send your answers to arrive by 20th October to 80 [Address] or [Email] for your chance to win. Don't forget to include your name and address!
1. Which football team is the oldest league club in the world?
2. In which year was Ye Olde Trip To Jerusalem, reported to be the oldest inn in England, built?
3. Which University Of Nottingham professor devised magnetic resonance imaging?
4. Which sauce was devised by Frederick Gibson Garton in his grocery shop in New Basford in 1895?
5. Designer Paul Smith intended to be a professional in which sport when he left school?
6. Who starred as Robin Hood in the first British TV series about the outlaw?
7. Which company were first to offer pre-packaged rather than loose tobacco?
8. Traffic lights were invented by a pupil from Nottingham High School but the first set were installed outside which British building?
9. In which year did Torvill and Dean win gold at the winter Olympics?
10. The 'Flying Bedstead' developed by Rolls Royce in Hucknall was the prototype of which aircraft?
11. Which Nottingham born scientist invented ibuprofen in 1961?
12. In which Nottingham town was the first road laid with tarmac?
13. Which engineer from Arnold developed the first high pressure water supply working for Nottingham Waterworks Company?
14. What variety of apple comes from a tree in the Nottinghamshire town of Southwell?
15. The video cassette recorder was developed by which company in 1963?
16. In which year did the annual Goose Fair begin?
17. Which company produced the 'Chopper' and 'Max'?
18. Born in Sneinton, who founded the Salvation Army?
19. On which thoroughfare in the city did Jesse Boot open his first chemist shop?
20. In which town was D H Lawrence born and write about in his novels?