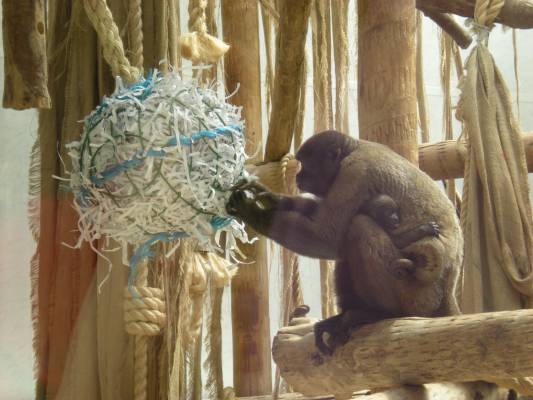 Regional News
It was great to see so many new faces at Twycross Zoo in June and our American themed event in July. Thank you to everyone who came along to these regional events. If you were unable to attend but would like to see what happened there are photos and reviews on our web site at www.mensa.org.uk/eastmids. Click on the tab called "Reviews".
There is lots happening in Mensa this autumn. I hope to see some of you at the Shrewsbury Weekend (11th-13th September) or Bristol Annual Gathering (2nd-5th October). Full details of these events can be found on both the main Mensa web site and the East Midlands Mensa web site or contact Diane Salter at the Mensa office. Mensa weekend gatherings are a great way to explore new places and make new friends. Do attend one if you can. You are welcome to book for just one event or one day if you can't make the whole weekend.
The Forensic Science Day has proved such a success that the third such event taking place on 14th November sold out in June. A fourth event is now being planned for early 2010. Please express interest with Diane at the Mensa office on 01902-772771 or [Email] so that details can be forwarded once finalised. Once again numbers will be limited due to the nature of the hands-on activities. Similar 'intellectual' events are being considered for 2010 so watch this space!
As always, either myself or your Local Secretary would be delighted to hear from you with suggestions for events or comments on your Mensa membership. I'm on [Phone Number] or [Email]
Maxine Bates
Regional Officer
"The first Watford meeting was held at the Essex Arms on Wednesday 22nd July. Five people turned up and we had a nice evening getting to know each other. I was quite apprehensive about planning this meeting at first, especially as I didn't think anyone would turn up! But we have planned further meetings and hopefully it will become a regular get-together. We are planning a trip to Bletchley Park one weekend in September. If anyone is interested in joining us please phone me for details – [Phone Number]."
Elaine Yates
Events and Meetings
In the current circumstances surrounding the COVID-19 coronavirus, the expectation is that all events listed here are likely to be cancelled, if not already marked as such. If you intend participating in any event listed here, please contact the event organiser beforehand to confirm that the event is still on.

Mensans in MK & Bedford
On Thu 3rd Sep at 8.00pm - FThOTM
First Thursday is at our regular venue of Jurys Inn on Midsummer Boulevard, on 3rd September from 8.00pm. Look out for the Mblem on one of the tables to the right in the foyer. Parking is a bit busy around Jurys and The Hub, so we usually try across the road and then walk through the underpass.
On Wed 16th Sep at 8.00pm - 3WOTM
Our Third Wednesday meeting at the Old Beams in Shenley Lodge is on 16th September. If you're definitely planning to come, please let me know as it will help us to grab the right sized table, but don't let that put you off deciding on the spur of the moment – you'll still be welcome. See www.mcmullens.co.uk for location and menu details. You can eat or not, as you wish – their food is quite good and reasonably priced. Look around for the Mblem as we don't always get the same table each time.
On Sun 27th Sep at 12.00noon - Sunday lunch and cinema outing
There's another Sunday lunch and cinema outing this month, on Sunday 27th. Meet at 12.00noon for lunch outside Dexter's restaurant in Xscape, and then we will attempt to reach agreement about which film to go on and see at Cineworld afterwards. Call me on my mobile after about 1.15pm if you just want to come along to the film.
Hope to see you there,
Jo Sidebottom
Contact [Email] or [Phone Number] / [Mobile Number] for details

Hertfordshire Happenings
On Thu 3rd Sep at 8.15pm - FThOTM
Thursday 3rd is our regular first Thursday of the month meeting. As always, we're at the Millstream, Cambridge Road, Hitchin, from 8.15pm. Good food and good beer both available! The pub is about ten minutes' walk from the railway station.
On Sun 6th Sep at 11.00am - Steam Up Festival
On Sunday 6th from 11.00am it's the annual Steam Up Festival at the Leighton Buzzard Railway with every available loco in steam. I'll be there all day - do come and join me! Nearest station is Leighton Buzzard (Euston - Milton Keynes), about 30 minutes' walk. I can arrange pick-ups from Leighton Buzzard, Flitwick (Thameslink line) or Letchworth if required.
On Thu 17th Sep - Sat 19th Sep evening - Letchworth beer festival
Yes, it's that time of the year again. From Thursday 17th to Saturday 19th the Letchworth beer festival is on at Plinston Hall, about five minutes' walk from the railway station. I'll be there each evening - hope to see you there! There should be a good range of interesting beers from both the local area and further afield.
On Sat 19th Sep at 11.00am - Bedfordshire Steam and Country Fayre
It's time for the Bedfordshire Steam and Country Fayre at Old Warden on Saturday 19th. Plenty to see and do and I shall be there all day from 11.00am - working up a thirst before the Letchworth beer festival that evening! Hope to see some of you there - please let me know if you're coming. Nearest stations are Bedford and Biggleswade. I can arrange pick-ups if required.
Call me for more details and encouragement for any of the above events.
Richard Allen
Contact [Email] or [Phone Number] for details
On Fri 25th Sep at 8.00pm - LFOTM
Join Gwen and me on Friday 25th from 8.00pm at the White Horse, Hertingfordbury village (about one mile west of Hertford town centre, just off the A414). A warm welcome and stimulating conversation guaranteed! Look for the Mag/Mblem. Hertingfordbury is about 20 minutes' walk from Hertford North station. Contact me, or Gwen on [Phone Number].
Richard Allen/Gwen Jones
Contact [Email] or [Phone Number] for details

Lively Lincs
Christine is hosting both the September meetings and offering something different at the end of the month so please join her. Here are the details:
On Sat 5th Sep at 12.00noon - FSaOTM
The first meeting is on Saturday 5th at 12.00noon in Lincoln. Do come and join us in the Armoury Cafe at the Drill Hall for the regular first Saturday meeting. Some of us have lunch/snack, others just partake of drinks and conversation. I usually try for the table furthest away from the excellent musicians, jazz guitar duo, so we can talk as well as listen, spot the magazine. All very welcome, for more details/encouragement please contact me, or [Email]
On Sun 27th Sep at 3.00pm - Free apples! + Tea and cakes
Christine is then inviting us to her home near Alford on Sunday 27th at 3.00pm.
Free apples! Please come to our garden and pick loads of our surplus apples, mostly eaters, to take home to stock your cupboards with. Or, just come for a chat. Tea, cakes and a warm welcome for all. For directions please ring [Phone Number] or email [Email].
I know we will be made very welcome.
Jacquie Harrison
Contact [Email] or [Phone Number] / [Mobile Number] for details

Notts News
On Sat 5th Sep at 8.00pm - 5OTM
Mark Sloan will be hosting this month's get together at the Vat & Fiddle pub on Queensbridge Road on Saturday 5th. Join him from 8.00pm for a drink and chat. New faces always welcome. For those on public transport there's a good range of real ales brewed at the adjacent Castle Rock microbrewery and for those driving the soft drinks are reasonably priced. Look for the Mensa Magazine on the table, usually to the left of the bar.
On Wed 9th Sep at 7.00pm - Chicks & Flicks
On Wednesday 9th we have our "chicks & flicks" event which is a meal at Nando's Portuguese chicken restaurant (the chicks bit) followed by a film at Cineworld (the flicks bit). Meet us inside the doors to the Cornerhouse building in the city centre at 7.00pm. You are welcome to join us for either or both parts of the evening. Contact Paul on [Phone Number] or [Email] for further details or just see us there on the night.
On Tue 15th Sep at 7.30pm - 'Annie' Musical
The musical Annie is being staged at the Theatre RoyalTheatre Royal starring Su Pollard as Miss Hannigan and songs such as 'Tomorrow', 'It's A Hard Knock Life' and 'You're Never Fully Dressed Without A Smile'. We'll be going to the 7.30pm performance on Tuesday 15th. Tickets cost from £12 for rear balcony to £24 for front stalls. Please contact me as soon as possible with seating preference if interested so that I can make a group booking and hopefully get 10% discount.
On Tue 29th Sep at 7.30pm - Eating meeting
This month The Inn On The Green in Coddington near Newark has been recommended for our "eating meeting". We have been there in the past but the venue has since been refurbished and is under new management. Join us at 7.30pm on Tuesday 29th for a meal, but please book with me by 25th so that a table can be reserved. I'm on [Phone Number] or [Email]
Ciao for now!
Maxine Bates
Contact [Email] or [Phone Number] for details

Northants NNotes
If you read the March 2007 issue of Empress you may remember that I volunteered for a brain scan as part of a research project. Part two of the project is now in progress and I went back for my follow-up scan in July. You'll be pleased to hear that my brain is still there and still classed as normal. What is far from normal this month are the Northants meetings!
On Thu 3rd Sep at 9.00pm - FThOTM
Our 1st Thursday meeting takes place on the first Thursday: 3rd September at 9.00pm, but for one month only it is at a different venue: The Wheatsheaf, Dallington Road, Dallington, Northampton. If you don't know that part of the town very well and you have a SatNav punch in the postcode of NN5 7HN . If you manage to find the pub we'll be in the Lounge.
On Tue 15th Sep at 8.00pm - Roadshow
Our Roadshow meeting is on Tuesday 15th and we return to The Overstone Arms, Stringers Hill, Pytchley. We'll be in the bar area from 8.00pm, so don't go looking for us in the restaurant.
On Mon 21st Sep at 9.00pm - Pub
Back to Northampton for Monday 21st and there's an additional meeting in the Town Centre for those who are unable to travel to the outer reaches. The venue is The Malt Shovel in Bridge Street, which is one of Northampton's premier real ale pubs. Come along at 9.00pm and you'll find us at one of the tables towards the back of the pub.
For each of the events a Mensa mag on the table will give away our position.
Ian Sargent
Contact [Email] or [Phone Number] / [Mobile Number] for details

Leicestershire Letter
On Sat 26th Sep at 10.00am - Tour round The Curve theatre
Something different this month. Mike Cullen is arranging a guided tour round The Curve Theatre in Leicester on Saturday 26th. The tour starts at 10.00am, and costs £2 (with a complimentary cup of tea/coffee!), followed by a set price (approx £10) eat-as-much-as-you-like meal at The Real China, High Cross, which is a 10 minute walk from The Curve. If you would like to book, please get in touch with Mike at [Email]. A cheque for £10 will be required with the booking - £2 to cover the cost of the tour, and £8 towards the meal. Mike will book the tour (which is open to the public) as the reservations come in (there is a limit on numbers) and the meal some time during the week before. No email? Then please ring me.
Sue Watford
Contact [Email] or [Phone Number] for details

Mid Bucks
On Thu 17th Sep at 7.30pm - Indian meal
It's a while since we have been for an Indian meal, so with the nights drawing in and autumn on its way, join me on Thursday 17th at 7.30pm at Chutney's restaurant on Easton Street in High Wycombe. This is located in the premises previously used by the Shaheen Spice restaurant and has continued their practice of presenting all female diners with a rose as you leave. See how many we can collect tonight!
You can get some idea of the menu from the group's web site, http://www.chutneywycombe.com/
Please ring or e-mail me by Monday 14th September so that I can book us a table.
Val Hinkins
Contact [Email] or [Phone Number] for details
Derby Diary
On Sun 6th Sep at 11.00am - Gardens Open Day
On Sunday 6th Littleover Lane Allotments are holding an open day from 11.00am to 5.00pm. View 175 allotments covering 11.8 acres, there will be a plant and produce sale, refreshments, disabled toilets, and dogs on leads welcome. Entry is £3 or under 16s free. Money going to National Garden Scheme charity. Look for Mblem at DE23 6JH . Contact David Kenyon on [Phone Number] or [Email] for more info.
On Wed 16th Sep at 7.30pm - 3WOTM
Our regular 3WOTM meeting at the Standing Order in Derby falls on Wednesday 16th. Join us for a meal or just a drink and some great conversation from 7.30pm. Look out for the yellow Mblem on a long table in the area just beyond the bar. Contact me as above for more details/directions.
Matthew Smith

Berkhamsted
On Wed 30th Sep at 7.45pm-ish - LWOTM
We will meet at the Three Horseshoes on the canal side, over the swing bridge down the little lane beside the Texaco petrol station at Bourne End, on the London/Hemel Hempstead Road, just after the A41 roundabout.
We can sit out beside the canal if it is fine, and inside if it rains. All members young and adult very welcome. There are two car parking areas across the road from the pub. Hoping to see you all there.
Jenny Habib
Contact [Email] or [Phone Number] for details
Monkeying Around with Mensa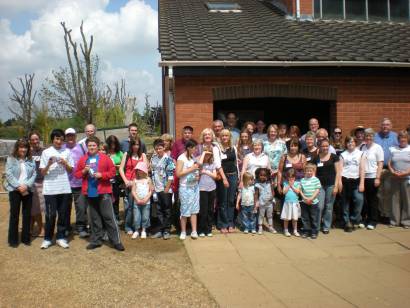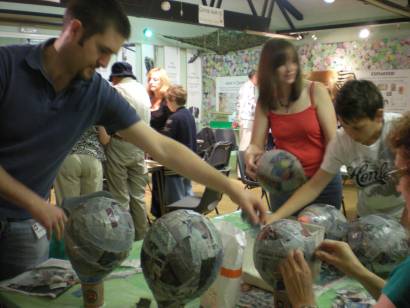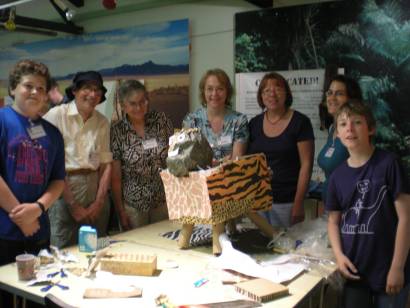 On Sunday 28th June East and West Midlands Mensa held a joint regional event at Twycross Zoo. The day began with an informative talk by staff on how the zoo began in 1963 and how they operate today. This was followed with enrichment making activities where Mensans used paper mache, plastic bottles, wire baskets, cardboard boxes and tubes, which were then filled with fruit and insects. The squeamish stayed away from the live mealworms!
After our own buffet lunch staff led us to various enclosures with our handmade toys and feeding devices and we could see them put into action. We were particularly privileged to be allowed inside the woolly monkey house as this had been temporarily closed to the public due to the birth of a baby monkey, which we were lucky enough to see, only six days previously. The meerkats loved our enrichment, the keeper answered our questions, and I was later told that by closing time the animals were so worn out playing with their new enrichment they were all lying down with no sentry on guard. Most unusual for meerkats!
At the elephant enclosure the four keepers took time to enthusiastically chat to us about their work as we watched these giant yet gentle animals eat their way through our cardboard shapes to get to the herbs and spices inside. There was then free time to explore the rest of the zoo in the sunshine. With a sell-out number of 60 members, including many new faces and several families, it was an educational, entertaining and enjoyable day out.
Maxine Bates
Best wishes to Iain Benson and Elisa Laing on their marriage in the Peak District on 1st September.
Congratulations to Nottingham member Chris Jury and his partner Rebecca on the birth of their baby girl Imogen Grace on 8th July 2009
Congratulations to Derby LocSec Matthew Smith who recently celebrated his 21st birthday
Words, Words, Wonderful Words
Aren't words wonderful? Only 26 different letters to work with but, depending on their arrangement, they can evoke a wide range of feelings in their reader; they can sadden, gladden or madden; they can frustrate, irritate or alienate; they can enthuse, confuse or amuse.
John Graham has this to say:
"I am a Formula One fan . . . and here is the sentence that infuriates me most "Coming up we have (whoever) with all the sport". It's NEVER all the sport, it's nothing but football!!!
Another one that makes me smile is... "He turned around and said to me" . . . I've spoken to people who didn't turn around . . .
While Tony Howard from Mablethorpe feels strongly about the chair/chairman/chairwoman issue:
"I do have to take exception to the writing of Michael Taylor about the chair/chairman/chairwoman debate. As one who has headed up many voluntary organisations and even a town council I cannot abide either chairwoman or chairman. When I am in position I engage in the act of chairing meetings therefore I am the chair. If I was chairmaning the meetings then I would be chairman but that is not what I do.
Whilst debate may be possible on the above I contend the following to be indisputable. When meetings take place it is common practice for the lead person to sit at the head of the table or even a separate table. In many council environments this often entails sitting in a distinctive and often larger chair. The person gains his authority by occupying that chair. By dint of there being hundreds of years of men leading almost everything, common practice gave us "chairman" because anything other than a man in the post was unthinkable. However, as stated above, the power comes from the occupying of the chair and whilst over the years the occupant changes the chair remains constant. Therefore I contend that all remarks are made to the chair and therefore the correct address is "chair"."
What words elicit strong feelings in you? They could be a particularly moving poem, an irritating shop sign, an especially good joke, or anything else you'd care to share. Please send to [Email] for inclusion in future copies of Empress. Thanks.
20 Questions (No. 96)
The answers to the American themed quiz in the July issue were Mount McKinley, Francis Scott Key, Pennsylvania, Baton Rouge, General George Custer, Gutzon Bourglum, Endeavour, George H W Bush, Delaware, 7, John Adams, Memphis, September, Kansas, Walker, San Andreas, Martin Van Buren, Oregon, John Wilkes Booth and peanuts. Thanks to Alan Tonks of Mansfield, Don Foster of Notts, Tim Gibson of Nottingham, Pamela Covey of Woburn, Michael Warren of Derby, Chris Benger of Bedfordshire, Una Adams of Corby, Chris Impey of Tring, Roger Lord of Aylesbury and Philip Abbott of Watford for entering. The winner was Alan.
This month's quiz is set by Jo Sidebottom and the theme is transport. Please send your entries to '20 Questions (No. 96)', [Address] to arrive by 20th Spetember for your chance to win a £10 voucher.
1. Who devised the prototype for the "Beetle"?
2. Who first patented the seat belt in 1903?
3. Which rail line, opened in 1830, was the world's first inter-city service?
4. Who introduced the TL tractor with four directional wheels in 1926?
5. In 1775 who invented the tram drawn by two horses?
6. Where did the Wright brothers fly their first glider in 1900?
7. Who founded the Great Western Railway using a seven-foot wide track?
8. Which famous ocean liner made its maiden voyage in 1936?
9. Which company invented the "air bag" anti-shock air cushion?
10. Who made the first airship flight in 1852 in a hydrogen-filled craft powered by a steam engine?
11. Who in 1878 invented the electric staff which prevents trains on single-track lines colliding?
12. Who built the first submarine which was tested in the River Thames?
13. Who invented laminated windscreens in 1909?
14. What was the name of the first successful flying boat built in 1912?
15. Which brothers built the first American petrol-driven motor cars in 1892?
16. Which airline company first made a commercial flight in a Boeing 747 from New York to London?
17. What first left Gare de l'Est in Paris on 4th October 1883?
18. Who built the Calcutta flying boats used by British Imperial Airways?
19. Which British doctor invented the disc brake in 1902?
20. Where was the first take-off by a manned helicopter in 1907?