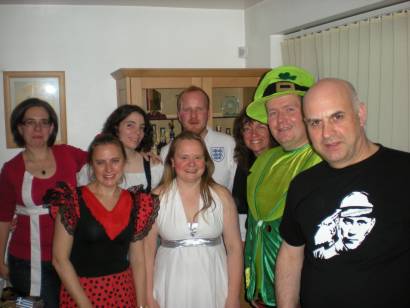 Eurovision Party in May
Lakes Party Weekend
3rd-6th December 2010
A weekend of partying, activities or just relaxation based at the CenterParcs village in Cumbria.
Package costs £120 per person and includes three nights accommodation in a twin room, three parties, buffet meals, help-yourself bar throughout the weekend, cocktail of the day, unlimited access to the water dome, cider tasting, tea tasting, walks, quizzes and much more.
A great way to make new friends of all ages in a fun and informal setting.
See www.maruba-events.com for details or contact Maxine on [Phone Number] or [Email]
Limited places still available!
Regional News
We have 100 members living within the LU postcode area. Would one of you be willing to become Luton Local Secretary and get things going in that area? The role is not an onerous one and can take as much or as little time and effort as you wish, though it is a case of the more you put into Mensa the more you get out of the society. As a minimum you would be a contact for other members living in your area. I know many Mensans who have made lifelong friendships or even met their spouse through going out to our social events. Please do contact me on either [Phone Number] or [Email] if you'd like further information about becoming LocSec and there's no obligation.
As usual this month we have lots of popular events involving eating and drinking. Either myself or your LocSec would be delighted to hear from you with suggestions for future events. Thanks to all those who have been in touch with ideas so far. We're doing our best to turn them into reality.
Don't forget the British Mensa Annual Gathering takes place in Chester 17th-19th September. Take a look at the full programme at www.mensa.org.uk or contact Diane Salter at the Mensa office for details. But don't delay as event bookings will close soon. See you there?
Maxine Bates
Regional Officer
Forensic Science Day
A fifth and final event will take place at Huddersfield University on Saturday 11th September.
Please contact Maxine on [Phone Number] or [Email] for further information or to book. Places limited.
Events and Meetings
In the current circumstances surrounding the COVID-19 coronavirus, the expectation is that all events listed here are likely to be cancelled, if not already marked as such. If you intend participating in any event listed here, please contact the event organiser beforehand to confirm that the event is still on.
Lively Lincs
First and foremost, heartfelt thanks to Jacquie for her many years as LocSec. I am grateful for her warm welcome when I first started attending meetings, and the support she's given whilst I found my feet hosting meetings.
On Sat 4th Sep at 10:30am - Beach Hut day
We're going to try for another Beach Hut day at Mablethorpe on Saturday 4th September. I'll be there from about 10.30 to enjoy the delights of the quieter end of Mablethorpe's miles of sandy beach and the amusements of Queen's Park: putting, bowling green, crazy golf, boating lake. Please pre-book with me via email [Email] or ring [Phone Number] for directions, further information.
On Sat 11th Sep at 12:00pm - 2SaOTM
Then there's the usual second Saturday meeting on the 11th at The Collection, Danes Terrace in LIncoln. Do join us in the coffee bar for lunch/snack or just a drink, spot the yellow Mblem. For more details/encouragement, contact me as above.
On Sun 19th Sep at 3:00pm - Apple Picking
I'm hoping to be able to repeat last year's apple-picking meeting at my house on Sunday 19th, 3-5pm. We have too many apples, so are happy to give them away to anyone who wants to come and pick them. Or just come for chocolate cake and a chat. Please contact me beforehand, as above, to confirm whether the meeting is on.
Christine Howells
Notts News
On Sun 5th Sep at 8:00pm - 5OTM
Round off the weekend with a drink (alcoholic or non-alcoholic) and chat (silly or serious) at the Vat & Fiddle pub on Queensbridge Road. It's near Nottingham railway station but just ask if you need directions. Look for the Mblem to left of the bar from 8.00 pm on Sunday 5th. New faces are always welcome!
On Wed 8th Sep at 7:00pm - Chicks and Flicks
The second Wednesday of the month is 8th September which means we're meeting at 7.00 pm inside the doors to the Cornerhouse in the city centre for our 'chicks & flicks' event. A meal at Nando's chicken restaurant (plenty of veggie options too) followed by a film at Cineworld. Discounts at both venues make this a cheap night out for all ages. Why not join us?
On Sun 12th Sep at 10:00am - Scenic Walk
If you fancy a little exercise on Sunday 12th we're meeting at Bramcote Hills car park (GR SK499384) at 10.00 am for a five mile scenic walk into the city centre via Wollaton Park, Nottingham University lake and Nottingham canal with an optional pub lunch at the end. As this is not a circular walk please let me know if you're coming so that we have enough cars at the end for shuttling back to Bramcote. Also please phone if raining on the day to check if the walk is still going ahead.
On Tue 28th Sep at 7:30pm - Eating meeting
This month we're trying a brand new restaurant for our eating meeting at 7.30 pm on Tuesday 28th. Our favourite Big Wok on Parliament Street in the city centre has closed down and re-opens this month as Peachy Keens. This set price eat-as-much-as-you-like buffet restaurant will have live cooking stations serving cuisine from India, China, Thailand, Japan, Italy, Portugal and Mexico. I have half price vouchers valid for September only. If you would like to try out this new restaurant with us please let me know by 24th so a table can be reserved.
Ciao for now!
Maxine Bates
Would anyone like to see the musical Chess at Nottingham
Theatre Royal
on Thursday 25th November? Please let me know if interested so I can co-ordinate a group booking. Tickets cost from £14 to £35 depending on seat preference. I'm on
[Phone Number]
or
[Email]
.
Derby Diary
On Wed 15th Sep at 7:30pm - 3WOTM
New faces and old all welcome for food and/or drink and a chat at the Standing Order (Wetherspoon) on Irongate. Find us in low ceiling area at rear of pub. Call Alistair on [Phone Number] or Maxine on [Phone Number] for directions.
Alistair Blackett/Maxine Bates
Leicestershire Letter
On Thu 9th Sep at 8:00pm - Eating meeting
Our rolling roadshow of eating-meetings around the county continues to The Copt Oak restaurant, just south of M1 J22 at Markfield on the 9th at 8:00pm. Details and directions can be found at http://www.coptoakpubmarkfield.co.uk/, but as this place can get busy, please drop me a line at [Email], or give him a call on [Phone Number] so I get get together a large enough table! My wife and I have eaten here a number of times, and there's still a whole bunch of things on the menu we're looking forward to trying.
On Thu 23rd Sep at 8:00pm - 4ThOTM
Next, our "regular" (well, this is the second!) third-Thursday-of-the-month pub meeting is actually going to be on the fourth-Thursday this month, just to confuse you all! We're meeting up at the Old Horse on London Road in Leicester at 8:00pm as it's pretty central, has car parking and is also within walking distance to the Station. Discussion point of the day is "if they were to make a movie of your life story, who would play the lead role?". Hmmmm.......
Paul Coulson
Northants NNotes
On Mon 6th Sep at 9:00pm - FMOTM
This month's FMOTM meeting is on Monday 6th September at 9pm. Like the August event, the venue is up to you to decide. The first person to phone or e-mail me by 1st September gets to nominate their favourite pub as the meeting place - as long as it's within the NN1 to NN5 postcode areas. Once the venue has been nominated I will send a message out to all those members for whom I have a current e-mail address.
On Thu 16th Sep at 8:00pm - Roadshow
The Roadshow meeting is at 8pm on Thursday 16th September and it's to the south-east of the county: The Red Lion, High Street, Yardley Hastings. The village is one the A428 between Northampton and Bedford, and the pub is visible from the main road. Members from Beds and North Bucks are welcome to pop over the county border to meet us. Passports are not required, but watch out for the speed cameras.
On Sat 18th Sep at 11:00am - Walk
Our third event this month is a 3½ mile circular walk from Farthingstone to Litchborough and back. Weather permitting, it will be on Saturday 18th September. Farthingstone is on one of the back roads a few miles south of Weedon and west of the A5. If you use a SatNav the postcode is NN12 8EX . Meet up outside the Kings Arms pub at 11am for the walk. Alternatively, meet us in the pub at 12.30pm for lunch.
On Mon 4th Oct at 7:30pm - Eating Meeting
Finally, advance notice for an event that requires pre-booking. At 7.30pm on Monday 4th October we will be heading to the Red Hot Buffet at Sixfields in Northampton for a meal. The cost of the meal is £12 (drinks are pay as you go). I need to know numbers by Wednesday 29th September; cheques should be made payable to me and sent to 33 Argyll Street, Northampton, NN5 5LJ. Phone or e-mail me if you want details about the venue.
Ian Sargent
Mensans In MK and Bedford
On Thu 2nd Sep at 8:00pm - 1ThOTM
First Thursday is at our regular venue of Jurys Inn Hotel on Midsummer Boulevard, on 2nd September from 8 pm. Look out for the Mblem on one of the tables to the right in the foyer. Parking is a bit busy around Jurys and The Hub, so we usually try and get in across the road and then walk through the underpass.
On Wed 15th Sep at 7:30pm - Buffet Eating Meeting
On Wednesday 15th September, 7.30 pm, we are going to try the Shiraz restaurant next to Waitrose in the Food Centre. This is a Persian restaurant with an all-you-can-eat buffet for £12. We haven't been before, but it is very highly reviewed on MKWeb. See their website at www.shirazmk.com. Please let me know by Monday 13th if you plan to come as I may need to book a table.
On Sat 25th Sep at 3:00pm - T@3
We finish off September with another popular T@3 on Saturday 25th at Dobbie's Garden Centre in Fenny Stratford, just south of Milton Keynes. Look for us in the restaurant from 3pm onwards – there are several sections so we may not be immediately obvious, but we'll be there somewhere.
Hope to see you there!
Jo Sidebottom
Herts Happenings
Note the "liquid" thread running through this month!
On Thu 2nd Sep at 8:15pm - FThOTM
Regular first Thursday of the month meeting. We'll be around for our usual mix of lively conversation and a good atmosphere. As always, we're at the Millstream, Cambridge Road, Hitchin. Good food and good beer both available! Call me on [Phone Number] for more details and encouragement. The pub is about ten minutes walk from the railway station.
On Fri 17th Sep at 8:00pm - Pub Meeting
Join us at the Cowper Arms, Digswell (near Welwyn village) for Not the Last Friday - I've had to reschedule to avoid clashing with beer festivals! Good food and good beer available to suit all tastes! The venue is next to Welwyn North railway station (Kings Cross - Cambridge and Peterborough line with trains every 30 minutes). Contact me on [Phone Number] for further details and encouragement.
On Sat 18th Sep at 10:00am - Bedfordshire Steam and Country Fayre
It's the annual Bedfordshire Steam and Country Fayre again at Old Warden. If you like falconry displays, vintage vehicles, fairground organs, traction engines and other reminders of a different age, this event is for you! The event is family-friendly but outdoors. I'll be there from about 10 on the Saturday and can arrange pick-ups from either Biggleswade or Flitwick stations. Call me on [Phone Number] for directions, further details and encouragement.
On 23rd - 25th Sep at pm - Letchworth beer festival
The Letchworth beer festival. It's that time of year again! As always, it's at Plinston Hall, about five minutes' walk from the station. I'll be there on Thursday and Friday evenings and Saturday afternoon. Food is available and there are usually about 50 - 60 beers available as well! If you're coming, give me a call on [Phone Number] for details and encouragement.
On 30th Sep - 1st evening - St Albans beer festival
The St Albans beer festival. Just in case you didn't try enough beer at Letchworth, St Albans beer festival is the following week! The venue is the Alban Arena , Civic Centre, St Albans (in the city centre). Food is available and there is a large range of beers as well! I'll be there on the evening of Thursday 30th September and Friday 1st October - if you're coming, give me a call on [Phone Number] for details and encouragement.
Richard Allen
Mid Bucks
On Sun 5th Sep at 10:30am - Walk and Lunch
Following our successful walk and excellent lunch in July, we will again be starting our walk from the Garden Centre in Studley Green. Expect less than three hours walking on good footpaths and finish at the Garden Centre café for Sunday lunch. Good value and usually a choice of two or three roast meals as well as lighter options. Apple crumble specially recommended!
For the walk meet outside the Garden Centre on the A40 at half past ten on Sunday 5th September. There is a bus service available from High Wycombe and Stokenchurch and ample parking space.
We will aim to return to the Garden Centre about 1:00pm, so join us then if you would prefer to come for lunch only.
Please ring me on [Phone Number] or e-mail me at [Email] for directions / encouragement.
Looking ahead, we have two theatre trips planned for October.
On Sat 2nd Oct at 10:30am - Theatre & Spanish Meal
On Saturday 2nd October we have a Theatre & Spanish Meal event.
Wycombe Swan is presenting Agatha Christie's "Witness for the Prosecution". See http://www.wycombeswan.co.uk/wrt-productions_details.asp?pid=4359 for full details.
Please book your own theatre tickets for the Saturday afternoon performance, (see http://www.wycombeswan.co.uk/wrt-productions.asp ), but let me know you are coming so that we can look out for you.
Afterwards we will go to La Tasca in the Eden Centre for a meal and to discuss the twists and turns of the plot! You are welcome to come just for the meal.
I will need to book a table at the restaurant, so please ring me on [Phone Number] or e-mail me at [Email] by Monday 28th September to let me know you are coming.
On Sat 9th Oct at 10:30am - Charity Gala Performance
The new Waterside Theatre at Aylesbury is due to open in mid-October 2010. The full autumn programme for the new venue is available at www.ambassadortickets.com/aylesbury Before it opens to the public there is a charity gala performance, cost £5.00 per person, to be held on Saturday 9th October. Still no details of the programme as yet.
This is a one-off opportunity to be amongst the first people to enjoy a performance at this theatre, which is already attracting much praise for its construction and design from the arts and cultural trade and press. Tickets are limited and I will need to apply for them well in advance! If you are interested in coming, please let me know as soon as possible.
Val Hinkins
Watever...
On Mon 13th Sep at 8:00pm - Games Evening
A games evening at my place, [Address]. Please bring some board games! Elaine will organise food when numbers are finalised.
On Mon 27th Sep at 8:00pm - Pub Meeting
A pub meeting at Essex Arms , Langley Way, Watford. Please look for the Magazine on the table.
e-mail addresses!
Just another reminder about email addresses.
I have several that are bouncing back as incorrect - PLEASE! could you email me with your correct addresses?
David Seddon
Berkhamsted
On Wed 29th Sep at 7:45pm - LWOTM
We will meet at the upper room in the "Eat Fish" restaurant on Berkhamsted High Street. All members young as well as adult very welcome, you do not have to eat, just have a glass of juice or any other drink and enjoy the chat. However the food is good and reasonable if you are hungry. Having a room to ourselves helps the conversation, so do come and join in! Don't forget you can park across the road behind Tesco's store. Parking is free after 6.00 pm. Hoping to see you all.
Jenny Habib
Think Tank
This month's think tank is courtesy of Edward Hawkins.
What law would you introduce if you could?
Make all able-bodied people work for a living.
. and which would you repeal?
Seat belt, crash helmet & similar laws which do not harm others..
Which charity do you most like to support?
RSPCA
Name a place local to you that you'd recommend people visit
Lincoln
Whose picture would you like to see on a bank note?
Sir Paul McCartney
What device would you like to see invented?
A cheese-making machine which does not involve cows.
How would you reform parliament?
Make the House of Lords fully elected.
Who would you like to see in the Big Brother house?
No-one I would like to see it closed.
How can we save the planet?
Stop breeding like rats. Reduce the population.
Name an event at which the British could win an Olympic gold medal.
Littering.
What song would make a good national anthem for England?
Street Fighting Man.
Who would you like see entered into room 101?
Gordon Ramsey.
Suggest a new question for this page.
What changes would you make to the BBC?
'20 Questions (No. 108)'
Many thanks to Patrick Cavangh for setting this month's quiz on 60s pop music. Send your answers to '20 Questions (No. 108)', [Address], to arrive by 20th September. The winner will receive a £10 book token.[Address] for your chance to win the prize..
1. "One-Two-Three-Four. Tell the people what she wore." She wore... what?"
2. "White Christmas" comes from which film?
3. What did Lily the Pink use to cure all her ailments?
4. When you're alone and life is making you lonely, you should always go...where?
5. What, according to Burt Bacharach, do you get when you kiss a girl?
6. "Get me a ticket for an aeroplane, I ain't got time for a fast train" What is the cause of the big rush?
7. Who are the only people who know how Roy Orbison feels?
8. How much does it cost Dr Hook to talk with Sylvia's mother for another 3 minutes?
9. Who drove the fastest milk cart in the west?
10. What type of poetry fascinated Johnny Tillotson?
11. My grandfather's clock was too tall for the shelf. How did I manage?
12. "I've got a picture and." What do the Rolling Stones suggest you do with the picture?
13. What was the boy's name that got him into so much trouble in Johnny Cash's song?
14. What was the love potion used by the Clovers in 1959 and the Searchers in 1965?
15. Who lost that lovin' feelin' in 1965?
16. In which year did the Beatles release "Yesterday"?
17. Whose boots were going to walk all over you in 1966?
18. What type of woman got the Rolling Stones to number one in 1969?
19. What threesome got to number one leaving on a jet plane in 1969?
20. Which dance did Chubby Checker recommend in 1960?
Did you know the answers to the landmarks quiz in the July issue? They were 2,737 metres, Fifth Avenue, Jean Francois Chalgrin, 1973, Moai, Istanbul, John Adams, 1958, 7th December 1941, La Gioconda/La Joconde, basalt, Mumtaz Mahal, Gutzon Borglum, 365, Uluru, 14 metres, 147, 1707, Nevada and Arizona, and Singapore Sling.
Thanks to Patrick Cavanagh of Dublin, Alan Tonks of Mansfield, Alex Foster of Derby, Pamela Covey of Woburn, Chris Benger of Bedfordshire, Andy Cole of Cleethorpes, David Lewis of Hitchin, Tim Gibson of Nottingham, Michael Warren of Derby, Philip Abbott of Watford, Chris Impey of Tring and Pamela Wallis of Hertfordshire for entering. Congratulations to the winner Chris Benger.