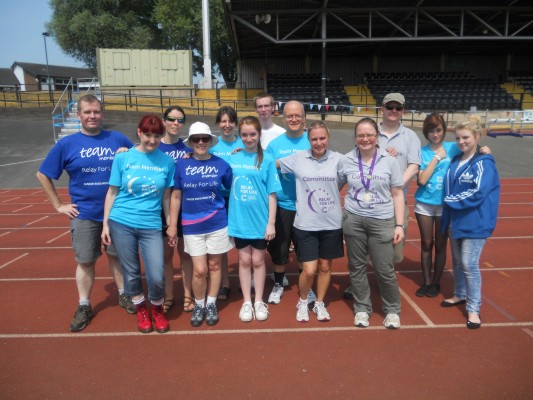 Regional News
This month we say farewell to members living in the Watford area. As of 1st September they will be transferring to the London region. This decision was mutually agreed between David Seddon (Watford Local Secretary), myself (East Midlands Regional Officer), Cliff Watson (London Regional Officer), the Mensa office and active members of the Watford group. All members with WD postcodes should have been contacted about this change and given the option to still receive Empress rather than London Mensa News or to remain a member of the East Midlands region if preferred. Don't forget all regional newsletters can be viewed online at www.mensa.org.uk
It is hoped the benefits to Watford members will be easier access to a range of events across London; more awareness of events in the Watford area by other London members so a wider mix of fun and interesting people to get to know; access to discussions on the London email group; to allow Watford to become more integrated locally. Don't forget any member can attend any event in any region and the borders are purely for administration purposes. If you have any comments or questions please feel free to contact Eileen Southan at the Mensa office or David Seddon on [Phone Number] or [Email]
As usual we have a range of social events around the rest of our region. Do pop along to one of your local events if you can. Contact the LocSec in advance if you're nervous about turning up at your first event not knowing anyone and he/she will make you most welcome.
And don't forget the British Mensa Annual Gathering takes place in York 20th-23rd September. It's a beautiful city to explore and if you've been a frequent visitor over the years there are other activities on the chocolate themed programme as well as the popular tourist attractions. Contact Diane Salter at the Mensa office or see www.mensa.org.uk for full details. See you there?
Maxine Bates
Regional Officer
Events and Meetings
In the current circumstances surrounding the COVID-19 coronavirus, the expectation is that all non-online events listed here are susceptible to being cancelled, if not already marked as such. If you intend participating in any event listed here, please contact the event organiser beforehand to confirm that the event is still on.
Derby Diary
On Wed 18th Sep at 7:30pm - 3WOTM
Find us at the Standing Order on Irongate in the city centre from 7.30pm to around 10.30pm on Wednesday 18th. Look for yellow Mblem on a long table in the low ceiling area at the rear of the pub. You are welcome to come along for a meal or just a drink (alcoholic or non-alcoholic). Everything is reasonably priced as it's a Wetherspoon venue and if you have a Cathedral Quarter card there's also 20% discount on food. New faces always welcome.
On Tue 24th Sep at 7:30pm - Eating Meeting
On Tuesday 24th we celebrate the 5th anniversary of our "eating meetings". Yes, we've been working our way around the restaurants of the East Midlands since September 2008. Don't even think about all the calories consumed! Indian cuisine always seems popular so we're going to Mahmaan on Smalley Road in Oakwood which has excellent food, service and prices. Their Tuesday night deal is a four course meal – papadoms and pickles, choice of starter, choice of curry with rice or nan bread, ice cream or coffee – for only £10.95. Or choose from their normal menu. Book your place with me by 20th and I'll reserve a table for 7.30pm. Other restaurant suggestions around Derbyshire are most welcome."
Maxine Bates
Notts News
On Thu 5th Sep at 8:00pm - 5OTM
Join us from 8.00pm on Thursday 5th for our monthly get together at the Vat & Fiddle pub. We're usually on the first table as you enter the Golding's Room to the left of the bar. Just look for the Mensa Magazine on display. Males and females, new and old faces, all welcome. There's free parking in bays outside or round the corner on Traffic Street. Or the pub is a short walk from Broad Marsh bus station.
On Thu 12th Sep at 7:30pm - Natter & Nosh
The following Thursday 12th we have our "natter & nosh" event which is a good chat over food, or just a drink if you wish, at the Beekeeper pub/restaurant on Meadow Lane in Beeston. Pop along any time from 7.30pm until closing. We book the table just beyond the food order point at the end of the bar and a yellow Mblem will be on display. New faces always welcome.
On Mon 23rd Sep at 8:00pm - Theatre
At 8.00pm on Monday 23rd the Rocky Horror Show finally returns to the Theatre Royal. Some of us have front row seats in the upper circle costing £29. Please get in touch if you'd like to do the Time Warp with us!
Ciao for now!
Maxine Bates
Northants NNotes
A busy time in Northamptonshire, with four events to keep you occupied:
On Wed 4th Sep at 8:00pm - Pub meeting
Les Draper Eames's regular meeting at The Compass, Green Street, Milton Malsor, NN7 3AT is on Wednesday 4th September at 8pm. A one-room pub so it will be easy to find her.
On Thu 5th Sep at 9:00pm - Evening Social
Then Thursday 5th September at 9pm will see the Northampton people head to The Fox & Hounds, Harborough Road, Kingsthorpe, Northampton NN2 8DJ. We will be somewhere in the main bar area – but please don't get it confused with the pub of the same name that we used to meet at in Harlestone."
On Sat 14th Sep at 10:30am - Walk
On Saturday 14th September the last of our scenic walks for the year will be taking place. Meet outside The Tollemache Arms, High Street, Harrington, NN6 9NU at 10.30am for a 4 mile stroll in the north of the county. As always, this will be followed by lunch in the pub – if you can't make the walk you are welcome to join us for the food at about 12.30pm."
On Thu 19th Sep at 8:00pm - Roadshow
The Roadshow meeting is on Thursday 19th September at 8pm and the Towcester area gets our patronage. Meet us at The George Inn, 21 High Street North, Tiffield, NN12 8AD to catch up on all the gossip about what people did during the summer."
Looking ahead to October, our "1st Thursday" meeting will be at a pub in Northampton town centre and will include a subsidised 2-course meal to mark my last month as LocSec. Mark that date in your diary.
For all evening events a copy of the Mensa magazine on a table will point us out, and don't forget that you are welcome to bring along a friend. If you need any further information contact me on [Phone Number] or e-mail [Email].
Ian Sargent
Lively Lincs
On Sat 7th Sep at 7:00pm - Concert
On Saturday 7th September, 7pm, we are going to the Halle orchestra's annual concert in Lincoln cathedral. The programme comprises Dvorak, Vaughan Williams and Elgar's Enigma Variations. Tickets are available online:"Lincolncathedral.com/shop or by visiting the cathedral shop or calling 01522 561644.
On Sat 14th Sep at 12:05pm - Pub discussion
At our July meeting there was an interesting division of views on incest, rather more consensus regarding cannibalism. If you'd like to join our discussions, you'd be very welcome at the 'Adam and Eve', on Lindum Hill, Lincoln, Saturday 14th September from 12.05 onwards. This month's topic is 'Tradition - should we learn from it or just preserve it?' Some lunch, others just imbibe; free car park.
On Tue 24th Sep at 7:00pm - Eating meeting
For our midweek evening eating meeting this month, we're returning to the Ocean Cantonese restaurant Cantonese restaurant in North Hykeham on Tuesday 24th September at 7pm. All welcome but it would help if you would please book with me by 17th, thanks."
On Sun 29th Sep at 3.00pm - Teatime Thinking
Tea and cakes at my house near Alford on Sunday 29 September 3-5pm while we chat whatever interests us about Sartre and his thinking. We're nearing the end of our philosophy A-Z and considering what to do next. Possibly we will turn to geography in the New Year and teach ourselves about countries we feel we'd like to know more about. If you would like to join us and have any suggestions, do get in touch.
Christine Howells
Mensans In MK and Bedford
On Sat 14th Sep at 3:00pm - T@3
Our first get-together this month is T@3 at Dobbie's Garden Centre restaurant on Saturday 14th. Dobbie's is in Fenny Stratford, just south of Milton Keynes. We will probably be in the conservatory out behind the restaurant, so look for the Mblem on a table.
On Mon 16th Sep at 8:30pm - 3MOTM Quiz
On Monday 16th we continue our Third Monday of the Month quiz meetings at The Barge at Woolstone. We meet from 8.30pm in time for the quiz at 9pm – cost is £1 per person. As I write this we are fresh from our very first victory last night! See www.vintageinn.co.uk/thebargewoolstone/ for location and, if possible, let me know beforehand if you're coming so we can reserve a big enough table.
On Sun 29th Sep at 10:30am - Breakfast meeting
Sunday breakfast will be at 10.30 am on Sunday 25th at Wetherspoon's on Midsummer Sunday breakfast will be at 10.30 am on Sunday 29th at Wetherspoons on Midsummer Boulevard West, next to Chiquito's and not far up from the railway station (NOT the other Lloyds/Wetherspoons nearer the shopping centre and next to Jury's Inn). Come for a full breakfast, a snack, or just a drink – look for the Mblem on a table.
If you've never been to a Mensa event and are a little nervous about coming along on your own, feel free to bring a friend. Or call me first if you would like to know a bit more about it first – I'd be happy to chat to you. We like to think we are a friendly (but not cliquey) group, and we always enjoy seeing and welcoming new faces. Dobbies' in particular is a relaxed and pleasant first-time event for anyone new.
Jo Sidebottom
Herts Happenings
On Thu 5th Sep at 8:15pm - FThOTM
As ever, we're at the Millstream, Cambridge Road, Hitchin. Good food and good beer both available! Call me on [Phone Number] for more details and encouragement. The pub is about ten minutes' walk from the railway station.
On Sun 8th Sep at 11:00am - Steam Up
It's the annual "Steam Up" event at the Leighton Buzzard narrow gauge railway when everything that can be steamed, will be steamed. If you've not been before, it's a fascinating railway and well worth the visit. I'll be there from about 11 am - ring me on [Phone Number] for details and encouragement and where to meet etc. The venue is about two miles from the station (Euston - Milton Keynes line) but I can arrange pick-ups if need be.
On Sat 14th Sep at 11:00am - Bedfordshire Steam and Country Fayre
It's the annual Bedfordshire Steam and Country Fayre at Old Warden; I'll be there from 11 am. This is always a good show, with plenty to see and do and you can also visit the Shuttleworth vintage aircraft collection (one of their aircraft usually gives a display as well) and Swiss Garden if you so wish. Ring me on [Phone Number] for details and encouragement and where to meet etc. Nearest stations are Bedford (Thameslink and East Midlands line) and Biggleswade (Kings Cross - Peterborough line) and I can arrange pick-ups if need be.
On Fri 27th Sep at 8:00pm - LFOTM
As ever, we'll be at the Cowper Arms, Digswell, Herts (by Welwyn North station). Call me on [Phone Number] for more details and encouragement. The pub is next to the railway station, which is served by stopping trains from Kings Cross to Cambridge and Peterborough.
On Sat 28th Sep at 12:00pm - St Albans beer festival
The St Albans beer festival is on this weekend at the Alban Arena in the city centre. As ever, an opportunity to sample lots of weird and wonderful concoctions to suit all tastes! I plan to be there from about 12-3. Ring me on [Phone Number] for details and encouragement and where to meet etc. In particular, if you've not been to a beer festival before and want to know a bit more about what does and does not happen, please get in touch.
Richard Allen
On Sat 14th Sep at 3:30pm - Afternoon tea
Family friendly event where we'll start with tea and delicious home baking then progress to something stronger as the evening progresses. Feel free to bring a cake of your own, or a favourite tipple. Contact Rowena on mensa@rowenamlove.co.uk or 01438 715793 for details.
Rowena and Mark Lawrence
Berkhamsted
On Thu 26th Sep at 7:45pm - LThOTM
Our regular meeting is at The Old Mill, London Rd Berkhamsted. Just have a drink and a chat or eat with us. Pub does good meals. New members, partners etc. always welcome. Free Car Parking
Jenny Habib
More or Leicester"
On Thu 26th Sep at 8:00pm - 4ThOTM
Just the one meeting this month due to holiday commitments, so why not come along to see if I brought back presents for everyone? Usual time and place; look around for the magazine or mBlem or give me a call on [Phone Number] to find me!
Paul Coulson
Watever...
Hello London and farewell to East Midlands! For some time now we have had a consensus to move the Watford members to London. The transition has been smooth and Eileen has now contacted all of the WD post code members with advice. So from September we will be part of the London region. Special thanks to Maxine, Rosie, Nick and all of the East Midland LocSecs who have included us wholeheartedly in all of the regional events. We're now looking forward to being a part of the London region and all that it offers.
On 7th or 8th Sep at TBA - Waddesdon Manor
National Trust visit to Waddesdon Manor House & Gardens - including Aviary, Woodland Playground, Wine Cellars, Shops and Restaurants. Sat & Sun: Gardens 10am - 5pm House 11am-4pm. Adult: 18.00, Child: £9.00 All National Trust members and Under 5s go free Address is (off High Street A41) Waddesdon Bucks. Sat Nav Postcode: HP18 0JH"
Waddesdon Manor is a country house in the village of Waddesdon, in Buckinghamshire.
The house was built in the Neo-Renaissance style of a French château between 1874 and 1889 for Baron Ferdinand de Rothschild. It is publicised as the 'Jewel in the National Trust crown' and is well worth a visit.
Group booking are usually for 15 or more - but if we have less then we can still participate.
I will send out a separate email with the PDFs for info and a map of the gardens
Please! Let me know as soon as possible which date you prefer? Sat or Sun?
We can then agree the date. Arrangements can them be made to collect payments and make online bookings.
We DO need to book in advance!
On Mon 23rd Sep at 8:00pm - Pub meeting
Pub meeting King's Head, Bridge Road, Hunton Bridge WD4 8RE We usually meet upstairs in the 'gallery' area furthest from the bar.
The pub is easy to find from the dual carriageway (A41 Watford Road)
From Watford turn right at the traffic lights, over the small bridge and then on the right.
Look for the magazine or ask at the bar.
New members are warmly welcomed.
It's also my Birthday!
David Seddon
Mid Bucks
On Fri 13th Sep at 7:30pm - Indian Meal
September is a very busy month for me, so I've arranged just one evening meeting.
We haven't had an Indian meal for a while and the Bombay Palace Restaurant on Crendon Street in High Wycombe has recently been refurbished and enlarged. Join me there at 7:30pm on Friday 13th September. I will need to book a table, so please ring me on"[Phone Number] or e-mail me at [Email] to let me know you are coming.
Val Hinkins
Relay For Life
Once again a team of Mensans took part in the Cancer Research UK Relay For Life 24 hour event in July in Nottingham. Sincere thanks to my "Cocktail Crew" who were complete stars with great team spirit and kept the walking rota and cocktail bar operating smoothly whilst myself, Jennie Weatherill and Andy Farrell were also undertaking committee roles. Hard work but huge fun.
The heatwave certainly helped our fruity cocktail sales! With themed fancy dress laps, live music, zumba and burlesque classes, martial arts and re-enactment demonstrations, bouncy castle, prize draw, cancer awareness quiz, cancer survivors tea party, candle of hope ceremony, food stalls and a variety of fundraising activities the 24 hours flew by.
Thanks also to everyone who supported our events throughout the year or visited us at Relay For Life from as far as Milton Keynes and Cumbria. I'm delighted to say my team raised nearly £7,000 for Cancer Research UK. (At the time of writing money is still arriving so we don't have a total for the whole event but it's hoped to be in the region of £50,000.) Roll on Relay 2014!
If you're interested in putting the fun into fundraising with us next year please contact me on [Phone Number] or [Email]
Maxine Bates
'20 Questions (No. 144)'
Due to an editing error the July competition didn't actually state the answers were all rivers. Although if you'd looked at www.eastmidsmensa.org.uk it did state the theme on there. So well done to those who figured it out and entered. The answers were Avon, Trent, Alph, Amazon, Hudson, Danube, Dr John Dee, Mississippi, Test, Alistair Darling, Orinoco, Mekong, HMS Ganges, Po, Mame, Yellow River, Colorado, St Lawrence, Nile Rodgers and And Quiet Flows The Don. Entries were received from Michael Warren of Derby, Judith Mellor of Derby, Roger Plant of Nottingham, Helene Parry of Brentford and David Lewis of Hitchin. Michael receives the £10 book token. Obviously on a winning streak as he also won our recent online competition with £20 to spend in the Mensa shop.
As Michaelmas (September 29th) approaches, you will find some variations on Michael in these questions compiled by Les Hurst. Send your answers to arrive by 20th September by post to '20 Questions (No. 144)', 80 Milnhay Road, Langley Mill, Nottingham, NG16 4AW or by email to [Email]. Don't forget to include your name and address so we know where to send the prize!
1. Leaping Michaels and Michaels Cuebid are found in what?
2. What does the Michaelis Classification itemise?
3. Georgios Kyriacos Panagiotou anglicised his name to what?
4. Who progressed from Private to I'm Alright, Jack?
5. Who were linked by some mother?
6. Who was The Godfather's youngest son?
7. In 1976 who produced One Flew Over The Cuckoo's Nest?
8. Which assistant replaced Sir Humphrey Davey at the Royal Institution?
9. "He had to buy his own furniture". Which cabinet member did Alan Clark condemn?
10. Which Speaker of the House had no confidence in 2009?
11. If The Hitman as Pete Waterman, who was Her?
12. How is Aster sedifolius better known?
13. Who was the older of The Glimmer Twins?
14. What was the last hit for Chapman and Chinn?
15. "Shot Through The Heart" was whose memoir of his brother Gary?
16. In 1966 who took Paul Jones' place in Manfred Mann?
17. What guards the mouth of the River Couesnon?
18. What did The Highwaymen ask Michael to do in 1961?
19. Celts call it "Karrek Loos yn Koos" but what do the English call it?
20. Who played a waitress given Carte Blanche?