Zapato Lounge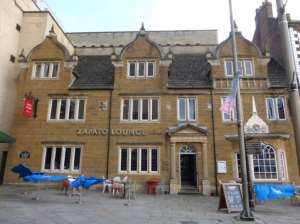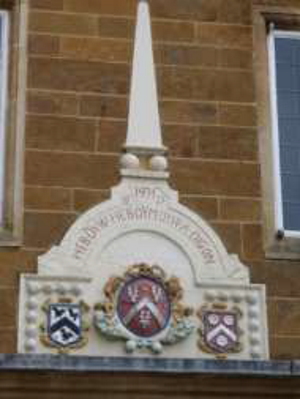 Having turned up one Sunday morning in 2019 to find that our usual breakfast venue had closed down without any prior warning, the Northampton group needed to find an alternative. That turned out to be just a couple of hundred yards away and we have been at the Zapato Lounge ever since. Situated on the northeast corner of the Market Square, this café bar inhabits what is known as Welsh House. For us it serves good food and drink in a comfortable, convenient location, but the building also has a back story.
Dating from 1595, the name derives from a Welsh motto on a plaque inset above the right-hand window: 'heb dyw heb dym dyw a digon'; translated as: "Without God, without everything. With God enough". It was placed there by one of the building's early owners, a Dr Prytherch, who hailed from Wales. Though if you believe some accounts, the connection is that the town was on one of the Drove roads from Wales, with Northampton being a major market for lamb and wool at the time. What cements Welsh House's place in local history is the Great Fire of Northampton in 1675, which destroyed three-quarters of the town in just 6 hours. Being the only stone-built building on the Market Square it was the only one to resist the spread of the fire, so for the many trapped in the square it provided an escape route. Without it, the loss of life would have been far greater.
Welsh House changed from residential to commercial use and was greatly modified over the centuries, especially the ground floor. In the 1970s the construction of the Grosvenor Shopping Centre adjacent required that it be demolished and rebuilt, though just how much of the original building (other than the plaques at first floor level) remains is debatable. That rebuild included the reinstatement of the three front gables that had disappeared at some time in the past. It has to be said that it does look a lot better now than it did 50 years ago.
Given the time of day that we meet, our usual food choice is along the lines of a bacon sandwich or the "Lounge Breakfast". You can however get a wide variety of eats from a sandwich, via tapas and salad through to burgers and main meals (oh, and cakes!). A Vegan and Gluten Free menu is also available. Whilst we normally stick to tea and coffee, Zapato's does have a range of draught/bottled beers, lagers and ciders; wines and cocktails. Fruit smoothies, milkshakes and other soft drinks are also available. All served up by some friendly staff.
Ian Sargent