Vat and Fiddle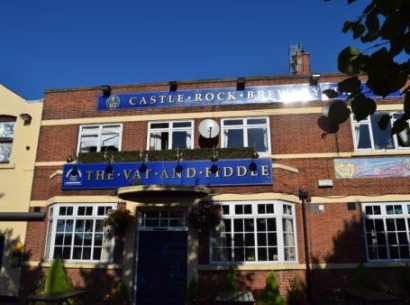 Nottingham Mensa have been meeting on the 5th of each month at the Vat & Fiddle pub for over 25 years. Built in 1937 the pub is an art deco style building beneath the blue tower of the ever-expanding Castle Rock Brewery.
It was originally named >The Grove Tavern under ownership of Nottingham Brewery. In the mid-1980s it was renamed The Miami Bar and then Ziggy's Bar. Needless to say, these silly names didn't stick and in 1992 it became Tom Hoskins. In 1997 it was acquired by the then Tynemill Company and changed name once again to The Vat & Fiddle. A nod to the newly built tax office nearby! It is now owned by Castle Rock Brewery who brew beers using some of the same recipes as the original Nottingham Brewery. Full circle! In 2010 their Harvest Pale Ale became CAMRA champion beer of Britain giving it national profile and in the following year sales of that ale went up 122%!
There are usually 13 real ale hand pulls showcasing Castle Rock ales plus 2 changing guest ales. Not a beer lover? No problem! The pub also serves good value soft drinks, coffee, fine wines, ciders, a range of gins and over 60 whiskies. Food is also served until 8pm Monday to Saturday with homemade cobs (or rolls or barms depending on your location!), burgers, classic pub dishes plus a specials board. Tuesday is curry night for £8.25 and Wednesday is pie night for £8.75, both options including a drink. On Sunday food is only available until 5pm but includes a roast. The kitchen is tiny so the staff do a good job getting food out!
The Goldings Room is light and airy in between the main bar and the Old Cold Store that is now a function room and occasionally hosts live music events. This is where the Mensa group usually sit, unless the Goldings Room is hired out for a private event. It is also adjacent to the Visitor Centre which is where brewery tours end. We've done those from time to time and they have been hugely enjoyed – apart from the bad heads the next day after being given free run of the small bar in there!
The pub is located on Queensbridge Road, NG2 1NB. Very near Nottingham railway station – we've had guests join us by train from Leics and Lincs – with bus and tram stops close by and with free parking in bays right outside from 7.30pm. With no large TV screens or juke boxes or quiz machines, this is a traditional pub and ticks a lot of boxes when it comes to Mensans wanting to meet for a drink and chat in a central and easily accessible location. Why not join us one month? If you're visiting at any other time see if you can spot the "Mensa meet here" plaque behind the bar! One of only two in the country!
Maxine Bates