The East Midlands Region of British Mensa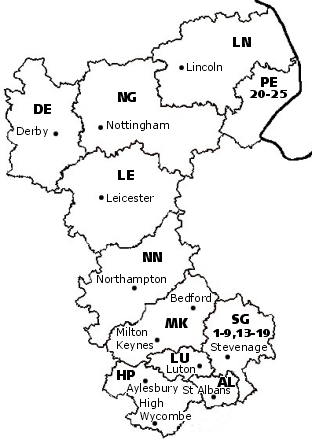 The East Midlands region stretches from Buckinghamshire and Hertfordshire in the south to Lincolnshire in the north. Rumour has it that the region comprises the bits that Mensa had left over after all the other regions had been sorted out! Approximately 11% of the membership of British Mensa live in our region.
We organise a variety of events which are publicised in the monthly Mensa Magazine as well as our regional newsletter 'Empress'. These include pub socials, 'eating meetings', theatre/concert trips, wine tastings, walks, ten pin bowling, parties, days out to theme parks and places of interest and much much more. In the past we have even enjoyed a medieval banquet, an archaelogical dig and a 'school dinners' evening - we will try almost anything once! Mensans come from all walks of life and our social events are a great way to make new friends. Don't be shy - give us a try!
Mensa is what YOU make it. Some members choose to just read the Magazine each month whilst others obtain enjoyment by attending local events, participating in weekend gatherings throughout the country or joining one or more of the many Special Interest Groups. SIGs are a way of corresponding with like-minded people, usually via a newsletter, on a multitude of subjects from animals to amateur dramatics, rambling to rock music, sport to Star Trek!
Enquiries from anyone interested in joining Mensa or comments from existing members are very welcome. Please contact the East Midlands Regional Officer via the Contacts page
For enquiries about the Mensa entrance test, including test dates and locations, please contact the Mensa office in Wolverhampton at enquiries@mensa.org.uk
For more information on Mensa in general, please see our main web site at http://www.mensa.org.uk