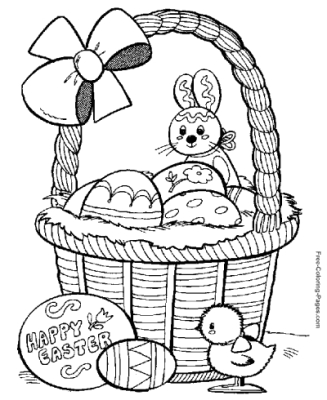 Regional News
It's yet another month in this crazy pandemic world. But spring has sprung, we're quite quickly being offered COVID vaccinations, and there's light at the end of this very long and very dark tunnel. Will we be ready for some socialising as soon as allowed? I would say so! It's Mensa's 75th anniversary on 1st October and the British Mensa Annual Gathering is being reincarnated from the cancelled 2020 event over that weekend in Manchester.
When the time is right, I'd love to organise a big party for East Midlands members. After all, we've each had a lockdown birthday and missed so many other events like Christmas, weddings, Mother's Day, Father's Day, etc. We have lots of celebrating to catch up on! In the meantime, we've made this issue an Easter special with a few ideas to keep you occupied at home over the Easter long weekend.
Thanks to all those members who have taken the time to drop me a message via email or Facebook or sent me unexpected items in the post. You've made me smile so thank you! As always, feel free to contact me on [Phone Number] or [Email]
Maxine Bates
Regional Officer
Editorial
Welcome to the April edition of Empress. Big Thank You to Carole for being the editor of Empress for the last few months. You're now stuck with me! Happy Easter to you, if you are celebrating this season. The front cover contains a picture for you or your children to colour in! This is an activity for any age, as there are books available for adults as this is meant to be a great stress relief! If you have not already done so then please let the office (membership@mensa.org.uk) know your email address. The regional newsletters can be available electronically in the future, so it is vital that the office can contact you via email.
Mark Sloan
Events and Meetings
In the current circumstances surrounding the COVID-19 coronavirus, the expectation is that all non-online events listed here are susceptible to being cancelled, if not already marked as such. If you intend participating in any event listed here, please contact the event organiser beforehand to confirm that the event is still on.

Derby Diary
On Wed 21st Apr at 7:30pm - 3WOTM Online
It's time for our monthly chat on Zoom. Hear what others have been up to and see where the conversation goes from there. We aim for it to last around an hour and twenty minutes but no pressure to stay the whole time. Please contact me for the Zoom link and with any questions. Contact Susan on [Phone Number] or [Email]
Susan Graves
Contact [Email] or [Phone Number] / [Mobile Number] for details

Hertfordshire Happenings
On Thu 1st Apr at 8:00pm - FThOTM
We will be joining the East Anglia Wide Zoom meeting. The meeting number is [Requires Login], Passcode: [Requires Login]. For those reading this on the Website, the hyperlink is [Requires Login]. Previous Zoom meetings have provided lively and interesting conversation, and new faces are always welcome. Please call or [Phone Number] email [Email] for details. Or please visit the East Midlands Mensa or Brightspace Facebook group for updates.
On Sun 25th Apr at 2:30pm - Treasure Trail
A walking treasure hunt in Hitchin. Devised by www.treasuretrails.co.uk and entitled Haunted Hitchin. Stretching from Bridge Street and Tilehouse Street in one direction to Skinner's Almshouses in the other. If interested, please do contact me on [Phone Number] or email [Email] to give me some idea of numbers to expect. This is, of course, dependent upon whether we are allowed out on the 25th so do please check before travelling.
Steve Thomas
Contact [Email] or [Mobile Number] for details

In Leicestershire
On Mon 19th Apr at 8:00pm - ZOOM Meeting
This month our usual convivial third Monday of the month gathering will be replaced by a ZOOM meeting, hosted by Pen Penny. If you would like to join us, please email Pen on or before Saturday 17th April. Pen's email address is [Email]. Pen will then send you the link to join the meeting. If you need any information or encouragement, please contact me on [Phone Number] or at [Email].
On Sat 24th Apr at 7:00pm - Pub Meal
We hope to dine at the Sugar Loaf, 2 Nottingham Road, Ab Kettleby LE14 3JB at 7pm. on Saturday 24th April. Booking is essential and numbers might be restricted so please let me know if you would like to come by 19th April. You can telephone me on [Phone Number] or email:[Email]
Haydn Starkie
Contact [Email] or [Mobile Number] for details

Lively Lincs
On Sat 10th Apr at 12:30pm - Zoom lunch and discussion
The topic this month is: "If there was a vaccine that left people in a state of contented fulfilment, would you take and recommend it"? All welcome to join us for a friendly conversation over lunch. Email Jacquie in advance to request the link. If you haven't used Zoom before, Jacquie is happy to run through it with you a few days beforehand. Contact Jacquie on [Email] or [Phone Number].
On Wed 21st Apr at 11:00am - Walk near cathedral or Zoom & coffee
If restrictions allow, join us for a gentle walk starting from the cathedral grounds, and outdoor coffee afterwards. Otherwise, online coffee and chat on Zoom, all welcome. Contact Jacquie to check plans, and for full details, on [Phone Number] or [Email]. If you are new to Zoom, Jacquie will run through it with you a few days beforehand.
Jacquie Harrison
Contact [Email] or [Phone Number] / [Mobile Number] for details

Mid Bucks
On Sun 4th Apr at 2:00pm - Games Afternoon
Please join Dave and Alison on-line for a relaxed and informal Sunday afternoon of board games and chat. All members and friends are welcome. We play most Sundays using www.boardgamearena.com and Jitsi for chat. Further details are on the main Mensa web site. For more information please contact Dave a few days beforehand. Either telephone him on [Phone Number] or e-mail to [Email]
On Fri 23rd Apr at 10:30am - Coffee & Chat
Keep the date free and join me either in High Wycombe or on-line for relaxed conversation, cake and coffee. (Make Your Own Coffee if on-line!) Please contact me a few days beforehand to confirm the venue and that the meeting is going ahead on [Phone Number] or e-mail me at [Email]
For further details or encouragement contact me on [Phone Number] or e-mail me at [Email]
Val Hinkins
Contact [Email] or [Phone Number] for details

Mensans in MK & Bedford
On Mon 19th Apr at 7:30pm - 3MOTM Quiz
Fun general knowledge quiz via Zoom. Link will be publicised nearer the time via social media, or contact Jo at [Email], or [Phone Number] / [Phone Number].
On Sun 25th Apr at 10:30am - Sunday Breakfast
Join us online via Zoom as we chat over breakfast. Zoom link will be publicised nearer the time via social media, or contact Jo at [Email], or [Phone Number] / [Phone Number].
Just a reminder about our M-MK & Bedford Facebook group – if you would like to join please search for the group and send me a request. I also keep an email distribution list for meeting reminders and any last-minute changes, so if you would like to be added to this please let me know.
We hope to see as many of you as possible at one or other of our events this month. Do remember that you're welcome to bring a guest with you, so if you've never been to a Mensa event and are a little nervous about coming along on your own, just bring a friend.
Jo Sidebottom
Contact [Email] or [Phone Number] / [Mobile Number] for details
News from Northampton
On Sat 10th Apr at 10:30am - Pub Walk
Mixed walk along two canals, farmland, country lanes and a bit of Jurassic Way. Meet at 'The Wharf Inn', Welford. NN6 6JQ (644 807) 8km (2 hrs) Drink afterwards at 12.45. At 'The Wharf'. For help or encouragement [Phone Number][Email]

Notts News
On Mon 5th Apr at 8:00pm - 5OTM
Will we be having an Easter Monday tipple at the Vat & Fiddle pub on Queensbridge Road (NG2 1NB)? Contact Maxine on [Phone Number] or [Email] to find out.
On Thu 8th Apr at 7:30pm - Natter & Nosh
Please check if we can meet for dinner at The Cadland, High Road, Chilwell with Maxine on [Phone Number] or [Email]. Pre-booking may be required and limited.
On Sat 17th Apr at 2:00pm - Walk
Another attempt at a socially distanced stroll around Attenborough Nature Reserve (NG9 6DY). We'll select one of their trails to spot the wildlife. Accessible for wheelchairs and pushchairs. Optional £3 donation for parking. Contact Maxine on [Phone Number] or [Email] to check this event can go ahead, COVID and weather permitting.
On Tue 27th Apr at 7:30pm - Eating Meeting
Please contact Maxine to find out if our restaurant visit is able to go ahead this month and if so where. [Phone Number] or [Email]
Ciao for now!
Maxine Bates
Contact [Email] or [Phone Number] for details
Easter Word Search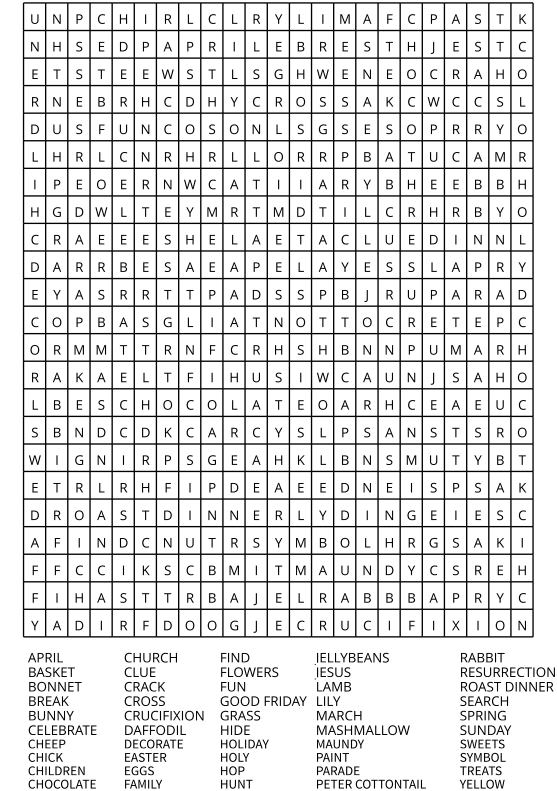 Find the 50 words vertically, horizontally or diagonally in the grid It's harder than it looks!
Simnel Cake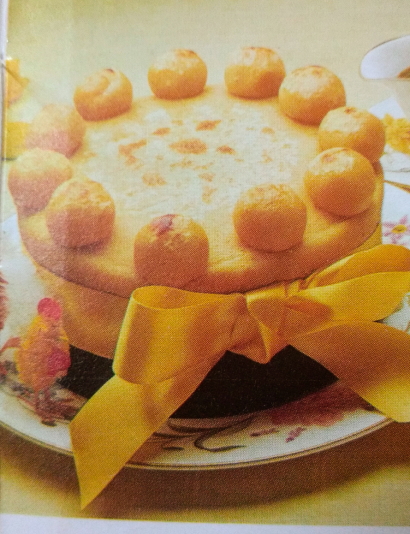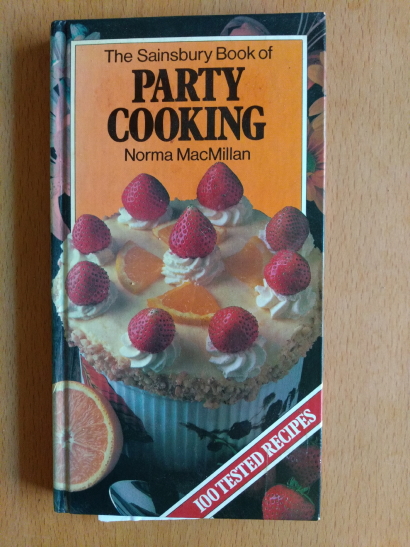 I have made a simnel cake just about every Easter since I bought this cookery book in 1979 (The Sainsbury Book of Party Cooking, available second-hand on Ebay and on Amazon, ISBN-13: 978-0861780426). It's a great recipe and has never failed me. Easter Sunday teatime just wouldn't be the samewithout it.
Over the years I have tweaked the recipe a bit, for example by soaking the fruit for longer instead of just fifteenminutes.Here it is:
You will need
2 mixing bowls
A small bowl for breaking the eggs
An electric mixer, or a hand whisk and elbow grease
Rolling pin
Pastry brush
A 18cm/7inch deep-sided *loose-bottom or spring-form* cake tin, carefully lined with two layersof baking paper
For the cake
500g/1lb mixed dried fruit (sultanas, raisins, etc.)
125g/40z glace cherries, chopped
50g/2oz chopped mixed candied peel
2tbs rum or whisky
2tbs orange juice
175g/6oz softened butter
175g/6oz caster sugar
3 medium eggs
200g/7oz plain flour
1tsp baking powder
2tsp groundmixed spice
1kg/2lb marzipan
2tbs apricot jam, warmed and sieved
1 extra egg yolk
1tsp water
How to
Put the fruit, cherries, peel, rum/whisky and orange juice in a mixing bowl, and mix well. Leave to soak for at least 15 minutes, or even overnight if you remember in time.
Pre-heat the oven to 160°C/140°C fan.
Cream the butter and sugar in another bowl until the mixture is pale and fluffy. Beat in the eggs one at a time, adding a little flour if they curdle. Sift in the flour, baking powder and spice, and fold in. Add the fruit mixture and combine thoroughly.
Spoon half the cake mixture into the cake tin and smooth the top. Break off about one third of the marzipan and roll out to a 18cm/7in round and place on top of the cake mixture. Spoon on the rest of the cake. Bake for 2½ - 3 hours, keeping an eye on it so it doesn't get overdone. It is ready when it has begun to shrink slightly from the side of the tin - the skewer test doesn't work because of the marzipan.
Leave in the tin to cool for an hour or so. Take half the remaining marzipan and roll it out to another 18cm/7in round. Brush the top of the cake with the warm jam, and put the marzipan circle on top firmly. Form the rest of the marzipan into 11 balls - it's always 11, representing the 12 Apostles minus Judas - and put them round the edge of the top, securing each one with a little jam underneath.
Mix the egg yolk with the water, and brush the balls with the mixture, also brush a little on to the centre of the cake. Use a small blowtorch, or place the cake briefly under a hot grill, to brown the tops.
Now leave to cool completely in the tin for a few hours, and then remove carefully. Serve on Easter Sunday, or any time you like,maybewith a yellow ribbon tied round themiddle, and someCadbury'smini eggspressed on to the top.
Marzipan
Shop marzipan is absolutely fine for the cake, and I used it for years. Nowadays I make my own, and it really is very easy. It is not as smooth or elastic as the shop version, having a slightly grainy texture, but it is delicious. I use a recipe froma blog called The Graceful Kitchen at https://thegracefulkitchen.wordpress.com/2013/03/23/homemade-marzipan/. The article is quite wordy, so here is a simplified version,which will make the 1kg of marzipan for the simnel cake:
Ingredients
600g ground almonds
400g icing sugar (if you want it lessor more sweet, reduceor increase the amount of sugar, but remember to increase or reduce the amount of almonds accordingly)
Optional: yellow food colouring, add to the liquids
Optional: grated lemon and orange peel, add to the dry ingredientsafter processing
2tsp lemon juice
2tsp almond extract
150ml water
How to
If you have a food processor, whiz the almonds and sugar until very fine and well combined. Tip them into amixing bowl.
If you don't have a food processor, sieve the almonds and sugar into a mixing bowl. Take your time, and make sure they are very smooth and well combined.
Mix the liquids by stirring vigorously, and then add a very small amount at a time to the almond mixture, mixing as you go. Be very careful not to add toomuch liquid, because sloppymarzipan isno use at all.When it hasformed a firmmass, formit into a log, put it into a freezer bag, and chill it for an hour or so. Then use as in the recipe. If you have much left over, try forming small ballsand dipping themintomelted chocolate and letting it set, asanother treat.
HAPPY EASTER! Helen Shovlar
Easy Easter Wreath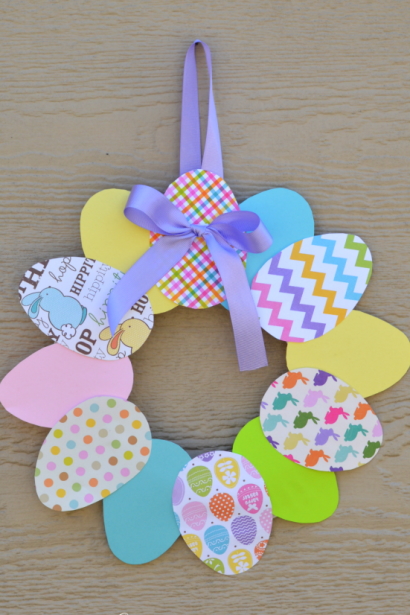 What you will need:
Paper plate
Coloured card or paper (or white with your own Easter design)
Scissors
Glue
Ribbon
How to make:
Cut a circle from the centre of the paper plate and discard. You?ll need the bit that now looks like a Polo mint!
Cut egg shapes approx. 4?x 3?from the card or paper.
Glue in a circle, slightly overlapping, onto the back of the paper plate wreath.
Make a bow from a piece of ribbon and glue to the centre of the egg at the top.
Use another piece of ribbon to form a loop and glue to the back.
Hang and admire your Easter wreath!
20 Questions (No. 234)
The celebrities from the February quiz were Brenda Blethyn, Rachel Riley, Caroline Catz, Fiona Fullerton, Helen Hunt, Brigitte Bardot, Meghan Markle, Robert Redford, Michael McIntyre, Maurice Micklewhite, David Duchovny, Nanette Newman, Boris Becker, Steven Spielberg, Amy Adams, Hugh Hefner, Farrah Fawcett, Sissy Spacek, Greta Garbo and Marilyn Monroe. Well done to Nigel Bryant of Bedford who wins another £10 One4All gift card.
As we celebrate St George's Day this month we have a quiz about Georges kindly compiled by Pamela Covey. Just name the famous George and send your entries to arrive by 20th April by post to '20 Questions (No. 234)', [Address], or by email to [Email]. Remembering to include your name and address!
1. This 'lad' from the 1980s pop scene is perhaps best remembered for his clothes and make-up.
2. A member of 'The Traveling Wilburys', he was much more famous as part of another group.
3. Informally known as 'Bertie', this prince became a reluctant monarch.
4. This American actor and dancer's career might be said to have been 'afloat' in the 1930s and 1940s.
5. Tina Turner might well have sung one of her most famous songs about this footballer.
6. The creator of 'Star Wars'and other successful film franchises.
7. A former model, he was the only 007 to officially take a wife.
8. This US actor's surname sounds like he had a well-seasoned film and TV career.
9. This author found it easier to have her work taken seriously by adopting a male name.
10. Best known by his pen name, this author might have sounded like a relation of a former Prime Minister.
11. Where would the USS Enterprise have been without its helmsman?
12. This former US President was nicknamed 'Dubya'to distinguish him from his presidential father.
13. Known as 'Gorgeous George', this US professional wrestler is not to be confused with Mr Clooney.
14. Formerly half of a 1980s pop duo, he went on to have a hugely successful solo career.
15. Once the UK's highest paid entertainer, he didn't achieve success just by leaning on lamp-posts.
16. This former heavyweight US boxer could now give us all a good grilling.
17. Sounds like this 18th century composer had a good grip on music.
18. This cigar smoking US actor and comedian's career was certainly on fire for many years.
19. A British poet and politician, usually known simply by his title.
20. President often known as the 'founding father' of the United States.