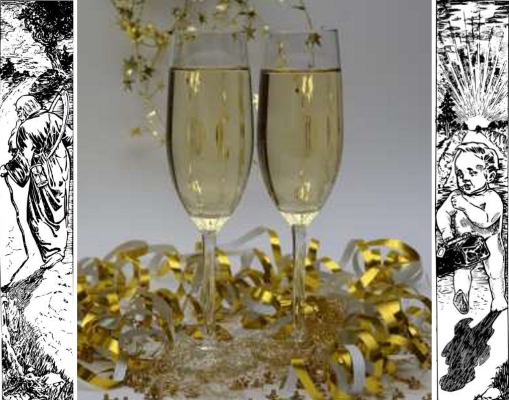 Happy New 2018!
Regional News
Happy New Year! I begin the year by informing you that our regional committee have taken the decision to rename our Local Secretaries. It was felt the secretary part of the title no longer applies to the role and could be deterring members from volunteering for that role in the areas we currently have vacancies. Hence forward we will have Local Officers. As so many members now organise events these Local Officers are really to contact new members and to organise and/or encourage others to organise local events and to let you know what's happening in their area via this newsletter. The role can take up as much or as little time as you wish so if you might be interested in getting more involved please get in touch with me. I'm delighted to welcome Susan Graves as Derby Local Officer. She introduces herself in the Derby Diary section and has lots of ideas for future events. So if you live or work in the DE postcode area or are just passing through from time to time please support her if you can. Leicester, Lincoln, Luton and Northampton Local Officers still required please!
It's nice to see our East Midlands Mensa Facebook group growing and being used frequently. Following discussion on there at the end of last year I'm organising an activity afternoon aimed at Young Mensans (aged 18- 35) and hope those who expressed interest are able to make it along for any combination of tenpin bowling, laser combat, pool, table tennis or arcade games plus meal on Sunday 21st January. See the Notts News section for further details. Younger and older members are also welcome if this event appeals.
Finally the Mensa office do send out notification of forthcoming events occasionally. The free tours of the Amazon warehouses sold out instantly via this communication. So if you have an email address and the office are not aware of it do drop them a line so you can be kept up to date.
If you have any feedback on your membership I'm always happy to hear from you. I'm on [Phone Number] or [Email]
Maxine Bates
Regional Officer
Editorial
Welcome to the January edition of Empress, the first of my new run as Editor. Maria has done a sterling job for the last three months. If any of you fancy a try at being editor then do please get in touch. The more the merrier! There's a bumper selection of meetings and events to choose from at the start of this brand shiny new year of 2018, so if you've never been to one, now would be a great time to start!
Mark Sloan

Derby Diary
On Wed 17th Jan at 7:30pm - 3WOTM
Hello! This is my first contribution for Derby Diary as I've taken over as Derby Local Officer. I'm married to Mark, the Regional Treasurer and I used to be Local Officer in Leeds. I'm looking forward to meeting as many local members as possible. Don't worry though, the regular third Wednesday event at the Standing Order on Iron Gate will carry on. The next one is on 17th. Come along any time from 7.30pm. Some people choose to eat, some just have a drink. In the short term, Maxine will carry on hosting this. Look for a yellow Mblem on a long table in the rear section of the pub.
On Fri 19th Jan at 7:30pm - At Home
I'm thinking of trying to have an event in each of the 25 DE postcode districts over the next 2 years or so. It would be great to hear your thoughts. The first one will be a relaxed evening at our home in DE7 (Ilkeston), on Friday 19th at 7:30pm. Mark will cook a pot of something with a veggie alternative. We can then chat and perhaps discuss what other events you'd like to see in the DE postcode area. Contact Susan or Mark on [Phone Number] or [Email] if you would like to join us.
On Tue 30th Jan at 7:30pm - Eating meeting
Our roving 'eating meeting' will take place in Castle Donington at 7.30pm on Tuesday 30th. We return to Gandhi Indian restaurant on Borough Street where we've visted several times previously but not recently. We have always received a warm welcome and excellent food. See menu at www.gandhicastle.co.uk and reserve your place with Maxine on [Phone Number] or [Email] by 26th please.
Susan Graves
Contact [Email] or [Phone Number] / [Mobile Number] for details
In Leicestershire
On Mon 15th Jan at 8:00pm - 3MOTM
On Monday 15th January at 8:00 pm we shall banish those post Christmas blues by resuming our usual jolly third Monday gathering at the Cradock Arms, 201 Knighton Road, Leicester, LE2 3TT. I shall be waiting for you in the lower part towards the rear of the bar. Look out for the Magazine. If you need any directions or encouragement, please contact me via phone [Phone Number] or email [Email]
On Sat 27th Jan at 7:00pm - Eating meeting
This month we are meeting at 7:00pm on Saturday 27th for a meal at the Gate Hangs Well (an Everards pub) at Lewin Bridge, Fosse Way in Syston, Leicester, LE7 1NH. We hope you will come and join us but you need to contact Sue ("[Phone Number]) or [Email] by Mon Jan 22nd to let her know you are coming so that she can reserve a place for you.
Lively Lincs
On Sat 13th Jan at 12:00pm - Pub discussion
Our regular second Saturday meeting is on the 13th. Join us in the Adam & Eve Tavern at 25 Lindum Road for a discussion around two related questions: "What is the most useful thing you own? And what is the most useless thing you keep holding on to?" Look for the magazine in the alcove from 12.00 noon. We usually move onto the topic at 12.30 pm. There is food available and the parking is free. For more details, please contact Jacquie on [Phone Number] or [Email]. All welcome.
On Tue 16th Jan at 7:00pm - Opera
Then it's off to Woodhall Spa to the lovely, quirky, and comparatively inexpensive, Kinema in the Woods for a National Opera House Live screening of "Rigoletto"(12A) on Tuesday 16th, meeting in the foyer at 7pm, or earlier in The Mall if people wish to have a drink/coffee/food first. Please contact Jacquie as above asap for more details, so she knows to look out for you.

Notts News
On Fri 5th Jan at 8:00pm - 5OTM
We start the year with a new members event from 8.00pm on Friday 5th in the Goldings Room of the Vat & Fiddle pub on Queensbridge Road (NG2 1NB). Come and find out what you've been missing and suggest some future events. Regular faces are, of course, still welcome. Look for a yellow Mblem on the table on the night or contact Maxine beforehand if needing directions or encouragement to come along. We don't bite!
On Thu 11th Jan at 7:30pm - Natter & Nosh
On Thursday 11th we're at the Cadland on High Road in Chilwell. This is an Ember Inn (menu at www.emberinns.co.uk) and you are welcome to join us for a meal from 7.30pm or later for just a drink. We have tables 20-24 reserved at the far side of the bar and there will be a yellow Mblem on display. There are usually a dozen of us and a good variety of conversation.
On Sun 21st Jan at 2:00pm - Alphabet Event – Y is for Young Mensans
Alphabet Event – Y is for Young Mensans
After a little opinion poll on our East Midlands Mensa Facebook group we're trying an activity afternoon on Sunday 21st aimed at Young Mensans aged 18-35 although anyone interested is welcome to attend. The venue will be Tenpin Nottingham on Clifton Boulevard (NG7 2UW) which has ample free parking. I propose their package of two games of bowling with burger meal for £16 per person (correct at time of writing) with a choice of beef burger, cheese burger, chicken burger or bean burger plus fries. There is also the option to take part in a team game of laser combat if there are enough of us interested which is £6 per game. Plus we can have a game of UK or American pool for £1.50 per person (hopefully with the current Mensa Games pool champion in attendance to show us the ropes!) and/or table tennis for £3 per person or get competitive on the new NAMCO arcade games. Lots of variety plus chance to socialise and have a drink or two if you wish. I suggest booking bowling lanes for 2.00pm so meeting just prior to that and the event can continue as long as you wish. Some of this will need pre-booking so contact Maxine to express interest by 14th latest please.
On Tue 16th Jan at 7:00pm - 3TuOTM
Many thanks to Pete Gault for suggesting and hosting a get together in Newark at the end of November. This was a late notice event advertised on the East Midlands Mensa Facebook page with an email being sent to local members. Despite the wind and rain there was a good turn out and it was a most enjoyable evening. We met at The Ram on Castle Gate. Some ate and some had only a drink but we got through a whole variety of interesting conversations from Mensa to jobs to travel to philosophers. Members swapped contact details to keep in touch and it was decided to try hosting a regular event in Newark and the "3rd Tuesday" seemed to suit the majority. Hence you are invited along to The Ram again from 7.00pm on Tuesday 16th January. We should be sitting on tables to the right as you enter the front door with a yellow Mblem on display. For further information contact Pete on 07885-642430 or petergault @gmail.com or just turn up on the night. All welcome and you can bring a guest.
Ciao for now!
Maxine Bates
Contact [Email] or [Phone Number] for details
In Northampton
On Sun 14th Jan at 10:30am - Breakfast/brunch
Our usual breakfast/brunch meeting will be on Sunday 14 Jan at the Rendezvous Coffee Shop in Market Walk, Northampton Town Centre at 10:30 where we'll be entertained by attendees relating "The silliest thing I ever did was . . . . ." Contact Marianne on [Phone Number] or email: [Email] for extra encouragement.
On Sat 27th Jan at 12:00pm - Game
A new venture! Meet at 24 Connaught St NN1 3BP at noon on Saturday 27 Jan for an "Escape Room" challenge. The cost will depend on how many people come but the maximum would be £28 each (hopefully less!). Parking 5 minutes away. It should last about an hour and there is a suitable hostelry nearby in which to recover. Contact Jo Pogson ([Email]) for more information.
Marianne Kendall
Contact [Email] or [Phone Number] for details

Hertfordshire Happenings
On Thu 4th Jan at 8:00pm - FThOTM
As ever, we are at the Three Magnets, Leys Avenue, Letchworth, so come and join us and banish those post- Christmas blues! Thursday nights are curry nights but other food is available as well. Leys Avenue is the main shopping street in Letchworth and is a few minutes' walk from the station (Kings Cross to Cambridge line). Call me on [Phone Number] for more details and encouragement.
On Fri 26th Jan at 8:00pm - LFOTM
Last Friday is at our usual venue of the Cowper Arms, Digswell. The pub is next to Welwyn North station and is served by stopping trains from Kings Cross to Peterborough and Cambridge. Good food, beer and conversation guaranteed! Please call me on [Phone Number] for more details and encouragement.
Richard Allen
Contact [Email] or [Phone Number] for details

Mensans in MK & Bedford
Look out for a yellow Mblem on the table at our events.
On Sat 6th Jan at 2:00pm - Walk
We start with a walk to blow away any remaining holiday cobwebs. Meet at 2pm on Saturday 6th in the south west car park at the Open University to wander around their sculpture trail. We may finish up with tea or at a pub afterwards. As the OU will only let in small parties on a walk-up basis (larger parties have to pre-book), it's essential you let me know in advance if you plan to come, so that I can contact them or, if necessary, let you know of any alternative arrangements.
On Mon 15th Jan at 8:15pm - 3MOTM & Quiz
Our regular Third Monday visit to the Barge in Woolstone for the quiz is on Monday 15th. Meet from 8.15 - the quiz starts at 8.30pm and costs £1 per person. Please let me know beforehand if you're coming - the maximum team size is 6 people so it helps to know whether we'll be one team or two, or somewhere in between.
On Sun 21st Jan at 10:00am - Sunday breakfast
Sunday breakfast, is Sunday 21st, when we visit Brown's, next to Jury's Inn on Midsummer Boulevard (West), for breakfast. Join us from 10am for a full breakfast, a snack, or just a drink.
Just a reminder about our M-MK & Bedford Facebook group – if you would like to join please search for the group and send me a request. I also keep an email distribution list for meeting reminders and any lastminute changes, so if you would like to be added to this please let me know.
We hope to see as many of you as possible at one or other of our events this month. Do remember that you're welcome to bring a guest with you, so if you've never been to a Mensa event and are a little nervous about coming along on your own, just bring a friend.
And finally, a very happy New Year to all local and regional members. Why not make 2018 the year you start coming along to Mensa get-togethers, if you don't already? Hope to see you soon!
Jo Sidebottom
Contact [Email] or [Phone Number] / [Mobile Number] for details

Mid Bucks
On Fri 5th Jan at 10:30am - Coffee & Cavalry
Meet me at the entrance of Bucks County Museum, Church Street, Aylesbury, HP20 2QP at 10:30am on Friday 5th January to view the centenary exhibition of the Charge of El Mughar. Described as the last British cavalry charge, it involved the Royal Bucks. Hussars, Dorset Yeomanry and Berkshire Yeomanry. Beadle's painting of the famous charge has never previously been exhibited outside London. Dugdale's rendering of the same event is also in the exhibition together with various other related artefacts and images.
Stay afterwards for relaxed conversation, cake and coffee in the Museum café. There is a Christmas Toy Box exhibition and games available to play which may bring back some memories too! For further information, see: http://www.buckscountymuseum.org/museum/events/508/the-last-charge-centenaryexhibition-of-the-charge-at-el-mughar/
On Mon 8th Jan at 8:00pm - Indoor board games
Join Dave and Alison at their home in Flackwell Heath, near High Wycombe, for a relaxed evening of indoor board games. Arrive for an 8pm start on Monday 8th January. Please contact Dave on [Email] or [Phone Number] for directions and to let him know which games you would like to play.
On Sat 27th Jan at 5:45pm - Tosca
Puccini's thrilling opera Tosca is a story of love, terror, the abuse of power, and the unquenchable longing for freedom. This live HD broadcast from the New York MET starts at 5:45pm on Saturday 27th January in the Cineworld Cinema in the Eden Centre, High Wycombe. Tickets (adults £2100, some concessions) are available at: https://www.cineworld.co.uk/films/met-opera-2018-tosca#/buy-tickets-by-film?in-cinema=8061&at=2018-01-27&for-movie=ho00004724&view-mode=list Please buy your own tickets for the cinema, but let me know you are coming so we can look out for you. If you would like to eat with us before the performance, please contact me a week or so ahead to decide where to go.
For further details or encouragement contact me on [Phone Number] or e-mail me at [Email]
Val Hinkins
Contact [Email] or [Phone Number] for details
Les Hurst - Brain Of Mensa 2017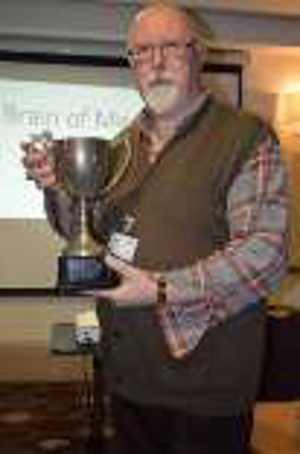 Congratulations to Les Hurst of Derbyshire on winning the Brain Of Mensa 2017 title at the games weekend in Birmingham at the end of October
Jack Piggott – 1938-2017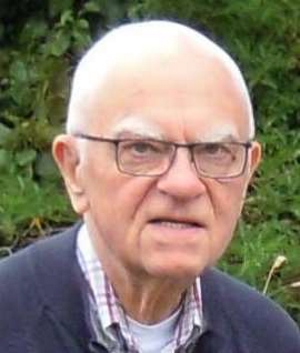 Milton Keynes members were saddened to hear of the death of local member and friend Jack Piggott at the end of October. His health had been declining in recent years but most of us had no idea that his prostate cancer had returned until he finally succumbed to it.
Jack was a fascinating character. Born in Australia, he arrived in England in the early 1960s to take up a position as teacher to the deaf at a school in Margate. At the end of his contract he returned home, but missed the UK and secured another post in the new Stantonbury Campus in Milton Keynes. An intensely private man, he needed a bolthole away from the campus, and bought a cottage in a nearby village. Over the years he became a popular resident and worshipper at the local church, and the village community took him to their hearts as his surrogate family.
He preferred some of our Mensa get-togethers to others, and was a regular attender at our quarterly T@3 gatherings. He was also partial to ten-pin bowling and enjoyed our occasional outings to the local bowling alley, as well as being an enthusiastic participant in our one geocaching expedition. Despite being very private, Jack was a ready and interesting conversationalist and often reminisced about his life in great detail. We knew he was prone to depression, although didn't witness this as he probably avoided company during his worst episodes. He had an unfortunate habit of looking quite stern in photos, although he wasn't at all in real life.
As his health failed, Jack left his cottage and moved into a retirement complex where he quickly made a whole set of new friends. He continued to come along to T@3 when he could. It was moving to see the church packed for his funeral with friends from all walks of his life – in particular many of his ex-students, for whom the service was interpreted in sign language. We will miss him very much.
Safe Driving SIG
The main purpose of this SIG is to support Mensa members with regard to driving safety issues and anything else related to driving. The focus is to reduce crashes and driving incidents (e.g. road rage) among Mensa members; giving advice on driver training; guidance on reducing driving costs; sharing driving experiences; giving tips on driving safely; list resources relating to driver safety and provide a forum where drivers can discuss anything related to driving and road safety. The newsletter contains advice on driving, articles from members, resources for driver training, and articles from trainers and professional drivers. Activities such as drive outs, road safety seminars, training days and meetings could be organised. Regular meetings could be arranged where members can get and give advice on driving concerns. The SIG welcomes professional drivers, occasional drivers, driving instructors/trainers, young drivers, older drivers, experienced or inexperienced drivers, learner drivers and drivers of any class of vehicle. All are welcome to share their experiences, knowledge and services. Mensan drivers helping other Mensa members with their driving concerns, enabling their driving experiences to be positive and pleasurable. Just like the good old days.
Hire an autonomous car soon?
Self driving cars are changing the face of driving, but they could change our buying habits too. In congested cities like London, few people use their cars, for a long time they have used a taxi, a bus or the underground or over-ground railways. Now comes along Uber where you can order up a car to arrive and function as a taxi – with online ordering apps and tracking exactly where it is – and someone else driving it! So could you order a self driving car from a parking place (where it sits charging its batteries ready for your call) to come to your current position for travel anywhere – so you no longer need to own a car, which currently would be taking up street space parking for 20-24 hours a day? It already works when you fly or train on a holiday, but you have to go to the car hire place, and deliver it back to them or a depot, or pay a fee to drop it somewhere. You can currently order a driver to bring the car to you, or collect it back – at a fee! But taking this to the limit, you don't need a licence for an autonomous car, and you can order it online to come to you, so you can read, work or sleep in the car both going and coming! The car can be the most comfortable mobile bed, if you are working away from home you could even sleep in it overnight? In the past I have flown to the UK, hired a camper van and had my transport and my sleeping quarters in one, wouldn't it be great to not have to drive in foreign traffic, not to drive on the wrong side of the road – and it be very, very safe? And it doesn't have to park at your house, when you don't need it - it wanders off to find a parking place with a charging point - and it may never come back to you, being used by someone else who calls it online! BUT what will it do to manufacturers who need to sell cars for the 0-4 hours a day – not one in every suburban driveway or street parking place? If it is luxurious enough, what will it do to the hotel trade? What will it do to the urban rat run – no parked cars to squeeze past? Any thoughts on NOT buying, but HIRING your car in 5, 10 or 20 years?
Paul Ross, Safe Driving SIG Sec, [Email]
20 Questions (No. 195)
The answers to the Scottish quiz in the November issue were Aberdeen, Ricky Ross, John Napier, St Mirren, 25th January, Kirkwall, Loch Ness, Stonehaven, James, Cairngorms, Mac, Jack Vettriano, Tay, Edinburgh Castle, England, provost, Iona, raspberry, Inverness and Skye. Congratulations to Roger Plant of Nottingham who wins the £10 book token – again!
All the answers this month contain a number. Send your entries to arrive by 20th January to '20 Questions (No. 195)', [Address] or maxine@marubaevents. com not forgetting to include your name and address.
1. Californian gold rush prospectors
2. Seconds in a day
3. Nautical Jerome K Jerome book
4. Short sleep
5. Neil Armstrong's transport to the moon
6. Film featuring the Trevi monument
7. Dirt cheap
8. Fictional detective's address
9. Passepartout travelled this
10. Punishment weapon
11. Deceitful
12. Song about coloured glassware
13. Official residence of the US President
14. Good luck charm
15. Yul Bryner led these
16. Books in the Bible
17. TV series starring Lee Majors
18. Ducks in bingo
19. The Duke Of York's army
20. A gross multiplied by a score