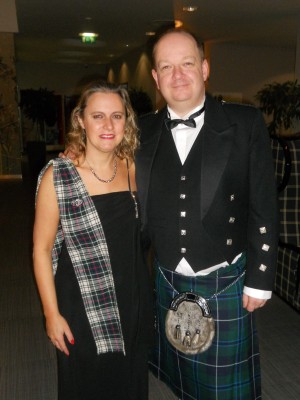 Burns Night East Midlands Style
Regional News
As I write we are experiencing the best winter I can remember for a long time. No snow and ice and only the occasional frost. However, we're not quite out of the winter season yet and did have unexpected snow at the end of March last year. So please do check with the host if there is any possibility their event may be cancelled due to the weather. On the bright side spring does arrive this month so if you have suggestions for nice walking routes or other outdoor activities please contact your Local Secretary.
Don't forget we are still seeking volunteers to look after the DE, LU and NN postcode areas. This can involve as much or as little time and effort as you wish. If you don't want an official role you are very welcome to host an occasional event anywhere in our region. Just contact myself or your Local Secretary for help and support.
I'm on [Phone Number] or [Email] and would be happy to hear from you.
Maxine Bates
Regional Officer
Events and Meetings
In the current circumstances surrounding the COVID-19 coronavirus, the expectation is that all events listed here are likely to be cancelled, if not already marked as such. If you intend participating in any event listed here, please contact the event organiser beforehand to confirm that the event is still on.

Mid Bucks
On Tue 11th Mar at 10.30am - Coffee morning
No need to book, just join me from 10.30am onwards on Tuesday 11th for a morning of informal conversation and coffee. This month we are trying out a new venue, The Lido on The Rye in High Wycombe, HP11 1QX. Approached from the A40 via Bassetsbury Lane, this café does a range of food and a very good cappuccino. There is a public car park right outside, parking charges apply. Alternatively it is a pleasant walk along Easton Street past Pann Mill and across the Rye from the centre of High Wycombe. For information on the venue see http://www.fusion-lifestyle.com/centres/Wycombe_Rye_Lido/facility/Cafe. The outdoor swimming pool may be open by March, so bring your costume if you fancy a dip. I'll watch from the warmth of the café!
On Sat 29th Mar at 11.00am - Meseum visit
Aylesbury Museum, Church Street, Aylesbury, HP20 2QP, has a free exhibition on Ancient Egypt promising jewellery, statuettes and mummified animals. Meet me in the Museum entrance at 11.00am on Saturday 29th and we will explore what they have to show us. Afterwards we will go for a meal at the Greek Taverna, 23a Walton Street, Aylesbury. See http://greek-taverna.co.uk/ for menu details and map. If you don't fancy the exhibition, please join us at the restaurant by 12.45 for lunch. I will need to book a table, so let me know by Monday 24th if you want to eat with us.
Val Hinkins
Contact [Email] or [Phone Number] for details

Lively Lincs
On Sat 8th Mar at 12:00pm - Pub discussion
On Saturday 8th our pub discussion in part follows on from last month's consideration of ethical behaviour, this time the topic is 'Justice v Truth'. If that interests you, do join us at the Adam and Eve on Lindum Hill from about 12ish. Doubtless some of us will still be there well past 2. Pub lunches and free car park are available.
On Tue 18th Mar at 7.00pm - Eating meeting
Our midweek eating meetings continue with another visit to one of our favourite haunts, La Trattoria on West Parade, Lincoln, on Tuesday 18th at 7.00pm. All very welcome but please do book with me by 15th.
On Sun 23rd Mar at 3.00pm - Teatime Thinking
Teatime Thinking at my house near Alford on Sunday 23rd, 3.00-5.00pm, will encompass more cerebral journeying, this time to Scandinavia. No woolly hats required, plenty of tea and cake available to sustain us on our mental travels.
Please email for details, directions, encouragement, etc.
Christine Howells
Contact [Email] for details

Mensans in MK & Bedford
On Sat 8th Mar at 3:00pm - T@3
Our first get-together this month is T@3 at Dobbie's Garden Centre restaurant on Saturday 8th. Dobbie's is in Fenny Stratford, just south of Milton Keynes. We will probably be in the conservatory out behind the restaurant, so look for the Mblem on a table.
On Mon 17th Mar at 8.30pm - 3MOTM
On Monday 17th we continue our Third Monday of the Month quiz meetings at The Barge at Woolstone. We meet from 8.30pm in time for the quiz at 9.00pm – cost is £1 per person. See www.vintageinn.co.uk/thebargewoolstone/ for location and, if possible, let me know beforehand if you're coming so we can reserve a big enough table.
On Sun 30th Mar at 10.30am - Sunday breakfast
Finally, please join us for breakfast at 10.30am on Sunday 30th at Wetherspoons on Midsummer Boulevard West, next to Chiquito's and not far up from the railway station (NOT the other Lloyds/Wetherspoons nearer the shopping centre and next to Jurys Inn). Come for a full breakfast, a snack, or just a drink – look for the Mblem on a table.
Just a reminder about our M-MK & Bedford Facebook group – if you would like to join please search for the group and send me a request. I also keep an email distribution list for meeting reminders and any last-minute changes, so if you would like to be added to this please let me know.
We hope to see as many of you as possible at one or other of our events in March. Do remember that you're welcome to bring a guest with you, so if you've never been to a Mensa event and are a little nervous about coming along on your own, just bring a friend.
Jo Sidebottom
Contact [Email] or [Phone Number] / [Mobile Number] for details

Hertfordshire Happenings
On Thu 6th Mar at 8.15pm - FThOTM
Thursday 6th from 8.15pm. FThOTM. Celebrate the arrival of spring! As ever, we're at the Millstream, Cambridge Road, Hitchin. Good food and good beer both available! Call me for more details and encouragement. The pub is about ten minutes' walk from the railway station.
On Fri 28th Mar at 8.00pm - LFOTM
Friday 28th from 8.00pm. As well as Last Friday of March, it's the last Friday before the clocks go forward! We'll be at the Cowper Arms, Digswell, Herts (by Welwyn North station). Call me for more details and encouragement. The pub is next to the railway station, which is served by stopping trains from Kings Cross to Cambridge and Peterborough.
Richard Allen
Contact [Email] or [Phone Number] for details
On Sat 1st Mar at 2.00pm - Walk
Saturday 1st at 2.00pm: Watton-at-Stone Snowdrop Walk - it's a bit early to tiptoe through the tulips, so we'll stroll around the snowdrops instead. Join us at Benington Lordship, renowned for its winter flowers for a gentle meander. See http://www.beningtonlordship.co.uk for more details about the property. Why not join us for our pancakes afterwards?
On Sat 1st Mar at 6.00pm - Pancake Party
Saturday 1st at 6.00pm: Welwyn Pancake Party - Ash Wednesday is almost upon us, so Lent's celebrate with a bang. We'll make the pancakes - you bring something sweet or savoury to put on them and we'll have a scrummy Saturday instead of a Mardi Gras.
Rowena Love and Mark Lawrence
Contact [Email] or [Mobile Number] for details
More or Leicester
On Wed 12th Mar at 8:00pm - Celtic Dinner
Spring is in the air; a time for celebration and enjoyment! We'll start off our month by celebrating both St David's and St Patrick's days with a leek pie* and Guinness** at the "Corn Exchange" Wetherspoons restaurant (http://tinyurl.com/CelticDinner) in the Market Place in Leicester on Wed 12th at 8:00pm. (*Possibly, if they sell it. **Definitely!)
On Thu 27th Mar at 8:00pm - 4ThOTM
which leads us nicely onto.
Thursday 27th, we'll be at our usual venue – The Craddock – for our usual FTotM get together at the usual time – 8:00pm. I note that this date is "World Theatre Day"
Joyce Moore is helping to put on The Barber of Seville at The Concordia Theatre in Hinckley from 4-12th April. This is the first time a Rossini opera has been staged there, and the maximum ticket price is only £12. For more details / booking info / etc., call or email Joyce Moore on [Phone Number] or [Email]
For any more information regarding the above, please feel free to call/email me on [Phone Number] or [Email]
Paul Coulson

Notts News
On Wed 5th Mar at 8.00pm - 5OTM
As usual on Wednesday 5th we'll be having a get together at the Vat & Fiddle pub on Queensbridge Road in Nottingham city centre. Although central there is free parking right outside and the pub is also close to Nottingham railway station and Broad Marsh bus station. Come along any time from 8.00pm for an alcoholic or non-alcoholic drink and chat. The conversation will depend on you and could be silly chit chat or serious debate. A yellow Mblem will be on display, usually in the Golding's Room to left of the bar.
On Mon 17th Mar at 7.30pm - Irish themed evening
Monday 17th is St Patrick's Day so Michael Rich has kindly offered to host an Irish themed evening from 7.30pm at his home in Stapleford. There will be food (possibly Irish stew and colcannon) and music and a quiz and you are invited to wear green! Please contact Michael on [Phone Number] or [Email] for directions and to say you'll be there to help our catering.
On Sat 29th Mar at 7.00pm - Supper and quiz night
On Saturday 29th I'm hosting a supper and quiz night at Strelley Hall (NG8 6PE). Originally built as a castle circa 1200 AD it was significantly modified in the 19th century and is now a listed building used as a conference centre and wedding venue. The owners are very kindly letting me use their Georgian Panelled Room for free as this will be a charity event raising money for Cancer Research UK. Tickets cost £7 and include baked potatoes with various toppings and salad plus gateaux with cream served from 7.00pm followed by a general knowledge quiz starting at 8.30pm. Play individually or in a team of up to four people. Prize for the winner(s). There is no bar so bring whatever you wish to drink and glasses will be provided. The evening will end no later than 11.00pm. Please contact me to purchase tickets on a first come first served basis as the room is limited to a maximum capacity of 50 people. There is ample parking at this lovely venue.
Ciao for now!
Maxine Bates
Contact [Email] or [Phone Number] for details
Derby Diary
On Wed 19th Mar at 7.30pm - 3WOTM
Our first of two visits this month to the Standing Order takes place from 7.30pm on Wednesday 19th. Join us in the low-ceiling section at the rear of the pub for a meal or just a drink at any time during the evening. There will no doubt be interesting conversation too. It's been nice to see new faces over the last few months at this well-attended event.
On Tue 25th Mar at 7.30pm - Eating meeting
Zing Vaa Chinese restaurant on Burton Road in Littleover comes highly recommended and has all excellent reviews on Tripadvisor so we're going to try it for ourselves at 7.30pm on Tuesday 25th. They have an 'eat as much as you like' offer for £14.90, all freshly made and served to the table, or select from their a la carte menu at www.zingvaa.com. Please book your place with me by 21st so I can reserve a table.
On Sat 29th Mar at 10.30am - Treasure trail and lunch
On Saturday 29th we have not one but two events in the city centre and you are welcome to do one or both. Meet outside Derby Cathedral on Irongate at 10.30am to begin a treasure trail. The route is approx. 2 miles and suitable for wheelchairs and pushchairs. In the process of solving 22 clues you'll get a little exercise and learn some unusual and historical facts about the city. This is a professionally set treasure trail which I enjoyed whilst testing it myself. Please do phone in case of heavy rain though as this event may need to be postponed. The trail should take around 2 hours to complete and when finished please hand your answers to me in the Standing Order (Wetherspoon) on Irongate where you are welcome to stay for lunch or a coffee whilst marking takes place and prizes awarded. I realise this will be our second visit to the Standing Order this month but it is very near the end of the treasure trail and guests can arrive at varying times with no problem unlike trying to book a restaurant with the need to be seated together. Both these events are ideally suited to younger as well as older members so why not bring the family? An idea of numbers would be helpful so we have enough treasure trail packs and prizes.
Maxine Bates
Contact [Email] or [Phone Number] for details

Berkhamsted
On Thu 27th Mar at 7:45pm - LThOTM
Thursday 27th: Our regular meeting at The Old Mill, London Rd Berkhamsted. Have a drink or eat with us. Pub does good meals. New members, partners etc. always welcome. Free Car Parking.
Jenny Habib
Contact [Email] or [Phone Number] for details
Editor's Bit at the Bottom
There are so very many events going on in March that I hope you find some just right for you. Enjoy!
And then send me a photo for the newsletter!
Rosie Jefferson
Border Patrol
Highlighting meetings not in the East Midlands area but perhaps sufficiently close to be of interest:
Saturday 15th at 12.00 noon. White Horse, Hatfield Heath, (On A1060, near Harlow, Bishops Stortford, CM22 7EB, 01279-730-351). Come and join us at this very pleasant rural venue, for Saturday Lunch. Please ring me to plan numbers. Anthony Robin 01206-571-910 [Email]
Burns Supper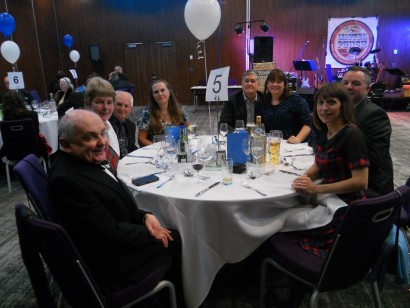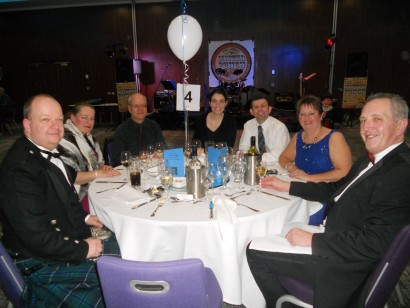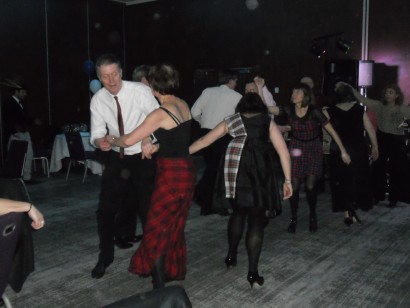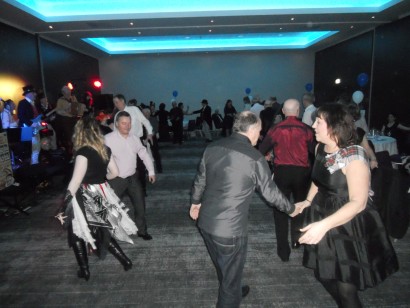 As Burns Night (25th January) fell on a Saturday this year's regional event was the grand affair of a Burns Supper to honour Scotland's most famous poet, Mr Robert Burns. Wanting a venue with easy access from the motorway and a large function room for dancing my obvious choice was the Radisson Blu Hotel at East Midlands Airport. Especially as I have many dealings with this hotel in my professional life and am constantly amazed by the efficiency and helpfulness of all their staff. As a customer this four star hotel did not disappoint.
Having booked a ceilidh band nearly a year ago I was alarmed when their leader suffered a fractured shoulder and was no longer able to play the accordion so unfortunately had to cancel our booking. Would I find another ceilidh band available on Burns Night so near to the event? Eek! I need not have worried as, after much research and enquiries, I had a choice of bands and opted for Lonely Mister Punch. This 12 piece band came with various costumed musicians, a host of dance demonstrators and their very own 'Mr Punch' mascot, who for our event carried his own bottle of whisky!
From 6.00pm guests started arriving for our Burns Supper and the bar was soon awash with tartan in the form of kilts, dresses, sashes and ties. Although the hotel did not appear to be busy beyond our own party they had set up a special wine and whisky bar in the lobby of the function rooms to avoid any queue at the main bar. I enjoyed 'meeting and greeting' as so many attendees I had not previously met. It was great to see so many new faces of all ages. By 7.30pm everyone was seated and the Burns Supper began.
After a short welcome Annabel McLeod - our token Scot as far as I'm aware - gave the 'Selkirk Grace' and the first course was served. For many it was the first tasting of cullen skink, a smoked haddock based soup. Next was the parade of the haggis with the chef carrying a silver salver covered with tartan on which this Scottish delicacy lay followed by David Bolton who gave the traditional 'Address To A Haggis' before plunging a dagger into the offal! We then dined on plates of well-presented haggis, neeps and tatties. An excellent 'Immortal Memory Of Robert Burns' was given by Andrew Young ahead of the main course of beef tenderloin in a drambuie sauce. The other traditions of a Burns Supper are the 'Toast To The Lassies' and 'Reply From The Lassies'. These were given by Mark Graves and Susan Luke and raised a few chuckles. Yet more food arrived in the form of cranachan, a desert containing oats, raspberries, whisky and cream. It was then pointed out that the scrolls that formed part of the table centrepieces were in fact more than décor. Guests were instructed to open the blue ribbons to reveal the words to 'Auld Lang Syne' so they could join in the singing to the accompaniment of the accordion.
As coffee and shortbread were served the dancing began. This started simply with the 'Gay Gordons' and finished over two hours later with the more complicated 'Strip the Willow'. I was delighted that so many people danced most of the evening - especially after so much food! - and with a 50:50 male:female split plus several dance demonstrators nobody was ever short of a partner. Many of the dances were progressive so we got to meet each other in a short space of time. At midnight everyone took to the floor for one last linking of arms and singing of 'Auld Lang Syne' including the waiting staff and band who I think enjoyed the event as much as us!
Although this was an East Midlands event we were pleased to welcome guests from as far as Lancashire, Reading, London, Cambridge and even Cyprus. I've received so many messages of thanks including:
"Wonderful food and great dancing."
"Absolutely wonderful evening."
"Great fun – but far too much food!"
"Excellent Burns Night – more please!"
If you weren't there you missed out on a great night of dining and dancing.
20 Questions (No. ***)
The answers to the January competition were Harry Champion, Fe, Eustache Dauger, carbon, Birmingham, anaemia, Mercury, 1975, fool's gold, Shane Black, Shropshire, John, Arthur Wellesley (1st Duke of Wellington), rust, Bronze Age, Scunthorpe United, Edinburgh, 1538, 2.4 miles and Virtutis Fortuna Comes. Just four entries from Pamela Covey of Woburn, Lynn Faulkner of Nottingham, Alex Foster of Derby and Roger Plant of Nottingham with Roger winning the £10 book token.
This month we celebrate St Patrick's Day so have an Irish themed quiz. Send your answers to arrive by 20th March either by email to [Email] or post to '20 Questions (No. 150)', [Address]. Don't forget to include your name and address so we know where to send the prize if you win!
1. Which Irish city is known as the 'city of the tribes'?
2. The battle of Boyne took place in which year?
3. Ha'penny Bridge crosses which Irish river?
4. Which Irish city's name translates from Irish Gaelic to English as 'dark pool'?
5. Irish musician James Galway is famous for playing which instrument?
6. Which instrument is portrayed on the Guinness logo?
7. Saint Patrick is said to have chased what type of creature out of Ireland?
8. In which building is the Book of Kells displayed?
9. What are the two main ingredients of colcannon?
10. In which year did the Irish potato famine begin?
11. Who choreographed the original Riverdance?
12. Which TV series was filmed in the Irish village of Avoca?
13. In which bay can you swim with Fungie the dolphin?
14. The Cliffs of Moher are situated in which Irish county?
15. Which Irish novelist wrote 'Waiting for Godot'?
16. Bono and The Edge from U2 bought which hotel in Dublin?
17. The Irish bodhran is a type of what?
18. According to the song what did Molly Malone sell?
19. The Rotunda in Dublin is what type of hospital?
20. Which distillery produces the most Irish whiskey?