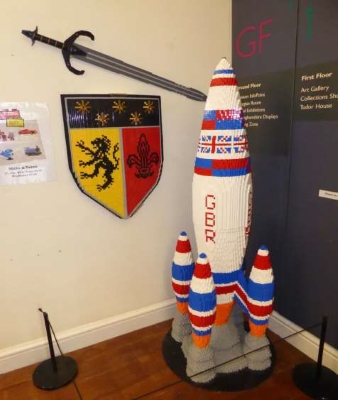 Bricking it.
Regional News
The Mensa Music Weekend this year takes place in our region at the Uppingham School in Rutland, 16th-19th August. They are looking for instrumentalists and singers but particularly anyone who can play the viola, cello or bassoon. You are welcome to attend the whole weekend or as a day guest. For further info please contact organiser Judy on 07468 084048 or jcasselden@hotmail.com. Local members are also welcome to come along on the Saturday evening for a BBQ and some socialising. The cost is £12 per person and includes a selection of burgers, sausages, chicken drumsticks and salads. The meal needs to be booked by 31st July. Contact Diane at the Mensa office on 01902 772771 or diane@mensa.org.uk during office hours.
Will you be attending the British Mensa Annual Gathering that takes place in Plymouth 5th-8th October? There will be a coach trip to the Eden Project, walks on Dartmoor, visits to gin distilleries, bowling on Plymouth Hoe, a gala dinner and more. See www.mensa.org.uk for details. Don't forget you can join our East Midlands Mensa Facebook group to arrange car shares, etc.
As ever, I'm available on [Phone Number] or [Email] and happy to hear from you.
Maxine Bates
Regional Officer
Editorial
Welcome to the August edition of Empress. At time of writing the country is enjoying a bit of a heatwave. Hopefully this lovely weather is continuing into the month of August. Being a bit of a LEGO fan, I'm hoping to join other members visiting "Civilisations" LEGO exhibition at the County Museum in Aylesbury on the August Bank Holiday. For more details, see the Mid Bucks section of the Regional Events. The cover photo was taken at last year's Bricks Britannia Civilisations exhibition.
Mark Sloan
In Leicestershire
On Mon 20th Aug at 8:00pm - Pub Social
Join us for our usual convivial third Monday of the Month gathering at the Cradock Arms, 201 Knighton Road, Leicester, LE2 3TT. We usually gather in the lower part towards the rear of the bar. Look out for the magazine or Mblem. For directions or encouragement please contact me on [Phone Number] or by email at [Email].
Lively Lincs
On Sat 11th Aug at 12:00pm - Pub discussion
Our regular second Saturday meeting. Join us in the alcove of the Adam and Eve, 25 Lindum Road (at bend of hill) for a discussion around "What are the limits of government?" All welcome. Contact Jacquie on [Phone Number] or [Email]. for more details.
On Fri 17th Aug at 1:30pm - Walled Garden
First visit to the Walled Garden, clearly signposted off A158 one mile west of Baumber, for tea and cakes followed by an exploration of the garden. Please contact Jacquie for more details on [Phone Number] or [Email] .
Jacquie Harrison
Contact [Email] or [Phone Number] / [Mobile Number] for details

Notts News
On Sun 5th Aug at 8:00pm - 5OTM
Round off the weekend with a relaxing drink and chat at the Vat & Fiddle pub on Queensbridge Road (NG2 1NB). New faces always welcome. Look for yellow Mblem on table or contact Maxine on [Phone Number] or [Email] beforehand if needing directions or encouragement to come along.
On Thu 9th Aug at 7:30pm - Natter & Nosh
Join us for a meal or later for just a drink at The Cadland, High Road, Chilwell (NG9 5EG). Choose from pub classics, burgers, pasta, salads, light bites or a discounted 2 or 3 course evening menu. We have a large table reserved at the far side of the bar. Look for yellow Mblem on it. Contact Maxine on [Phone Number] or [Email] or just turn up on the night.
On Sat 18th Aug at 12:00pm - Historic Pub Crawl
A stroll around the city centre visiting some of the oldest hostelries such as Trip To Jerusalem, Royal Children, Salutation Inn and more with a little sightseeing along the way. Starting with lunch in the Bell Inn off Market Square. Please express interest with Maxine on [Phone Number] or [Email] so that a table can be reserved.
On Tue 21st Aug at 7:00pm - 3TuOTM
Our "3rd Tuesday" falls as late as possible this month and we're trying a new venue. Join us for food and/or drink at The Prince Rupert, 46 Stodman Street, Newark, NG24 1AW. An historic pub with a good menu, real ale and fine wines. Look for Mensa sign on the table. For directions or encouragement to come along contact Pete on [Phone Number] or [Email]. New faces always welcome!
On Tue 28th Aug at 7:30pm - Eating Meeting
We're visiting the only Nepalese restaurant in Nottingham. Gurkha Kitchen, Glaisdale Drive West, Wollaton, NG8 4GY. See menu at www.gurkhakitchen.org.uk and reserve your place with Maxine on [Phone Number] or [Email] by 24th. Ample free parking. New faces welcome!
Ciao for now!
Maxine Bates
Contact [Email] or [Phone Number] for details
News from Northampton
On Sun 12th Aug at 10:30am - Brunch
Join us for breakfast/brunch at 10:30 on Sunday 12 August at the Rendezvous Coffee Shop in Market Walk, Northampton Town Centre. After Pete's usual quiz we'll nominate our favourite historical figure that we wish would be there with us. Contact Marianne [Phone Number] or email: [Email] for encouragement or ideas.
On Sun 19th Aug at 2:00pm - Museum visit
Relive the old fashioned way of travelling at 2 p.m. at the Rushden Transport Museum, Station Approach, Rushden NN10 0AW. Entry is free with refreshments, parking and even a Smelly Trail! There are afternoon teas on offer plus maybe a train ride. Shopaholics can later mosie on down to the new Rushden Lakes Retail and Leisure area. Contact Marianne as above for more info.

Hertfordshire Happenings
On Thu 2nd Aug at 8:00pm - FThOTM
As ever, we are at the Three Magnets, Leys Avenue, Letchworth! Thursday nights are curry nights but other food (standard Wetherspoons' fare) is available as well. Leys Avenue is the main shopping street in Letchworth and is a few minutes' walk from the station (Kings Cross to Cambridge line). Call me on [Phone Number] for more details and encouragement.
On Fri 31st Aug at 8:00pm - LFOTM
As ever, we are at the Cowper Arms, Digswell. It's almost the end of summer but life still goes on! The pub is next to Welwyn North station and is served by stopping trains from Kings Cross to Peterborough and Cambridge. Good food, beer and conversation guaranteed! Please call me on [Phone Number] for more details and encouragement.
Richard Allen
Contact [Email] or [Phone Number] for details

Mensans in MK & Bedford
On Sun 5th Aug at 10:00am - Breakfast
Join us at Carluccio's in the Centre:MK from 10am for a full breakfast, a snack, or just a drink. Look out for the Mblem, probably in one of the red booths outside. Contact Jo at [Email], or [Phone Number] / [Phone Number] for directions/encouragement.
On Mon 20th Aug at 8:15pm - 3MotM Quiz
Our monthly quiz outing to The Barge at Woolstone. Meet from 8.15 for a 8.30pm start - cost is £1 per person. Please let me know if you are coming so I know if we will be one team or two. Contact Jo at [Email], or [Phone Number] / [Phone Number] for directions/encouragement.
On Wed 22nd Aug at 6:00pm - Lakeside walk
Meet in the Kam Tong Garden restaurant car park in Great Holm for a stroll round Lodge Lake. Contact Jo at [Email], or [Phone Number] / [Phone Number] for directions/encouragement.
On Wed 22nd Aug at 7:30pm - Chinese meal
Post-walk meal at Kam Tong Garden. Please let me know by Mon 20th if you are coming so I can book a table. Contact Jo at [Email], or [Phone Number] / [Phone Number] for directions/encouragement.
Just a reminder about our M-MK & Bedford Facebook group – if you would like to join please search for the group and send me a request. I also keep an email distribution list for meeting reminders and any last-minute changes, so if you would like to be added to this please let me know.
We hope to see as many of you as possible at one or other of our events this month. Do remember that you're welcome to bring a guest with you, so if you've never been to a Mensa event and are a little nervous about coming along on your own, just bring a friend.
Jo Sidebottom
Contact [Email] or [Phone Number] / [Mobile Number] for details

Mid Bucks
On Tue 7th Aug at 8:00pm - Indoor Games
Join Dave and Alison at their home in Flackwell Heath, near High Wycombe, for a relaxed evening of indoor board games. All members and friends welcome. Space is limited, so please contact Dave for directions and to discuss what games you would like to play on [Phone Number] or by e-mail at [Email]
On Wed 15th Aug at 12:00pm - Lunch
Join Helen and Travel Sig members for lunch at the Akeman Inn before visiting Wotton House and gardens. Located on the A41 at Kingswood, HP18 0QJ between Bicester and Aylesbury, the inn has a good car park and is easy to find. For menus and further details see: http://www.akemaninnkingswood.co.uk/ Please book with Helen on 07581717294 or at hsmatthews@btopenworld.com by 7th August.
On Wed 15th Aug at 2:00pm - Wotton House & Gardens
After lunch visit Wotton House & gardens at Wotton Underwood – a ten minute drive from the Akeman Inn. We will have a tour of the grounds landscaped by Capability Brown followed by a short tour of the house and a cup of tea. Entrance fee £10 per person – pay in cash on the day. Please book with Helen on 07581717294 or at hsmatthews@btopenworld.com by 7th August.
On Mon 27th Aug at 11:30am - Lego exhibition!
Come to Bucks County Museum to see ancient and modern civilisations depicted in stunning Lego models. Life size characters include Aztec and Samurai warriors – pose for a selfie with one! There will also be dioramas, including Easter Island heads, Machu Pichu and a model of St Basil's cathedral. Small admission charge. For further details or encouragement contact me on [Phone Number] or e-mail me at [Email]
On Mon 27th Aug at 1:00pm - Italian Lunch
After the exhibition we will adjourn to Prezzo on Buckingham Street, an Italian restaurant a short walk from the Museum. Menus and more information at https://www.prezzorestaurants.co.uk/restaurant/aylesbury/ Please let me know you are coming by Monday 20th August so that I can book us a table – telephone [Phone Number] or e-mail me at [Email]
On Fri 31st Aug at 10:30am - Coffee & Chat
Come and try Costa upstairs at the Next superstore on Crest Road in Cressex by junction 4 of the M40, HP11 1UA. Join me there for coffee. Free parking right outside. No need to book, but if you want to let me know you are coming phone [Phone Number] or e-mail me at [Email]
For further details or encouragement contact me on [Phone Number] or e-mail me at [Email]
Val Hinkins
Contact [Email] or [Phone Number] for details

Derby Diary
On Sat 11th Aug at 3:00pm - Open house
Come as early as you like, leave as late as you like up to 10:30pm. Tea/coffee/soft drinks and cakes provided around 4pm. Play board games, boules, table tennis or just gossip. PAYG evening takeaway or pizzas. BYOB alcohol or specific soft drinks. Ring [Phone Number] for directions to us in Mackworth (DE22), to make sure we get enough cake and advise any dietary requirements.
On Wed 15th Aug at 7:30pm - 3WOTM
We'll be on a long table in the rear section of the Standing Order (Wetherspoon) pub on Iron Gate. Look for the yellow Mblem. Drop in briefly or stay all evening for food and/or drink and chat. Contact Susan on [Phone Number] or [Email] for directions, encouragement and if you would like us to look out for you.
Susan Graves
Contact [Email] or [Phone Number] / [Mobile Number] for details
On Target…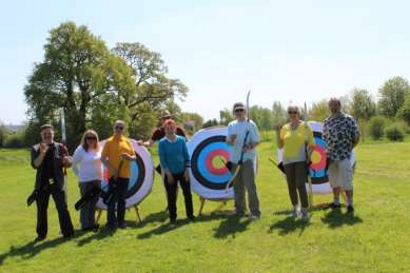 On the 5th May 2018 the Northampton group organised a Duston Bowmen Archery Have-a- Go Session. It's an end of session photo with all the members who went in it.
Soaring Above Warwickshire

Sometime around March/April of 2017 an e-mail arrived from Mensa HQ offering places on an event being organised by the West Midlands region. As it was something that has been on my wish list for many years I put my application in; however I was unsuccessful as it was oversubscribed. Such was the level of interest though that a number of additional events were quickly arranged and I got a place on a date that coincided with a week off work. That day came and on the afternoon of 20th July I drove from Northampton over to Stratford-upon-Avon Gliding Club. By coincidence another Northants member, Jo Pogson, was also amongst the dozen or so people booked for this date.
We split up into two groups and were taken over to the gliders for an introduction to the aircraft: how to get in and out, how the controls worked, how to release the canopy, how to put on the parachute – and how to use it in an emergency. Then it was back to stand next to the control cabin to wait our turn whilst two gliders were positioned on the launch area.
When the first volunteer was called there seemed to be reluctance amongst the group to go first so Jo stepped forward and was taken over to her glider. There was a similar reluctance for the second call so I bagged that spot and was introduced to my pilot. This was to be a winch launch, with the winch out of sight on the far side of the airfield and two long cables trailing across the grass. The first cable was attached to Jo's glider and when all the safety checks had been carried out it was time to go. The slack in the cable was taken up then glider began to move, rapidly gaining speed until after just a few seconds it was airborne. The winch carried on winding until the glider was at a significant height then the cable was released; its fall back to earth controlled by a small parachute.
The other cable was attached to my glider and... we're off! The take-off was unlike any other aircraft I've been in, but not in any way disconcerting. The cable was released and we were in free flight. In the preceding weeks I'd tried to imagine what unpowered flight was going to be like and I'm pleased to be able to say that it was pretty much how I'd anticipated. As I was in the front seat, with the pilot behind, I had a great view. During the briefing the controls had been explained to us, with the possibility of taking over from the pilot for a short while. I'd forgone that in favour of taking some photos, so it was time to get the camera out.
While the pilot carried out several gentle turns he described what we could see: Stratford-upon-Avon, Coventry, Shropshire, the Malvern Hills and Black Mountains. All too soon my time was up. We came back over the airfield and circled round, coming in over the trees to the landing zone. It seemed a bit fast but the air brakes slowed us down significantly just before touchdown. At the far end of the field the glider was attached to a tractor to be towed back to the take off area. As the wheels on a glider are in line it will topple over at walking speed, so my task at this point was to keep it upright by holding one of the wingtips.
Back at the control cabin Jo and I briefly compared notes whilst watching the rest of the group have their turn (and watching some hares on the far side of the airfield). After the last person has gone up we are told that there is still some flying time available so does anybody want to go up again; well of course I was going to put my hand up for that. Waiting for my second flight I watched one of the gliders perform some manoeuvres than were more extreme than had been previously been seen. I must have been watching intently as the ground controller came over and asked if I wanted to do that. "Ooh, yes please!" "Ok, you'll be with that pilot on his next flight".
A short while later I'm introduced to pilot No.2 and confirm that I want a repeat of what he's just done. That's fine, just that I will need my seat harness to be done up that little bit tighter and that I have to keep my hands and feet well away from the controls throughout the flight. Through the launch sequence again and while we are gaining height on the cable tow my pilot says that we need to reach at least 1,500 feet. I can see the altimeter and watch its progress: 1,200, 1,500, 1,700. The cable has been released and we level out, one last question from my pilot to confirm that I'm ready. "Yes".
The glider goes into a steep dive for several seconds and I'm looking straight down at the ground. Then the pilot pulls back on the joystick and the horizon disappears below us. I'm looking at the sky, then the clouds directly overhead, then an upside down horizon and the ground again. Woo hoo, I've just done a loop-the-loop. Then we do a second one. "How was that?" says my pilot. "Just fantastic."
The experience isn't over yet. A couple of steeply banked turns and then a pass back over the airfield, followed by another climb – but instead of a loop-the-loop we go straight over the top of the curve with a bit of negative G. One final 180° turn and then a landing that was a bit faster than the first one. Most exhilarating.
The first flight lived up to my expectations and the second flight greatly exceeded them, must do it again sometime. In closing I'd like to thank all the members of the Stratford-upon-Avon Gliding Club for making us welcome and for providing a memorable experience. Thanks also go to Diane Salter at the Mensa office for dealing with the bookings, and to Ron Parker of the West Midlands Region who set the whole thing up.
For those who remember some of my previous exploits in Empress, the second flight counts as "Moments of Madness (Part 4)".
20 Questions (No. 202)
The answers to the mythology quiz in the June issue were Pandora, Mars, Erato, 9, Delphi, Medusa, 24, Selene, youth, Helen, dreams, Janus, Eos, Harpies, Cassandra, Saturn, Medea, Psyche, 3 and Silvanus. The winner was Helene Parry from Brentford
This month's quiz is all about summer. Send your answers to arrive by 20th August to '20 Questions (No. 202)', [Address] or [Email] remembering to include your name and address.
1. Who released the song 'Summer Of 69' in June 1985?
2. Which soap opera is set in Summer Bay?
3. How many times has London hosted the summer Olympic Games?
4. What is the French word for summer?
5. 'Summer Nights' is a song from which 1978 musical film?
6. 'Last Of The Summer Wine' was a British sitcom set in which Yorkshire town?
7. On what date is the summer solstice in 2018 in the northern hemisphere?
8. Who wrote the poem 'I See The Boys Of Summer'?
9. What is the opening line of Ella Fitzgerald's 1968 song 'Summertime'?
10. The 'First Day Of Summer' is a public holiday in April in which European country?
11. In which year did the first Ann Summers shop open?
12. What are the three summer months in the southern hemisphere?
13. During the summer solstice people visit Stonehenge in which English county?
14. The Summer Palace is in which Asian city?
15. Esther Summerson is the heroine in which novel?
16. Bananarama had a hit with 'Cruel Summer' but which band remade it in 1998?
17. Whose summer residence is at Castel Gandolfo?
18. 'Shall I compare thee to a summer's day' is the first line of which Shakespeare sonnet?
19. In which US city was the singer known as Donna Summer born?
20. The Summer Isles belong to which country?