Regional Rove 2006 Review
Following the success of last year's regional rove it was decided to hold a similar event this year, only this time we did things the other way round, so instead of going from north to south we started in Letchworth on the Friday and ended in Nottingham on the Monday.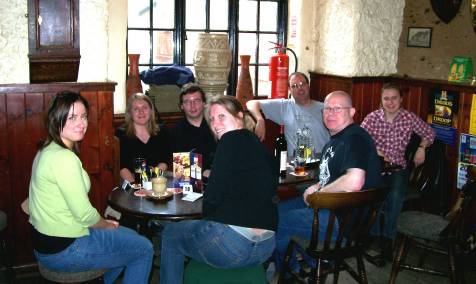 Richard kicked things off by hosting a party at his home on the Friday evening. One or two of us, like Ursula from Coventry, had travelled a fair way to get there. Richard had provided some special 'proper' English cider from the Biddenden estate in Kent, which I sampled, and a member brought along a cake made in the shape of a locomotive (appropriate, as Richard is a self-confessed transport fanatic, see pictures of him cutting the cake).
On Saturday five of us, Ursula, Gwen, Richard, myself and Alex Bell from St Albans braved the awful weather and went on a walk near Ayot St Lawrence. The original intention had been to visit George Bernard Shaw's house in the afternoon, but the weather was so bad that we decided to have lunch in the Brocket Arms, a very charming Tudor pub and get back and dry ourselves for the trip to Milton Keynes that evening. (The village is part of the Brocket estate; yes, it is the same Lord Brocket who featured in I'm a Celebrity, Get Me Out of Here!)
Jo and Chris hosted the Milton Keynes section of the event. On Saturday evening there was another party with games (Connections and Cluedo) thrown in, on Sunday we took in the (in)famous concrete cows and then went to Airkix where several of us tried body flying.
Body flying is for the adrenalin seeker. Having put on a flight suit, goggles, helmet and ear plugs (having nearly all your ability to detect sound taken away is interesting) you enter the flight chamber and wait your turn for two one-minute sessions. Fans are started and you step into an air column which takes you clean off your feet and more or less forces your body into the flying position. Your first thoughts are 'am I going to be able to breathe?', the wind is that strong. When you discover you can, you realise how stiff your arms and hips are becoming with the effort of holding the flying position and with the force of the air against them. Some managed to crash into the chamber walls, one rocketed well up the chamber, but everyone agreed they were glad they'd done it.
After lunch at Nando's we drove to Leicester and visited the Eco House. I was impressed at the amount of audio material available and the staff seemed enthusiastic and knowledgeable but feelings were mixed; while some of what you learn about ecological kitchens, carpets and toilets is within the reach of most people, the cost of solar panels led Richard and myself to conclude that it wasn't too surprising that people weren't as ecological as the more determined activist might like. Richard and I then drove to Hinckley rail station (not part of the Rove!!!), where he snapped a soon-to-be-replaced mechanical signal box in action (due to be replaced by power signalling in a very short time). History caught in the making!
On Sunday evening we hit Langley Mill for the third party in as many evenings. There was a quiz where we had to guess the price and country of origin of five wines. I got three prices right. A lot of the conversation was taken up with the pros and cons of internet dating (I'm going through an anti stage), which was interesting for me as Singles SIG Sec to listen to.
Guy Whitehouse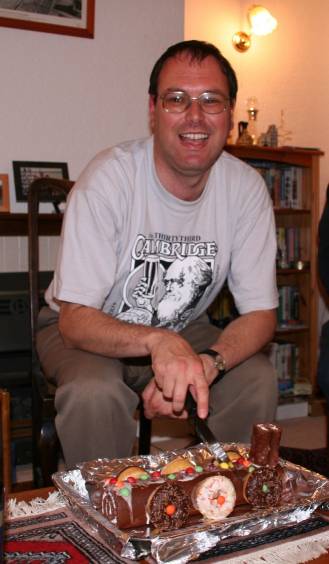 I would like to thank Maxine for suggesting the event and organising a very interesting wine tasting evening at her house on the Sunday night; I did one better than Guy and got four questions right (out of a maximum of ten!). Also for her hospitality, even if I did liven up the proceedings the following morning by falling down the stairs (fortunately with no harm except to my ego!).
On the Monday morning, Maxine had organised a treasure hunt in Nottingham city centre but seriously over-estimated how long it would take us to do it; Jonathan Mole and I came second having completed it in about 50 minutes and we were narrowly beaten by Ian Sargent, who did it in less than 40! The consequence was that many of us got to Ye Olde Trip To Jerusalem before Maxine did!! The Rove was ceremonially ended by a very enjoyable lunch and (in my case) tram ride, before hitting the M1 back south to God's own county of Hertford.
Thanks to everyone who organised and participated; it was a great weekend and see you all again next year?
Richard Allen