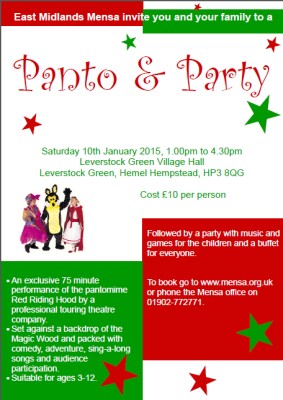 Whether it's 2014 or 2015 Have a wonderful time!
Regional News
As 2014 draws to a close once again I'd like to take the opportunity to thank everyone who has contributed to East Midlands Mensa over the last year whether that is by being an officer, supporting one or more of our social events or contributing in some way to Empress. I look forward to meeting many more of you in the coming 12 months.
The definition of the word klatch is "a casual gathering of people, especially for refreshments and informal conversation". This sounds like the perfect description of a Mensa event. So I hope that if you don't already participate in the social side of our society you may be persuaded to do so in the new year. Your Local Secretary would love to see you at their next klatch!
Don't forget our "panto & party" event taking place in Hemel Hempstead on Saturday 10th January especially for anyone with a youngster in their family though all ages welcome. There is already considerable interest so I'm optimistic this will be a successful event. The cost is £10 per person that includes an exclusive pantomime being performed just for our group followed by music and party games for the children and buffet for all. Doors open at 1.00pm with the panto starting at 1.30pm and the event will end at 4.30pm. Book your place(s) with Diane at the Mensa office on 01902-772-771 or via www.mensa.org.uk and click through to the events section by 7th January latest.
Wishing you and your family a fun festive season and a happy and healthy new year.
Maxine Bates
Regional Officer
Events and Meetings
In the current circumstances surrounding the COVID-19 coronavirus, the expectation is that all events listed here are likely to be cancelled, if not already marked as such. If you intend participating in any event listed here, please contact the event organiser beforehand to confirm that the event is still on.

Notts News
On Fri 5th Dec at 8.00pm - 5OTM
Three events this month all involving food and/or drink. Well, it is the season to be jolly! Join us from 8.00pm on Friday 5th for a drink and chat at the Vat & Fiddle pub on Queensbridge Road in the city centre. Although a central location there is free parking outside the pub and it's a short walk to both the railway station and Broad Marsh bus station. We're usually in the Goldings Room to the left of the bar, with a yellow Mblem on display. New faces always welcome!
On Thu 11th Dec at 7.30pm - Eating mmeting
At 7.30pm on Thursday 11th we're holding the Nottingham Mensa Christmas meal at the Beekeeper on Meadow Lane in Beeston. The cost is £9.99 for two courses or £12.99 for three courses but pre-booking is essential, subject to availability of space. Contact me for menu options.
On Wed 31st Dec at 8.00pm - New Year's Eve party
Our final event of the year is a New Year's Eve party at my home in Langley Mill from 8.00pm on Wednesday 31st. Come and help me celebrate the end of 2014 and start of 2015.
Please bring a buffet contribution (as I have two other events that day so won't have time to prepare one) and whatever you wish to drink. Beds/floorspace for overnight guests available on a first come first served basis. Please contact me for directions and to confirm attendance.
Ciao for now!
Maxine Bates
Contact [Email] or [Phone Number] for details
Derby Diary
On Wed 17th Dec at 7.30pm - Christmas meal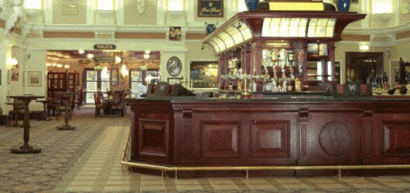 Just our one regular get-together this month, although that is turning into the Derby Mensa Christmas meal and will require pre-booking please. It's taking place at the Standing Order on Irongate at 7.30pm on Wednesday 17th. Main meal only is £8.99, two courses £11.24 or three courses £13.49. All include a choice of drink too. Please contact me for menu and to check availability. You're welcome to come along later for just a drink and we'll try to squeeze you round our table as the venue is likely to be busy pre-Christmas.
You're also welcome to come along to my New Year's Eve party on the Notts/Derbys border in Langley Mill. See the Notts News section for further details.
Maxine Bates
Contact [Email] or [Phone Number] for details

Mensans in MK & Bedford
On Sat 6th Dec at 3.00pm - T@3
We start December with a welcome return to T@3 at Dobbie's Garden Centre in Fenny Stratford on Saturday 6th. Look for us in the restaurant, probably in the conservatory area at the back, from 3.00pm. The store should be decorated for Christmas so there will be plenty to look at and maybe an opportunity for some Christmas shopping.
On Mon 15th Dec at 8.30pm - 3MOTM
On Monday 15th we continue our Third Monday of the Month quiz outings at The Barge at . Meet from 8.30pm in time for the quiz at 9.00pm – cost is £1 per person. See www.vintageinn.co.uk/thebargewoolstone/ for location and, if possible, let me know beforehand if you're coming so I can reserve a big enough table. We don't always get the same table, so look out for the Mblem. If for any reason the pub decides not to run the quiz so close to Christmas, I'll post an announcement on the East Midlands and MK email and FB groups.
On Sun 21st Dec at 10.00am - Sunday breakfast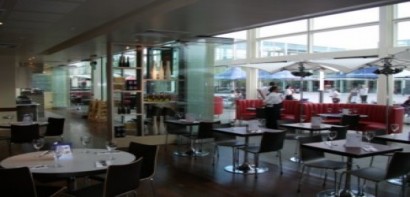 Sunday breakfast will be on 21st at 10.00am in the Centre:MK at Carluccio's.
You will probably find us in one of the red booths just in front of the restaurant– look for the Mblem on a table. Come for a full breakfast, a snack, or just a drink. It's also a chance to do some last-minute Christmas shopping! For any of the above events, contact me for directions and/or encouragement.
Just a reminder about our M-MK & Bedford Facebook group – if you would like to join please search for the group and send me a request. I also keep an email distribution list for meeting reminders and any last-minute changes, so if you would like to be added to this please let me know.
We hope to see as many of you as possible at one or other of our events in December. Do remember that you're welcome to bring a guest with you, so if you've never been to a Mensa event and are a little nervous about coming along on your own, just bring a friend.
A very Merry Christmas to you all,
Jo Sidebottom
Contact [Email] or [Phone Number] / [Mobile Number] for details

Mid Bucks
On Fri 12th Dec at 10.30am - Morning coffee
No need to book, just join me from 10.30am onwards on Friday 12th for a morning of informal conversation and coffee. This month we are going to try the café in Aylesbury's Waterside Theatre, Exchange Street, HP20 1UG. Friends and family are welcome. The theatre is only a short walk from the railway station and shops, so fortify yourself with coffee and cake before doing your Christmas shopping.
Val Hinkins
Contact [Email] or [Phone Number] for details

Lively Lincs
On Sat 13th Dec at 12.05pm - Pub discussion
We're having a quiet month, just the usual pub discussion on Saturday 13th from 12.05pm at our usual venue, 'Adam and Eve', on Lindum Hill, Lincoln. We are going to indulge in flights of fancy and ask ourselves 'If we could travel to other planets, should we?' The talk tends to cover a wide range of issues as different aspects appeal to different people. As always, there is also a fair amount of general chat about all sorts of other things too. No wonder we are often there until past 3 o'clock. However, all are welcome to drop in for just as long as they fancy, pub food is available if hunger pangs prevail. Free car park, look for Mblem on a table, usually in an alcove, with various friendly people round it.
Christine Howells
Contact [Email] for details

Luton Leisure
On Tue 2nd Dec at 7.30pm - FTuOTM
Our FTuOTM get together has a new venue. Join us on Tuesday 2nd from 7.30pm at The Brache Beefeater, Osborne Road, Luton, LU1 3HJ. The venue is opposite the Vauxhall Design building, and there is free parking.
Bob Ford
Contact [Email] or [Mobile Number] for details

Hertfordshire Happenings
On Thu 4th Dec at 8.15pm - FThOTM
On Thursday 4th from 8.15pm for FThOTM. We're at the Millstream, Cambridge Road, Hitchin. Good food and good beer both available! Call me for more details and encouragement. The pub is about ten minutes' walk from the railway station.
On Wed 31st Dec at TBA - New Year's Eve concert
On Wednesday 31st a few of us are, as ever, going to the Viennese New Year's Eve concert at the Barbican. If you've not been, it's a brilliant way to see out the old year and we usually meet at a nearby Wetherspoons pub beforehand. Let me know if you're interested in coming! Full details appear under the London area in the main Mag.
Richard Allen
Contact [Email] or [Phone Number] for details
More or Leicester
On Sun 7th Dec at 11.00am - Richard III exhibition
I thought we'd start off the final month of the year with a bit of culture and history and stuff, and head off to the Richard III exhibition (http://kriii.com). We have to book a timeslot in advance, so I suggest 11.00am on Sunday 7th as that should work up an appetite for lunch! Tickets are £7.95 (adults) with discounts for both ends of the age scale. Please let me know if you're coming ASAP, but definitely by the end of Fri 28th November.
On Tue 16th Dec at 7.30pm - Christmas curry
Our second meeting in Leicester for December and it's a biggie as we head to Shimla Pinks opposite the station for our now-traditional Leicester Christmas Curry. We'll be there on Tuesday 16th from 7.30pm, but please let me know you're coming by December 1st at the very latest so I can reserve a place for you!
I look forward to seeing you soon.
Happy Christmas and a merry New Year!
Paul Coulson
Hearing Impaired SIG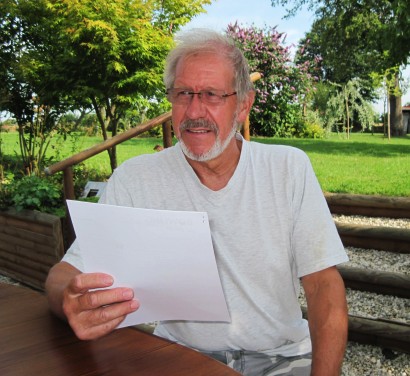 This SIG currently has 62 members, of which 8, including the SIG Secretary Sandra Dowe from Milton Keynes, live in the East Midlands. Others are spread throughout the UK and in Europe (2 members live in France, 1 in Switzerland and 1 in Finland).
"Those interested in deafness and hearing impairment are a minority group but topics in our newsletter, Hi-Note, are wide-ranging from hearing aids, tinnitus, experiences living with deafness to sign language and deaf culture. One of our members, a poet pen name Toby Wren (photo right), whose poems readers of Empress may have encountered in other SIG newsletters, has produced a limited edition book, 'What? A world of Sounds and Silence' which includes poems and illustrated articles about celebrities with hearing losses such as Jack Ashley, Francisco Goya, Eric Sykes, Evelyn Glennie and of course Ludwig van Beethoven. We usually have 3 newsletters per year in spring, summer and autumn/winter. Most members receive newsletters using e-PDF versions."
For information about the publication and the Hearing Impaired SIG contact Sandra on sdowe@globalnet.co.uk
Apt Anagrams
An additional fun quiz, try these apt anagrams sent in by Lee Burgess:
1. I'm a dot in place
2. Moon starer
3. They see
4. Here come dots
5. Cash lost in me
6. Lies – let's recount
7. Alas, no more Zs
8. Twelve plus one
Wishing you a wonderful Christmas time and best wishes for wherever you are and whatever you do in 2015.
1. a decimal point
2. astronomer
3. the eyes
4. the morse code
5. slot machines
6. election results
7. snooze alarms
8. eleven plus two
20 Questions (No. 159)
The university answers from the October issue were De Montfort University, University of Glasgow, University of York, Plymouth University, University of Liverpool, The Robert Gordon University Aberdeen, University of Cambridge, University of Bath, Birkbeck University of London, University of Birmingham, University of Central Lancashire, University of Dundee, Napier University Edinburgh, King's College London, University of Salford, York St John University, University of Manchester, University of Nottingham, University of Derby and University of Sheffield. Entries were received from Rita Beeson of Bedford, Roger Plant of Nottingham, Pamela Covey of Woburn, Roy Wise of Nottingham, Alex Foster of Derby and Chris Impey of Tring. The winner is Roy.
As you digest your Christmas turkey, see if you can answer these questions set by Mark Sloan. Send your entries to arrive by 20th January by either email to [Email] or by post to '20 Questions (No. 159)', [Address]. Whichever way you enter don't forget to include your name and address or we won't be able to send the £10 book token!
1. The Christmas favourite of 'pigs in blankets' is chipolata sausages wrapped in what?
2. Which of Santa's reindeer shares its name with a mythical God of love?
3. In the Christmas carol which town is known as Royal David's City?
4. At which of her homes does the Queen traditionally spend Christmas?
5. Which alcoholic ingredient is used in a 'snowball' cocktail?
6. In the rhyme 'Christmas is coming' who is getting fat?
7. Feliz Navidad is Happy Christmas in which language?
8. How many lords-a-leaping are there in the '12 days of Christmas'?
9. In cockney rhyming slang what are 'eyes' called?
10. What was Mr Bean searching for when he got his head stuck in a turkey?
11. To what country did Hong Kong surrender on Christmas Day 1941?
12. Which Christmas plant takes its name from the first US Minister to Mexico?
13. What Christmas item takes its name from the old French word estincelle meaning spark?
14. In which pantomime does Wishee Washee appear?
15. In 1847 what did Tom Smith, a London confectioner, invent?
16. Which monarch was crowned on Christmas Day in Westminster Abbey?
17. Patra, the birthplace of the original Santa Claus St Nicholas, is in which modern country?
18. 'Christmas won't be Christmas without any presents' is the opening line from which classic novel?
19. What colour are the berries of the mistletoe plant?
20. The song 'White Christmas' was first performed in which Bing Crosby film?