Regional News
At the time of writing we're celebrating Easter with a heat wave. Let's hope the warm weather continues throughout the summer to compensate for the awful winter weather we suffered. I'm especially hoping for sunshine on Sunday 12th June when East and West Midlands Mensa hold our family fun day at Drayton Manor Park. As a fan of theme parks, this is one of my favourite as it is family owned and has a huge variety of rides and attractions as well as a zoo. Mensans and guests of all ages are very welcome. We have negotiated a superb deal costing £30 which is cheaper than normal admission and includes arrival drink, lunch and a short talk by their Managing Director especially for our group. Under 12s cost £25 and under 4s only £5. Details can be found on the cover of this issue and also on www.mensa.org.uk/eastmids but please note bookings close on 4th June. Come and join the fun!
As our society celebrates it's 65th anniversary this year there will be a string of events around the world under the banner of "Mensa Brilliant". These are designed to be thought provoking events rather than our popular eating and drinking get togethers. David Seddon suggested a geocaching activity and he and the Mensa office staff are currently working to set this up. Geocaching is best described as a high-tech treasure hunt and takes place on every continent. Watch this space to find out more and get involved. There will be prizes!
As always, I'd love to hear from you regarding any aspect of your Mensa membership. All feedback – whether positive or negative - and suggestions are welcome. I'm on [Phone Number] or [Email]
Maxine Bates
Regional Officer
Events and Meetings
In the current circumstances surrounding the COVID-19 coronavirus, the expectation is that all events listed here are likely to be cancelled, if not already marked as such. If you intend participating in any event listed here, please contact the event organiser beforehand to confirm that the event is still on.

Lively Lincs
Two lunchtime meetings in central Lincoln on offer this month.
On Sat 11th Jun at 12:00pm - Conversations over lunch/drinks
The usual 2SaOTM at The Collection, Danes Terrace 12-2, on the 11th. Do join us for wide-ranging chat with a bit of intellectual discussion thrown in here and there, over lunch or just a quick coffee. With luck, we will be outside, spot the yellow MBlem.
On Sat 25th Jun at 12:00pm - Waterside Lunch
Then on Saturday 25th, it's the annual jaunt to Brayford Pool, hoping for the usual sunshine so we can enjoy the waterside venue munching lunch at Ask. Please could you contact me in advance so that I can book accordingly. [Email] or [Phone Number].
If you're a beach hut person, dates for your diary: Saturdays 16th July and 3rd September.
Christine Howells
Contact [Email] for details

Notts News
On Thu 2nd Jun at 2:00pm - Afternoon Stroll
Something a little different to start the month aimed at those who don't work afternoons, i.e. mothers and children, retirees and shift workers. Meet in the car park at Attenborough Nature Reserve at 2.00pm on Thursday 2nd for an easy stroll around the lake. An ideal opportunity to meet other members whilst enjoying some light exercise and spotting the flora and fauna. The paths are suitable for wheelchairs and pushchairs so all ages welcome. There's a café in the visitor centre if we want refreshments afterwards. If you can contact me on [Phone Number] or [Email] beforehand I'll know to look out for you. Also phone if raining as the event may be postponed.
On Sun 5th Jun at 8:00pm - 5OTM
On Sunday 5th we have our regular get together at the Vat & Fiddle pub in Nottingham from 8 until late. Look for the yellow Mblem usually to the left of the bar. New faces always welcome whether you want to pop in for a quick drink and chat or stay all evening.
On Wed 8th Jun at 7:00pm - Chicks and Flicks
Our third event within a week will be our 'chicks & flicks' get together at 7.00pm on Wednesday 8th. Meet us inside the doors to the Cornerhouse in the city centre from where we'll dine at Nando's before watching a film at Cineworld. Discounts at both venues make this a good value night out.
On Thu 23rd Jun at 8:00pm - French themed evening
Michael Rich was such a good host at his 'at home' event in February that we've persuaded him to host another from 8.00pm on Thursday 23rd. This will be a French themed evening with French food and drink (contributions are appreciated) and a little French conversation. How much can you remember from your school days? Enough to have a simple chat or maybe play a game of bingo? The venue is Stapleford but please contact Michael on [Phone Number] or [Email] for the address and directions and to let him know you'll be there.
For theatre goers I'm trying to organise trips to the Theatre Royal on Wednesday 6th July to see Calendar Girls and on Monday 1st August to see The Sound Of Music. Please contact me if interested in either of these shows.
Ciao for now!
Maxine Bates
Contact [Email] or [Phone Number] for details
Derby Diary
On Wed 15th Jun at 7:30pm - 3WOTM
I hope all Mensans in Derby and environs are enjoying Summer. I look forward to hearing your adventures at the regular 3WOTM Meeting at the Standing Order. No need to book for this but if you are a new member do let me know that you plan to attend so we can look out for you.
As always I am keen to hear suggestions from members old and new as to prospective events / meeting venues. Look forward to seeing you soon.
On Tue 28th Jun at 7.30pm - Eating Meeting
At 7.30pm on Tuesday 28th we're going for a meal at Codnor Castle Inn. This restaurant is located within the grounds of Ormonde Fields golf club on A610 between Eastwood and Ripley. They serve a range of English and Greek dishes.
Please contact Maxine on [Phone Number] or [Email] by 24th if you'd like to come along so a table can be reserved.
Alistair Blackett

Northants NNotes
On Thu 2nd Jun at 9:00pm - FThOTM
Our first Thursday meeting roves around the Northampton environs once again and this time lands up in Duston. On Thursday 2nd June you will find us in the Squirrels on Main Road from 9pm. If it's a nice night we will be in the beer garden, otherwise look for us inside.
On Fri 10th Jun at 7:00pm - Theatre
The next June event is on Friday 10th, when we are off to the Royal Theatre in Northampton to watch "Eden End" by J.B.Priestley. Advance booking is required so I need to know numbers A.S.A.P. My deadline is 20th May so you may just get this edition of Empress in time. Tickets will be around £23, depending on exactly which seats are available. Please phone ([Phone Number]) or e-mail me for more details if you are interested.
On Thu 16th Jun at 8:00pm - Roadshow
Finally, we come to the Roadshow, which will be on Thursday 16th at 8pm We are off to our favourite haunted pub: The Barley Mow in Paulerspury. The village is just west of the A5, between Towcester and the Buckinghamshire border. We will be in the bar areas and usually sit to the right of the front as seen from the street.
Ian Sargent
Contact [Email] or [Phone Number] / [Mobile Number] for details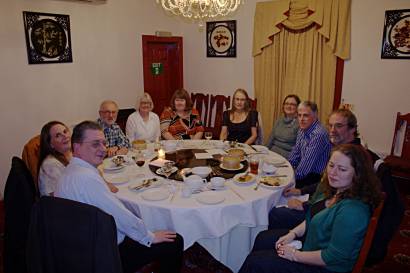 Mensa Meal at Beijing Dragon, Spilsby on Saturday, 16th April.

Herts Happenings
On Thu 2nd Jun at 8:15pm - FThOTM
Regular first Thursday of the month meeting. Come and join us! We'll be around for our usual mix of lively conversation and a good atmosphere. As always, we're at the Millstream, Cambridge Road, Hitchin. Good food and good beer both available! Call me on [Phone Number] for more details and encouragement. The pub is about ten minutes' walk from the railway station. Note that if you're driving, there are major roadworks in the area and you may have to park elsewhere. There is a signed diversionary route from the town centre but if you're coming from the east, access is still possible without restriction.
On Sat 4th Jun at 10:30am - Walk
Join us for a walk of between 6 and 7 miles, followed by a pub lunch. Hadham Ford is south of Little Hadham, east Herts, off the A120. For details ring Gwen on [Phone Number] or contact me on [Phone Number].
On Fri 24th Jun at 8:00pm - LFOTM
Last Friday is back to its normal date - hope you can join us at the Cowper Arms, Digswell (near Welwyn village). Good food and good beer available to suit all tastes! The venue is next to Welwyn North railway station (Kings Cross - Cambridge and Peterborough line with trains every 30 minutes). Contact me as above for further details and encouragement.
Richard Allen
Contact [Email] or [Phone Number] for details

Berkhamsted
On Wed 29th Jun at 7:45pm - LWOTM
The meeting will be at the Old Mill on Berkhamsted High Street at the end nearest to Hemel Hempstead. There is a car park, but this is popular so try to be there early.
We meet at the end beyond the bar, where it is usually quieter. Turn right as you come into the pub, and walk to the end, we will be on your right. If the weather is good enough we may move outside, so just look around before you come in.
I do hope you will all come, I am hoping to see everyone.
Jenny Habib
Contact [Email] or [Phone Number] for details
On Thu 16th Jun at 8:00pm - 3ThOTM
There's only one meeting in June as I want to do something a little different: I want you to come along and tell me what kind of things you want me to organise; what kind of meetings or get-togethers do you want me to arrange? What is it that I can do to help you get more out of Leicester Mensa? Even if you've never been to a Mensa meet before, why not have a go and come along to The Craddock in Knighton for a bite to eat or just a drink to let me know?
You can find more information (including directions) at http://www.everards.co.uk/pubs/cradock_arms_42/, but please feel free to give me a call on [Phone Number], or email me at [Email] . I really hope to see you there!
Paul Coulson

Watever...
On Mon 13th Jun at 8:00pm - Video evening
Video evening hosted by Bryan Taylor. Bryan will be showing a mind challenging subject or two from his collection. This should be a very entertaining and interesting evening. Spaces will be limited for this event and access is on the first floor. Parking may also be very limited so please can we arrange to travel collectively. There will also be the usual nibbles/refreshments. Please contact me in advance if you wish to attend.
On Mon 27th Jun at 8:00pm - 4MOTM
Our regular pub meeting is at the Essex Arms, Langley Way, Watford. WD17 3EG. Please look for the Magazine on the table.
New members always warmly welcomed.
David Seddon
Contact [Email] or [Phone Number] for details

Mensans In MK and Bedford
On Thu 2nd Jun at 8:00pm - FThOTM
Our regular First Thursday meeting is at 8pm on 2nd June at Jurys Inn Hotel on Midsummer Boulevard. Look out for the Mblem on one of the tables to the right in the foyer. Parking is a bit busy around Jurys and The Hub, so we usually try and get in across the road and then walk through the underpass.
On Sat 18th Jun at 3:00pm - T@3
Next, we will be having T@3 on Saturday 18th at Dobbie's Garden Centre in Fenny Stratford, just south of Milton Keynes. Look for us in the restaurant from 3pm onwards – there are several sections so we may not be immediately obvious, but we'll be there somewhere.
On Sun 26th Jun at 10:15am - Sunday Breakfast
Finally, please join us for Sunday breakfast at 10.15 am on Sunday 26th June at Carluccio's in the Centre:MK (aka Destination Dining). We will probably be in one of the red booths outside the restaurant. Feel free to come for a full breakfast, a snack, or just a drink.
We hope to see as many of you as possible at one or other of our events in June.
Jo Sidebottom
Contact [Email] or [Phone Number] / [Mobile Number] for details

Mid Bucks
On Sun 12th Jun at 2:00pm - West Wycombe Park (NT)
Meet at the entrance to West Wycombe Park at 2pm on Sunday 12th June. You may recognise the house if you have watched Cranford or Foyle's War. Depending on the weather, we will walk around the landscaped park created by Sir Francis Dashwood, founder of the Dilettanti Society and the Hellfire Club and also go into the house to see the sumptuous decoration.
Admission to both house and garden is £8.00, children £4.00. Family tickets also available and National Trust members are free. Don't forget your membership card! Further details of the property can be found at www.nationaltrust.org.uk
There are no facilities at the house, so we will repair to the nearby garden centre or the caves café for refreshments afterwards.
Ring me on [Phone Number] or e-mail me at [Email] to let me know you are coming.
Val Hinkins
Contact [Email] or [Phone Number] for details
April walk from Wendover to Great Missenden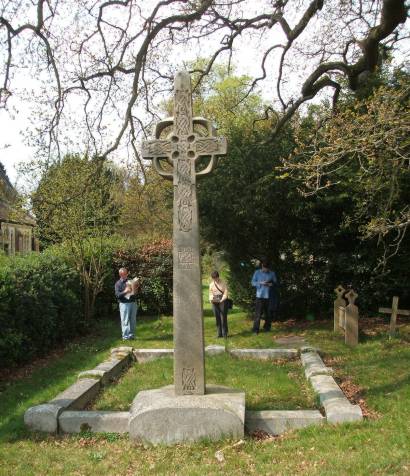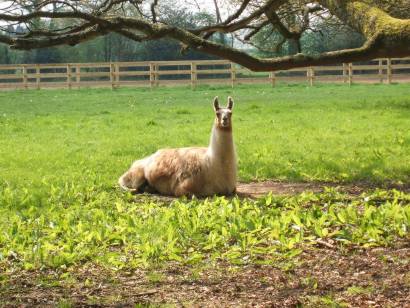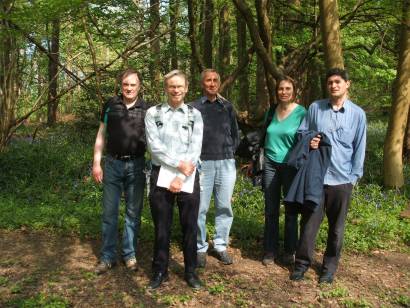 Six of us met in warm sunshine at Wendover station for a Sunday morning walk. The weather was perfect and the conversation lively as we made our way out of Wendover and up towards the Lee. Our path crossed the proposed route of the new high speed rail link, HS2 and we passed many posters and notices put up by its opponents. One campaigner had created a model white elephant in their garden with Stop HS2 on it.
We came across a solitary llama sunning itself in a field. A short diversion took us to a ship's figurehead depicting Admiral Earl Howe. Although some of the party could remember seeing the figurehead standing out in the open, it now shelters under a specially constructed private roof. This ship which was later renamed HMS Impregnable is believed to be the last wooden warship built for the Royal Navy. When it was decommissioned and broken up many of the timbers were used in the 1920's reconstruction of Liberty's store in London.
We finished our walk with a Chinese meal and well earned rest in Great Missenden before some of us went on to visit the Roald Dahl museum.
by Val Hinkins
Scientific Weekend
Birr, Co. Offaly, Ireland - Sat-Sun 16/17 July
They say there is a very fine line between madness and intelligence and brilliance.
▪ You don't need to be a lunatic to want to see an astronomical telescope that was already over 150 years old when the Hubble telescope was sent up to explore our universe.
▪ You don't need what Shakespeare would call "a heat-oppressed brain" to want to learn about the invention and development of the turbine engine which now powers almost all ships, airplanes and electricity generators.
▪ You will be shocked to discover one of the world's first water-powered electricity generators provided electricity for over 80 years is in the grounds of Birr Castle.
▪ Maybe it didn't cross your mind that one of the oldest existing suspension bridges on this planet is in the grounds of Birr Castle.
▪ The world's tallest box hedges (according to the Guinness Book of Records), big surprise, are in the grounds of Birr Castle.
▪ Would you like to see trees which were planted about the time Oliver Cromwell was a kid.
This is a place full of firsts and superlatives. Come and see for yourself. Come and see a really nice garden, with lots of benches and places for you to sit down and relax.
And that is not all!
You will be staying at the Townsend Guesthouse, which was built almost 200 years ago and retains many original features. Dinner will be at The Thatch (with its award-winning menu) – with minibus taking you to and from the guesthouse. Full Irish breakfast is included for all guests. Mensa members will have exclusive use of our own sitting room – with a bar serving a range of beers, wines and spirits. Sunday morning is time to stretch your legs and your minds with a free guided walking tour of the lovely town of Birr. All participants receive a complimentary guide to Birr.
All this for well under EUR100.
▪ Special guided tour of Birr Castle, Demesne, Gardens, Museum and Astronomical Telescope.
▪ Stay the night in a 200-year old building, with many original features.
▪ Award-Winning dinner at The Thatch (with minibus to and from guesthouse).
▪ Special guided walking tour of Birr with complimentary souvenir guide for all participants.
Not included
▪ Travel arrangements to/from Birr
▪ Lunches
▪ Drinks
▪ Gratuities
To book, please contact Patrick Cavanagh as soon as possible (email: derrymore@iol.ie or phone (after 8pm) 0035 344 933 5200). Just 16 places still available.
'20 Questions (No. 117)'
The wedding related answers from April were the bride, red, Julia Roberts, left, Sir Norman Hartnell, alcohol, 2004, Richard Wagner, wood, 16th November 2010, a veil, Saturday, henna, rose, Scotland, 3, Queen Victoria, wheat, Las Vegas and cook.
Just three entries this month all from the south of our region from Chris Impey of Tring, Chris Benger of Bedfordshire and Pamela Covey of Woburn with Chris Impey winning the £10 book token.
The answers to this month's quiz all contain the name of a river. Send your entries to '20 Questions (No. 117)', 80 Milnhay Road, Langley Mill, Nottingham, NG16 4AW, to arrive by 20th June and you could win a £10 book token.
1. Which character did Paul Darrow play in Blake's Seven?
2. Who was the partner of Bonnie Parker?
3. Which river flows through the Grand Canyon?
4. Who is the wife of songwriter Tony Hatch?
5. Which disease has types called urban and jungle?
6. Which song begins 'life goes on day after day'?
7. Who is the daughter of Goldie Hawn?
8. What is the longest river in North America?
9. Who had a hit with 'One Night In Bangkok'?
10. What is the name of the red Teletubby?
11. Enya sang about the flow of which river?
12. Carlton TV replaced which company?
13. Which Scottish singer died on 1st October 1999 at the age of 35?
14. What is the name for a sash worn with Japanese kimonos?
15. Britain's longest suspension bridge spans which river?
16. In which film did Alec Guinness play Colonel Nicholson?
17. Which country was formerly called Zaire?
18. Which river tumbles over Victoria Falls?
19. On which song did Paul Gascoine collaborate with Lindisfarne?
20. Washington DC stands on which river?