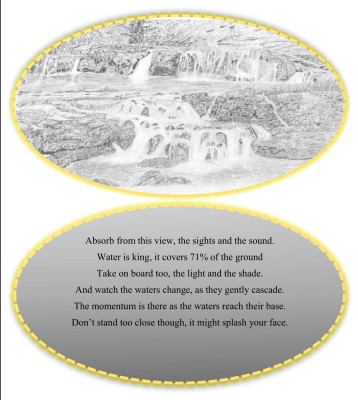 Editorial
Hi and welcome to this July edition of Empress. My June editorial did get some response. So we continue our theme of 'creativity' this month. 'Let it flow' is our subtitle. That really sums up your start to creativity, just let it flow. Whatever your creativity is, let it come out, then let it develop.
Sure you will then need to practice once you have chosen your route. It will not happen in a day, but it will happen. Although I have been drawing for 50 years, each of my drawings is original and new, practice really does make perfect. Do not be hampered by feeling that you cannot draw or paint certain things. People often put a 'block' on their work by saying they are not good at certain aspects. These days I draw anything, and that is because I treat everything as a pattern!
This month's front page title has a double meaning,' Let it Flow'. It applies to my drawing of the waterfall as well as your creativity. Drawings are completely different when it comes to adding 'white' and highlights. When you paint you add white paint when you highlight, but when you draw the page itself is your 'white. So your highlight areas need to be planned out before you start your drawing. I only drew this waterfall last December, but it was one of the most difficult that I have done. My planning was different to anything else. I started at the top left and went across. I then went to the bottom and finally worked back up from the bottom. See you next month.
Richard Dimmock
Regional News
I will keep my column short and sweet as Richard tells me he has lots of contributions this month. As usual we have a range of events to hopefully suit all tastes, ages and budgets. So whether you fancy meeting old and new friends at the pub, a stroll through the park or a night at the greyhound racing (our "G" alphabet event this month) you are more than welcome to join us and can bring a non-member guest too.
As usual feel free to contact me on [Phone Number] or [Email] with any feedback on your membership, suggestions for future events, etc. I look forward to hearing from you.
Maxine Bates
Regional Officer
Member Profile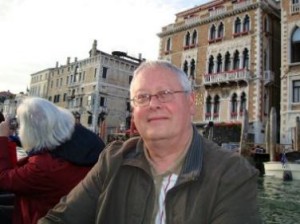 What's your name?
Michael Rich
Where do you live?
Originally I am from the Black Country, but I have lived in Nottingham for about forty years.
When did you join Mensa?
I joined Mensa in the very early eighties. I found the "teaser" questions in the TV Times quite easy, and only thought of getting tested when I was under the stress of a divorce. I thought the stress was the reason for my inability to get across to the board of the company where I was employed, that the management accounts were based on a false premise. In simple terms, I thought I was losing it, but, when I passed the supervised test, I regained my confidence and continued with both the divorce and the job.
Have you attended any Mensa events?
The Mensa Mag was interesting with quite a variety of articles, so I stayed subscribed, but think I only attended one meeting, in a private home, of the What If..? SIG, where I was less than impressed. Work and single parenthood took up most of my time in the following years, but in 1999 I joined the group of Mensans who went to France to see the eclipse from Rethel, a small village on the path of the eclipse. I had business nearby and made a few appointments around the weekend. What an eye-opener! I made contact with some fellow Mensans, whom I still call friends. Since then I have attended many pub, restaurant and other meetings, including Annual Gatherings in Manchester, Bristol, Newcastle upon Tyne and also in my home town, Nottingham.
Do you belong to any SIGs?
I immediately joined Linguasig, a very interesting group for linguists, with contributions from speakers of many different languages. I was also a member of Humour SIG until it closed when everyone had heard all the jokes, and I have dipped in and out of France SIG, Philosophy SIG and several others. There really is a great variety and, if you have a special interest in almost any subject, there will be a SIG for you. I have recommended that the editors of
the magazine
look at some of the articles in the SIG newsletters for republication to the society nationally, but I am unsure if they do this.
What is your occupation?
I am retired now, my career was mostly in export sales. I have been around the world quite a few times on business. Sometimes in one 3-4 week trip, particularly when, during the oil crises, prices had to be revised at short notice. Ok, I saw a lot of capital cities and stayed at some of the best hotels, but it was no holiday, I can assure you. After my retirement, I was also involved in local politics and ended up as leader of a district council. This was even more stressful than my professional job and the salary was much, much less than that job
Any hobbies/interests?
I try to keep up to date with my language knowledge by joining local groups. I enjoy walking and bird watching, some fishing (rare) and following politics now I am no longer involved and can shout from the side lines like everyone else.
Events and Meetings
In the current circumstances surrounding the COVID-19 coronavirus, the expectation is that all events listed here are likely to be cancelled, if not already marked as such. If you intend participating in any event listed here, please contact the event organiser beforehand to confirm that the event is still on.
New for Northampton
On Sun 10th Jul at 10:30am - Sunday brunch
Another Sunday brunch with Marianne Kendal is happening on 10 July at 10.30, at the Rendezvous Coffee Shop in Market Walk in the town centre. We'll be the noisy ones on the left of the entrance. Do join us for some chat, coffee and possibly munching.
Marianne can be contacted on [Phone Number] or email [Email]
Derby Diary
On Wed 20th Jul at 7:30pm - 3WOTM
Just our regular event at the Standing Order on Irongate in the city centre from 7.30pm until late on Wednesday 20th. Look for a yellow Mblem on a long table in the rear section of the pub. This is usually a well attended event so chance to meet lots of new friends over a meal or just a drink Pop in briefly or stay all evening. All welcome!
On Sun 24th Jul at TBA - Walk
Would anyone be interested in a walk in Derbyshire on Sunday 24th July? I haven't listed as an event because outdoor events plus me usually equal rain! If the weather is looking good and you fancy a stroll please do get in touch.
Maxine Bates
Contact [Email] or [Phone Number] for details

Hertfordshire Happenings
On Thu 7th Jul at 8:00pm - FThOTM
As ever, we are at the Three Magnets, Leys Avenue, Letchworth. Thursday nights are curry nights but other food (standard Wetherspoons' fare) is available as well. Leys Avenue is the main shopping street in Letchworth and is a few minutes' walk from the station (Kings Cross to Cambridge line). Call me on [Phone Number] for more details and encouragement.
On Fri 29 Jul at 8:00pm - LFOTM
Last Friday is at our usual venue of the Cowper Arms, Digswell. The pub is next to Welwyn North station and is served by stopping trains from Kings Cross to Peterborough and Cambridge. Good food, beer and conversation guaranteed! Please call me on [Phone Number] for more details and encouragement.
Richard Allen
Contact [Email] or [Phone Number] for details
Creativity Pin Board
Tell us about your creations and we will place your name on our 'Creativity Pin Board'. Photos or scans of your creations should be emailed to our editors (Maria and Richard). A brief description should be ok, accompanied by the picture of your creation. Space is at a premium in the Empress, but we will do our best to fit you in as soon as we can.

Lively Lincs
On Sat 9th Jul at 12:05pm - Pub discussion
Meet at 'Adam and Eve' on Lindum Hill, hopefully, in the garden, otherwise in the alcove, look for MBlem. Discussion on a topical issue starts at around 12.30, food available, free parking.
On Sun 24th Jul at 2:30pm - Afternoon tea in the garden
Do come and enjoy a Sunday afternoon in our garden. Conversation, cake, home-made jam and home-grown fruit for tea! We do need to know in advance who will be coming, so please telephone [Phone Number] or email [Email] by Friday evening (22 July), and please include your phone number so we can contact you if bad weather obliges us to cancel. We look forward to seeing you.
On Thu 28th Jul at 7:00pm - Eating meeting
We're returning to a summer favourite, the Pyewipe Inn, hopefully to sit in the garden and watch the boats go by. All welcome but please book with me by 21st if possible, thanks.
Christine Howells
Contact [Email] for details

Mid Bucks
On Fri 8th Jul at 10:30am - Morning coffee
Meet me from 10:30am onwards on Friday 8th July for a morning of informal conversation, cakes and coffee at Barracuda Café, 96 Sycamore Road, Amersham, HP6 5EN. I've eaten there before and can recommend it. No need to book, but it will help me get the right size table if you let me know you are coming on [Phone Number] or email me as above.
On Sun 10th Jul at 11:30am - West Wycombe caves
Then on Sunday 10th July join me for an underground adventure in the West Wycombe caves. Built by Sir Francis Dashwood in the 1740's they are reputed to have been the meeting place for the notorious Hell Fire Club. Chalk from their construction was used to form the road to High Wycombe and the project provided local employment after a series of years with poor harvests. See www.hellfirecaves.co.uk for details. Meet at the cave entrance at 11:30am. Afterwards we will enjoy lunch in the nice café at the cave entrance. Admission is £7.50 for adults, £6.00 for concessions and NT members. After lunch we will walk down to West Wycombe Park for 2pm.
On Sun 10th Jul at 2:00pm - West Wycombe Park
West Wycombe Park: You may recognise the house if you have watched Cranford or Downton Abbey. Depending on the weather, we will walk around the landscaped park created by Sir Francis Dashwood, founder of the Dilettanti Society and the Hellfire Club and also go into the house to see the sumptuous decoration. Admission to both house and garden is £9.00, children £4.50. Family tickets also available and National Trust members are free. Don't forget your membership card! Details of the property can be found at www.nationaltrust.org.uk
On Mon 25th Jul at 8:00pm - Indoor games
Enthusiastic games players Dave and Alison invite you to their home in Flackwell Heath for an evening of indoor games – possibilities available include Boggle, Enigma, Sherlock Holmes, Mid-Life Crisis and many others. Arrive for an 8pm start on Monday 25th July. Space is limited, so please contact Dave on [Email] or [Phone Number] for directions and to let him know which games you would like to play.
Val Hinkins
Contact [Email] or [Phone Number] for details
More or Leicester
On Sun 10th Jul at 11:00am - Walk
WALKIES!! I thought we'd celebrate the glorious English Summer by taking the dog for a walk in Bradgate Park. Even if you've not got a pooch and you're unable to borrow one for the morning, you're more than welcome to come along and throw a frisby or two (or a hundred and twenty two in the case of my dog!). Meet up at the car park in Newtown Linford on Sunday 10th at 11:00, but let me know you're coming in case of a change of plan due to weather, etc.
On Mon 25th Jul at 8:00pm - 4MOTM
After the amazing success of last month's visit to The Stamford Arms in Groby, we're back there again for our Fourth Monday of the Month at 20:00. (http://www.stamfordarms.co.uk/), As we've only been there once before we won't have a usual table yet, so just walk the pub around yelling "Oi!!" at the top of your voice and we'll find you.
On Thu 28th Jul at 7:30pm - Ghost Walk
Finally, something different to entertain a visitor we'll have from Hong Kong. We'll start off at The Wetherspoons on High Street at 19:30 for a quick bite or just a pint before taking a walk off around the city to explore some of Leicester's ghosts. It's perhaps worth noting that one or two of Leicester's pubs are haunted, so it'd be rude not to....
Paul Coulson

Mensans in MK & Bedford
On Mon 18th Jul at 8:30pm - 3MOTM
Our monthly visit to the Barge in Woolstone for the quiz is on Monday 18th. We're away, so David has kindly volunteered to host. Meet from 8.30 - the quiz starts at 9pm and costs £1 per person. Please let David know beforehand if you're coming so he can bag a large enough table for us all - [Email] / [Phone Number] / [Phone Number].
On Tue 26th Jul at 7:00pm - G is for Going to the Dogs
On Tuesday 26th the regional A-Z series reaches G so it's G is for Going to the Dogs"; On Tuesday 26th we will be visiting Towcester Racecourse for an evening's Greyhound Racing. The racecourse is on the A5 just south of Towcester, and entry and car parking are both free. See http://www.towcester-racecourse.co.uk/ for more details. Look out for the Mblem on a table in the bar from 7pm - let us know if you're coming, so we can look out for you.
On Sun 31st Jul at 10:00am - Sunday breakfast
Sunday breakfast will be on 31st at 10am at Carluccio's in the Centre MK. You will probably find us in one of the red booths just in front of the restaurant. Come for a full breakfast, a snack, or just a drink.
Just a reminder about our M-MK & Bedford Facebook group – if you would like to join please search for the group and send me a request. I also keep an email distribution list for meeting reminders and any last-minute changes, so if you would like to be added to this please let me know.
We hope to see as many of you as possible at one or other of our events in July. Do remember that you're welcome to bring a guest with you, so if you've never been to a Mensa event and are a little nervous about coming along on your own, just bring a friend.
Jo Sidebottom
Contact [Email] or [Phone Number] / [Mobile Number] for details

Notts News
On Fri 1st Jul at 7:30pm - Girls night in
I'm hosting a "girls night in" at my home in Langley Mill from 7.30pm on Friday 1st. A friend will be showcasing her Tropic skincare, bodycare and make up range including the new sun products. You can try and buy though not compulsory. There will also be jewellery, chick lit and lingerie for sale at bargain prices with money going to Cancer Research UK. Plus chance to win a bottle of champagne with the raffle sheet. I'll provide hot drinks, soft drinks, some wine and nibbles or BYOB. Please let me know if you're able to come along or need directions.
On Tue 5th Jul at 8.00pm - 5OTM
As usual we'll be at the Vat & Fiddle pub from 8.00pm on Tuesday 5th. Usually in the Goldings Room to left of bar but a yellow Mblem will be on display. New faces always welcome!
On Thu 14th Jul at 7:30pm - Natter & nosh
Our "natter & nosh" event on Thursday 14th has changed venue. We tried the new look Beekeeper for a couple of months and have had issues with table reservations, loud music and slow service. So we are moving to the nearby Cadland on High Road in Chilwell. See menu at www.emberinns.co.uk. We have a large table reserved from 7.30pm so why not join us for a meal or just a drink plus good conversation?
On Tue 26th Jul at 7:30pm - Eating meeting
Finally our "eating meeting" at 7.30pm on Tuesday 26th will be a Mexican meal at Chiquito's on Redfield Way in Lenton (near QMC and Showcase Cinema). See menu at www.chiquito.co.uk and please reserve your place with me by 22nd so a table can be reserved.
Ciao for now!
Maxine Bates
Contact [Email] or [Phone Number] for details
OBITUARY Peter Best, 1938-2016
Richard Allen writes
It is with sadness that I have to report the death of Peter Best, a long-standing attendee at Hertford area meetings. His health had been deteriorating for some time and he finally passed away on 18 April. He was a regular attendee at the Last Friday meetings at Digswell and rarely missed one; in spite of his failing health, he retained his good humour until the end and would never complain about his circumstances. He had a huge repertoire of amusing stories from his long and varied life and career as a veterinary scientist and no meeting he attended was ever dull.
The funeral took place at St Andrew's Church, Hertford, on 4 May and I represented the Society; we also got a mention from the vicar. Our deepest sympathies are extended to Peter's widow Marjorie and son Philip at this sad time.
Mark Lawrence writes:
I really enjoyed Peter's company. His sardonic views of the world at large were leavened beautifully by his joy of good friends and company. Given how much trouble it was for him, I admired him so much for his grit and determination to come along to the meetings.
20 Questions (No. 177)
The answers to the May competition were Alec Guinness, Margate, Winston Churchill, Capability Brown, Middlesbrough, The Troggs, Vera Lynn, Australia, names of God, Edith Cavell, Horse With No Name, Straits Of Dover, Eusebio, Alec Issigonis, Nameless Detective, Phoenix, Dom Perignon, Charnos, Bismarck and Casablanca. The £10 book token is on the way to winner Helene Parry of Brentford but thanks to everyone who entered.
This month can you name the phobia? Send your answers to arrive by 20th July to '20 Questions (No. 177)', [Address] or to [Email] remembering to include your name and address so we know where to send the £10 book token.
1. Fear of the colour purple
2. Fear of doctors
3. Fear of becoming bald
4. Fear of stairs
5. Fear of the sea
6. Fear of cemeteries
7. Fear of laughter
8. Fear of crossing bridges
9. Fear of bulls
10. Fear of ice
11. Fear of monsters
12. Fear of church
13. Fear of staying single
14. Fear of frogs and toads
15. Fear of travel
16. Fear of being shot
17. Fear of getting wrinkles
18. Fear of flowers
19. Fear of beautiful women
20. Fear of accidents