Best Of British Party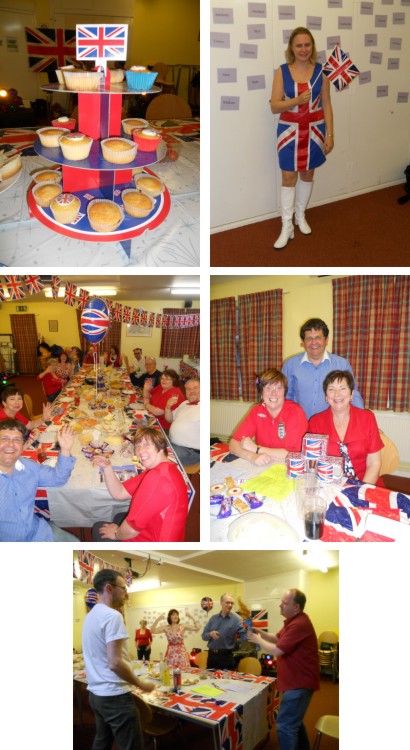 Saturday 16th June 2012
East Midlands Mensa decided to celebrate the Diamond Jubilee and Olympics by holding a party midway between the two events. The venue was the church hall in the pretty town of Uppingham in England's smallest county of Rutland. Beforehand some of us spent the afternoon at nearby Rutland Water enjoying lunch in their café and a cruise around the water on the "Rutland Belle" boat.
With many of the guests heading straight to Uppingham from Rutland Water there was an instant party atmosphere. Half the fun of the event was setting up our "street party" and the room was soon a sea of red, white and blue with union flag table coverings, bunting, flags and even a cake stand. As more guests arrived laden with buffet contributions the table was soon full of everything from homemade bread to cakes with red and blue fillings.
There was a short icebreaker game where everyone was given a couple of pieces of a jigsaw puzzle and had to find the matching pieces amongst their fellow partygoers in order to reveal famous landmarks of Great Britain. And with everyone there by the official start time the "street party" began accompanied by traditional British music.
After we had finished eating – although with so much food nibbling continued throughout the evening – it was time for a geography lesson, AKA quiz time! Each person/team was given a map of Great Britain with 60 numbers on it. There were 60 place names stuck on the walls. Guests simply had to say which number corresponded with which place name. Not as easy as it sounds! The winning team of Paul, Lesley and Angela each won a mug with a union flag design. The next game was a variation of pass the parcel but we passed an inflatable Olympic torch and it all got quite competitive!
Throughout the evening guests had been perusing the raffle table and buying tickets. This raised funds for Cancer Research UK and was drawn around 9.00pm with most people winning something to take home. After some more chatting and drinking and a bit of dancing there were demands for more games so we played musical chairs and musical statues, then danced to the ever popular Saturday Night and Macarena before rounding off the evening with a little karaoke.
Thank you to everyone who attended – from Notts and Derbys in the north to Milton Keynes in the south although unfortunately no local members – and who entered into the party spirit by all wearing red, white or blue. Also for helping to clear up to the degree the church warden emailed us afterwards thanking us for leaving their hall so spick and span. Big thanks should also go to Paul Coulson for co-organising the event and providing the DJ services despite having just returned from holiday and being full of cold. What a trooper.
by Maxine Bates