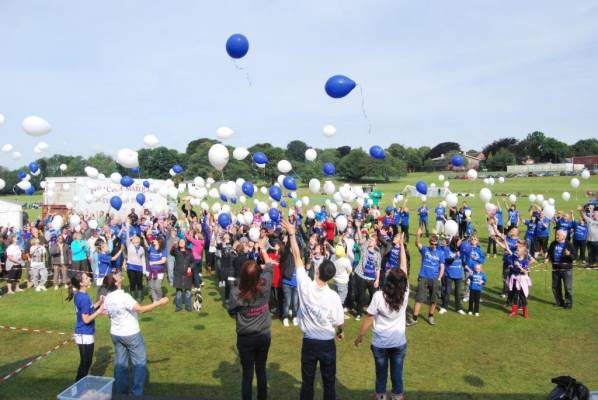 Regional News
Firstly I have to say a big thank you to everyone who participated in, helped with or donated to our Relay For Life event in August in aid of Cancer Research UK. I'm told by organisers that the Mensa team raised the most money so I'm very proud to have been team captain. It was such an amazing experience we may well repeat it next year. Please let me know if you are interested in joining a team for fun, friendship and fundraising.
Talking of 2011 I can confirm that our next regional event will take place on Saturday 19th February. Following such positive feedback from this year's event we will be returning to the Charnwood Arms Hotel in Coalville, Leicestershire, with a similar format evening. The theme will be 'Mardi Gras Party Night' and following a three course Latin themed meal there will be chance to learn basic dance steps of salsa, merengue, samba and cha cha cha before a disco. The cost will again be £20 per person for the event with accommodation available at £40 per room. See www.mensa.org.uk/eastmids for further information. Prior to this event the East Midlands Mensa officers will be holding their annual committee meeting. I am due to stand for re-election at this meeting. Therefore nominations are sought for the role of Regional Officer. If you would like further information on this role please contact me on [Phone Number] or [Email], or John Stevenage at the Mensa office.
Finally Northampton LocSec Ian Sargent will be having a break from organising social events over the winter months but if you live or work in the NN postcode area and would be prepared to host an event do get in touch. Why not invite members to join you at an activity you would be doing anyway? That could be eating, drinking, walking, bowling, cinema, or something more unusual.
Maxine Bates
Regional Officer
We are sad to announce the death of Bob Bloomfield at LOROS hospice in Leicester on 22nd August 2010. Condolences to his wife Carole and family. Bob will be sadly missed at local Mensa events
Events and Meetings
In the current circumstances surrounding the COVID-19 coronavirus, the expectation is that all events listed here are likely to be cancelled, if not already marked as such. If you intend participating in any event listed here, please contact the event organiser beforehand to confirm that the event is still on.

Notts News
Lots happening this month! It's Mensa's birthday on 1st October so a good excuse for a get together!
On Fri 1st Oct at 8.00pm - At Home
Paula Mclaren has kindly offered to play host at her home in Beeston from 8.00pm. Please bring a buffet contribution and whatever you wish to drink and we'll have an evening of eating, drinking, fun and laughter. Contact Paula on [Phone Number] or [Email] for directions.
On Tue 5th Oct at 8.00pm - 5OTM
Our regular get together will be at the Vat & Fiddle pub on Queensbridge Road from 8.00pm on Tuesday 5th. It's handy for the railway station so we occasionally get members travelling from Loughborough and Leicester to join us. New faces are always welcome and we can usually be found to the left of the bar but a yellow Mblem will be on display wherever we sit.
On Thu 7th Oct at 8.00pm - Goose Fair
The famous Goose Fair returns to the city and we'll be visiting the site at the Forest Recreation Ground at 8.00pm on Thursday 7th. Please contact me for rendez-vous point or in case of inclement weather. All ages welcome whether you want to be scared on the white knuckle rides, eat minted peas or cocks on sticks, or simply wander round and soak up the atmosphere.
On Wed 13th Oct at 7.00pm - Chicks & flicks
"Chicks & flicks" takes place on Wednesday 13th. Meet inside the doors to the Cornerhouse building at 7.00pm from where we'll head to Nando's to eat and debate which film to watch later. Everyone welcome! This month's eating meeting heads south to Loughborough so please see that section of Empress for details.
On Sat 30th Oct at 7.30pm - Halloween party
Finally I'm hosting a Halloween party at my home in Langley Mill from 7.30pm on Saturday 30th. Buffet provided but please BYOB. Scary costumes are encouraged but not compulsory. Please contact me for directions and to let me know you'll be there.
Ciao for now!
Maxine Bates
Contact [Email] or [Phone Number] for details

Mensans in MK & Bedford
On Thu 7th Oct at 8.00pm - FThOTM
First Thursday is at our regular venue of Jurys Inn Hotel on Midsummer Boulevard, on Thursday 7th from 8.00pm. Look out for the Mblem on one of the tables to the right in the foyer. Parking is a bit busy around Jurys and The Hub, so we usually try and get in across the road and then walk through the underpass.
On Sat 23rd Oct at 3.00pm - T@3
As T@3 is usually a popular meeting, we've decided to try holding it monthly, but moving around the MK/Bedford area. One T@3 per quarter will still be at Dobbie's in Fenny Stratford, so for our regulars that won't change. However, tea and cakes fans further afield will now be able to enjoy T@3 more locally. In October we will be at Willington Garden Centre on Saturday 23rd – we've chosen this one because we know it, and it has a decent café. It's on the A603, about midway between Bedford and Sandy.
For future T@3 meetings, we need your help! Do you have a tea-shop, or Garden Centre with café near you, within the MK postcodes, that would make a suitable venue? We'd rather take people's recommendations than just try pot luck, though we will resort to the latter if necessary! Please contact me with suggestions.
On Wed 27th Oct at 7.30pm - Chinese meal
On Wednesday 27th at 7.30pm we are going to the Dragon Boat Chinese restaurant near the Centre:MK – just round the corner from Lloyds Court and the horse sculpture. The address is Secklow Gate West, postcode MK9 3AT . We've been there a number of times and it's normally very good. There is a banquet menu or a la carte. Please let me know by Monday 25th if you plan to come as I may need to book a table.
Hope to see you there,
Jo Sidebottom
Contact [Email] or [Phone Number] / [Mobile Number] for details

Hertfordshire Happenings
On Fri 1st Oct at 6.00pm - Beer festival
A reminder from last month that it's the St Albans beer festival on Friday 1st; I'll be there from 6.00pm. The venue is the Alban Arena, Civic Centre, in the city centre. Food is available and there is a large range of beers as well! Give me a call for details and encouragement.
On Thu 7th Oct at 8.15pm - Pub meeting
Our regular first Thursday of the month meeting will be on Thursday 7th from 8.15pm. We'll be around for our usual mix of lively conversation and a good atmosphere and, as always, you'll find us at the Millstream, Cambridge Road, Hitchin. Good food and good beer both available! Call me for more details and encouragement. The pub is about ten minutes' walk from the railway station.
On Fri 29th Oct at 8.00pm - LFOTM
On Friday 29th from 8.00pm join us at the Cowper Arms, Digswell (near Welwyn village) for Last Friday. Good food and good beer to suit all tastes! The venue is next to Welwyn North railway station (Kings Cross - Cambridge and Peterborough line with trains every 30 minutes). Contact me for further details and encouragement.
Richard Allen
Contact [Email] or [Phone Number] for details
Derby Diary
On Sat 9th Oct at 11.00am - Museum
On Saturday 9th at 11.00am join me on a visit to Crich Tramway museum: at least 3 trams running, static displays, mining exhibition, sweet shop, cafe and pub. Meet in car park. Call me by Thursday 7th to register interest.
On Wed 20th Oct at 7.30pm - Pub meeting
Join me for a drink and possibly food at the Standing Order pub in Derby at 7.30pm on Wednesday 20th. The Standing Order is a comfortable Wetherspoon's pub serving a wide range of tasty food. We will probably be towards the back of the pub beyond the bar. Please call me for directions and encouragement.
On Fri 22nd Oct at 8.00pm - Ilkeston Charter Fair
If you missed the famous Goose Fair in Nottingham earlier this month then on Friday 22nd a group of us will be visiting the Ilkeston Charter Fair. Its history dates back to 1252 but I guess the rides and attractions have changed somewhat in the intervening years! Meet at 8.00pm outside the Scala cinema near the market place but please phone Maxine on [Phone Number] in advance in case of bad weather or if requiring directions or parking suggestions.
Alistair Blackett

Northants NNotes
On Mon 11th Oct at 7.30pm - The Last Supper
There is only one Northants event this month and it takes place at 7.30pm on Monday 11th (a week later than was stated in last month's Empress). Join us for "The Last Supper" at the Red Hot Buffet, Sixfields, Northampton. The cost is £12 per person, the drinks are pay as you go. Advance booking is required for this and I need to know numbers by Saturday 2nd October. Cheques should be made payable to me and sent to 33 Argyll Street, Northampton, NN5 5LJ. Phone or e-mail me for details about the venue.
If the title of the meal seems a bit strange it's because it will be the last Northants group event for a few months as we are hibernating for the winter. Attendances at meetings in the county have been pretty low for some years, but for the last few months they have hit rock-bottom. The time and effort required for me to get to them is not justified if only one other person turns up. I will re-start the meetings in the spring to see if there is any more support from members in the locality, though if anyone else in the NN postcode area wishes to arrange something you will have my wholehearted support.
Ian Sargent
Contact [Email] or [Phone Number] / [Mobile Number] for details

Lively Lincs
On Sat 9th Oct at 12.00pm - 2SaOTM
We'll be at our regular 2SaOTM venue in Lincoln on Saturday 9th from 12.00-2.00pm. So do join us for a chat in the coffee bar at The Collection, Danes Terrace. Some have lunch/snack, others just partake of drinks. Usually we're at the far end of the room, spot the yellow Mblem. All very welcome, please contact me for more details/encouragement.
On Sun 31st Oct at 2.00pm - Tea and Birds
Jacquie will be hosting another of her excellent 'Tea and Birds' meetings at Gibraltar Point nature reserve, Skegness, on Sunday 31st at 2.00pm. Join her for coffee and conversation in the visitors' centre cafe. If you are interested in seeing any winter birds' arrivals, then we can try a gentle walk before dark. Everyone welcome and it's suitable for families. For further information/encouragement, please contact Jacquie on [Phone Number].
Christine Howells
Contact [Email] for details

Mid Bucks
On Sat 2nd Oct at 2.30pm - Theatre & Spanish Meal
Wycombe Swan is presenting Agatha Christie's "Witness for the Prosecution".
"Emily French, an elderly woman who recently left her considerable estate to the charming young Leonard, is found dead. Murdered. Leonard quickly becomes the prime suspect. Will the truth be revealed in time or will Leonard be declared guilty? In a world where everyone seems to be harbouring a dark secret, this gripping courtroom drama will keep you guessing until the final fatal moment."
See http://www.wycombeswan.co.uk/wrtproductions_details.asp?pid=4359 for full details. Please book your theatre tickets for the Saturday 2nd October 2.30pm performance, but let me know you are coming so that we can look out for you (see http://www.wycombeswan.co.uk/wrt-productions.asp)
Afterwards we will go to La Tasca in the Eden Centre for a meal and to discuss the twists and turns of the plot! You are welcome to come just for the meal. I will need to book a table at the restaurant, so please contact me by Monday 28th September to let me know you are coming.
The new Waterside Theatre at Aylesbury is due to open in mid-October 2010. The full autumn programme for the new venue is available at www.ambassadortickets.com/aylesbury Before it opens to the public there is a charity gala performance, cost £5.00 per person, to be held on Saturday 9th October. Still no details of the programme as yet.
This is a one-off opportunity to be amongst the first people to enjoy a performance at this theatre, which is already attracting much praise for its construction and design from the arts and cultural trade and press. Tickets are limited! If you are interested in coming, please let me know as soon as possible.
Val Hinkins
Contact [Email] or [Phone Number] for details

Berkhamsted
On Wed 27th Oct at 7.45pm - Eating meeting
On Wednesday 27th at 7.45-ish we will meet at the upper room in the "Eat Fish" restaurant on Berkhamsted High Street. All members young as well as adult very welcome, you do not have to eat, just have a glass of juice or any other drink and enjoy the chat. However the food is good and reasonable if you are hungry. Having a room to ourselves helps the conversation, so do come and join in! Don't forget you can park across the road behind Tesco's store. Parking is free after 6.00pm.
Hoping to see you on the night.
Jenny Habib
Contact [Email] or [Phone Number] for details
Leicestershire Letter
On Wed 6th Oct at 8.00pm - Eating meeting
First of all, the eating-meeting roadshow comes back to north Leicester, and the Hobby Horse at Syston. This will be at 8.00pm on Wednesday 6th, the day after my 25th wedding anniversary (coincidentally, it's my wife's as well!), so we'd be delighted if you could join us to celebrate!
On Thu 21st Oct at 8.00pm - 3ThOTM
Next up, the third third-Thursday of the month meeting is back on the third Thursday after the second third-Thursday meeting was on the fourth Thursday (look, you're in Mensa! Do try and keep up, will you?), and back to The Old Horse on London Road in Leicester. Discussion topic of the day is "Do you think there's anyone actually in that coffin???" (Maybe we should have held this meeting on halloween! Anyway, come along on Thursday 21st and you'll see why the question!). Drop me a line or give me a call for either of the above so I'll know how big a table to grab.
On Tue 26th Oct at 7.30pm - Eating meeting
At 7.30pm on Tuesday 26th Maxine is hosting an eating meeting at Out Of India, Ashby Road, Shepshed. The restaurant serves very reasonably priced traditional Indian cuisine in a stylish setting. Menu can be found at www.outofindia.co.uk. Please book your place by 22nd - contact Maxine on [Phone Number] or [Email] so a table can be reserved.
On Sat 30th Oct at 7:30pm - Eating meeting
Finally, Sue Watford is hosting an eating meeting at the Sugar Loaf at Ab Kettleby (A606, 4 miles north of Melton Mowbray) on Saturday 30th at 7:30pm. Please let her know numbers at [Email], or on [Phone Number] by the 25th.
See you soon!
Paul Coulson

WATever . . .
On Mon 11th Oct & Mon 25th Oct at 8.00pm - Pub meeting
Two pub meetings this month. We will be bringing topics for discussion to these meetings and choose what to discuss on the night. Hopefully this will produce some friendly discussion/debate and is intended to take up maybe an hour of the meeting. So please come along and enjoy! We'll be at the Essex Arms, Langley Way, Watford, at 8.00pm on both Monday 11th and Monday 25th. Please look for the Magazine on the table.
David Seddon
Contact [Email] or [Phone Number] for details
EDITOR'S BIT
Hi! I'm back, although a month later than planned. My thanks go to Nick Stimpson for producing September Empress for me when my mother was rushed into hospital (she's recovering well).
I hope you've had a good Summer. But now that Autumn is here and Winter is coming (brrr!) you're possibly looking for something new to do in the comfort of your home? Perhaps you'd like to send me something to include on pages 6-7 of Empress? A photo, a meeting review, an article about a hobby, or how about a piece for a new series beginning next month, "My Town" – tell our readers what is special about the place where you live and why you like living there.
Looking forward to hearing from you,
Rosie Jefferson
Relay For Life
by Maxine Bates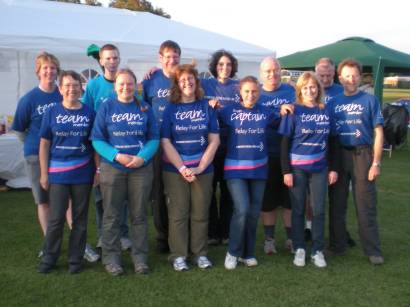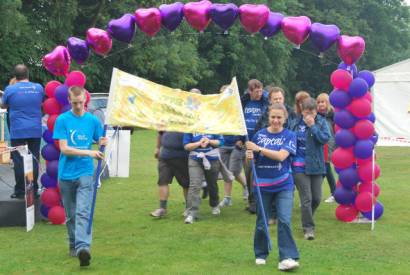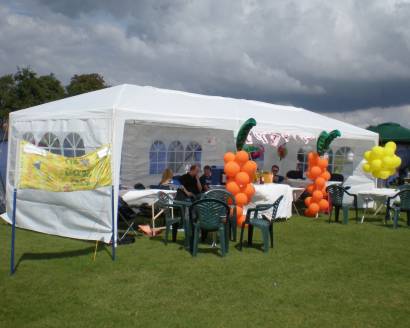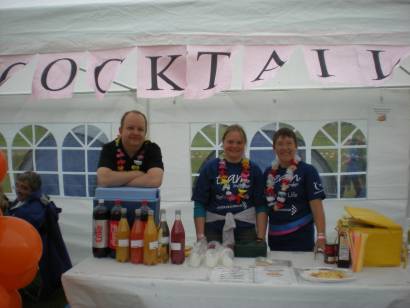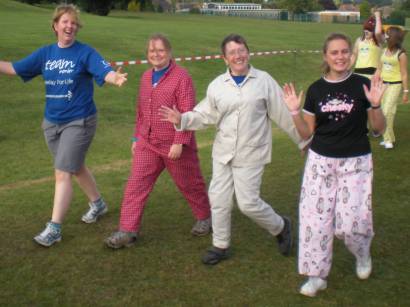 A team of Mensans and friends from around the East Midlands and beyond took part in Relay For Life in Swanwick, Derbyshire, 14th/15th August 2010. You may be familiar with Race For Life, the 5 km run for women to raise money for Cancer Research UK. Relay For Life is a 24 hour walking event open to both males and females of all ages in aid of the same good cause. In 2009 I'd attended Swanwick Relay as a helper and enjoyed the event so much that I'd appealed for members to help me form a team to take part in the 2010 event. Thanks to (see photo top left): Back row L-R Fiona Wingate, Adam Reece, Alistair Blackett, Christine Gigou, Mark Sloan, Dave Hoskisson Front row L-R Janet Kay, Jennie Weatherill, Jackie Blackett, (Maxine Bates), Sharon Bailey, and Nick Pal for volunteering.
And so the 'Cocktail Crew' was formed. Besides one member of the team walking on the track at all times from 10.00am on the Saturday to 10.00am on the Sunday, each team had a fundraising stand. We sold non-alcoholic cocktails – hence our team name! – as well as nachos and dips. We also organised a grand balloon race and thanks must go to Sharon for blagging a wonderful prize of a his & hers gift voucher for Mark Scott top hairdressing salon in Derby. At the time of writing I'm waiting to see if any balloon tags are returned. Last year the winning balloon reached Germany! We also sold 'rag mags' throughout the year that raised several hundred pounds.
Despite an afternoon of sunshine and showers various friends and family came to visit us and support the event. There was a stage with live music throughout much of the day and during a lull in the entertainment programme the team captains found themselves up on stage giving a line dancing demonstration! Other teams organised a bouncy castle, crazy golf, hook a duck, guess the name of the big teddy bear, cake and chocolate sale, book stall, candy floss machine, tombola, BBQ and more. Fun for all ages and a nice carnival atmosphere. Also throughout the afternoon there were themed laps to entertain both the walkers and the general public. So the 'Cocktail Crew' could be found walking around a field wearing Christmas costumes, hats and wellies, decorated bras, sportswear, pyjamas, and pink and blue attire. All good fun but very surreal at times!
As darkness fell everyone took part in the candle of hope ceremony. Beforehand you could decorate a candle bag to dedicate to a loved one who had suffered cancer and these were then arranged and lit on a hillside to spell the word 'HOPE' with more candle bags being placed around the track. The ceremony was very poignant and there probably wasn't a dry eye on the site, although being pitch black it was difficult to tell. We then devised a walking rota throughout the night with most of us catching a couple of hours sleep. A novel experience for me as it was my first ever time camping! As dawn broke we were served bacon butties and DJs played party tunes to keep us going for the final hours.
Special thanks should go to Ginette and Ed Loach for the loan of their marquee, to Sharon Bailey for arranging the loan of sleeping tents and sturdy tables, to Michael Rich for being one of our top 'rag mag' sellers, to Merry Metcalf for designing and making our team banner, and last but not least to Andy Farrell for all his help and support before, during and after Relay.
New friends were made, old friendships strengthened, there was lots of laughter, a few tears, lots of walking, little sleep. The Relay motto 'friendship, fun and fundraising' could not be more appropriate. I'm delighted to say the 'Cocktail Crew' raised approx. £2,500 (donations still arriving as I write) plus filled 40 bags of goods to be sold in Cancer Research UK shops meaning up to a further income of £1,200 for the charity. The whole event raised in excess of £20,000. A big thank you to the 'Cocktail Crew', everyone who came to visit us at the event, and everyone who so generously donated to this very worthwhile cause.
For further information on Relay For Life please see www.cancerresearchuk.org/relay. Please let me know if you'd be interested in joining a team in 2011.
20 Questions (No. 109)
The answers to the solar system quiz in the August issue were Mars, Holst's Planets Suite, 1930, Ceres, Venus, Slough, third stage of the Apollo 12 rocket, William Herschel, Pluto, Mars and Jupiter, A Midsummer Night's Dream, Alexander Pope, Halley's Comet, Jupiter, Primal Scream, The Louvre in Paris, Saturn, general theory of relativity, hydrogen and helium, and Hawaiian. Entries were received from Pamela Covey of Woburn, Mike Hadley of Lutterworth, Michael Warren of Derby, Ian Nelson of Letchworth, Christine Edwards of Leicester, Andy Cole of Cleethorpes, Chris Benger of Bedfordshire, Chris Impey of Tring, Geraldine Ellis of Nottingham, Chris Newbold of Leicestershire, Roger Lord of Aylesbury, Carol Wheatcroft of Derby, Tony Dodd of Belvoir, Jane Edmunds of High Wycombe and David Crozier of St Albans. The winner of the book token was Pamela. Well done for being first out of the hat.
This month's quiz is all about big things of the world! Send your answers to '20 Questions (No. 109)', [Address], to arrive by 20th October for your chance to win the book token.
1. Which is the deepest lake in the world?
2. Measuring 49 metres which is the world's widest bridge?
3. Which company built the world's largest excavator?
4. In which city is the world's largest synagogue located?
5. What is the name of the tallest rollercoaster in the world?
6. In which country is the world's largest indoor water park?
7. Who lives in the largest residential palace in the world?
8. In January 2010 what became the tallest building in the world?
9. With seating capacity of 150,000 in which country is the world's largest stadium?
10. Which model plane is the world's largest carrying 555 passengers?
11. In which US state is the world's largest chocolate factory?
12. Which Chinese manufacturer produced the largest bus in the world?
13. Which is the largest inhabited castle in the world?
14. What is the name of the most luxurious and only seven star hotel in the world?
15. At 2,300 ft which statue is the highest elevated in the world?
16. Which company owns the largest factory in the world?
17. The world's tallest tree is found in which National Park?
18. What is the name of the world's longest suspension bridge since 1998?
19. The largest film studio in the world is located in which country?
20. What is the largest island in the northern hemisphere?