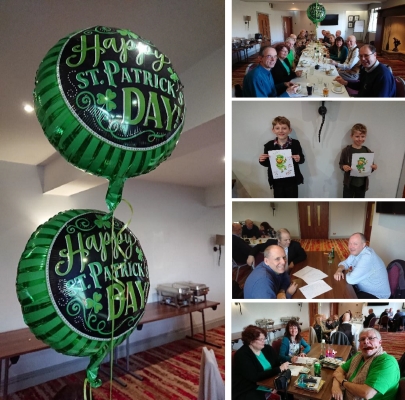 St. Patrick's Day – Meal and Quiz
Regional News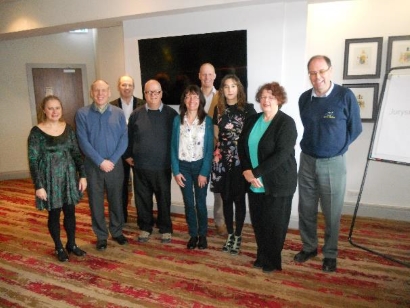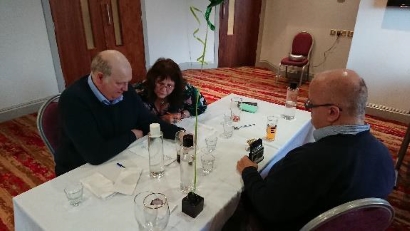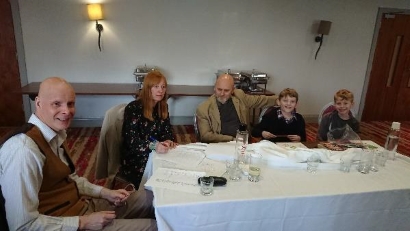 Thank you to everyone who attended our St Patrick's Day event in March. Although I must admit to being hugely disappointed with the general lack of interest despite promotion in Mensa Magazine, Empress, Facebook and email. I'm totally baffled why as the event was in an easily accessible location, at a reasonable price, suitable for all ages and daytime so didn't involve any overnight accommodation. Please do tell me why it didn't really appeal!? However, it was definitely a case of quality over quantity and those who did make the effort to come along all had a friendly and relaxed afternoon. Great to see so many people wearing green for the occasion! The food was hot, tasty and plentiful with most guests enjoying second and third helpings. Judging by the final marks the quiz was pitched at the right level.
Congratulations to Susan, Jo and Chris who were the winning team. Also to our younger members James and Edward for both producing lovely leprechauns and winning some puzzles and sweets. A prize also went to Richard Allen for impressively being able to match all 32 Irish counties on the map!
A big thank you to Richard for looking after members in Hertfordshire over the last 15 years. He will be stepping down from the role and from 1st May Steve Thomas will be taking over as Herts Local Officer. Steve introduces himself in this issue of Empress. Welcome to the team, Steve!
As ever, keep an eye on www.mensa.org.uk for details of forthcoming weekend gatherings as these are a great way to see different parts of the country whilst meeting other members.
I'm on [Phone Number] or [Email]
Maxine Bates
Regional Officer
Editorial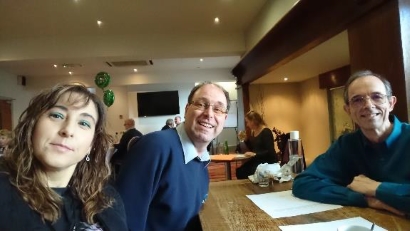 Welcome to the May Edition of Empress. So many events and photos to squeeze in that this edition of Empress looks completely packed up! I have added a few photos of St. Patrick's Day event "then and there" and a very colour issue so, if it would be worth it to read it on line, where you can have a better look at all the photos.
Enjoy the reading!
Maria Falces
Member Profile – Steve Thomas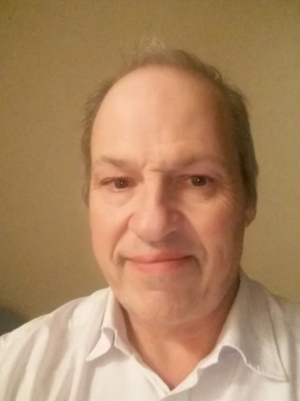 Name:
Steve Thomas.
Born:
September 1959
Location:
Baldock. I moved here in August 2015, and prior to that lived in Gloucestershire and, even earlier, North West Wiltshire; both in Central region.
Occupation:
Electronics Engineer.
Hobbies:
Church bell ringing, theatre sound (Queen Mother Theatre in Hitchin), keeping myself fit and karaoke singing whenever I get the chance. I'm trying to learn the piano, and enjoy reading crime fiction and solving crossword and Sudoku puzzles. In my younger days, I practised pole fitness, which is a great way of building core strength.
I joined Mensa in February 2003, after taking the test the previous year in Bristol. I remember having a streaming cold at the time of the test, but somehow managed to scrape through. I took the test because my career was in the doldrums and I needed to know whether it was just rotten luck or whether I really wasn't very intelligent. Once I'd received the invitation to join, read the magazine and had a look through the SIG list, I was convinced that I would belong in Mensa.
The first Mensa event I attended was a trip organised by Maxine Bates to see the Rocky Horror Show, either in Derby or Nottingham. I was made to feel at ease straight away, and of course we all dressed as characters from the show. Little did I know at that time that I would be returning to the East Midlands.
I am taking over the reins as Hertfordshire Local Organiser from Richard Allen, effective from the First of May. Those who attend the First Thursday meetings will already know me from there, and I hope to get to know many more Mensans over the coming years. Richard isn't going away, and will be hosting the Last Friday meetings for at least the next few months, but felt it was time to stand down as Local Organiser. I hope that I'll come to do as good a job as he has.
Events and Meetings
In the current circumstances surrounding the COVID-19 coronavirus, the expectation is that all events listed here are likely to be cancelled, if not already marked as such. If you intend participating in any event listed here, please contact the event organiser beforehand to confirm that the event is still on.
In Leicestershire
On Mon 20th May at 8:00pm - Pub Social
Join me for a drink and a natter at the Cradock Arms, 201 Knighton Road, Leicester, LE2 3TT. We usually gather in the lower part towards the rear of the bar. New faces are always welcome. Look out for the magazine or Mblem. For directions or encouragement, please contact me on [Phone Number] or by email at [Email].
On Sat 25th May at 7:00pm - Pub Meal
We are dining at the Stilton Cheese Inn, High Street, Somerby LE14 2PZ this month. The Inn is a family run CAMRA pub in a building that dates from the 17th century. There is a car park to the rear of the pub in Chapel Lane. Booking in advance is essential, so please let me know by Sat 18th May by calling [Phone Number] or e-mailing [Email]
Lively Lincs
On Sat 11th May at 12:00pm - Pub discussion
"No one . has ever lost money by underestimating the intelligence of the great masses of the plain people. Nor has anyone ever lost public office thereby." That's this month's topic for our Second Saturday meeting at the Adam & Eve, Lindum Road (opposite Pottergate Arch). All welcome. Decent ales, food, car park. Look for the Magazine. Contact Jacquie on [Phone Number] or [Email] for a welcoming word beforehand.
On Sun 19th May at 10:30am - Brunch and town walk
Another in our series of town walks. Join us for brunch at Church Keys Wine Bar, followed by a leisurely walk around some of Boston's interesting historical sites. Conclude at St Botolph's church, where those who wish may (weather, church services, etc. permitting) climb the famous Stump for a huge view. All very welcome, please book with us for brunch by Friday 17th. Contact us on [Email] or [Phone Number].
Jacquie Harrison
Contact [Email] or [Phone Number] / [Mobile Number] for details

Notts News
On Sun 5th May at 7:30pm - 5OTM
No plans for the bank holiday weekend? Pop along to the Vat & Fiddle pub on Queensbridge Road near Nottingham railway station for a drink and chat. Note food not served Sunday evenings. Look for yellow Mblem on table most likely in Goldings Room to left of bar where a warm welcome awaits from Linda and co.
On Thu 9th May at 7:30pm - Natter & Nosh
We have a large table reserved at the far side of the bar at The Cadland, High Road, Chilwell. Join us from 7.30pm for a meal or later for just a drink. New menu at www.emberinns.co.uk. Lovely food and lovely company. Why not join us? Further info from Maxine on [Phone Number] or [Email] or look for yellow Mblem on the night.
On Fri 10th May at 6:00pm - Greyhound Racing
We're taking part in a charity tournament at Nottingham Greyhound Stadium in Colwick. Tickets £4 including admission and race booklet. That's half price and all money goes to Cancer Research UK. Food/drink available at the venue along with ample free parking. Friends, family and work colleagues welcome. Purchase tickets in advance from Maxine on [Phone Number] or [Email]. Under 18s only £1 on the gate.
On Sat 18th May at 7:00pm - Eurovision Party
Our annual celebration of all things Eurovision at my home in Langley Mill! Watch the contest, heckle the acts, dress in something or bring a buffet contribution related to a European country. Or just socialise in the kitchen or garden. Please RSVP to Maxine on [Phone Number] or [Email]
On Tue 21st May at 7:00pm - 3TuOTM
Food, drink and good conversation all available at The Prince Rupert on Stodman Street in Newark. We're usually in the room to right of the pub entrance. New faces always welcome! Pop in briefly or stay all evening. Directions/encouragement from Pete on [Phone Number] or [Email] or spot the yellow Mblem on the table.
On Tue 28th May at 7:30pm - Eating Meeting
A Chinese meal at the excellent Mr Man's restaurant adjacent to Wollaton Park (NG8 2AD). See menu at wwwmrmansrestaurant.co.uk and reserve your place with Maxine on [Phone Number] or [Email] by 21st May please.
Ciao for now!
Maxine Bates
Contact [Email] or [Phone Number] for details
News from Northampton
On Sun 12th May at 10:30am - Brunch
Our usual breakfast/brunch meeting will be held at the Rendezvous Coffee Shop in Market Walk, Northampton Town Centre. Pete has promised to make the quiz easier - a bit! - and we can do a show-and-tell, bringing any craft item we have made with its history. Contact Marianne on [Phone Number] or email: [Email] for information and encouragement.
On Fri 17th May at 11:00am - Country Walk
Meet at the Dovedale Car Park, DE6 2AY (between Thorpe and Ilam), for a walk along this spectacular limestone gorge. Up to 6 miles but you can shorten it. Bring a packed lunch. Contact: [Email]. [Phone Number].

Hertfordshire Happenings
On Thu 2nd May at 8:00pm - FThOTM
Once again, we are at the Three Magnets, Leys Avenue, Letchworth. Thursday is traditionally curry night, but other food is also available (standard Wetherspoons fare). Leys Avenue is the main shopping street in Letchworth and is just a few minutes' walk from the rail station (Kings Cross to Cambridge line). Call me on [Phone Number]. for further details and encouragement.
On Sat 11th May at 3.00pm - Tea @ 3
Meet for tea and cakes (of which there are plenty available), at Cafe No. 12, Leys Avenue, Letchworth. Look for the Mblem! Leys Avenue is the main shopping street in Letchworth and is a few minutes' walk from the station. Car parking is also available nearby.
On Fri 31st May at 8:00pm - LFOTM
As ever, we are at the Cowper Arms, Digswell. The pub is next to Welwyn North station and is served by stopping trains from Kings Cross to Peterborough and Cambridge. Good food, beer and conversation guaranteed! Please call me on [Phone Number] for more details and a spot of encouragement to come and join us.
Steve Thomas
Contact [Email] or [Mobile Number] for details

Mensans in MK & Bedford
On TBA May at 10:00am - Breakfast
Please check local MK & East Midlands social media for Sunday breakfast date at Carluccio's in the Centre:MK. Join us from 10am for a full breakfast, a snack, or just a drink. Contact Jo at [Email], or [Phone Number] / [Phone Number] for directions/encouragement.
On Thu 16th May at 5:30pm - Art Gallery
MK Art Gallery (by the Theatre on Midsummer Blvd) recently reopened after a complete refurb. Meet outside the front entrance for a look round. We'll probably go for a meal locally afterwards. Contact Jo at [Email], or [Phone Number] / [Phone Number] for directions/encouragement
On Mon 20th May at 8:15pm - 3MOTM Quiz
Our monthly quiz outing to The Barge at Woolstone. Meet from 8.15 for a 8.30pm start - cost is £1 per person. Please contact me beforehand to check it's still on, as the pub occasionally cancels. Contact Jo at [Email], or [Phone Number] / [Phone Number] for directions/encouragement.
Just a reminder about our M-MK & Bedford Facebook group – if you would like to join please search for the group and send me a request. I also keep an email distribution list for meeting reminders and any last-minute changes, so if you would like to be added to this please let me know.
We hope to see as many of you as possible at one or other of our events this month. Do remember that you're welcome to bring a guest with you, so if you've never been to a Mensa event and are a little nervous about coming along on your own, just bring a friend.
Jo Sidebottom
Contact [Email] or [Phone Number] / [Mobile Number] for details

Mid Bucks
On Fri 3rd May at 10:30am - Coffee & Chat
Join me at The Apple Orchard, High Street, West Wycombe HP14 3AG for relaxed conversation, cake and coffee. See https://www.theappleorchard.co.uk/coffee-shop for location and menu. No need to book, but if you want me to look out for you, let me know you are coming on [Phone Number] or e-mail me at [Email]
On Sat 11th May at 1:30pm - Open Day
This Mensa event is fully booked. If you would be interested in any future trips please contact Judith Barratt via e-mail at [Email]
On Mon 13th May at 8:00pm - Indoor Games
Join Dave and Alison at their home in Flackwell Heath, near High Wycombe, for a relaxed evening of indoor board games. All members and friends welcome. Space is limited, so please contact Dave for directions and to discuss what games you would like to play on [Phone Number] or by e-mail at [Email]
On Sun 19th May at 2:00pm - Eat & Greet
Join me at ASK on the High Street. Either arrive at 2pm to join me in a late lunch, or come along a little later and join us for a drink or coffee. Check out their menu at https://www.askitalian.co.uk/menu/ Free antipasti, garlic bread etc. to share for everyone booking with me by Monday 13th May. Contact me on [Phone Number] or [Email]
For further details or encouragement contact me on [Phone Number] or e-mail me at [Email]
Val Hinkins
Contact [Email] or [Phone Number] for details

Derby Diary
On Wed 15th May at 7:30pm - 3WOTM
Our monthly Third Wednesday get-together has come round again. We will be at the Standing Order pub on Iron Gate (Wetherspoons). Join us to eat or just for a drink and a chat from 7.30pm. Look for the yellow Mblem on a long table in the rear section. Contact Susan on [Phone Number] or [Email] for directions and/or encouragement. New faces especially welcome.
On Thu 23rd May at 7:30pm - Meal
Join us for a meal at the Masons Arms, 1 Etwall Road, Mickleover, DE3 0DL. Good traditional pub food, car park available. Stay on for the quiz at 9pm if you would like. Please contact me on [Phone Number] or [Email] by Thursday 16th so I can confirm numbers for the meal.
On Thu 23rd May at 9:00pm - Quiz
Join us for the popular general knowledge quiz at the Masons Arms, 1 Etwall Road, Mickleover, DE3 0DL. Free entry. Contact me for directions / encouragement, and so I can let you know if anything changes, on [Phone Number] or [Email]
Susan Graves
Contact [Email] or [Phone Number] / [Mobile Number] for details
Richard Allen - My Farewell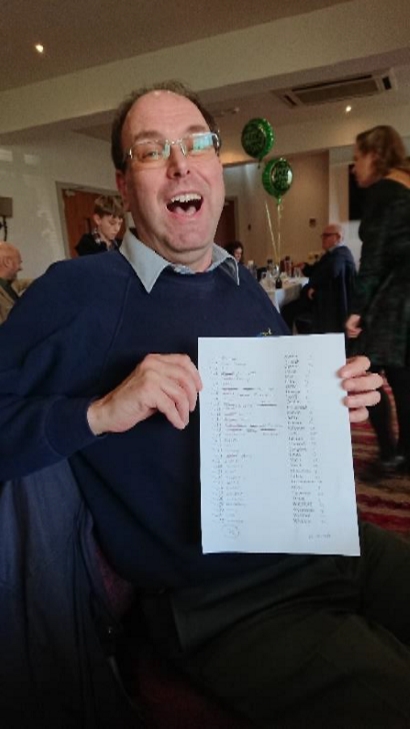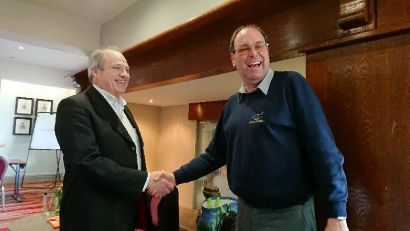 After fifteen years as LocSec and Local Officer for the Hertford area, I have decided to call it a day. I have had a great time and met many interesting people and I am pleased that we have a small but flourishing group in Herts. Steve Thomas will be taking over from me and I will continue to attend events and organise some in the future, so you've not seen the last of me!
It has been a pleasure to act as Local Officer for such a long time and I wish you all well and hope to see you at future events!
Meetings reviews
Eat & Greet in Bedford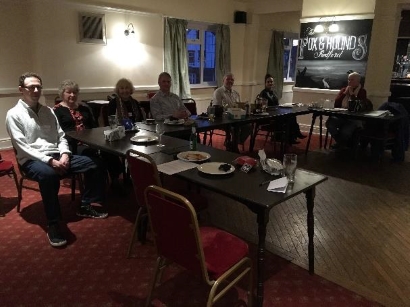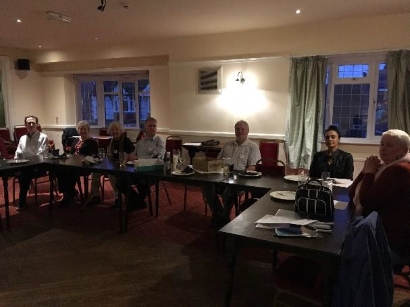 Bedford & Milton Keynes Mensa welcomed a total of ten members to our "Eat & Greet" event in Bedford on 24th March. Most of these had attended at least one Mensa get-together before, although in some cases not for a few years. However, we did tempt out Daphne, a first-timer (not to be confused with Daphne, our most senior member, who wasn't).
We attempted to do a couple of quizzes, one on Bedfordshire and one on Mensa, but having fulfilled their purpose of getting people chatting, they were soon discarded in favour of more wide-ranging conversation
We made a valiant attempt on a finger buffet which seemed to consist mostly of onion rings. Mensa Head Office had kindly supplied a variety of branded items so everyone went away with a variety of goodies. Finally we shared the quiz answers, some of the ones about Bedfordshire being quite enlightening.
I'm grateful to everyone who came and joined us for this get-together, and hope they will be encouraged to come along to more Mensa outings in future.
The pictures show l-r Will, Daphne, Daphne, Russell, Chris, Nitasha and Sally. Satish and Peter had already left by the time I remembered to take a photo!
Escape room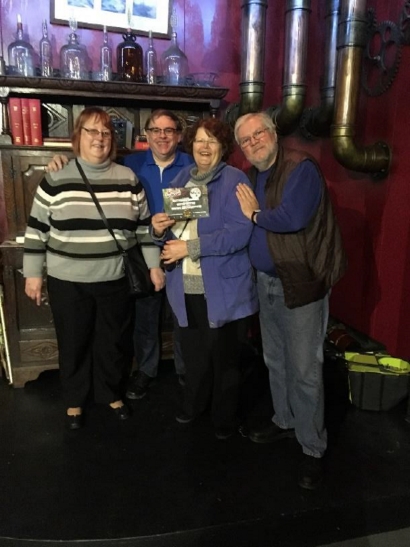 It's Judy, David, Chris and myself after our Escape Room challenge in Milton Keynes late in February. We didn't quite make it out in time but we did win an award for solving one particular clue very quickly! And despite our lack of success we all enjoyed doing it.
20 Questions (No. 211)
The answers to the March quiz were Aylesbury, Government Code And Cypher School, St Botolph, Friargate, Ilkeston, Bedford, furniture manufacture, Corby, Tempsford, St Albans, Hemel Hempstead, St Marks, Royston, Henlow, Petwood, Leicester, Baldock, Loughborough, Kettering and Weetabix. Congratulations to Keith Hutchings of Mablethorpe who wins the £10 book token.
As a certain event takes place this month we have a quiz on Eurovision! Send your answers to arrive by 20th May by post to '20 Questions (No. 211)', [Address] or by email to [Email]. Don't forget to include your name and address in case you win.
1. How many times has Ireland won Eurovision?
2. Which Swedish singer won Eurovision and went on to co-host the show the following year?
3. Which country did Celine Dion represent at Eurovision?
4. Which UK singer came 8th yet topped the charts the day after Eurovision in 1996?
5. Who was Eurovision's first transgender act?
6. Which act was the last to win Eurovision representing the UK?
7. Who composed the piece of music played at the start of every Eurovision?
8. In which city did Buck's Fizz win Eurovision?
9. How old was the youngest ever winner of Eurovision when she won in 1986?
10. Which band won with a song called 'Hard Rock Hallelujah'?
11. Eurovision act Ruslana was also elected as Member of Parliament in her home country of where?
12. Terry Wogan traditionally started drinking Bailey's at which number act?
13. In which year was the first semi-final introduced in Eurovision?
14. How many members were in the UK entry Scooch?
15. Who were the only act to perform first and then win?
16. In which year did Abba win Eurovision?
17. Which country won with the highest number of 758 points?
18. Who is the only artist to have won Eurovision twice?
19. Which song is the only Eurovision entry to feature on a 'Now That's What I Call Music' compilation?
20. In which city will Eurovision take place on 18th May 2019?