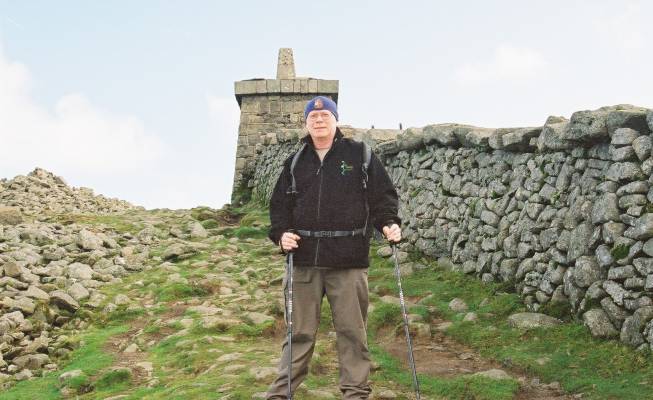 What's Ian been up to this time?
(find out below)
Regional News
Happy New Year to all Empress readers! Mensa celebrates its 65th birthday in 2011 and a series of intellectual events are being planned to take place around the world on 1st October (the actual birthday). With the title "Mensa Brilliant" we are promised lots of publicity for our society as well as lots of fun and mental stimulation. Watch this space!
In a bid to increase membership figures test sessions are planned throughout British Mensa. In the East Midlands region these will take place on 22nd January, 9th April and 2nd July at Mitchell Hall in Milton Keynes and on 19th February at Watford Central Library. Other test centres include The Y in Leicester and the International Community Centre in Nottingham at dates still to be arranged in 2011. If you have friends, family or work colleagues you think may be eligible to join Mensa why not invite them to take the test? Contact Helen Oliver at the Mensa office on helen@mensa.org.uk or 01902-772771 for further information. The media sometimes seek to speak to a local member prior to a test session. If you would like to represent East Midlands Mensa in this way – and have the grand title of Regional Publicity Officer! – please have a chat with me. I'm on [Phone Number] or [Email] and would love to hear from you.
As you will see from one of the features in this month's issue of Empress, the test session in Bedfordshire on 22nd January will coincide with a chance for all members and guests to meet the Board of British Mensa and ask questions over refreshments. The last such event in our region attracted lots of new faces. Why not come along and say hello? We don't bite!
A reminder that we are holding a Mardi Gras Party Night on Saturday 19th February. The venue is the Charnwood Arms Hotel in Coalville, Leicestershire, which is very convenient from M1 J22. Tickets are priced at £20 and include a three course Latin themed meal, Latin dance tuition and a disco. See www.mensa.org.uk/eastmids for full details.
I look forward to seeing you at one of our many events in the coming year.
Maxine Bates
Regional Officer
Events and Meetings
In the current circumstances surrounding the COVID-19 coronavirus, the expectation is that all events listed here are likely to be cancelled, if not already marked as such. If you intend participating in any event listed here, please contact the event organiser beforehand to confirm that the event is still on.

Mensans in MK & Bedford
Happy New Year to all Milton Keynes & Bedford members!
On Thu 6th Jan at 8.00pm - FThOTM
We start the year with our regular First Thursday meeting at 8.00pm on 6th at Jurys Inn Hotel on Midsummer Boulevard. Look out for the Mblem on one of the tables to the right in the foyer. Parking is a bit busy around Jurys and The Hub, so we usually try and get in across the road and then walk through the underpass.
On Sun 16th Jan at 10.00am - Sunday Breakfast
New year, new meeting! We've been to several very successful Sunday breakfast meetings in other areas recently, and we think they're a great idea. We are therefore bringing them to Milton Keynes. Our inaugural meeting will be at 10.00am in Café Rouge in The Hub (not the Centre:MK/Destination Dining branch) on Sunday 16th. Feel free to come for a full breakfast, a snack, or just a drink, but if possible please let me know by Saturday 15th so we have an idea what size table to grab when we arrive.
On Sat 22nd Jan at - Mensa Board Roadshow
Finally, last January's Open Meeting in Milton Keynes was so successful that we are repeating the format in Bedford on 22nd January. Please see the separate item for full details, but do feel free to contact me if you have any questions.
We hope to see as many of you as possible at one or other of our events in January!
Jo Sidebottom
Contact [Email] or [Phone Number] / [Mobile Number] for details

Hertfordshire Happenings
On Thu 6th Jan at 8.15pm - FThOTM
Our regular first FThOTM meeting will be on Thursday 6th. Feeling a bit down after the New Year celebrations? Come and join us from 8.15pm! We'll be around for our usual mix of lively conversation and a good atmosphere at the Millstream, Hitchin. Good food and good beer available! The pub is about ten minutes' walk from the railway station.
On Fri 28th Jan at 8.00pm - LFOTM
Join us at the Cowper Arms, Digswell (near Welwyn village) for LFOTM on Friday 28th from 8.00pm. Good food and good beer available to suit all tastes! The venue is next to Welwyn North railway station (Kings Cross - Cambridge and Peterborough line with trains every 30 minutes). Call me for more details and encouragement on either of the above events.
Richard Allen
Contact [Email] or [Phone Number] for details

Mid Bucks
On Sat 29th Jan at 9:30am - Furniture Factory tour
On Saturday 29th come and visit one of the last working furniture factories in High Wycombe. Luxury goods are not often associated with High Wycombe but Stewart Linford makes high quality bespoke furniture, special limited edition pieces and traditional Windsor chairs. His clients include royalty and local celebrities. The factory is housed in workshops built during the reign of Queen Victoria and also features a chair making museum and exhibition of antique chairs.
Stewart has offered to conduct us around the factory himself. He is well known in the town and is a regular speaker with a fund of stories and anecdotes about the history of the traditional furniture industry. The early start will let us watch his craftsmen at work. Refreshments will be provided in the main showroom after the factory tour. Meet at the factory on Kitchener Road, High Wycombe, HP11 2SJ at 9:30am. See www.stewartlinford.com for further information.
If coming, please let me know by Sunday 22nd.
Val Hinkins
Contact [Email] or [Phone Number] for details

Notts News
On Wed 5th Jan at 8.00pm - 5OTM
Mark will be hosting our first event of the year. Do join him from 8.00pm on Wednesday 5th at the Vat & Fiddle pub on Queensbridge Road in Nottingham city centre. The Mensa group can usually be found to the left of the bar. At our recent get together staff from Glenfiddich were training some of the bar staff and once finished they offered our group an impromptu free whisky tasting!
On Wed 12th Jan at 7.00pm - Chicks & Flicks
At 7.00pm on Wednesday 12th why not join us for our monthly "chicks & flicks" event? We meet inside the doors to the Cornerhouse in the city centre then dine at Nando's whilst debating which film to watch later at Cineworld. This is a very informal and cheap night out as both venues offer discounts - the Cornerhouse card and Orange Wednesday 2-4-1 deal. You are welcome to join us for either or both parts of the evening.
On Fri 14th Jan at 8.00pm - At Home
From 8.00pm on Friday 14th I'm opening my doors to members for an evening of boardgames and/or socialising. I have a selection of games but feel free to bring your own. I live in Langley Mill on the Notts/Derbys border and five minutes drive from M1 J26. 'At home' events are usually popular and I'm hoping to arrange one each month around the county. If you'd be willing to play host for a party, soiree, boardgames evening or just a sit and chat I'd be delighted to hear from you! There would be minimal cost to yourself as guests can be requested to bring food/drink contributions and we're usually housetrained!
On Tue 25th Jan at 7.30pm - Burns Night Eating Meeting
We have something a little special for this month's "eating meeting". As it falls on Tuesday 25th, which is Burns Night, I've found a restaurant that will offer us a specially devised Scottish menu cooked by their Scottish owner/chef. The venue is The Larder On Goosegate in the Hockley area of the city. It's featured in the 2011 Good Food Guide and gets excellent reviews. As it's on the first floor of a listed building, which was also the site of the first Boots pharmacy store, unfortunately there is no disabled access. The cost will be £20 per head for a three course meal, much reduced from their usual prices. Please contact me for the full menu and to book by 18th January. New faces and tartan most welcome!
Finally, are there any mothers with young children who live in the NG9 Chilwell/Beeston postcode area who would like to get together with other mothers during the daytime? If so, please contact me and I'll put you in touch.
Ciao for now!
Maxine Bates
Contact [Email] or [Phone Number] for details
Derby Diary
On Wed 19th Jan at 7.30pm - 3WOTM
A busy month for Derby Mensa. We will have our usual meeting in the Standing Order in Irongate on Wednesday 19th.
On Sat 22nd Jan at 7.00pm - Eating Meeting
I have had a number of people asking for meetings on other days and so I am hosting an eating meeting on Saturday 22nd at the Pizza Express in Irongate, Derby.
It would be helpful if you could confirm your attendance by Wednesday 19th at the pub meeting or by phone/email.
On Fri 28th Jan at TBC - Cinema
Finally, again at the request of a member, I am planning a visit to the Ritz Cinema in Belper on Friday 28th. This cinema is a real gem and is run as a club which allows alcohol in the theatre. There is also a wide range of other beverages and snacks available. I will know what is being shown at the New Year and will let interested parties know. There will be an option of a drink or a meal. If you wish to attend please let me know by Friday 21st.
Alistair Blackett

Lively Lincs
On Sat 8th Jan at 12.00 - 2SaOTM
We have our 2SaOTM meeting in central Lincoln in the coffee bar at The Collection, Danes Terrace, on the 8th. Join us anytime between 12.00 – 2.00 for lunch/snack or just a quick coffee. Usually we're at the far end of the room, spot the yellow Mblem.
On Sun 30th Jan at 2.00pm - Games
Then on Sunday 30th, 2.00-5.00pm, there's the opportunity to show your skills with a cue on our bar billiards table. If that's not your game, how about table skittles or shove ha'penny; or just come along to watch the fun and indulge in tea and chocolate cake. There's ample parking.
For directions, etc., just ring or email me.
Christine Howells
Contact [Email] for details
More or Leicester
On Thu 27th Jan at 8:00pm - 4ThOTM
A little bit "less" rather than "more" this month as travel commitments (and finding time to finish up the turkey!) mean that there's no rolling-roadshow of eating meetings in January, just leaving the regular third-Thursday of the month meeting at The Old Horse on London Road . . . which is taking place on the fourth Thursday! A special note to those that have never quite got around to coming along: Make a New Year's resolution to pop in at 8:00pm on the 27th even if it's just to say "hi"! (You can always deny knowledge of us later!). Feel free to drop me a line at [Email], or give me a call on [Phone Number], for directions, reassurances that most of us don't bite, or just to get your "Hi"'s in early!!
All the best!
Paul Coulson

WATever . . .
On Mon 10th Jan at 8.00pm - Pub Meeting
Please note there are two pub meetings this month:
Monday 10th : Essex Arms Watford 8.00pm
Monday 24th : Essex Arms Watford 8.00pm
The format for 2011 will be meetings on the 2nd and 4th Monday in each month.
We will try and arrange a social event for the 2nd Monday of the month (house meeting or event) The 4th Monday will always be a pub meeting. Look forward to seeing you all at some of the events throughout 2011.
David Seddon
Contact [Email] or [Phone Number] for details
Editor's Bit at the Bottom
Just room here at the bottom for me to say that I hope you had a wonderful Christmas time with your loved ones and to wish you a happy and healthy 2011. Looking forward to hearing from you anytime,
Rosie Jefferson
Pinnacle of Achievement
by Ian Sargent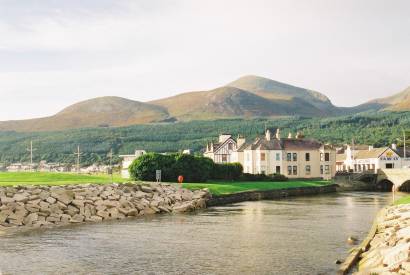 Slieve Dinard as seen from Newcastle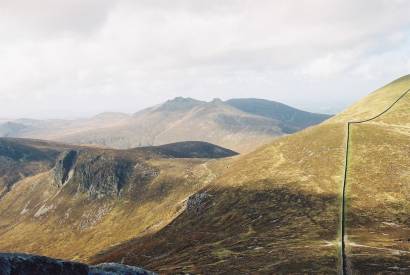 The Mourne Wall going up Slieve Commedagh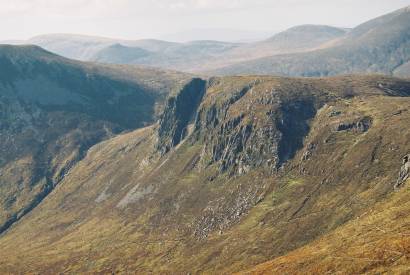 Annalong Buttress
After my last Moment of Madness appeared in Empress in 2008 I was asked what my next challenge was going to be. As I had walked up the highest mountains in England, Scotland and Wales, I said that perhaps I ought to walk up the highest mountain in Northern Ireland. "What's it called?" "Don't know. I'll have to find out."
As a consequence of that conversation, I woke up in Newcastle on Tuesday 5th October 2010 - but not the one where they speak Geordie! The highest mountain in Northern Ireland is Slieve Donard in the Mountains of Mourne. The Newcastle in question is the one in County Down.
There are a number of paths up the mountain and the one I'm following starts from a park on the edge of town. The weather forecast is good but with a chance of rain in the afternoon. I set off at 10.15am and the first section is through the Donard Forest, following the course of the Glen River. For much of this part there is no set path, but as long as I can still hear the river as I head uphill I know that I'm going in the right direction. It's warmer than I'd anticipated so off comes the fleece and I'm down to a Tshirt - not what you expect at this time of year.
After a mile or so I come out of the forest and get a clear view of the valley. Slieve Donard is visible to the left but I'm not going to attack it just yet. Another mile or so of walking brings me to the head of the valley and it's time to cross the river via some stepping stones. This is a good place to stop and rest for five minutes as the next section is where the gradient starts to get serious.
The path clings to the left side of the valley wall, but it's still not taking me in the direction of the summit. Instead it aims for the ridge that connects Slieve Donard with Slieve Commedagh. The ridge is also where I encounter the Mourne Wall - a 5-foot high drystone wall that runs for 22 miles over the Mourne Mountains. It marks the watershed of the Ben Crom and Silent Valley reservoirs and it's stated purpose was to protect the water supply from the effects of cattle and sheep; however its construction in the early part of the 20th Century also brought the area a lot of employment.
It's still sunny, but now that I am out of the shelter of the valley there is a cold wind blowing; the fleece is donned once again, along with a hat and gloves. From here I turn left follow the wall to the summit. It's now a steep climb all the way, with frequent rests to catch my breath. The contours of the mountain are such that I can't see the summit and it's difficult to judge just how far I still have to go; when the last of the "false summits" is reached the sight of the trig point on top of the real one is a relief. It's about two and three-quarter hours since I set off and I've reached my goal.
I spend 30 minutes up top (front page photo) admiring the view, taking photos and eating my lunch. From here the Mourne Wall looks like a miniature version of the Great Wall of China, though I doubt whether it would keep out the Mongol hoards! Time to retrace my steps and it takes 2½ hours to get back to the start point - though this does include several stops to take in the view. The southern side of the valley was in shadow on the way out but as the sun has moved round it's now brilliantly illuminated and some of the rock faces are quite spectacular. Back in Newcastle I have to pay a visit to the library to use its internet connection. When I come out after 30 minutes I see that it has been raining; it would seem that my timing has been perfect!
I had a further two days in Northern Ireland. One day was spent on the North Antrim Coast, visiting Giant's Causeway and Carrick Island. I'm sure that you've all heard of the Causeway and I can tell you that it lives up to expectations. The only reason to visit Carrick Island is to dare to cross the rope bridge that links it to the mainland - not recommended if you suffer from vertigo! On my last day I drove round some of the Glens of Antrim and Strangford Lough, the latter being the largest Sea Lough in the UK. The timing of the ferries meant that it was more convenient for me to travel out on the Holyhead-Dun Laoghaire route and back via Belfast-Stranraer, so in six days I drove through five countries: England, Wales, Republic of Ireland, Northern Ireland and Scotland.
20 Questions (No. 112)
The answers to the Scottish quiz in November Empress were James V, 18, Aberdeen, Iona, 2000, Glamis, granite, St Mirren, Ben MacDhui, Irvine Welsh, larch pine, 25th January, 29, 1305, Dunnet Head, Staffa, river mouth, 1890, September and Real Gone Kid. First out of the hat was Pamela Covey of Woburn who wins the £10 book token with other entries from Lynn Cooper of Hertfordshire, Patrick Cavanagh of Dublin, Chris Impey of Tring, Philip Abbott of Watford, Diana Morris of Kettering, Tony Dodd of Belvoir and Chris Benger of Bedfordshire.
This month's quiz may be harder than it looks! Send your answers to arrive by 20th January to '20 Questions (No. 112)', [Address], for your chance to win a £10 book token.
1. How long did the Hundred Years' War last?
2. In which country was pasta first eaten?
3. Which country makes Panama hats?
4. What is the world's largest herb?
5. Cat gut comes from which two animals?
6. What is the nearest city to Robin Hood airport?
7. In which month do Russians celebrate the October Revolution?
8. How many eggs do peacocks lay in one year?
9. A camel's hair brush is made of what?
10. In which season do eskimos hunt penguins?
11. The Canary Islands in the Atlantic are named after what type of animal?
12. How many singers formed the Thompson Twins?
13. What was King George VI's first name?
14. Leeds Castle is situated in which English county?
15. What colour is a purple finch?
16. In which country did the dish chop suey originate?
17. How many animals in total did Moses take onto the Ark?
18. What type of creature is a Bombay duck?
19. What is the colour of the black box in a commercial aeroplane?
20. The opening ceremony of the Munich Oktoberfest takes place in which month?